Chemistry Professor Earns Fulbright to England's Exeter University
U of I Chemistry Professor Earns Fulbright to Research, Teach in England
A University of Idaho chemistry professor whose work includes building calcium sensors for NASA recently earned a Fulbright U.S. Scholar Award to teach and do research at Great Britain's University of Exeter.
Kristopher Waynant was supposed to head across the pond to the southwest corner of Great Britain this month, but the coronavirus pandemic changed his plans.
Instead, Waynant, whose Fulbright includes collaboration on sensor research, combined with a teaching fellowship, will begin his tenure in England next spring. While overseas, he will work alongside organic chemists in the university's biosciences department.
"They don't have a formal chemistry department there, so they were excited to see a chemist interested in coming," Waynant said. "And because I do a lot of integrated research, it makes sense."
During the nine-month tenure which begins in April, Waynant and his British colleagues will share their research in building chemical sensing systems and use the work in fall semester teaching labs.
"It sounds like a good experience," Waynant said. "I want to get more teaching experience, and I wanted to see how they do education there."
For years, Waynant has taught students to tap into other disciplines to provide an integrated learning environment in the research lab which bears his name on the second floor of Renfrew Hall on the Moscow campus. That means chemistry students work closely with biology, physics and engineering students to solve problems that need the expertise of a broader array of disciplines.
"We're going to have to cross talk eventually to solve some of the world's problems," Waynant said. "We're all scientists, and don't have to get pigeonholed into one language."
In one integrated project, chemistry melds with biology to measure how bacteria interact with glyphosate, the main ingredient in the chemical Roundup. Another project has students making their own hand sanitizer formulation and measuring the viscosity.
"So, students get to do biology, chemistry and physics at the same time," Waynant said.
As a Fulbright scholar, Waynant will combine his lab work to expand calcium sensors with developing sensors for zinc and hydrogen sulfide, which is the focus of the University of Exeter lab.
One of the Waynant Research Lab's priorities is building calcium-sensitive polymers into printable inks that NASA astronauts can use to monitor calcium depletion during long-term space voyages.
"Fulbright scholarships are meant to build bridges across cultures and to establish a conduit that furthers international research," Waynant said.
The Fulbright Program, established by the U.S. government in 1946, is considered the flagship of international educational exchange.
"It's a lot about international relationships," Waynant said. "How is the teaching and research impactful to the world?"
The nine-month tenure at Exeter coincides with his wife, Tara Hudiburg's, sabbatical, and will allow the family to travel together. Hudiburg is an associate professor in U of I's College of Natural Resources and a 2019 recipient of the Presidential Early Career Award in Science and Engineering.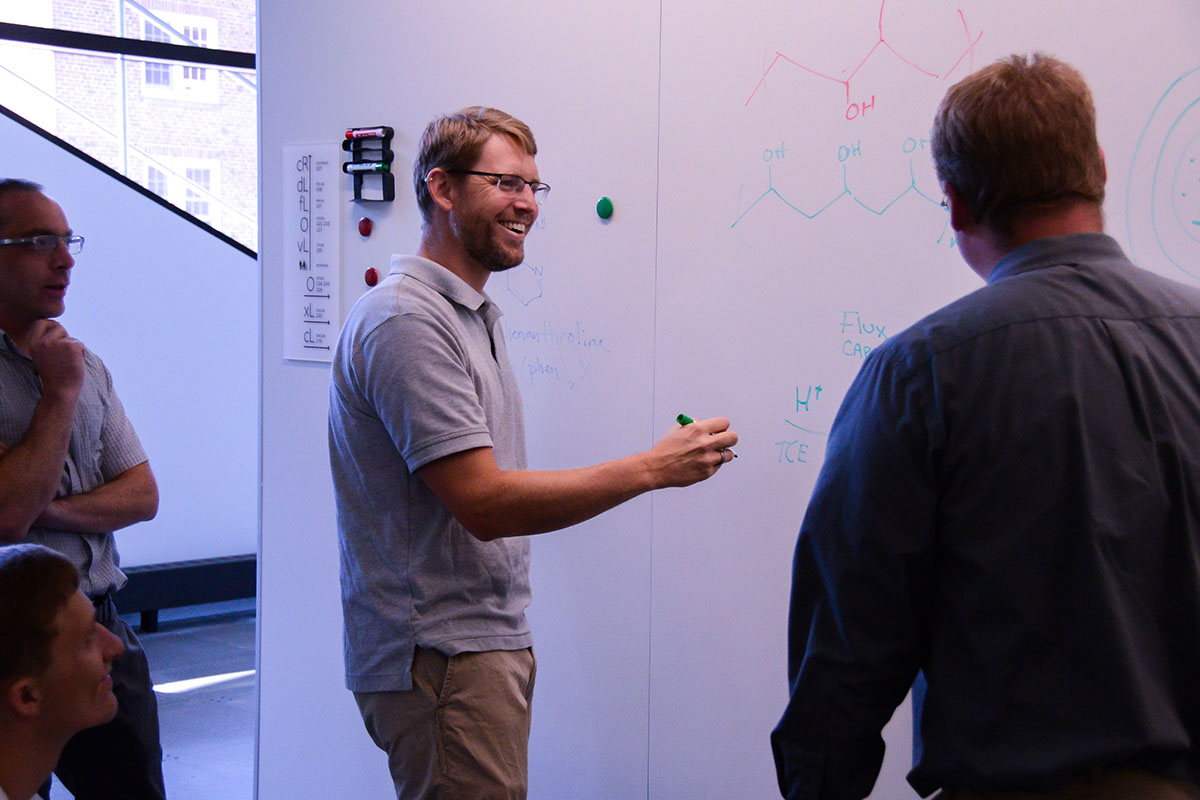 Renfrew Hall 216B
208-885-6768
Article by Ralph Bartholdt, University Communications and Marketing.
October 2020