December 2020 First Monday
Dear Alumni and Friends,

To start with perhaps the least necessary statement in the history of our First Mondays: 2020 has been quite a year. Every day has brought a new challenge, unlike any we've faced before. But thanks to an innovative, hard-working team, and support from our friends and alumni, the year comes to a close with us looking back on a successful year. Vandal Giving Day was one of our biggest, we admitted one of our largest ever 1L classes and facilitated the largest transfer of law students in the West, hired new faculty, and have adjusted our programs to fit the needs of the times. We have even, most of the time, remembered to unmute before speaking. Law school has been very different this year but, in spite of that, we truly have a lot to be thankful for here at the College of Law.
Leaders in Law Awards
We are celebrating many successes this year. The Idaho Business Review Leaders in Law event was entirely virtual, so if you missed it, you can view the event here. I had the honor of co-hosting the event again with IBR Publisher Cindy Suffa, and although I much prefer the opportunities to meet with many of you that the live event has provided, the virtual event was an enjoyable success. Award recipients from the College of Law include:

PARTNERS
Clinton Casey, '87, Casey Legal Group, owner
Brad Miller, '83, '86, Hawley Troxell, partner/attorney

IN-HOUSE COUNSEL
Sherman F. Furey III, '79, '81, Idaho Attorney General, chief deputy attorney general
Kent Nelson, '80, '84 University of Idaho, general counsel
Steven Price, '94, Ada County Highway District, general counsel

SOLE PRACTITIONER
Taylor Mossman-Fletcher, '06, Mossman Law Office, owner/attorney

UP-AND-COMING
Hannah Andazola, '18, Smith + Malek, associate
Jetta Mathews, '10, Hawley Troxell, attorney
William Young, '13, William Young & Associates, partner

College of Law alumnus and Advisory Council Vice Chairman, Tom Prohaska, '85, '88, was recognized at the Leaders in Law event with the Excellence in Finance award.

The greatest honor of my evening was in recognizing Lifetime Achievement Award recipient and U.S. Attorney for the District of Idaho, the honorable Bart Davis, '81. Bart is a great lawyer, a tireless public servant, and a wonderfully kind and respectful person. He embodies all of the qualities we strive to instill in our students, and it is an honor to have him as part of our family. Congratulations to Lifetime Achievement award recipient Bart Davis.

Congratulations again to the award recipients on this well-deserved recognition.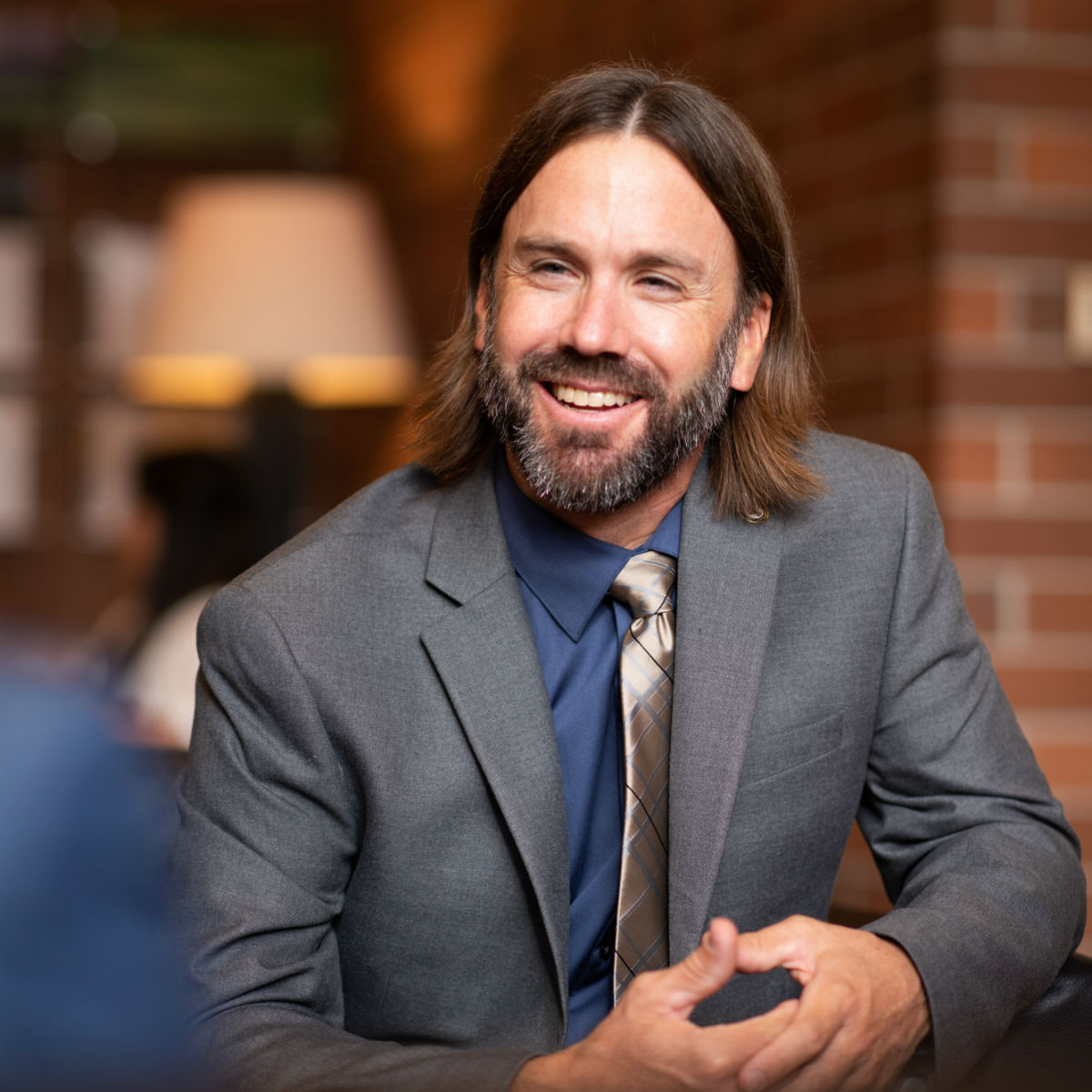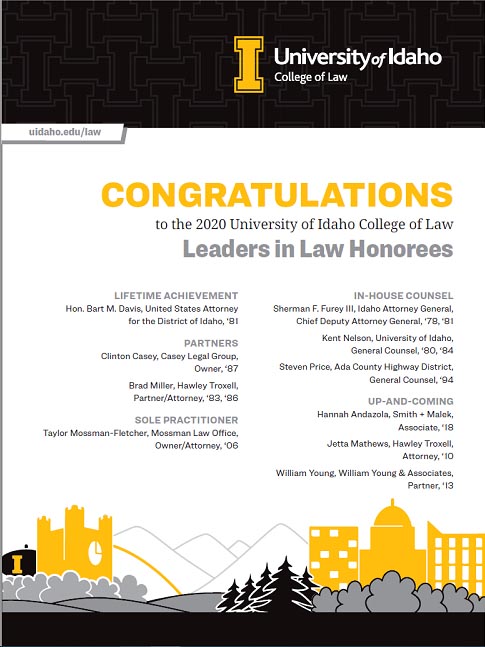 Idaho State Bar Professionalism and Pro Bono Awards
The Idaho State Bar also recognized several members for their outstanding professionalism and pro bono work during the recent road shows held in each judicial district. Notably, a number of those recognized were University of Idaho College of Law alumni and family, including:
Professionalism Awards
Thomas W. Callery, '78
Robert D. Lewis, '80
Jodi Nafzger, Temporary Faculty
Denise O'Donnell Day Pro Bono Awards
Cathy Mabbutt, '01
JJ Winters, '17
Service Awards
Ingrid Batey, '16
Jennifer Bumley, '00
Nance Ceccarelli, '07
We are proud of our alumni who have been recognized for their professionalism and service. Congratulations!
Students Give Time and Money
Our students at the College of Law have always impressed me—every time we raise the bar, they step up to meet it. Our day of service on Election Day was an incredible success: 85 students contributed an estimated 1,200 hours to the 2020 election, allowing potentially vulnerable traditional poll workers to stay safe at home. I spent part of the day working in the Student Recreation Center myself, helping many of our young students register to vote for the first time. In was an inspiring experience that I will return to again in the future.

When first year law students were asked to give cash donations instead of cans for the annual food drive coordinated by Professor Ben Beard, they stepped up again. According to Ben, who we coaxed out of retirement to teach Property one more time, the students delivered the largest amount in his 30-year involvement with the food drive. The class of 2023 raised and donated $4,115 (including Professor Beard's $1,000 match) to the Moscow Food Bank to keep people fed this holiday season.

The Native American Law Students Association is wishing for another sold out gift giving year from the Angel Tree to children in Idaho's tribal communities. Students have arranged for items to be purchased online. If you are interested in supporting this effort, the NALSA Giving Tree can be accessed until Christmas Eve.
Every Gift Makes a Difference
As the holiday season draws upon us thank you for keeping the College of Law in mind when making your year-end charitable gift decisions. Charitable donations provide essential support for scholarships and student support allowing us to keep our tuition low and our value high! To obtain tax credit for 2020 all gifts must be received or post marked by December 31st. Gifts can be made in a couple of ways:
Online via credit card – The most convenient and expedient way to ensure your year-end gift to the College of Law is received in time to meet year-end deadlines is to make it through our secure online giving form: Give to the UI College of Law (To give to the highest need at the College be sure to enter "College of Law Excellence Fund" as the designation for your gift.
Mail a check – If you are sending your gift through the U.S. Postal Service, the envelope must be postmarked no later than December 31, 2020. Please make your check out to "University of Idaho College of Law," note your gift designation for the College of Law on the check memo line or in an accompanying note and mail to the following address:
University of Idaho Foundation
875 Perimeter Drive MS 3143
Moscow, ID 83844-3143
If you have any questions about giving to the College or would like information about making a multi-year pledge or planned gift, please contact Michele Bartlett at bartlett@uidaho.edu or 208-364-4044.
Wishing you a safe and healthy holiday season,
Jerrold A. Long
Dean
College of Law