September 2019 First Monday
Dear Alumni & Friends,

The fall semester is in full swing again at the College of Law, with classes starting last week on August 26th. This year we welcome 128 new 1L students, with 64 at each end of our long hallway. We believe this is the second-largest class in the College's history, and it is exciting to see all of the new students, and the College's continued success. While I still can't help feeling like my sons on the first day of school—equal parts excited for the new year and confused about where summer went—fall still remains my favorite season of the year.
Professionalism Orientation and Trial Advocacy
Over 60 lawyers and judges visited campus during orientation week to mentor our College of Law students through our Professionalism and Trial Advocacy Programs. This marked our 17th Professionalism Program and our 41st Trial Advocacy Program. As is our tradition, orientation week for our first-year students begins with Convocation and a day of introduction to professionalism and civility. Incoming students meet in small groups with lawyers and judges to discuss various ethical scenarios. This program offers our students the opportunity to interact with leaders in the profession. We were honored to host the following professionalism mentors this year: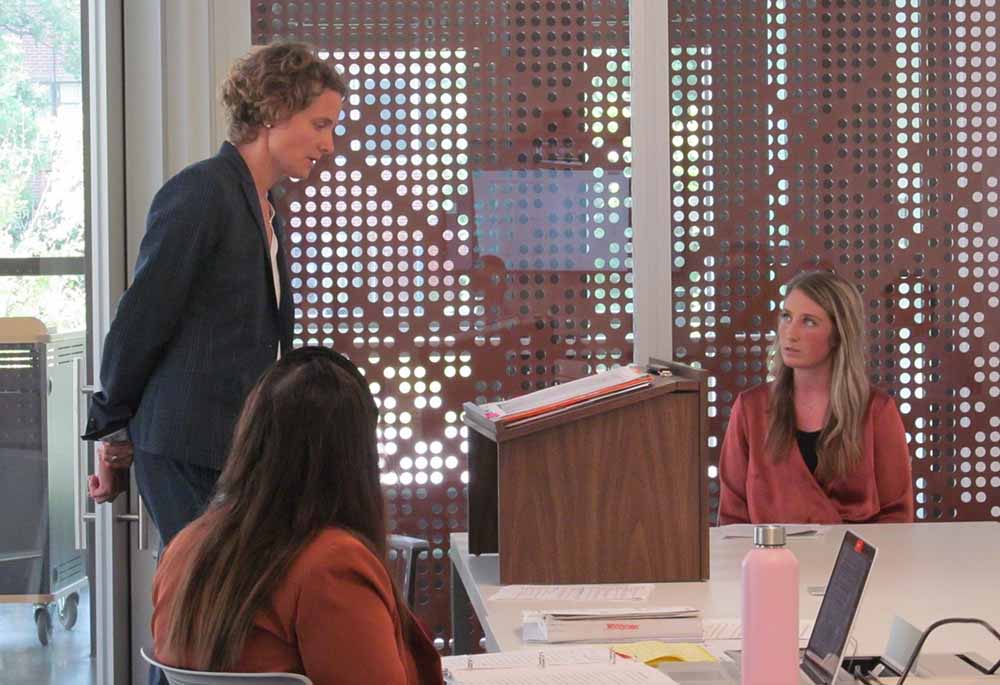 Moscow
Teresa Baker, Idaho State Bar
Mia Bautista, Moscow City Attorney
Hon. Robyn Brody, Idaho Supreme Court
Hon. Barbara Buchanan, First Judicial District Court
Hon. Roger Burdick, Idaho Supreme Court
Hon. Rich Christensen, First Judicial District Court
Hon. Candy Dale, U.S. Magistrate Court, District of Idaho
Jim Dickinson, Ada County Prosecutor's Office
Andrew Doman, Lake City Law Group, PLLC
Hon. Michelle Evans, Nez Perce County Magistrate Court
Catherine Freeman, Ada County Prosecutor's Office
Jana Gomez, Lewiston City Attorney
Hon. David Gratton, Idaho Court of Appeals
Tim Gresback, Tim Gresback, LLC
Hon. John Judge, Second Judicial District Court
April Linscott, Owens, McCrea & Linscott, PLLC
Hon. Megan Marshall, Latah County Magistrate Court
Kinzo Mihara, Mihara Law PLLC
Matthew Rakes, Amendola Doty & Brumley, PLLC
Hon. John Stegner, Idaho Supreme Court
Sean Walsh, Walsh Law Group
Boise
Fafa Alidjani, Alidjani Law
Brad Andrews, Idaho State Bar
Teresa Baker, Idaho State Bar
Hon. Richard Bevan, Idaho Supreme Court
Jana Gomez, Lewiston City Attorney
Hon. David Gratton, Idaho Court of Appeals
Jennifer Jensen, Holland and Hart, LLC
Chelsea Kidney, Office of the Attorney General
Caralee Lambert, Idaho State Bar
Greg LeDonne, Sole Practitioner
Erik Lehtinen, Idaho State Appellate Public Defender's Office
Hon. Jessica Lorello, Idaho Court of Appeals
Hon. Greg Moeller, Idaho Supreme Court
Hon. Terry Myers, U.S. Bankruptcy Court, District of Idaho
Mike Porter, Canyon County Prosecutor's Office
Elizabeth Schierman, TraskBritt PC
Clive Strong, Office of the Attorney General, Retired
Nicholas Warden, Office of the Attorney General
Hon. Tom Whitney, Third Judicial District Court
Cynthia Yee-Wallace, Office of the Attorney General
The week before classes was also our Trial Advocacy Program. The program is a week-long intensive program – "boot camp" as it is often called – that gives third-year students the opportunity to learn practical trial skills from experienced practitioners, judges, and law faculty. The program culminates in a case tried before a jury made up of incoming 1L students.
This was our second largest group of students in the program's history, with 61 students taking part, and our largest group from Boise, with 30 students making the trek north to participate. The program is not only a great opportunity for our students to hone their trial skills with an incredible group of trainers, but it also plays a crucial role in building and maintaining our community. It is a substantial sacrifice for everyone involved—students, faculty, and the many trainers—but it is one of the best things we do at the College of Law.

We are grateful to the following attorneys and judges who took time from their busy careers to participate in this program.
Mark Ackley, Federal Defender Services of Idaho, Inc.
Michael Bartlett, Nevin, Benjamin, McKay & Bartlett, LLP
Jim Dickinson, Ada County Prosecutor's Office
Hon. Molly Huskey, Idaho Court of Appeals
Tara Malek, Smith & Malek, PLLC
David Metcalf, United States District Court, District of Idaho
Amy Rubin, Federal Defender of Eastern Washington and Idaho
Justin Whatcott, U.S. Attorney's Office
And we are thankful to those who joined us on Friday to help judge the final trials:
Jay Johnson, solo practitioner
Prof. Ryan Lincoln, College of Law faculty
Sandra Lockett, Public Defender
Jennifer Ewers, solo practitioner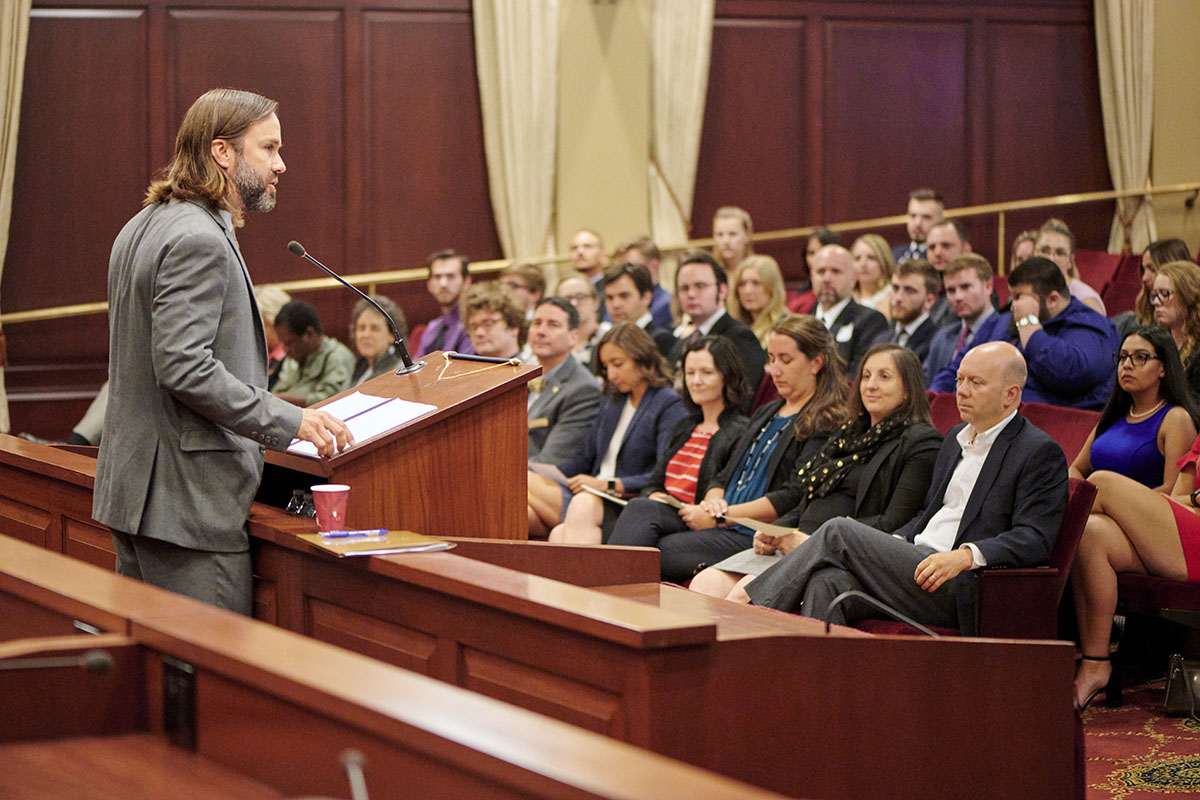 Shepard Endowment
Each year, it is my pleasure to award the Allan G. Shepard Professorship to one of our distinguished faculty. The Shepard Professorship is supported by the Shepard Endowment, established by the former Chief Justice's wife, Donna Shepard, to honor Chief Justice Shepard and to enhance the reputation and mission of the College of Law by providing the means to attract and retain highly distinguished faculty.

I am pleased to congratulate the recipient of the Allan G. Shepard Professorship for the 2019-2020 academic year: Professor Anastasia Telesetsky. There are two qualities I aspire to every day in my own work: kindness and competence. Professor Telesetsky demonstrates both in excess. She is a fabulous, caring colleague, always willing to take on difficult tasks or help wherever needed—last year, with about one week's notice, she readily agreed to teach my Property class when I could not after being appointed Dean. She is an incredible teacher, always seeking out new approaches to help her students. And she is a fantastically productive scholar. In 2019 she co-authored two textbooks, with a third forthcoming in 2020. She edited two books that are also forthcoming in 2020, and wrote eight peer-reviewed book chapters or articles to be published in 2019 and 2020. This is just a small, recent, and perhaps inadequate sample of the literally dozens of books, book chapters, articles, or other works of scholarship across her career. Congratulations Professor Telesetsky! We are honored to have you as part of our family.
Henry's Fork Foundation Externship
As I hope many of you know, I grew up in southeastern Idaho, where my father taught me to fly fish on the Henry's Fork and its tributaries. Throughout his life, my father was actively involved in river conservation, which played a significant role in shaping my own personal and professional trajectories. I still love the Henry's Fork, and return there every summer with my own sons. I am thus very excited about a new partnership between the College of Law and the Henry's Fork Foundation.
The Henry's Fork Foundation is the only not-for-profit organization whose sole purpose is to conserve, protect, and restore the Henry's Fork watershed and its legendary wild trout. HFF uses science-based collaboration to inform real-time management of the Henry's Fork and its wild trout fisheries. HFF also uses predictive computer models, modern statistical methods, and the latest high-tech hardware and software to promote favorable streamflow, good water quality, healthy fish populations, and a positive fishing experience. Perhaps most important, HFF is committed to being a true community partner, working with farmers, ranchers, fly anglers, and local communities to conserve the place they all share and love.

The College has partnered with HFF to establish an Externship/Semester-in-Practice program that will make its debut in spring 2020. This educational experience will be a great opportunity for law students interested in natural resources, environmental, water, and/or agricultural law. The student externs will spend the spring semester living in Ashton at HFF's community campus, working with HFF's scientists, lawyers, and volunteers on projects that include Clean Water Act analysis specific to HFF issues, review of water leases, exchanges, and markets across states, review of conjunctive management of surface and ground water issues, review of NEPA documents, and review of laws and policies that affect FERC licenses.

HFF will provide housing for the extern, and the College is raising funds for a scholarship to assist students with tuition and fees. To learn more about this or other externship programs offered by the College, please contact Katie Ball at ktball@uidaho.edu. To find out how to support the HFF Externship, or any of our other externship programs, please contact Michele Bartlett at bartlett@uidaho.edu. And if you ever want to go fishing, you know how to contact me.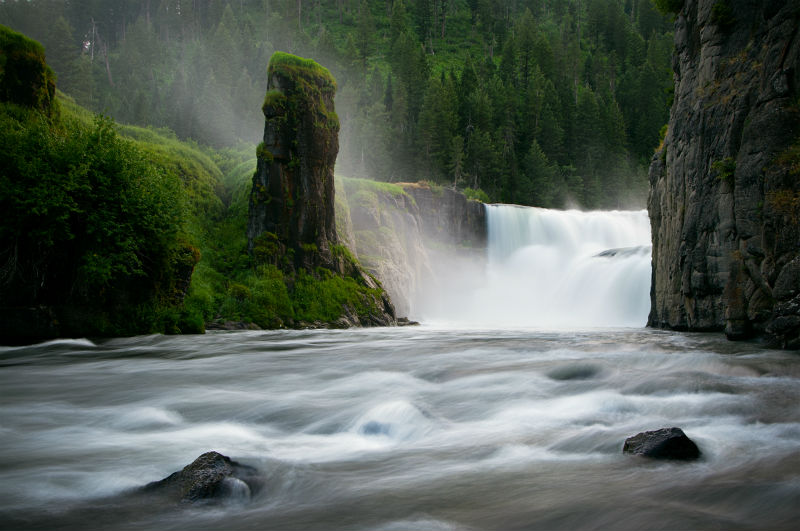 The Affiliated Tribes of Northwest Indians (ATNI) Tribal Water Summit
The College of Law is excited to host the Affiliated Tribes of Northwest Indians (ATNI) for the 2019 Tribal Water Summit. Professor Dylan Hedden-Nicely has continued a proud tradition at the College, working tirelessly to maintain and improve our positive and supportive relationships with Idaho's, and the region's, tribal peoples and governments. The Tribal Water Summit will be held in Moscow on September 5-6. The goals of the 2019 summit are to bring together a diverse group of leaders, scientists, policy analysts, and community citizens to exchange knowledge about water challenges experienced in the Pacific Northwest, and to hold discussions about potential solutions in the 21st Century. A detailed agenda and registration for the summit can be found here. For questions, please contact Prof. Dylan Hedden-Nicely at dhedden@uidaho.edu.
Have a wonderful fall,
Jerrold A. Long
Dean
College of Law