April 2019 First Monday
Dear Alumni & Friends,

According to a recent study by the American Association of Law Schools, undergraduate students choose law school largely to help others or be useful to society, to give back to their communities, and to be advocates for change. In short, they're motivated by public service.

At the College of Law, we do our best to ensure that these ideals continue to develop as our students complete their legal education. Almost 15 years ago, our faculty established an academic requirement that each student complete a substantial amount of uncompensated legal work. Idaho was one of the first law schools in the country to implement a pro bono requirement, and even today we remain one of the few law schools in the entire country with such a program.

Of course, the College's commitment to public service reflects the ideals of the broader legal community of which we are simply one small part. We are privileged to be part of close-knit Idaho law family—a community of colleagues, co-workers, and friends who are exemplars of public service and advocacy, and who remain involved and engaged in our collective mission to not only become good lawyers but also good people.
Student Public Service
Public service is a foundational aspect of the College, and it is one of our primary goals to instill a commitment to it in each graduate. The College's commitment to the public interest—including its mandatory pro bono program, public interest externship programs, and wide array of pro bono clinical offerings—prepare students for their responsibility as lawyers to give back to the community and to promote justice by assisting the underserved and underrepresented. Our students have taken this commitment to heart and routinely step up to the task.
A recent example is the Latino/a Law Caucus's outreach in Othello, Washington, which they have done annually for the past five years. On the first day of their spring break, approximately 20 law students presented an outreach program for immigrants, developed in conjunction with the Northwest Immigrants' Rights Project. The program includes skits and presentations on legal rights relating to health care, sexual harassment, domestic violence, U-visas, DACA, drivers' licenses, and dealing with law enforcement and immigration officials. Not only did the approximately 80 attendees benefit from the legal information provided, the students also distributed about 700 items of food and clothing donated by Idaho Law students.

To read more about the details, visit the accomplishments blog.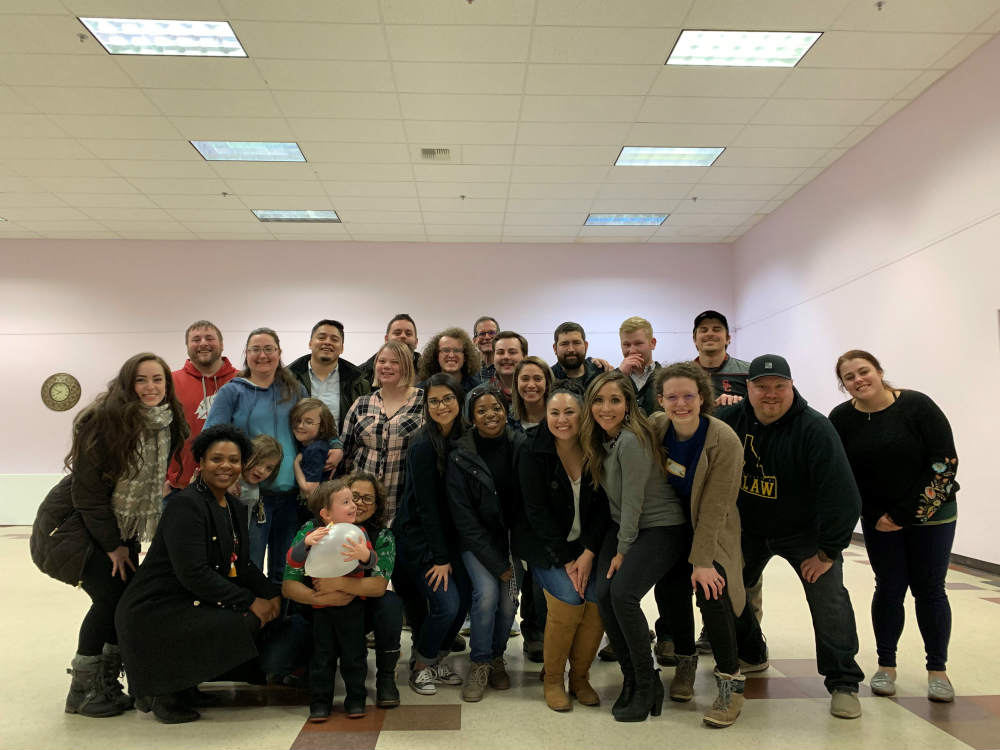 Our Law Family
I often speak of the College, and all the people who support it, as a family. I return to this repeatedly because of the daily examples of your sacrifices for and contributions to the College. There is no better example than that most fundamental part of our mission—our curriculum. We are proud of our diverse curriculum, but we also know that it would not be possible without the help of many of our alums, lawyers, and judges who serve each semester as adjunct faculty, trial advocacy trainers, and externship supervisors. Your service shows a deep commitment to the College and our students. Each of you brings a wealth of experience and wisdom to our curriculum and our students, and we deeply appreciate your ongoing contributions.
To show our appreciation, the College held a reception for all of our adjunct faculty at the end of February. Despite a snowy evening, over forty people came to celebrate the contributions of attorneys and judges who teach at the law school. Please keep an eye out for the May issue of The Advocate, where we hope to express our gratitude before a much larger audience.
Vandal Giving Day
Don't forget that tomorrow, April 2, is Vandal Giving Day: a 1,889-minute celebration of the institution we love, and an opportunity to fuel the futures of Idaho's aspiring legal professionals.
Please consider supporting the College, our students, and our programs. Along with Thomas Melville ('96), I have set up a gift matching opportunity so you can multiply your impact with matching funds.
If you have questions about Vandal Giving Day, please contact Michele Bartlett at bartlett@uidaho.edu
Sincerely,
Jerrold A. Long
Dean College of Law
Vandal Giving Day
April 2-3, 2019

Idaho Law Review Symposium
April 5, 2019
Legacy Pointe Room, Idaho Water Center
University of Idaho Boise

Law Advisory Council Meeting
April 26, 2019
Idaho Law Justice & Learning Center
Boise