Destined to be a Lawyer
With graduation near, Nii is focused on his future. He plans to return to his Texan roots, practice criminal law and serve in government in some capacity. Idaho will miss this friendly young man who greets everyone with a "Howdy." But he wants to live in the same state as his parents, so that they can someday vote for him in his first election. He gravitated toward criminal law because he feels that is where he can be most beneficial to the average person, and he can use his persuasive skills as a trial lawyer.
Of his experience at the UI College of Law, Nii says: "If I had to do it over again, I would without hesitation. The quality of life here, the atmosphere and the people bring great joy to offset the stress and anxiety that arise from classes or anything else life throws your way. This is a community and a family."
Third-year law student comes from a long-line of principled men who wanted to make a difference
Nii-Amaa Ollennu is a third-year law student at the University of Idaho. Like the Johnny Cash song goes, "He's been everywhere." Nii, pronounced "knee," started life in Pullman, Washington. His mother and father were both from Ghana, West Africa, but they met while attending graduate school at Washington State University. They both worked in Information Technology and moved to where they found the best job opportunities. So they took their brood from Pullman to Bremerton, then Bremerton to Stockton, California, to Champlain, Minnesota, which Nii remembers as a place none of them particularly loved, and then to a place he really loved: Frisco, Texas.
Throughout most of his life, Nii was the guy who made new friends every other year because of frequent moves, and as a consequence, became outgoing. From kindergarten all the way to when he earned his bachelor's in political science from University of Texas at El Paso and his master's in public administration from St. Mary's University in San Antonio, Nii was an extrovert who had lots of friends and acquaintances.
Nii's upbringing was also defined by his inquisitive personality. He says, with a dazzling smile, "I asked a lot of questions, and 'Because' was never a good enough answer. I didn't like 'Because I said so' either." Nii seemed destined to become a lawyer and not only because of his critical mind and outgoing nature. Being a lawyer is very literally "in his blood." Both of his grandfathers, paternal and maternal, played pivotal roles in government in Ghana. They also helped shape Ghana's push for independence and its newly formed government in the 1950s—using rhetoric rather than fists.
Nii's paternal grandfather, whom he is named after, was emulated by many. He was the first person to attend law school in his family and the town. He went to law school in England and finished in 18 months, an achievement that earned him recognition from the Queen's council. Yes, that Queen. He also served as a Supreme Court Justice and was acting President of Ghana for 30 days.
"My other grandfather," Nii explains, "PKK Quaidoo, left behind a great legacy as well. Although he was arrested a few times during the turbulent infancy of the newly formed Ghanaian republic, he was known to be a very principled and extremely courageous politician who dared to speak his mind against the government within their culture of silence." He served Ghana as a foreign minister and leader in Parliament. As a minister, he received the Key to Tokyo and met Emperor Haile Selassie from Ethiopia. During his time in Parliament a mantra of his was Asem edika, which loosely translates to "Say it and be damned." Nii-Amaa says, "To me, this mantra stands for the premise that when there is a problem, we must not sit in silence and let it continue because of a fear that those in power will not like it." Spoken like a future lawyer.
"Hearing stories of these two great men while growing up," Nii confides, "and seeing the joy in peoples' faces when they talked about them was probably a driving force behind my aspirations. Over the course of my life I also learned I have an ability to make connections with others. Combining this with my desire to advocate or argue, depending on who you ask, is what made me want to attend law school in hopes of becoming an attorney and public servant."
So, why University of Idaho? Nii says: "I wanted a school that cared about its students and their success; I wanted a school to be in a place conducive to studying but that also offered a chance to get away from the books when necessary; and lastly, I wanted an affordable school. . . . I had also contemplated moving back to the Northwest to begin my career after law school. Those factors played into my decision."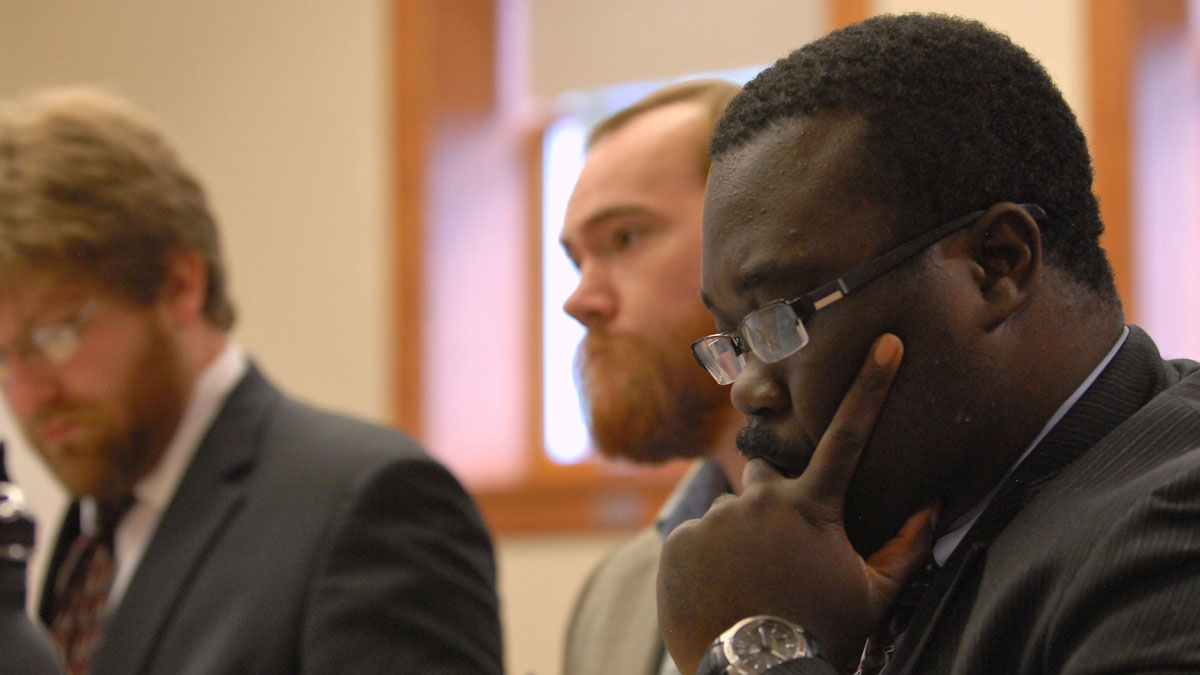 The University of Idaho also offered him the opportunity to take many of the same courses at the law schools back in Texas. He was able to work with a faculty member to complete a directed study on Texas Oil and Gas to alleviate any anxiety he had about facing that subject on the Texas bar exam.
Nii took full advantage of the law school experience: working in the immigration clinic as well as serving as a Student Ambassador and President of the Student Bar Association for the 2014–2015 year. He says, "It was a great experience. I am honored to have been selected by my classmates to serve as their voice in the law school, university, and on the national level with the American Bar Association."
When asked about the immigration clinic, Nii admits, "Working at the clinic is labor intensive, but you get to interact with clients, and when you or they have one of those 'a-ha' moments, the experience is so rewarding. And the clients are grateful. It makes the hard work worthwhile. . . . You have the opportunity to get out of the classroom and gain some real experience too. You get to help a real person rather than strictly solve hypotheticals. Classroom skills are important, and you get to put them to use in the clinic."
As a College of Law Student Ambassador, Nii was able to travel to Texas and attend four different events where he talked to prospective students about the UI College of Law. "Law school can be time consuming and stressful no matter what university you attend," he says. "The cool thing about UI is that your support system sits in class with you, and the bond you build with them will be, at times, stronger than the bonds you have with friends from childhood." Check out Nii-Amaa's Ambassador blog.