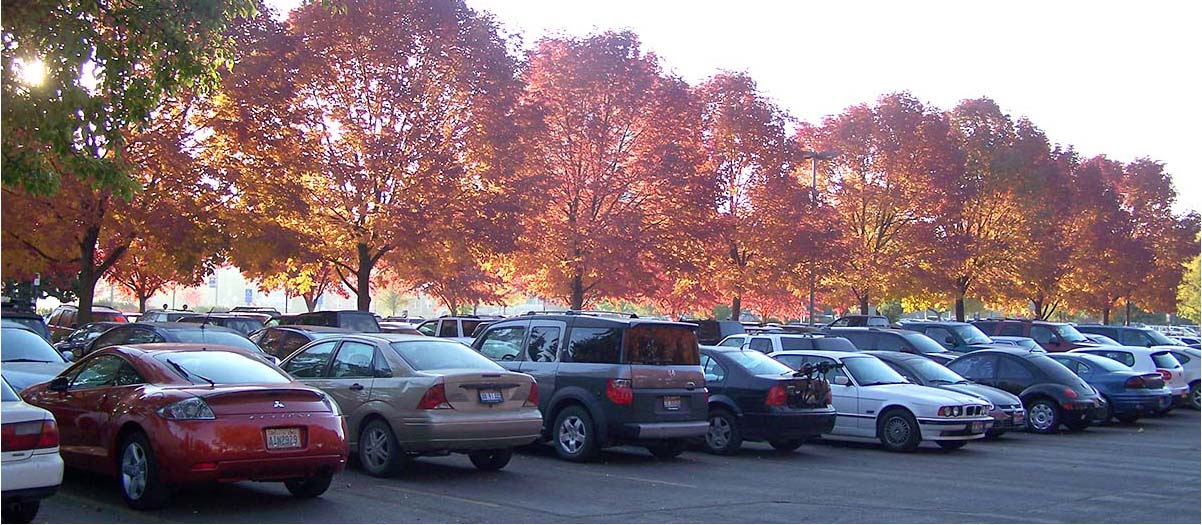 Parking and Transportation Services
Welcome! Your University of Idaho Parking and Transportation Services (PTS) team is focused on keeping U of I moving. As we grow, it's imperative that we become a campus where a personally owned vehicle is not required to meet commuter and campus resident mobility needs. Our beautiful Moscow community is easily traversed by most on foot or bicycle, and when you need to get around more quickly or go longer distances, alternative transportation options are available. Vandal Access Service provides Vandals with mobility-limiting disabilities access to facilities and programs on campus. If you choose to bring a car to campus, please understand that a permit will be required and availability of a specific permit type or parking location is not guaranteed.
We're here to help! If you have questions, contact us at 208-885-6424 or parking@uidaho.edu. Our office is open to the public. We're located on campus inside the Intermodal Transit Center, 1006 Railroad Street. PTS office hours are 8 a.m. to 5 p.m. during the academic year and 7:30 a.m. to 4:30 p.m. during academic breaks.
Parking Permits
Available for purchase for 2023-24 ONLINE ONLY at noon on July 11
Parking Updates and Closures
Orange lot 24, northeast of the ICCU Arena, will be partially closed before and during the Styx concert this Friday, Sept. 22. The south half of Orange lot 24 will close after regular business hours on Thursday, Sept. 21, and will remain closed until after the Styx concert ends during the late evening on Friday, Sept. 22.
Home Vandal Football games affect all parking lots west of the P1FCU Kibbie Dome. Vehicles parked in Economy 57E, Blue 57 or Red 34 are required to relocate prior to home football games. Blue lot 60, on the east side of campus behind the Intermodal Transit Center, is also affected after 5:30 p.m. on Fridays prior to home football games. Not sure when you need to relocate? This year's home games are on Sept. 23, Oct. 14, Oct. 28 and Nov. 18. Here's what you need to know about relocating for each game, based on which parking lot you use. Homecoming weekend, Oct. 13-15, will have additional closures. Check here for updates.
Economy lot 57E: Vehicles MUST relocate prior to 6 a.m. on game day. Relocate starting at 5:01 p.m. the Friday prior to the game, and be sure to return your vehicle to a valid Economy space before 2 a.m. the Monday morning following the game. View this map for options on where to park.
Blue lot 57 and the western sections of Red lot 34: These areas are CLOSED starting at Noon the THURSDAY prior to game day, through the Sunday following game day, for RV parking by Vandal Scholarship Fund members. Park in the section of Red lot 34 closest to the ICCU Arena during this time. View this map to see which sections of Red 34 are available for relocation.
Blue lot 60, behind the Intermodal Transit Center: This lot is designated for reserved overflow RV parking from 5:30 p.m. the Friday before each game through 10 p.m. on Sunday following the game. You're still welcome to park in Blue lot 60 on the Friday before game day, but it's to remove your vehicle BEFORE 5:30 p.m. to avoid competing with RVs driving in for the weekend.
Get urgent parking updates via text. Simply log in to AIMS and choose "Opt in new number" to receive information about parking disruptions and to get notification if you receive a parking citation. Opting in for urgent parking updates is like getting a Vandal Alert, but for parking!
Campus Maps
Access University of Idaho parking and campus maps, including general enforcement information.
Signature Event Parking
Find out where to park for special events.
Online Services
Visit PTS online services to buy a permit, pay or appeal a citation, view account details and add a vehicle to your account.
Car-side Help
Locked Out? Car Won't Start? PIT Crew services are provided for FREE on U of I-managed property on the Moscow campus, 8 a.m. to 5 p.m. Mon-Fri.