Formula Hybrid Racing Team Wins National Competition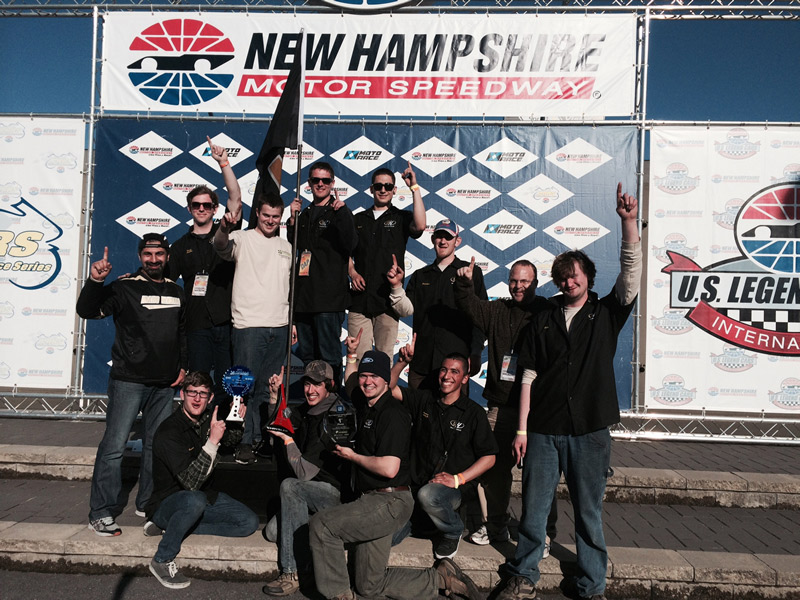 Vandal Formula Hybrid Racing Team Voltz N' Boltz Wins National Competition
After four days of competition and several hundreds of hours of effort, the University of Idaho's Vandal Formula Hybrid Racing Team returned from New Hampshire Motor Speedway winners of the 2014 national Formula Hybrid Competition.
The Vandal racing team — also known as Voltz N' Boltz — drove home with the competition's top prizes. The team earned the Chrysler Innovation Award, which recognizes innovative design and implementation, and the General Motors Best-Engineered Hybrid first place award, which is given to teams that demonstrate achievements in three categories: introducing new technologies and/or a remarkable implementation of existing technologies, making a positive difference and extraordinary vehicle balance.
In addition, the team placed second in the Skip Barber Teamwork Award, which is given to teams displaying the best overall collaborative teamwork skills.
Twelve teams competed in this year's hybrid division competition, including Yale University, the University of Michigan and Rensselaer Polytechnic Institute. Lawrence Technological University in Michigan placed second and Embry-Riddle Aeronautical University of Florida placed third, with Yale a close fourth.
In the midst of the 2014 Engineering Design EXPO opening ceremonies, Dean Larry Stauffer received news of the team's victory. To a crowded room Dean Stauffer read a quote from an email sent by the team's faculty advisor Dan Cordon.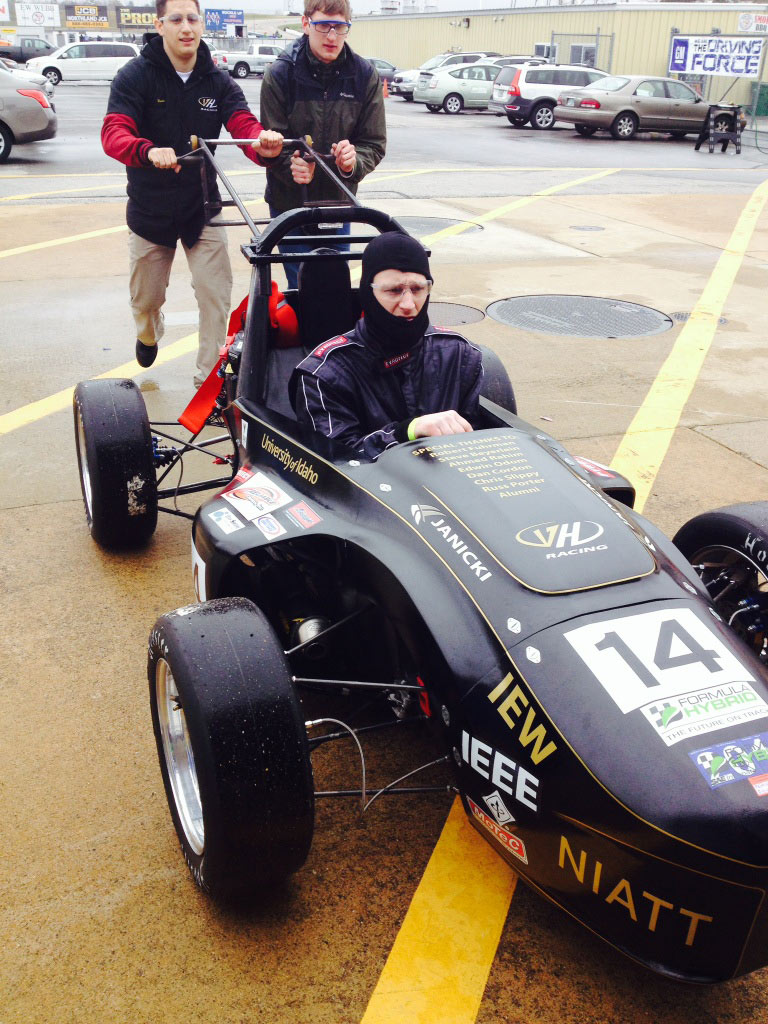 "After all the pictures and celebrations, the team returned to the racing paddock to find representatives from both GM and Chrysler," said faculty advisor Dan Cordon. "The GM team encouraged all of the students to leave resumes. The Chrysler team was there to personally invite every member of the team for a site visit and job interview at their headquarters."
Dean Stauffer added, "This win perfectly highlights one of the key features of Engineering Design EXPO, the collaborative effort between industry sponsors and our talented students and faculty. I am certainly impressed with the success of this team, their dedication and hard work to this project is evident by the recognition they received from GM and Chrysler."
The University of Idaho Formula Hybrid Team is composed of an interdisciplinary team of students including members of the mechanical engineering department: Jordan Anderson, Jonathan Andring, Derek Arrotta, Adam Bunch, Ignacio Lopez, Nathan Peterson, Bryan Tianiacos, Gillette Zenner and graduate mentors Mostafa Asfoor, Matt Kologi and Rory Lilley; Amos Bartlow from electrical and computer engineering; David Arnett from computer science; and Artemio Ambriz of the virtual technology & design department.
The team's faculty and staff advisors include: Professors Dan Cordon, Edwin Odom, Steve Beyerlein, Mike Santora, Herb Hess and machine shop manager Russ Porter.
"Last year the team experienced great difficulty integrating components at the last minute and eventually could not compete," said faculty advisor Steve Beyerlein. "FHSAE is one of the most complicated engineering competitions out there, challenging teams to integrate large-scale electrical and mechanical elements. This year's success is largely due to our failures last year and the tremendous improvements initiated over the summer and having resources in place.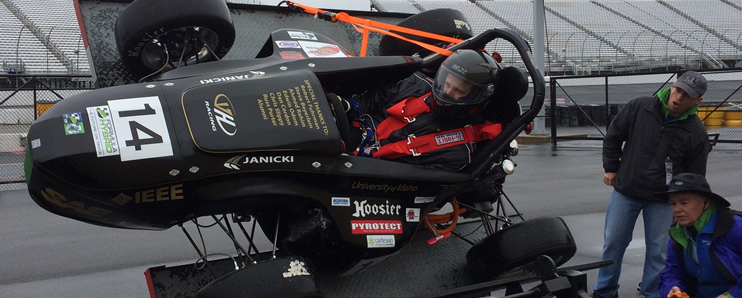 The Vandal Hybrid racing team is sponsored by University of Idaho's National Institute for Advanced Transportation Technology's (NIATT), University Transportation Center (UTC), Transportation for Livability by Integrating Vehicles and the Environment (TranLIVE). TranLIVE is focused on developing technologies to reduce the environmental impact of the transportation system and funded by a grant from the United States Department of Transportation (DTRT12GUTC17). TranLIVE contributed funding for student travel, parts and other equipment for the Vandal formula hybrid vehicle.
"The Vandal formula hybrid team's victory is, once again, a testimony of the quality of our greatest asset, our students. Their technical abilities, exceptional team attitude, and intelligent integration of different vehicle components have certainly paid off. We are very proud of each student on the team and professor Dan Cordon," said Interim Director for NIATT Ahmed Abdel-Rahim.
Other University of Idaho sponsors include: The College of Engineering and Department of Mechanical Engineering, The University of Idaho Chapter of Engineering Students Advisory Council (ESAC-U of I), Associated Students University of Idaho (ASUI), U of I Facilities. The team is also very fortunate to be supported by University of Idaho FHSAE & FSAE alumni.
The Vandal Hybrid team relies heavily on support from several external partners including: Aurora Bearing, Bayshore Systems, the Boeing Company, Cartesian Tube Profiling, DATAQ Instruments, Fastenal, Forest City Gears, Janicki Industries, Nelson Metal Technology Inc., Schweitzer Engineering Lab, UTS Systems and Wagstaff Engineering.
Founded and run by Dartmouth College, the annual Formula Hybrid Competition challenges college and university students to design, build, and compete high-performance hybrid and electric vehicles. Building on the Formula SAE program, Formula Hybrid competition adds an extra level of complexity: fuel efficiency. For more about the competition, visit www.formula-hybrid.org
Article by Rob Patton, College of Engineering.