2011 Award Winners
Ahmed Abdel-Rahim, Civil & Environmental Engineering
Ahmed Abdel-Rahim received this award because of his excellent record in teaching, research and service. His strong work ethic and commitment to his department shows in his daily work and the extra effort he puts into teaching and taking on additional projects.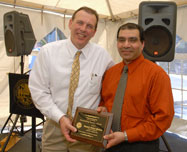 OUTSTANDING YOUNG FACULTY AWARD
Elowyn Yager, Civil & Environmental Engineering
Elowyn Yager is a geomorphologist in ecohydraulics in the Civil & Environmental Engineering department in Boise. She is a leader in interdisciplinary cross-college and cross-institutional research and we are proud that she is part of our engineering family.
Sue Branting
Sue Branting exceeds the expectations of an employee in the college and her service to the students and people she works with has far exceeded her job description. Branting takes on any project she is given with passion and her willingness and ability to help students is unmatched.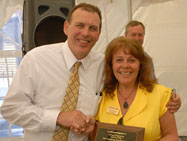 P.K. Northcutt
Happy Saturday! Northcutt's infectious positive attitude and willingness to help students, staff and faculty have earned him this award.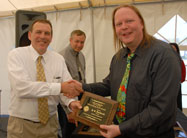 Becky Schoenberg
Becky Schoenberg is a vital member of the mechanical engineering staff and her friendly attitude and helpfulness are noticed by fellow staff, faculty, students and parents. Schoenberg's knowledge and guidance are appreciated by anyone who interacts with her.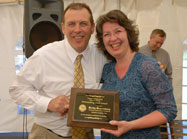 OUTSTANDING GRADUATE STUDENT
Nicholas Guho, Civil & Environmental Engineering
Nicholas Guho completed his master's in civil engineering in August 2010 and transitioned into a doctorate program in the same month. Guho has been highly productive in his time at the University of Idaho. He was the chief engineer on the design and construction of a 5,000 gallon scale model advanced nutrient removal wastewater treatment plant, assisted in engineering and constructing a nitrifying trickling filter pilot system at the Colfax wastewater treatment plant and designed and built and Programmable Logic Controller to operate much of the environmental engineering laboratory.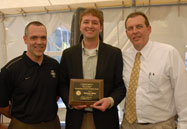 Randy Maglinao, Biological & Agricultural Engineering
Randy Maglinao began his doctorate at U of I in Biological and Agricultural Engineering in fall 2007 when he conducted research through our bioenergy and biofuels graduate program. Randy Maglinao a hard worker and very motivated and due to that, he was the first in his field to discover that thermo-hydrogenolysis of glycerol to produce alcohols and other products can be achieved with in situ hydrogen generation. Randy has accepted a position as a research associate at Montana State University at Havre.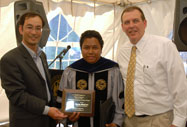 Lindsay Barnett, Materials Science
Lindsay Barnett put a lot of time and effort into her courses to achieve the best grades she could and it has paid off. Barnett will be starting her career at Micron Technology in Boise working as a reticle process engineer.
Frank Beckwith, Civil & Environmental Engineering
Frank Beckwith has maintained a 3.63 GPA throughout his college career while taking graduate level classes at the University of Idaho. In addition, he has competed in the National Student Steel Bridge Competition, making it to Nationals his junior year. He is highly active in ASCE and other extracurricular activities and has been awarded a number of scholarships. Beckwith plans to work for up to a year before pursuing a master's degree in structural engineering.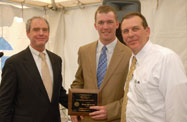 Curtis Bower, Mechanical Engineering
Curtis Bower has just graduated summa cum laude and will be going to the Human Factors and Ergonomics Society's 55th Annual Meeting in September to present his paper "Seeing with Sound". Bower will be completing an internship with Intel this summer and then will return to the University of Idaho in the fall to pursue his master's under Eric Wolbrecht.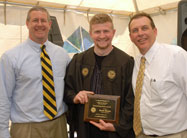 Alec Bowman, Mechanical Engineering
After graduating from high school in Pocatello, Idaho, Alec Bowman came to the University of Idaho to study Mechanical Engineering and Mathematics. Bowman stayed active on campus as a member of the executive board of the U of I chapter of the Associated Society of Mechanical Engineers, the U of I Ballroom Dance Team and the president of the Honors Student Advisory Board. After graduation, he plans to enter graduate school at the University of Kansas to earn his doctorate in aerospace engineering.
Seth Gibbon, Chemical Engineering
Seth Gibbon has exhibited excellent leadership skills and the ability to be an effective team member. He has participated in multiple group projects as well as international competitions with great success. He has excelled in his academic work and created a firm foundation in his research proficiency during his time here. He has also contributed to the department by giving presentations and demonstrations in high schools to recruit new students. Gibbon has accepted a position with Micron in Boise after graduation.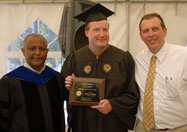 Brent Kisling, Electrical Engineering
This summer Brent Kisling will have an internship at the NASA Jet Propulsion Laboratory, working with the Jupiter Europa Orbiter mission project team. Kisling has been very involved with the Vandal Atmospheric Science Team as part of the balloon rise program while he has been a student. Kisling will be graduating next year.
Tim Kunz, Biological & Agricultural Engineering
Tim Kunz has been on the Dean's list for the last three years and will be graduating with a 3.6 GPA. Next semester Kunz will be pursuing a master's in prosthetics and orthotics at the Georgia Institute of Technology and his ultimate career goal is to help children who have been afflicted with cancer by providing prosthetics and orthotics at minimal cost.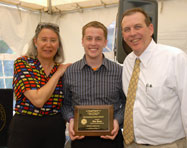 Jimmy Li, Electrical Engineering
Jimmy Li will be pursuing graduate studies in electromagnetics at the University of Texas in Austin. Li worked as an undergraduate researcher in the Applied Electromagnetic Waves Laboratory. Li was also involved with the NASA space elevator project team and the Vandal Atmospheric Science Team.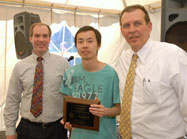 Cody Miller, Computer Science
Cody Miller came to the University of Idaho in 2006 and found the CS degree to have a diversity of classes and fantastic opportunities to work with highly qualified professors. Miller will be joining Microsoft after graduation.
Kevin Roos, Computer Engineering
Kevin Roos worked as an undergraduate researcher with the Center for Intelligent Systems Research working on cooperative control of underwater autonomous vehicles. Roos has accepted a position with Micron in Boise.