A Global Light in Defiance of Variance
In a dimmed world, there is always a radiant light. As such, it comes as no surprise that the University of Idaho - the Beacon for Mountain and Plain - holds within it Curriculum and Instruction's Associate Professor, Janine Darragh, Ph.D.
The U.S. Department of State selected Darragh to lead a three-week online English Language Specialist project through the Teach for Lebanon Fellows. This non-profit focuses on supporting educators who teach a variety of subjects and grade levels in schools throughout the country of Lebanon.
"These teachers are supporting some of the most vulnerable students around the world- children who are refugees, who live in orphanages, who have been forced into early marriage, and who are in juvenile detention centers," said Darragh. "I want the teachers to experience trauma-sensitive and interactive online teaching so that they can feel more comfortable in their own classrooms."
It is not only the complexities of trauma that teachers are facing, but also a world-wide pandemic and lack of technology. They educate with glaring insurmountable circumstances due to COVID-19 and unreliable or absent internet access and electricity. Darragh creatively developed new strategies to support the teachers tackling these obstacles.
"How do you teach people how to teach online to students who don't have internet nor electricity," said Darragh. "I did some research and drew from my experiences working with teachers in rural Nicaraguan schools and in Kakuma refugee camp, and what I have found is that while many families do not have internet access nor computers, most all families DO have a phone, not necessarily a smart phone, but a flip phone with texting options, at least."
"How do you teach people how to teach online to students who don't have internet nor electricity?"
Darragh trained her group of educators how to utilize an international app, WhatsApp, that allows pictures, texts, videos, PowerPoint slides and voice recordings to be shared between the teacher and student with the use of data. Though it is not ideal, she says it works in these situations.
While phone ownership solves internet and electricity barriers, some younger students must rely on their parents' phone to complete their schoolwork, adding to the predicament. In families with many kids, there is the additional issue of parent unavailability to the frequent back-and-forth text messaging.
Still, the positives outweigh the negatives. Students who have phone and WhatsApp access can work in groups to collaborate with one other. Most importantly, the utilization of phones and WhatsApp increases the number of students who can receive an education.
Darragh says working through these issues was the most difficult teaching experience in her 26 years as an educator, but she is deeply inspired by the teachers' positivity and enthusiasm. The English Language Specialist project greatly impacted Darragh's thinking on learning and teaching.
Faculty members such as Darragh make the College of Education, Health and Human Sciences (CEHHS) the breeding ground for education and innovation. CEHHS Interim Dean, Philip Scruggs, Ph.D., believes in the value Darragh brings to not only CEHHS students, but to students around the world.
"Dr. Janine Darragh and her work is an inspiration to us all, as her teaching and outreach work demonstrates the innovative engagement that cultivates transformation in teaching and learning," said Scruggs. "Dr. Darragh's work recognizes the complexities that teachers face globally, and provides the ideas, collaboration and stories needed so that teachers can reach each student, and each student's learning experience is treated as most important."
Despite the many challenges of the English Language Specialist project, Darragh hopes that the training equips each teacher with strategies to implement in their own instruction to support the diverse and unique learning needs of their students.
"Whenever I work with teachers from international contexts, I am always struck by the realization that, regardless of setting, teachers are teachers and kids are kids," said Darragh. "Teachers around the world just want to support their students, and kids are smart, talented, resilient, sometimes silly, and eager to learn."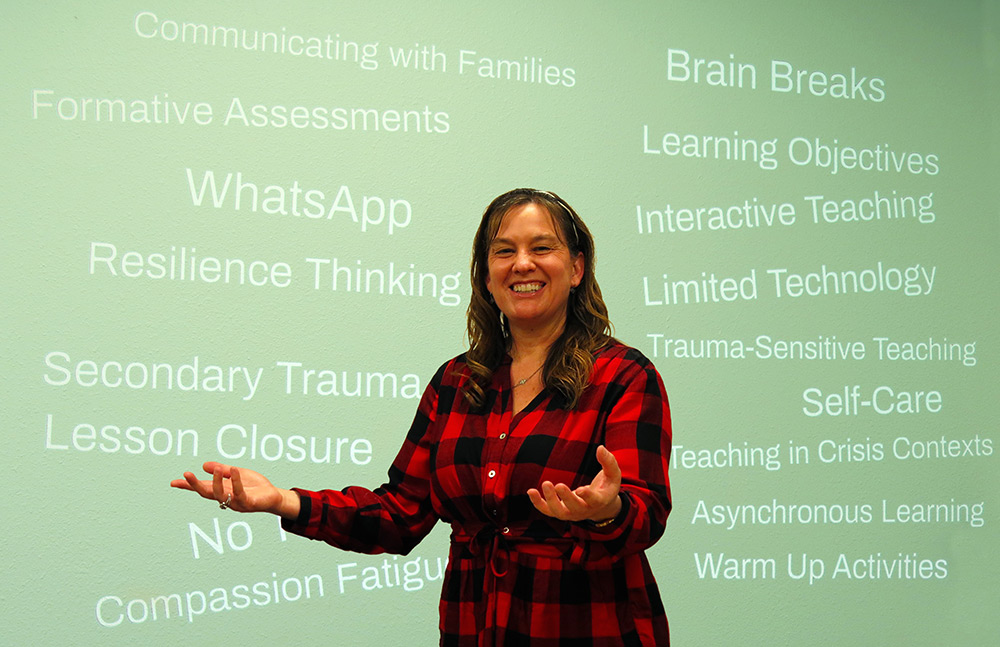 By Melanie Leija, for College of Education, Health, and Human Sciences