Space Force Sergeant Gets His Master's Degree
Space Force Sgt. takes his education to Africa, studying for his master's degree despite being deployed.
A lover of animals, Eugene Russell initially wanted to be a Marine Biologist. But life has a funny way of changing the path you initially saw yourself going down, and now, Russell is a Sergeant in the United States Space Force and a graduate of the University of Idaho with his Master's in Psychology with an emphasis in Human Factors.
Upon graduating with his Bachelor's in Psychology from the University of Colorado Denver, Russell joined the Air Force in 2018. The department he was assigned to turned into the Space Force. In 2020, Russell was able to begin pursuing his master's degree through the University of Idaho, while utilizing the Military Appreciation Scholarship.
While deployed to Africa, Russell used his spare time to study, working his way towards a master's in Psychology, emphasizing in Human Factors.
"More than half of my team was in the process of taking classes," Russell said. "Actually, that's the nice thing about being deployed sometimes. Compared to being back home, it's a very simple lifestyle. You wake up, get your food, go to work, exercise and then focus on other professional goals or other interests you have. The deployment lifestyle definitely affords that."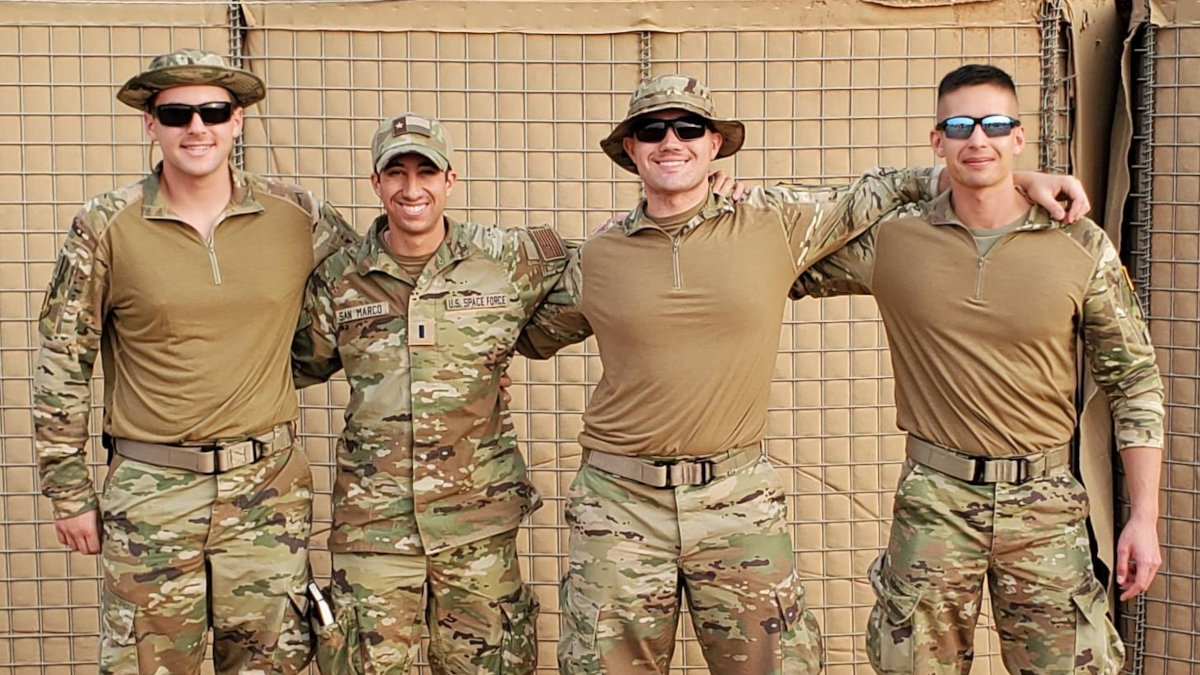 The Military Appreciation Scholarship is specifically designed for active-duty service members who are looking to further their education but need to do so online. The University of Idaho offers over 10 online-only degrees and certificate programs, with even more degrees having the ability to be completed at least partially remotely.
"It's been really fantastic overall, and I really do appreciate the amount of support that the University of Idaho, and particularly the Veterans Assistance Department provides for us as military folks that are really interested in wanting to further and advance our education," Russell said, going on further to emphasize how his professors were always willing to work with him and around his intense schedule. "This has been a huge benefit and really a boon for me in enabling the pursuit of my education and being able to attain my master's degree. I think without that support, it definitely would have been more of a struggle."
After graduating in the spring of 2023, Russell now uses his studies of Human Factors to assist in system design.
"Once I got more into the program, it gave me a little bit more insight into how system design can greatly impact operator performance," Russell said. "And I think that's one thing that really gets overlooked a lot of the time."
His knowledge of Human Factors has allowed Russell-and his team-to become more involved in the design process of the different systems and machines that they as operators will be using during operations.
"We ultimately want to ensure that our voices and the voices of the operational community are heard so that design features that fulfill user requirements are considered and hopefully integrated into system design," Russell explained.
Working towards a degree is intimidating, but achieving that is nothing short of a major accomplishment. Being able to use it, seeing the real-world impacts firsthand, is something to be proud of. Eugene Russell completed his Master's degree with a perfect GPA in three years, despite simultaneously balancing a demanding career in the military. Russell is proof that if you want something bad enough, you'll do what you have to do to make it happen.
"Looking back at it now, it makes me appreciate the work that was put in," Russell reminisced. "If you can establish a schedule and balance, then it's feasible. Very challenging, but it can be done."
---
Article by Emma Zado, Military and Veterans Services.
Photography supplied by Eugene Russell and used with permission.
Published June 2023.