Not Your Regular Cup of Joe
Black Rifle Coffee Company Gives Back to U of I
Veterans Through Operation Education Fund
The black firearm he carried for most of his military career inspired the name of former University of Idaho student Evan Hafer's brand of coffee. The sacrifice of fellow service members inspired his recent gift to a U of I veterans' program.
The two are indelibly linked.
Hafer, who grew up in Weippe and Lewiston and who attended U of I to study political science, spent 20 years in the Army, mostly as a green beret.
During slow times on duty, often with a black rifle hanging from a sling on his back, he perfected his hobby of roasting coffee. When Hafer left the military, he turned his aromatic pastime into the multimillion-dollar Black Rifle Coffee Company.
This spring, Hafer and Black Rifle donated $50,000 to Operation Education, a U of I scholarship program that helps veterans cover college expenses.
The gift will provide university veteran scholarship programs and the people they serve with a stronger financial base, said Jason Nierman, U of I's director of Military and Veteran Services.
"It's extremely important because it gives us predictability on how many long-term scholarships we can provide to our veteran students," Nierman said.
After returning from combat overseas, Moscow Police Officer Jason House used an Operation Education scholarship to earn his bachelor's degree. House served with an Army unit when he was injured by a roadside bomb in Iraq more than a decade ago.
While recovering in a Texas military hospital, House, who grew up in Deary, received a call from a veteran's recruiter from U of I, inviting him to become a Vandal.
"Growing up, I never thought I'd go to college," House said. "I never thought that was obtainable, but with Operation Education, it definitely was."
In addition to helping defray living expenses or aid in tuition, Operation Education programs help participants find a mentor and peer network.
"The people I met at the group's luncheons and gatherings were a real benefit to my educational career," House said. "We're still friends to this day."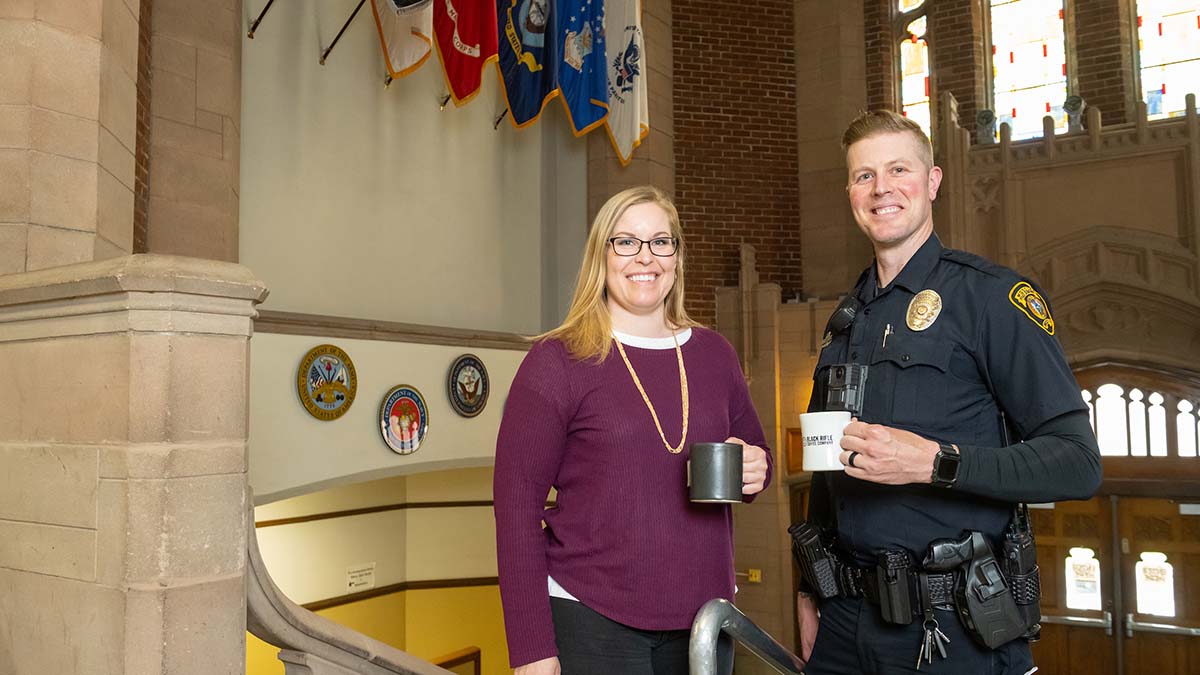 Financial help from Operation Education was paramount in Jennifer Tengono's journey to pursue a law degree.
When she left the military after eight years of service, Tengono earned a bachelor's degree while working as a sheriff's deputy in Utah. On assignment as a bailiff, Tengono learned about U of I's law program.
She moved to Moscow and, as a single mother who spent most waking hours preparing to pass the bar, Operation Education helped pay her costly childcare expenses.
Like many veterans, Tengono, now a Moscow-based attorney, had to be encouraged to ask for the financial help that Operation Education provided.
"A lot of veterans don't think they deserve it," she said. "To all the veterans: You are deserving."
We know what it feels like being the new guy stepping into the corporate world for the first time after having spent the last five years running missions in Ramadi. Evan Hafer
For Hafer, whose Black Rifle Coffee Company is operated mostly by veterans, the donation to Operation Education is in line with the company's mission to support veterans, law enforcement and first responders with proceeds from each order.
"It can be hard for veterans to adapt, and we want to give them opportunities that will help them succeed in places where they are qualified, but may not have seen themselves," Hafer said. "We know what it feels like being the new guy stepping into the corporate world for the first time after having spent the last five years running missions in Ramadi."
Hafer, who was part of the Army ROTC program during his time at U of I, will receive honorary alumni status from the university this spring.
"Evan has always kept his eye on supporting causes that are important to him," said Brad Martin, director of development for Military and Veteran Services, former professor of military science for U of I's Chrisman Battalion and retired lieutenant colonel. "I can think of no one more deserving of the status of honorary alumni of the University of Idaho."
Because Operation Education is a donor-funded scholarship, donations such as Hafer's and Black Rifle Coffee's, will have a real-world impact on a veteran's life, Nierman said.
"From assisting with books and fees to helping afford medical care, our donors have a profound influence on the experience our veterans have while completing their degree,"
Nierman said. "It's nice to know we have gifts like this to support a veteran all the way to graduation."
Evan Hafer photo submitted and used with permission.
Other photography by University of Idaho Creative Services.
Published May 2021.