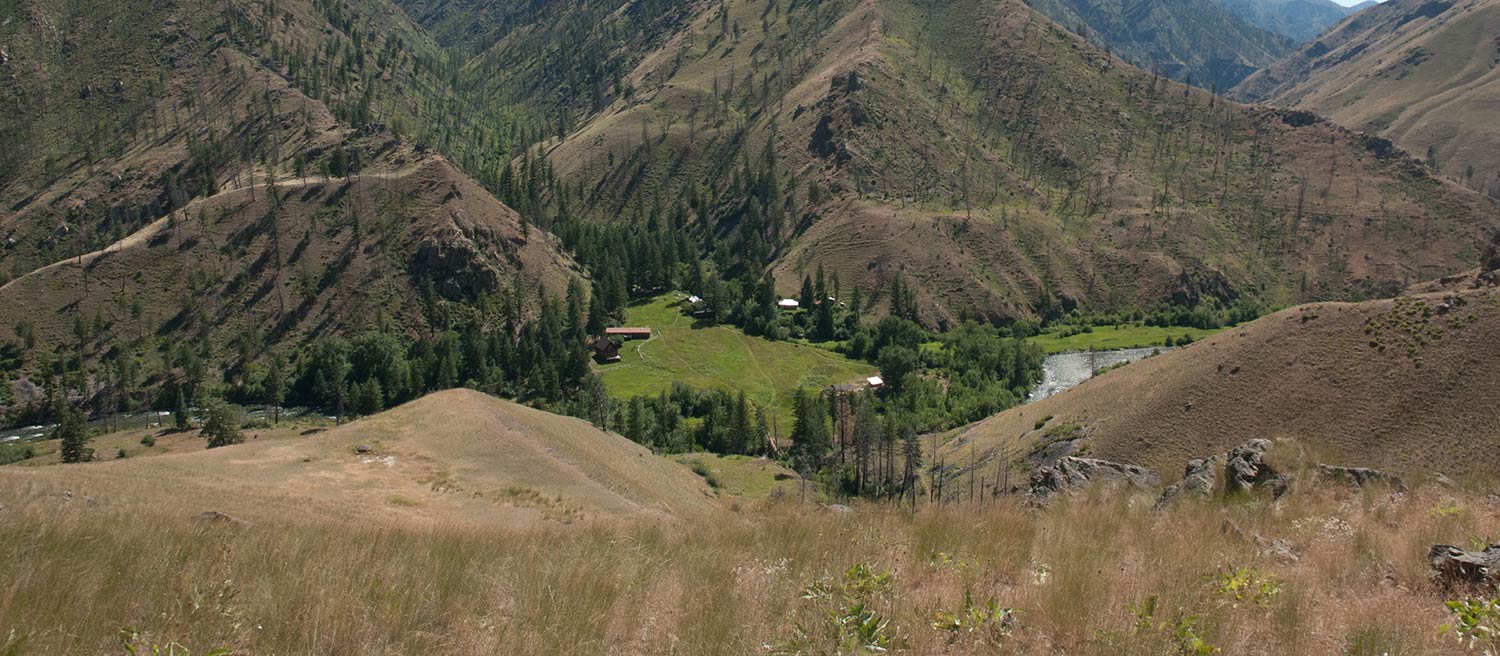 Taylor Wilderness Research Station
Embedded within the heart of the Frank Church - River of No Return Wilderness is a one-of-a-kind venue for scientific discovery. This facility allows the opportunity to explore social, political and economic implications on ecological processes in a wilderness context. Surrounded by 2.39 million acres of wilderness in central Idaho, the station provides outstanding access, facilities and logistical support for research on natural environments.
The station's remote location provides an abundance of unique research opportunities for study. Projects undertaken by faculty and students include the following:
Vegetation and rangeland monitoring
Plant identification
Wildlife surveys
Stream ecology and monitoring
Wildfire impact
Cultural and anthropological investigations
Economic impacts in wilderness usage
RiverNET
University of Idaho, Department of Fish and Wildlife Sciences, RiverNet, Dr. Brian Kennedy
RiverNET instrumentation gathers fine scale temporal measurements of Big Creek tributaries to acquire detailed measurements for ongoing reach-scale ecological studies and recording stream water temperature, discharge, dissolved oxygen and conductivity near the mouths of Pioneer, Cliff and Rush Creeks.
AERONET
Taylor Wilderness Research Station has become a collaborator in NASA's Aerosol Robotics Network (AERONET) as one of 500+ sites around the world used to measure aerosols and their movement in the atmosphere.
Blue Bunch Wheat Grass
Sampling plots are being reestablished to continue monitoring changes in Blue Bunch Wheat Grass biomass. BBWG is a major dietary component of Mountain Sheep in the Frank Church – River of No Return Wilderness and may be a good indicator of the health of this population.
Avian and Bat Monitoring
Taylor Wilderness Research Station is collaborating with Idaho State University and Boise State University to install acoustic sensors for long-term monitoring of avian and bat species that are using the Big Creek drainage. A potential application of this project is to monitor in and out migration of avian species in a changing climate, as well as avian and bat species diversity.
Idaho Steelhead Monitoring
Idaho Department of Fish and Game, Idaho Steelhead Monitoring and Evaluation Studies Project
Wild steelhead trout and Chinook salmon, listed as "threatened" in Idaho under the Endangered Species Act, are monitored by the Idaho Department of Fish and Game to assess their performance in the Frank Church – River of No Return Wilderness.
NOAA / NMFS PIT Recovery
National Oceanic Atmospheric Administration (NOAA) National Marine Fisheries Service (NMFS)
A Passive Integrated Transponder (PIT) mark recapture and recovery (MRR) site at TWRS is part of a regional database within the Columbia River Basin, referred to as PITAGIS. Annual visits are made to tag juvenile salmon and maintain the tag sensor array within Big Creek.
Taylor Weather Recording Station
For more than three decades, daily weather measurements have been recorded and include maximum, minimum and 8 a.m. temperature readings, as well as precipitation accumulation and distribution.
Owned by the University of Idaho's College of Natural Resources, Taylor Wilderness Research Station spans 65 acres along Big Creek, the largest tributary of the Middle Fork of the Salmon River. Taylor is located at approximately 45.1028° latitude and -114.8517° longitude. Our elevation at the head of the airstrip is 3853'. Taylor's airstrip is privately owned. Permission to land must be obtained from the station managers prior to arrival and require an educational or research purpose.
TWRS Location
Elevation: 3850 feet, situated on Big Creek, 28 miles downstream from the closest road at the community of Big Creek, and 7 miles upstream from the confluence with the Middle Fork of the Salmon.