Idaho Rangeland Skillathon: Engaging the Next Generation of Stewards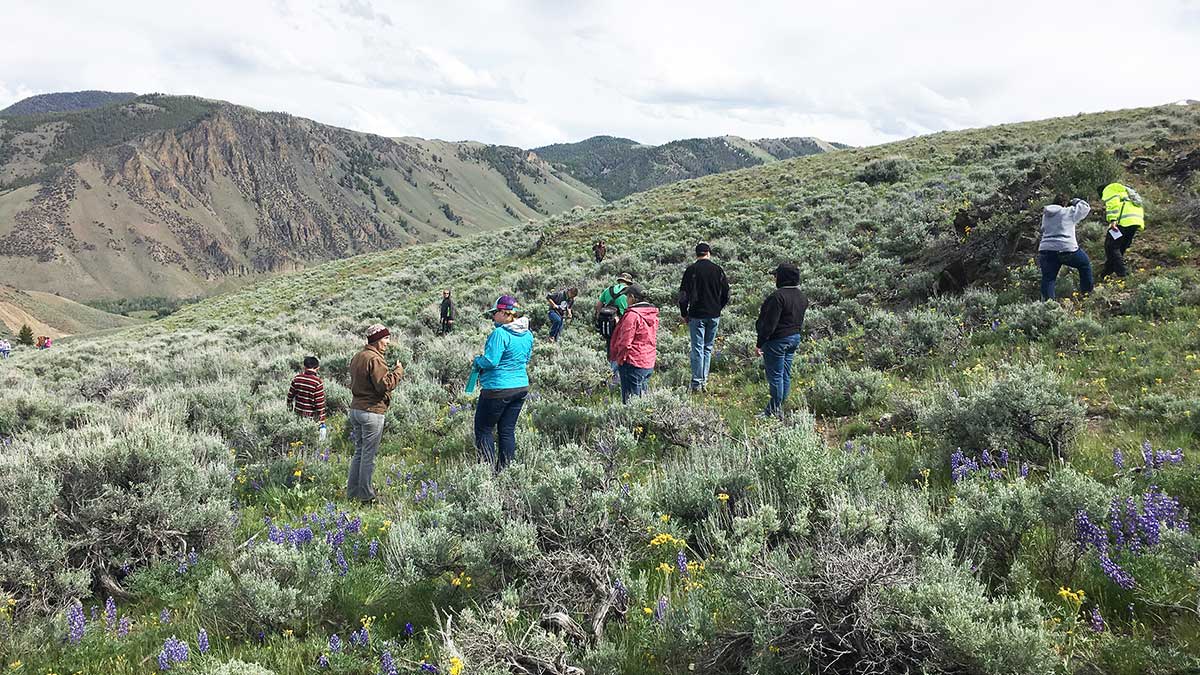 The Challenge:
What are rangelands? If you asked a cross-section of Idahoans, you might get some curious responses. Rangelands are Idaho's gem that is hidden in plain sight. They are all around us, yet few people know what makes these landscapes tick. An Idaho science teacher recently remarked, "Our students today know more about the tropical rain forests than they do about their own backyard." This rural middle-school teacher noted that kids spend more time looking at electronic screens than they do looking at the natural world around them. Thanks to the internet and educational television, students can easily explore distant places on our planet — and beyond. But how can they learn about their own home ground, including the public and private rangelands that cover half of Idaho? Meanwhile, the demand for college educated rangeland professionals has never been higher. But few students pursue range degrees because they don't realize there are exciting career opportunities on the range. Who will be the future owners, managers and stewards of this ecologically diverse and valuable landscape?
Our Response:
Working in partnership with the Idaho Rangeland Resource Commission, the University of Idaho Extension in Adams County in 2015 developed the Idaho Rangeland Skillathon, a hands-on program to teach Idaho youth about rangelands. Each year, students ages 8-18 are invited to participate in the Idaho Rangeland Skillathon through their local 4-H clubs. Participants receive a study packet and a natural resource challenge to address. The challenge focuses on a different species of concern each year, from greater sage-grouse to wolves to salmon, steelhead and bull trout. After a month of research and preparation, teams of three or four participants and their coaches from around the state gather at a designated range location for a weekend of friendly competition, experiential learning, and an opportunity to practice their presentation and leadership skills. Invited specialists lead workshops in range plant identification, wildlife habitat, soils, water quality, livestock and grazing, wildfire and land management policy. A local rancher explains the challenges he/she faces in managing a livestock operation in conjunction with the species of concern. Then the junior (ages 8-13) and senior (ages 14-18) teams test their knowledge before a panel of judges, followed by awards and celebration.
The Idaho Rangeland Skillathon planning team modeled the design and components to meet the standards of the national Wildlife Habitat Education Program. WHEP uses a science-based manual to teach 4-H and FFA youth about wildlife and fisheries management. It culminates in an annual competition involving winning teams from around the country. The first-place team from the annual Idaho Rangeland Skillathon earns the right to attend the WHEP competition. In 2015, Idaho's winning senior team from Canyon County competed at the national WHEP event in Alabama. Now entering its fourth year, the Idaho Rangeland Skillathon is growing steadily, with 36 contestants and more than 80 4-H participants, coaches and family members attending the 2017 event that was held in Challis, Idaho.
Output and Outcomes:
Foster a greater public understanding of rangelands that will lead to better management and stewardship of public and private rangelands.
Explore how livestock grazing can be an important and beneficial use of a renewable resource.
Spark students' interest in the science, math and engineering skills required to care for Idaho's rangelands.
Hold the Rangeland Skillathon at different locations around the state to show the diversity of Idaho's rangelands.
Rangeland Center Members Involved:
Tyanne Roland — UI Extension, Adams County
Gretchen Hyde — Director, Idaho Rangeland Resource Commission
Sarah Baker — UI Extension, Custer County
Niki Dalton — UI Extension, Bannock County
Carmen Willmore — UI Extension, Lincoln County
Partners and Sponsors:
Idaho Rangeland Resource Commission (IRRC)
Idaho Soil and Water Conservation Commission (ISWCC)
Governor's Office of Species Conservation (OSC)
Natural Resources Conservation Service (NRCS)
Adams Soil and Water Conservation District (ASWCD)
U.S. Forest Service (USFS)