Barley Agronomy Program
Barley is grown for malt, feed grain, human food and forage. Idaho produced 55 million bushels of barley in 2020 on 500,000 harvested acres at an average yield of 110 bushels per acre (USDA NASS 2020 State Agriculture Overview, Idaho, Feb. 8, 2022). Approximately 75% of Idaho's barley is grown under irrigation allowing barley producers to consistently produce high yielding barley that consistently meets end-user quality specifications 95% of the time.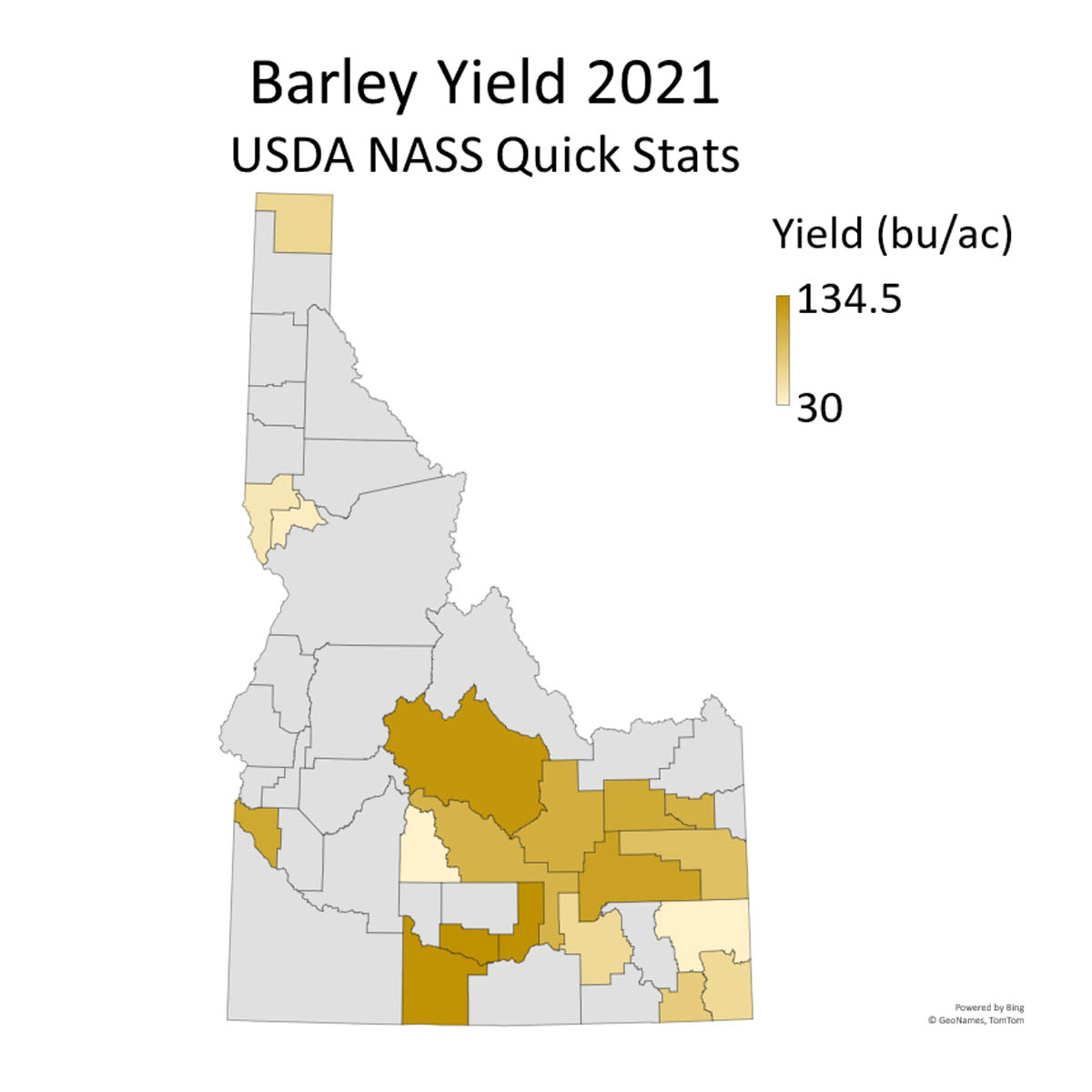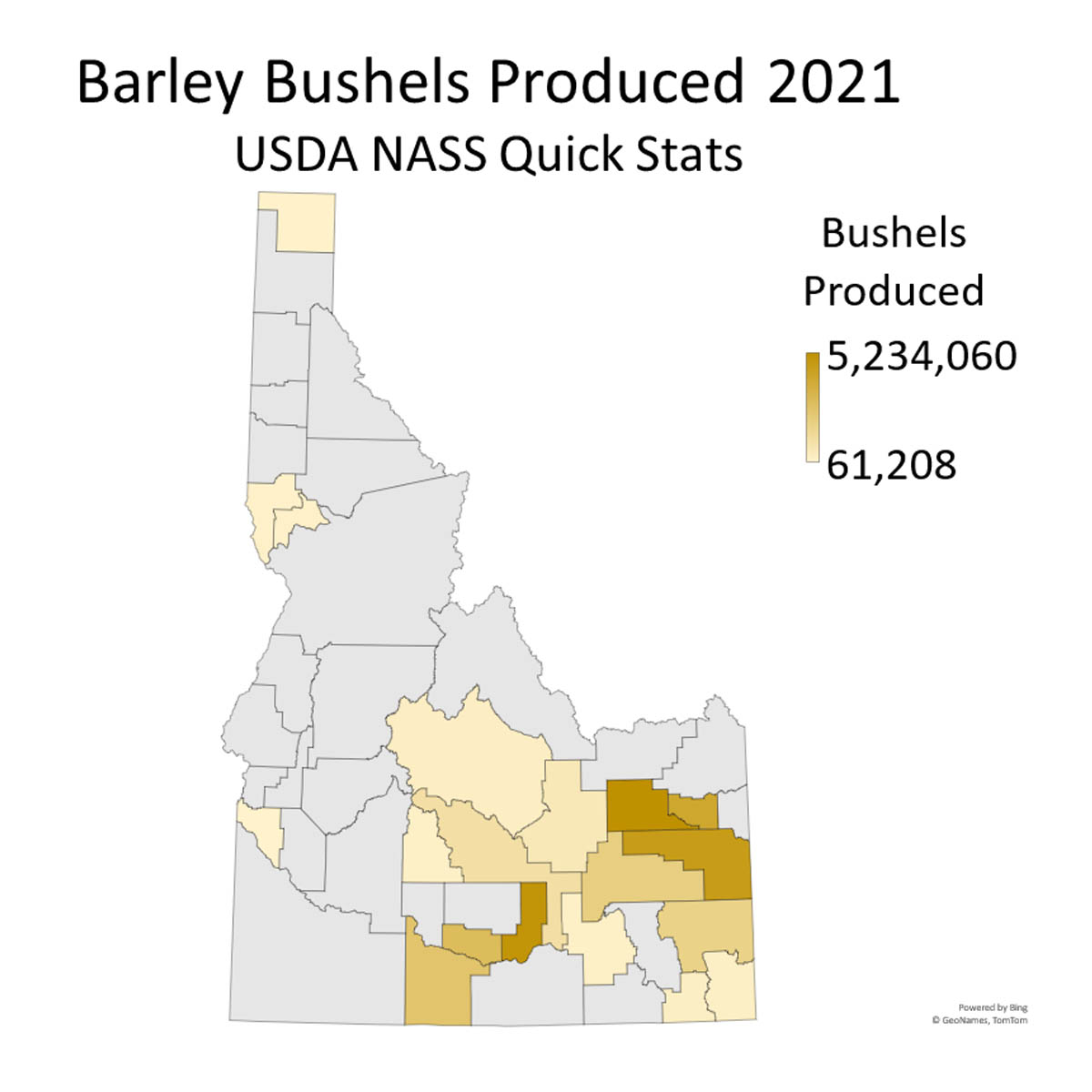 Research
Research at the Aberdeen Research and Extension Center focuses on sustainable irrigated and dryland barley production strategies with emphasis on soil nutrient management for yield, end-use quality (malt, feed, food and forage), plant health, and soil and water quality. The program is currently conducting the following research projects.
Barley Yield and Protein Response to Nitrogen and Sulfur Rates and Application Timing (2021–2023)
Funded by: Idaho Barley Commission, Stukenholtz Laboratories, American Malting Barley Association
Objectives
Assess the effect of variety and the rate of nitrogen (N) and sulfur (S) application on plant nutrient utilization, grain yield and protein, and soil responses for three barley varieties
Identify the critical concentration ranges of N and S for developing correlated tissue test guidelines for malt, feed, and food barley under Idaho growing conditions
Develop a correlation-calibration response curve to establish the relationship between plant tissue N and S content with active canopy sensors for Idaho growing conditions
Idaho Small Grain Production Practices Survey (2021–2022)
Funded by: University of Idaho Extension, Idaho Barley Commission
Objectives
Conduct a survey with Idaho small grain producers
Identify current production management practices employed by producers
Categorize production practices followed regionally and statewide
Determine the differences in practices followed regionally and statewide
Identify if there is a difference in production practices followed by producers by their demographic characteristics
Utilize the survey results to inform research and educational programs.
If you are a small grain producer and would like to participate in this survey, please email jspackman@uidaho.edu. Survey participants will receive a $30 gift card.
Your responses will help the University to improve the quality of research and Extension programs we provide for your county and region. It will also help us accelerate the rate at which we update the small grain production guides.
Active Canopy Sensors to Prescribe In-Season Supplemental Nitrogen for Barley and Wheat (2021–2023)
Funded by: Idaho Barley Commission and Idaho Wheat Commission
Objectives
Determine food, feed, and malt barley yield and grain protein response to in-season N application
Determine hard red, hard white, and soft white wheat yield and grain protein response to in-season N application
Assess if split-applications can be done to achieve yield and protein goals for different barley and wheat classes
Develop crop sensor algorithms for Idaho conditions for different barley and wheat classes
Liming for Improved Nutrient Utilization and Weed Management in Wheat (2021–2024)
Funded by: Idaho Wheat Commission
Objectives
Evaluate how liming modifies soil nutrient availability, plant nutrient uptake, and grain quality and yield
Evaluate the effect of liming on weed pressure
Perform a survey of southern Idaho acidic soils' physical and chemical properties and weed seed census
Timing of Forage Cereal Harvest on Yield and Livestock Feed Quality (2021 – 2022)
Funded by: University of Idaho Extension
Objectives
Evaluate the effect of four different harvest timings on forage barley and oat yield, feed quality, and stand regrowth
Evaluate the effect of N rate on forage barley and oat yield, feed quality, and stand regrowth
Jacob Bevan, Research Technician
Prranoyaw Eeturu, M.S. Graduate Student
Olanrewaju Adeyemi, M.S. Graduate Student
Kaone Mookodi, M.S. Graduate Student
Barley must meet strict quality criteria to be acceptable for malt production. Maintaining tight controls on these quality factors in the grain is necessary to ensure good processing efficiency and final product quality in the malthouse and brewery. High quality malting barley should have the following characteristics:
Pure lot of an acceptable variety
Germination of 95% or higher
Protein content raging between 9.5% to 12.5% (dry basis)
Moisture content below 13.5%
Plump and uniform kernels
Free of disease and low DON content
Less than 5% of peeled, broken or damaged kernels
Clean and free of insects, admixtures, ergot or foreign material
(Aaron MacLeod, Understanding Malting Barley Quality)
Additional resources