A Dream to Dance
College of Education graduate shows enthusiasm for performance, research opportunities at U of I
Lauren Smith has never given up on that early childhood dream to dance.
"I think it's so fulfilling," Smith said. "I learn and understand myself and others through movement. I feel more alive through movement, when I'm dancing I feel most alive."
Smith, 23, already has more than two decades of the art under her belt, and graduates this spring with two Bachelor of Science degrees from the University of Idaho College of Education. She completes her schooling at UI with a double major in dance and exercise science and health, all while doubling down on her desire to perform.
It all started at about age 3 when a young Smith bugged her parents to let her join her older sister's baton-twirling class. Jazz and ballet became a bigger part of her life during middle school in the Coeur d'Alene area, but she was still debating physical therapy as a career when she first enrolled at UI.
Dance kept bringing itself to the forefront.
"I've always been a dancer," she said. "I haven't ever been at a place where I've wanted to give it up."
It's UI where Smith fell in love with modern dance. She has participated in DancersDrummersDreamers and fall faculty performances over the past five years. She also has been a member of the Terpsichore Student Dance Organization, UI's student dance club. The club, which Smith was president of between 2014-16, puts on informal Dance Off Hand group performances for all students at UI.
In addition to her multiple performances, UI's dance program has also helped Smith learn about movement and the human body – and about her own capabilities.
"It's the best experience I've had as far as understanding myself better and what I'm passionate about," Smith said. "I feel the program continues to help me grow into who I am becoming."
She's even found ways to incorporate her love of dance into research. Smith and former movement sciences professor Mostafa Hegazy were able to look into the biomechanics of motion to study what happens when an athlete or a dancer lands after making a jump or drop landing. They compared the force when a dancer's feet touches the ground to the same activity performed by other athletes.
"We found that the dancer group had less force for each landing than the general athletics group," Smith said. "Dancers were able to decrease the difference between types of landings as well and keep it more consistent. We train the landings."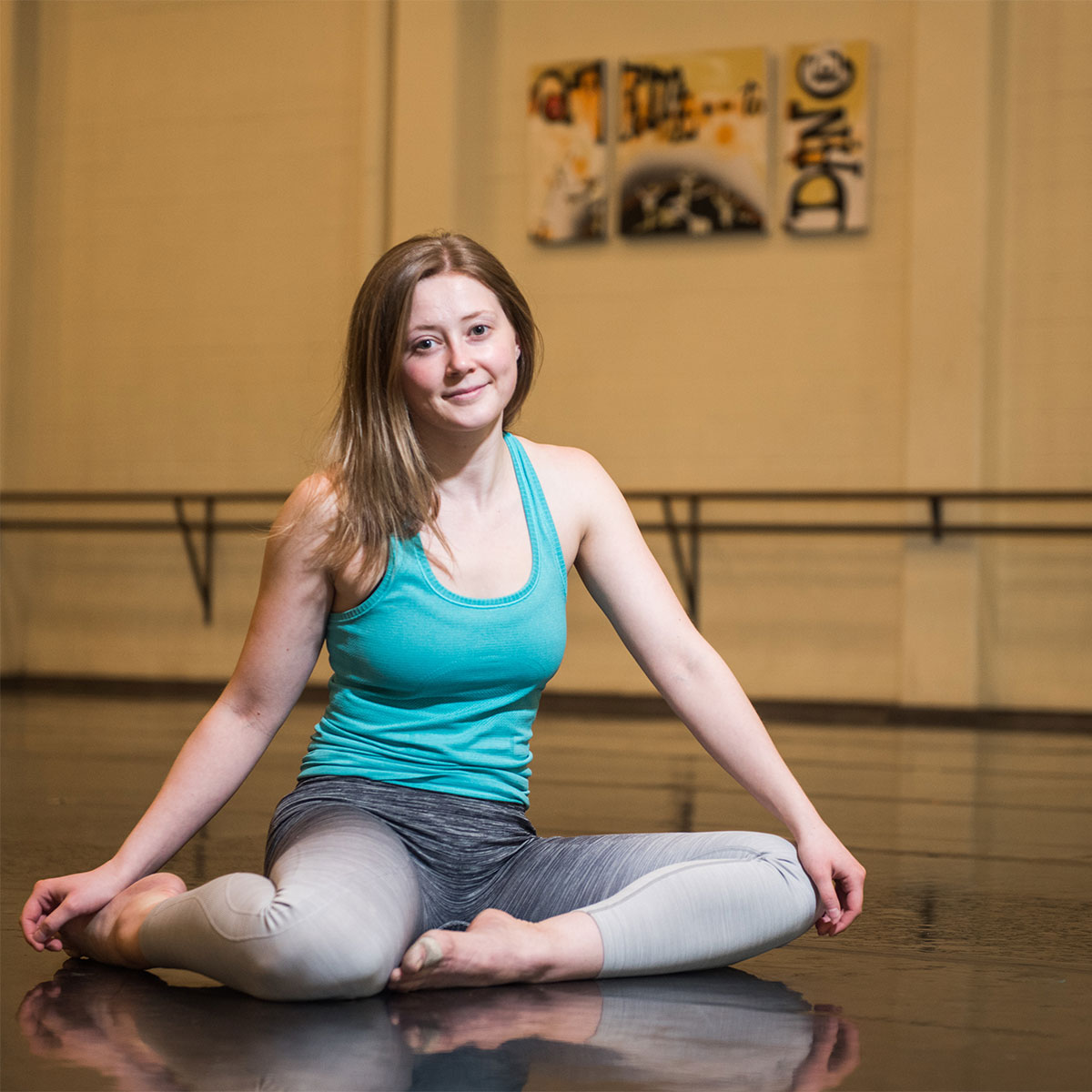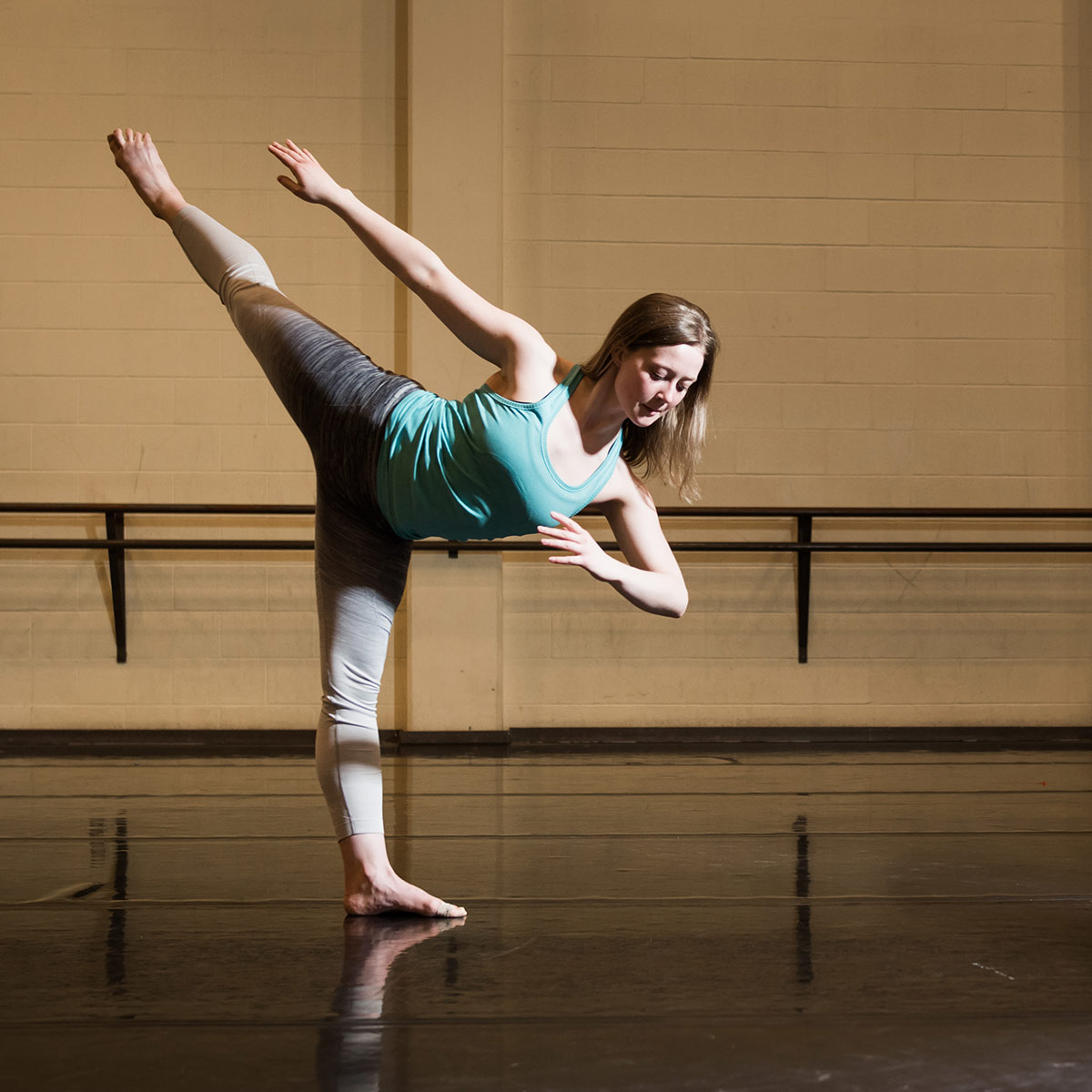 The research endeavor wasn't required for either of Smith's majors, but she said the project in the spring of 2015 was nice way to tie the two areas of study together.
She calls dance the more difficult of her two majors because of its continual demand on the whole self — the physical, mental, emotional, social, and creative self. It's also where she learned more about her passion – modern dance.
"I think I learned the most new information about myself as a mover in the modern technique classes," she said. "Our modern faculty, they're awesome, they're insane, they're brilliant."
Her performances have already garnered attention. The Vytal Movement Dance Company in Spokane hired her for a spot in their company last fall and she continues to dance there today. She also toured with the Long Beach Ballet across China shortly out of high school and was recently selected to take a solo performance work of hers choreographed by UI Clinical Assistant Professor and Dance Program co-coordinator Belle Baggs to New York this summer. Last fall, Smith received the Mayor's Arts Award for her work as a student in the arts.
"This award made me feel that my work had been recognized in a way that I could never thank my nominators enough for," she said.
Smith is planning to take the tools she's learned over five years in Moscow to a full-time dance company before eventually coming back to school for a Master's of Fine Arts degree in dance. She is auditioning for dance companies as graduation nears, hoping to land a full-time position.
"I feel very confident that I've been prepared well by my amazing faculty in the dance and exercise science programs," she said.
Article by Brad Gary, University Communications and Marketing.