Semester Refresh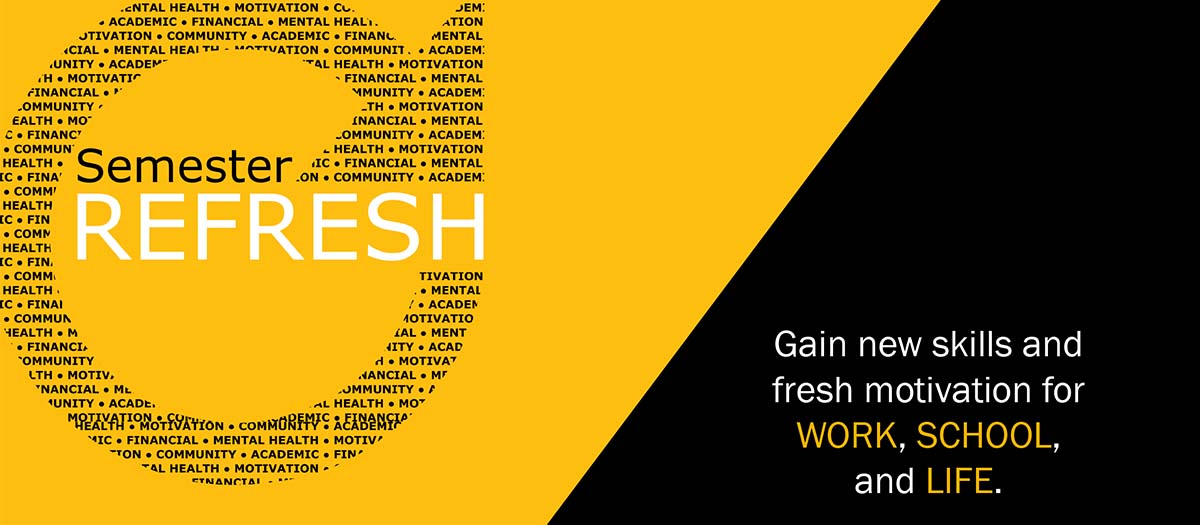 Gain new skills and fresh motivation for work, school and life.
What does the day look like?
Tuesday, Jan. 10, 2023
11:30 a.m. to noon: Check-in/Lunch
Noon to 12:55 p.m.: Opening and Sources of Strength
1-1:35 p.m.: Breakout Session 1
1:45-2:20 p.m.: Breakout Session 2
2:30-3:05 p.m.: Breakout Session 3
3:15-4:30 p.m.: Student Panel/Closing/Prizes
Why Should I Attend?
Kickstart your spring semester by accessing resources to gain new skills and fresh motivation!
Have a busy schedule? Learn tips and tricks to balance school, work, life, and make the most of your time.
Reconnect with campus and community and meet with likeminded students.
Free lunch!
Sessions Offered in Semester Refresh 2023
Beyond Goal Setting: How to take action when pursuing your goals - Learn tools to plan next best steps and create clear action plans to actively pursue your goals.
Beating the Winter Blues - Explore the different activities, events, and community groups you can get involved with and connected to here on campus and in the Moscow community.
On the Write Track: What the Writing Center Can Do for You - Meet the Writing Center staff and learn when and how to use Writing Center services.
Library Resources to Save You Time, Energy, and Money - Learn about all the Library has to offer and the ways that it's resources can support you in your academic and personal lives.
Mindfulness for Very Busy People - Learn and try out simple, proven strategies to calm your stress and boost your clarity.
Budgeting & Financial Literacy - Learn financial basics and connect with resources both on and off campus.
Getting to Know the Center for Disability Access and Resources - CDAR provides equitable access to university programs for students with a permanent or temporary disability--learn more about how they can help you!
Getting a Handle on Time Management - Learn what makes an effective schedule and several methods to try out.
INTR 101
These recorded lectures highlight strategies to help you succeed in college and beyond.
Workshops and Wellbeing
Healthy living tips and workshops from Recreation and Wellbeing