State Board of Education
The University of Idaho is governed by a Board of Regents of the University of Idaho. The same people who make up the Board of Regents also make up the Idaho State Board of Education, which has governing authority over Idaho's other public educational institutions. The group as a whole is often referred to as the State Board of Education (SBOE).
Many employees and entities across campus have direct and indirect contact with the Board of Regents and SBOE staff.
The Office of the Vice President for Finance and Administration is responsible for submission of Business Affairs and Human Resources (BAHR) agenda items to the SBOE. According to policy, BAHR agenda items include items such as all purchases and capital projects estimated to cost more than $1 million, changes in university policy that affect classified staff, various financial and budget reports, and hiring of head coaches.
The Office of the President is point for agenda items and matters that should be routed through the Planning, Policy and Governmental Affairs (PPGA) committee. Such items include annual reports, strategic plans and clarification of board policies. The PPGA committee also tracks and reports legislative updates and findings of specific research initiatives.
The Instruction, Research and Student Affairs committee represents the academic arm of the Board. The university's IRSA items are coordinated by the Office of the Provost and Executive Vice President and include items such as degree offerings and program progress reports.
The university's involvement in the Audit committee is monitored by the Associate Vice President for Finance. The Audit and BAHR committees work together closely.
Overall, interactions between the U of I and the SBOE are coordinated by the President's Office, as per the chart below.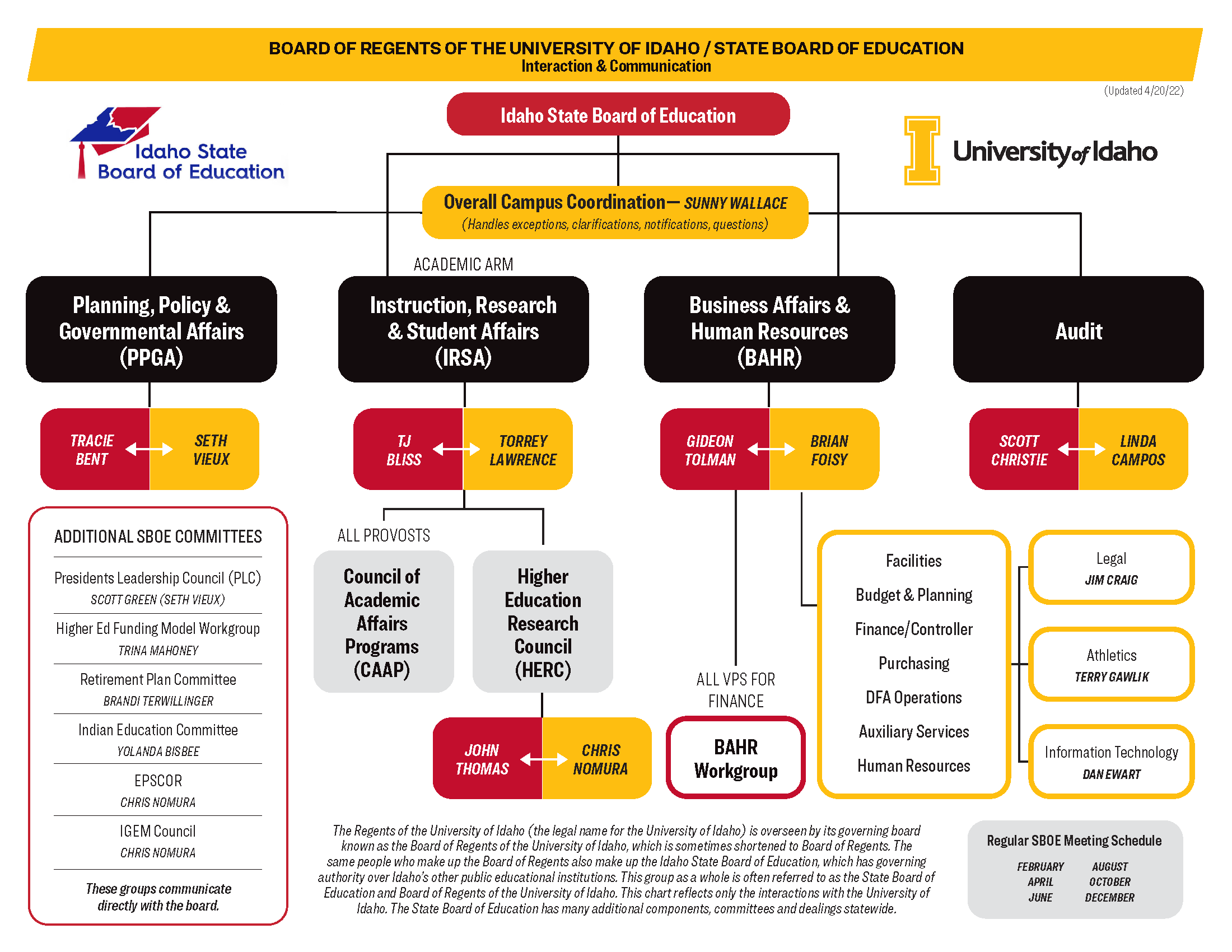 Regular Board meetings are held 6 times per year: February, April, June, August, October and December. Typically, the U of I hosts the April meeting on the Moscow campus. All agenda items must be submitted in advance according to established formatting rules and strict deadlines.