Danielle Mayberry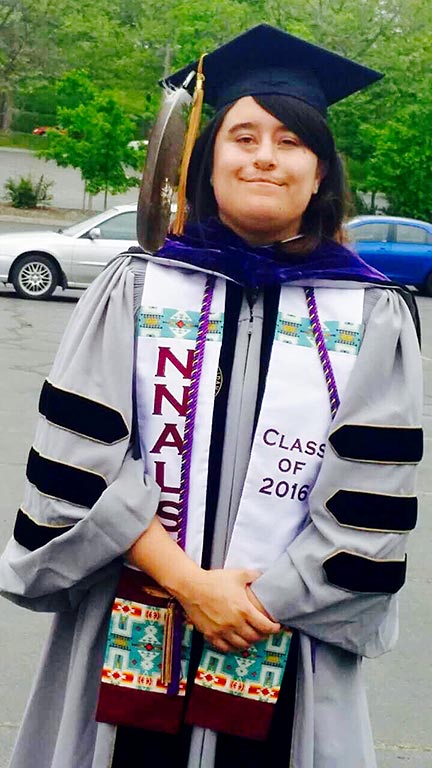 Danielle Mayberry is a tribal citizen of the Te-Moak Tribe of Western Shoshone (Newe) located in Northern Nevada. Danielle is originally from Battle Mountain, Nevada and she graduated from Battle Mountain High School in 2009. She attended the University of Jamestown in Jamestown, North Dakota and earned a Bachelor of Arts in Political Science and History. She graduated from the University of Idaho College of Law in May 2016 with an emphasis in Native American Law.
Danielle is the first person to earn a Juris Doctor degree in her Tribe's history. During her time at the College of Law, Danielle served as the Idaho Chapter of the Native American Law Students Association (NALSA) Chairperson for two years (2014 – 2016). She was also elected during the 2015 Federal Indian Bar Conference as the Area 7 Representative for the National NALSA Executive Board. Danielle also represented the Idaho NALSA Chapter in the 2015 National NALSA Moot Court competition at the James E. Rogers College of Law in Tucson, Arizona. She also served as a Research Assistant to Professor Angelique EagleWoman, a professor of Native American Law.
During her summers, Danielle worked at the Nez Perce Tribe Office of Legal Counsel in Lapwai, Idaho and she clerked at Fredericks Peebles & Morgan LLP, a law firm in Louisville, Colorado, dedicated to the representation of Tribal Nations and tribal citizens. During the 2015 – 2016 school year, she continued to clerk remotely for the Firm and also interned with the Kalispel Tribe of Indians Legal Department.
The reason Danielle went to law school is in large part due to witnessing the need for Native attorneys to represent Tribes and tribal citizens in her own community. Danielle also attributes her inspiration to witnessing and learning about the efforts of Mary and Carrie Dann. In reflecting on her inspiration to attend law school, Danielle said, "When I was young my Grandfather told me the Courts do not recognize us, our way of life is not understood, and as a result our voices are ignored."
Danielle plans on taking the Idaho State Bar exam on July 27th-28th, 2016. Upon admittance of the bar, she plans to devote her law career to advocating on the behalf of Tribal Nations and citizens, to ensure Native peoples voices are heard.