The state of Idaho currently ranks as the third largest producer of dairy in the nation, more than tripling its previous rank of 11th 25 years prior. With this exponential growth, the dairy industry is faced with major challenges regarding the handling and processing of liquid and solid manure. The high concentration of nitrogen (N) and phosphorous (P) due to imported feed and fertilizer use have created an environment where these nutrients are not sufficiently used by the soil and plants. The Idaho Sustainable Agriculture Initiative for Dairy grant, a USDA Sustainable Agriculture Systems grant has proposed a plan to use N and P from dairy production to produce useful bioproducts that can be transported and used in other areas for crop production or value-added products such as bioplastics.
The goal is to support adoption of these technologies and processes that transform nutrients in dairy manure into commercial fertilizers and value-added bioproducts to improve soils, sustain agricultural productivity, reduce environmental impacts, provide alternative income streams and create new employment opportunities. Overall, to create a system known as a dairy bioeconomy.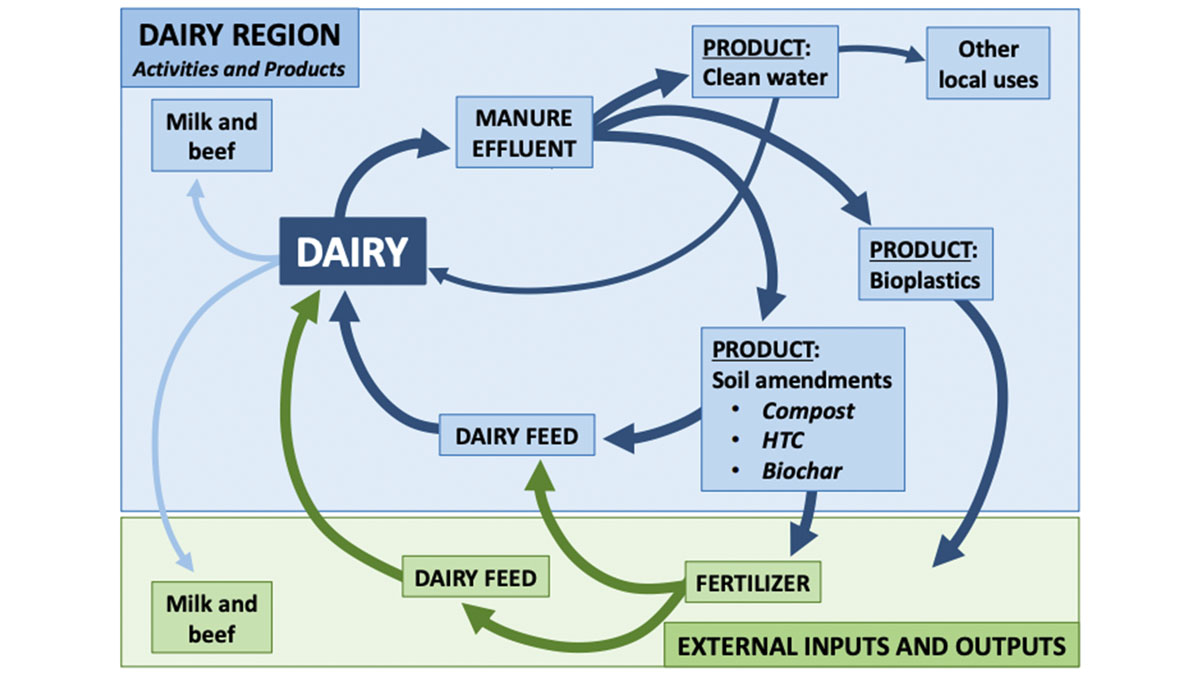 A dairy centered bioeconomy will be the framework, with production and conversion of renewable biological resources and waste streams into value-added products such as food and fuel. One successful strategy is to integrate systems to produce multiple products that maximize use of the raw material, in this case manure. A bioeconomy often involves a value-web which merges multiple supply chains that include both recycling and cascading uses that fully capture the potential uses of the raw material. The system can be partially or entirely circular as elements are recycled for continuous reuse in different portions of the system. This increases efficiency, improves human health by using problematic wastes as raw material, conserves water and energy, and reduces climate impacts.
Develop management practices, processes and technologies to produce bioproducts from dairy waste streams at the scale they are generated.
Evaluate strategies and tradeoffs of bioproduct soil amendment use in crop production at multiple scales from field to regional dairy nutrient system to regional and national scales of fertilizer production.
Analyze the economic, life cycle, supply chain and social impacts of adoption of strategies, technologies, and systems that convert dairy manure to fertilizer substitutes and other bioproducts on dairies, aligned industries, crop producers, consumers and rural communities.
Develop and implement extension, outreach, education, and training activities to broadly disseminate research findings, promote adoption of practices and technologies, increase the knowledge and skills of the dairy workforce, and inform policy and decision making.
A team of 78 individuals, including faculty, Extension educators, alumni and graduate and undergraduate students will be working on the grant, led by Mark McGuire, CALS associate dean and director of the Idaho Agricultural Experiment Station.