Maged Mohamed received the 2018 Michael Kyte Student of the Year Award
April 12, 2019
On January 15, 2019, Maged Mohamed received the 2018 Michael Kyte Student of the Year Award for outstanding research, academic achievement and professional leadership in transportation. This award was presented to him at the 98th Annual Meeting of the Transportation Research Board in Washington, D.C. by the Pacific Northwest Transportation Consortium Region 10 and the University Transportation Center of the US Department of Transportation.
"Small thoughtful changes in an existing infrastructure can effectively save lives" Maged Mohamed, U of I Ph.D. candidate
Maged is earning his PhD in transportation engineering and is a research assistant for The National Institute for Advanced Transportation Technology (NIATT) at the University of Idaho. He was elected by civil engineering professors from universities in the Northwest and is the first student from University of Idaho to ever win the award. His research focuses on transportation safety by investigating the safety performance of pavement markings to enhance road safety, and proposing safer solutions by implementing brighter and wider markings, especially on rural roads where approximately more than 50 percent of the US's vehicular deaths.
Right now, Maged is developing a lab-based evaluation procedure for pavement markings to improve safety performance in transportation. Through his research he found a correlation between road-departure collisions and the retroflectivity of pavement markings. He is working on a method to evaluate pavement marking materials in a lab to save time and money for the Department of Transportation. His proposed method of evaluation would only take less than two months to conduct in a lab, as opposed to the current method of evaluating the pavement markings on the field, which takes about two or three years to assess the needs and update.
Maged has contributed in several traffic studies related to transportation operation and safety in Idaho including crash analyses to address safety issues. Also, he has participated in traffic data collection activities, statistical analysis of the data, draw conclusions and prepare suitable recommendations by writing technical reports or journal papers, and presenting findings at conferences and seminars. Maged has served as the Vice President of the Institute of Transportation Engineers (ITE) student chapter, Senator-at-large of the Environmental & Social Sustainability Committee, and Civil Engineering representative in Graduate & Professional Student Association (GPSA) at the University of Idaho.
Maged enjoys living in Moscow, ID with his family, where he can get out nature, fish, and ski.
---
Article by Elyse Blanch, U of I Public Relations Student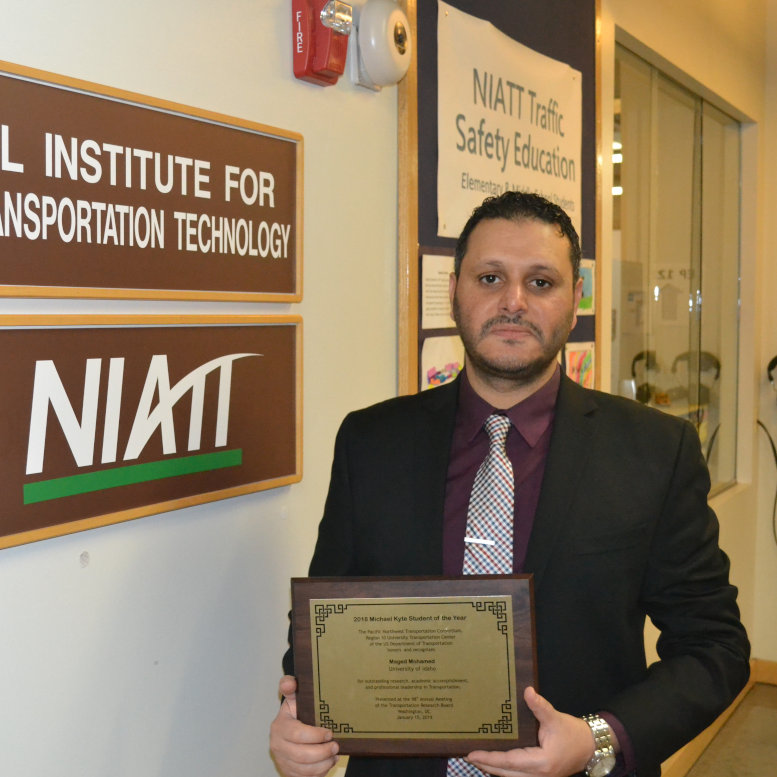 About the University of Idaho
The University of Idaho, home of the Vandals, is Idaho's land-grant, national research university. From its residential campus in Moscow, U of I serves the state of Idaho through educational centers in Boise, Coeur d'Alene and Idaho Falls, nine research and Extension centers, plus Extension offices in 42 counties. Home to nearly 11,000 students statewide, U of I is a leader in student-centered learning and excels at interdisciplinary research, service to businesses and communities, and in advancing diversity, citizenship and global outreach. U of I competes in the Big Sky and Western Athletic conferences. Learn more at uidaho.edu