Cultural Expression
U of I Grad Returns Home to Teach Native Students Through Art
When Jessica Matsaw walks across the commencement stage this fall, it is the beginning of the trek back to the students she loves, in the town she calls home, among her Shoshone-Bannock family in Fort Hall.
"When we have dynamic folks like Jessica who want to do great things for their own community in Idaho, that's really what the land-grant mission at U of I is all about," said Taylor Raney, the director of Teacher Education in the College of Education, Health and Human Sciences.
Her moving back is the culmination of a promise Matsaw made to return home and teach the next generation. She returns with a Master of Education in curriculum and instruction.
"Tribal members don't forget," Matsaw said. "If you say you're going to do something and you make a promise, they're going to hold you to it."
Finding Her Way
It took Matsaw, 32, a little while to figure out her path in life. She discovered her love of being around kids while working in the Head Start program in Fort Hall in 2007. She felt she was good at teaching, but she never considered becoming a teacher. She couldn't quite see her future yet.
Surviving a terrible act of domestic violence in 2010 – an attack so brutal that her attacker, a former boyfriend, is still in prison for attempted murder – provided that clarity. She has since dedicated her life to showing people that violence can be avoided if you are able to express your emotions. All it takes is someone to demonstrate how.
"I wanted to understand violence – why do these things happen," Matsaw said. "Violence is something that's been inter-generational for us. I wanted to know why."
With questions like these, Matsaw originally considered becoming a social worker until she realized she might be able to prevent violence instead of reacting to it.
"I realized there is a crucial moment as young people where there's a fork in the road and that if you don't have any guidance – and I did not have that guidance – you can go down the road of risky behavior," she said.
The Art of Expression
Matsaw's passion is art, and she uses it to teach her students about emotions and expression.
"Art is very effective in students communicating their emotions when they might not have the words," she said.
Teaching junior and senior high school students about art might seem like a tough sell, but by introducing subjects that are new and exciting to her students, like painting and photography, Matsaw has captured their attention and has already made a difference in just one semester as a student-teacher at Shoshone-Bannock Junior/Senior High School.
"One of my students told me 'I always like how you keep the hope. This is a terrible painting, but you make me feel like there's hope in what I do,'" Matsaw said.
A lot of professionals enter into the world of education because they love kids, while others enter the profession to share their passion for a subject. For Matsaw, said Raney, "those two ideas shine through equally."
"I realized there is a crucial moment as young people where there's a fork in the road and that if you don't have any guidance – and I did not have that guidance – you can go down the road of risky behavior," she said.
True to Her Roots
Jessica believes in giving back to her community and showing students what is possible. Maintaining that connection with her Native American heritage is important. Two years ago, Matsaw earned her bachelor's degree in sociology from University of Idaho. As an undergraduate, she grew her skills in culturally responsive education through participation in the Indigenous Knowledge for Effective Education Program (IKEEP).
IKEEP is a focused program for Native American teachers to learn how to blend cultural learning with traditional teaching methods. This idea is especially important in places like Fort Hall where there are only two Native American classroom teachers in a school where 98% of the students are Native American.
"It's huge for these kids to see that she left, fulfilled her dreams and has come back and is helping her community," said Mikel Green, a science teacher at Shoshone-Bannock Junior / Senior High School. "The things that she brings to the classroom are things we've never seen before."
For Matsaw it's all about her roots.
"I want students to know there is consistency," said Matsaw. "We're from this community and we aren't going anywhere. And we really care about them."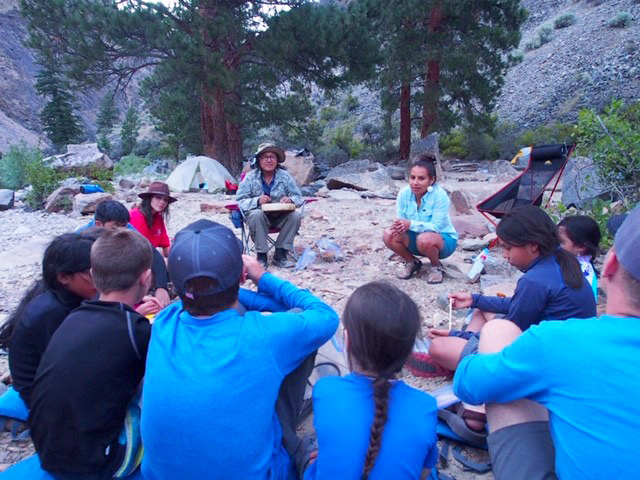 By David Jackson, for University Communications and Marketing