Welcome to the College of Business and Economics
I am pleased to welcome you to the College of Business and Economics (CBE) at the University of Idaho. Established in 1925, the CBE has a rich history of providing our students with opportunities to participate in innovative learning experiences, impactful research and giving back through community engagement. Our world-class faculty prioritize students by providing exceptional experiences inside and outside the classroom.
We are among the top 5% of business schools worldwide accredited by the Association of Advanced Collegiate Schools in Business (AACSB). Synonymous with the highest standards of excellence since 1916, AACSB provides quality assurance, business education intelligence, and learning and development.
Our on-campus Bachelor of Science (B.S.) in Business degree offers eight majors and provides experiential learning where you will "learn by doing" and be ready to hit the ground running at graduation. Vandal Solutions provides marketing services to local businesses with revenue donated to local not-for-profits and allows students to earn upper-level credit hours. Unlike traditional programs focusing on equity securities, the Barker Trading Program is unique in enabling students to trade a range of securities, including equities, fixed income, foreign exchange and derivatives. Our Idaho Entrepreneurs Program is well known for coming in first at pitch competitions. These are simply a few examples of how you will "learn by doing" by joining the CBE Community.
Our fully online Bachelor of Business Administration (B.B.A) program will allow you to complete your degree on your schedule with eight-week course offerings in an asynchronous format and earn certificates as you complete your degree. Our Master of Accountancy Program will advance your analytical acumen regardless of your background and qualify you to sit for the CPA exam.
Whether you are a prospective student, a current student, an alum or a community member, I look forward to personally welcoming you to campus.
For the latest on what is happening in the CBE, check out the CBE on Facebook, Instagram or LinkedIn. We hope to see you on campus sometime soon.
Sincerely,
Lisa M. Victoravich
Dean, College of Business and Economics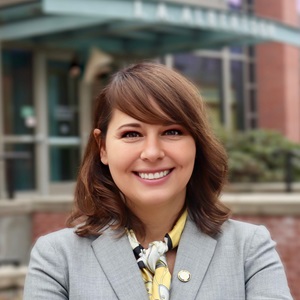 301A J.A. Albertson Building
208-885-8798