Dean Chopin's Welcome Message
If you are considering enrolling in the University of Idaho and pursuing a degree in business I hope that you find all of the information you need to make an informed decision here. If not, please reach out to us: give us a call, send an email, or better yet stop by to see us. We will be happy to help provide the information you need to make one of the most important decisions of your life: to attend college and where. Through our faculty, friends and network we are able to provide many hands-on learning opportunities both on- and off-campus, and with our strong focus on education those experiences will be built on a solid foundation. What better way to explore your chosen profession and experience the business world? I hope to see you on campus soon.
To all of our friends and supporters, Thank You! I sincerely appreciate your support of the University of Idaho and the College of Business and Economics. If you happen to be on campus, please stop by. We would love to see you.
Go Vandals!
Marc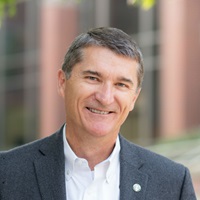 301 Dean's Suite J.A. Albertson Building
208-885-6071
Recent Highlights
Read the CBE winter 2021 report.