May-June 2022 Boise Newsletter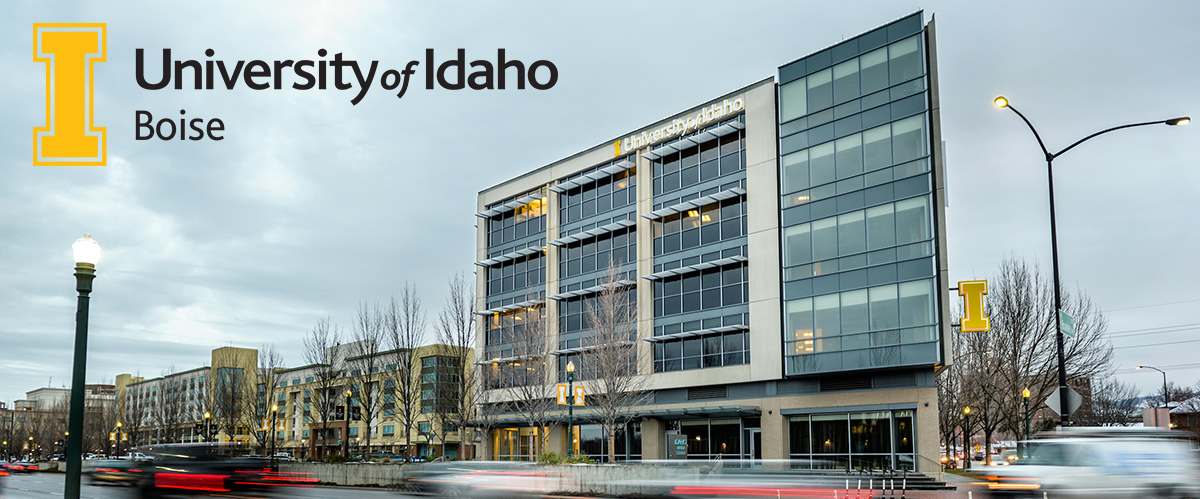 From the Desk of Chandra Zenner Ford
We are finishing the academic year strong with 2022 Commencement in Boise set to be Tuesday, May 17 which is also Idaho's primary election day. Please vote and please join us for Commencement! Our Commencement speaker is Luis Cortes Romero. He is a graduate of the U of I College of Law and a partner with Novo Legal in Kent, Washington. Luis is returning to Idaho to share his experience successfully arguing before the U.S. Supreme Court and his role in influencing immigration law.

The evening before Commencement, we are excited to welcome President Scott Green and Provost Torrey Lawrence for a reception in Legacy Pointe. Please be sure to RSVP here. You can expect a short program before the informal reception with University of Idaho leadership. The link also provides an opportunity for you to submit questions in advance for the President and Provost to address.

I want to extend a special thank you to the team who worked to bring the Vandal Spring Football game to the Treasure Valley for the first time in history. The turnout and enthusiasm exceeded all expectations, despite the rainy day – some highlights and photos are below.

Please take time to welcome the new members of our SW Idaho community highlighted below. We have been fortunate to add some great talent to the SW Idaho team. I want to especially thank Denise Engebrecht for taking on a new role in support of all students enrolled at the Idaho Water Center. In addition to her support of the engineering management students, she will now be providing student support to all Vandal students based at the IWC. We are able to add this service to our students as a direct result of Vandal Hybrid budget model resources assigned to SW Idaho.

I think we are all going to be ready for summer. Let's enjoy the break and look toward the next year with optimism and a sense of accomplishment for the contributions University of Idaho is making to support the great quality of life we enjoy in the Treasure Valley and throughout the state.
Go Vandals!
Chandra
---
Student Success
U of I Boise Student Wins University's MLK Art Contest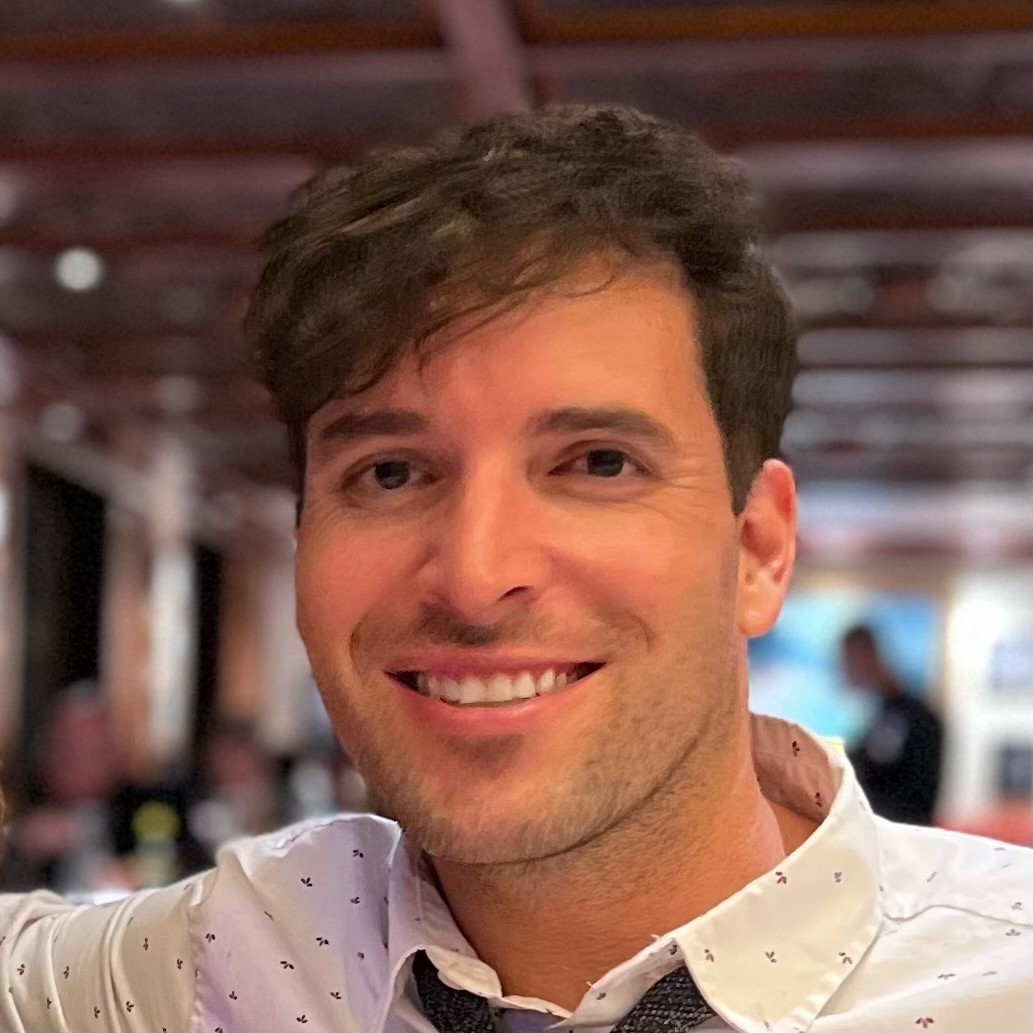 Joseph Sedillo, a graduate research assistant with the U of I CAA Integrated Design Lab, won the 2022 U of I MLK Jr. Day Art and Essay contest. His essay is posted below the image of his winning entry: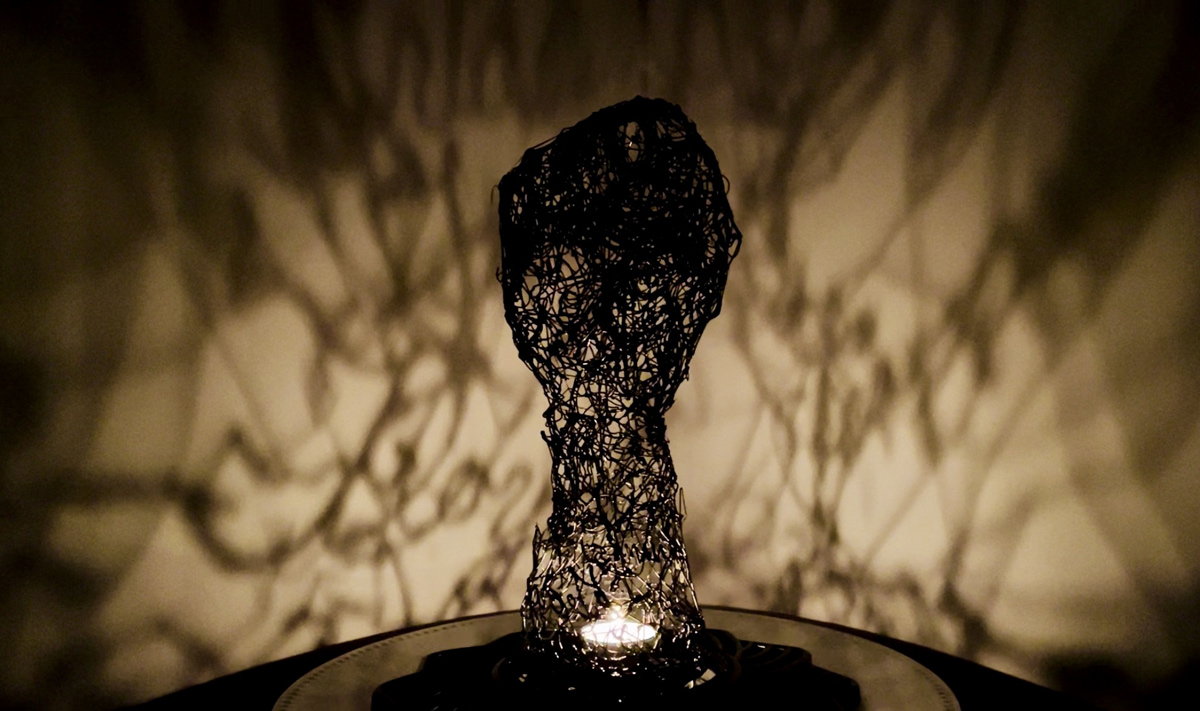 "In these trying times with so much division, it is exceedingly difficult to find light in the darkness. This piece was created to honor our fellow Black Americans who have lost their lives unnecessarily due to systematic racism and racial injustice. Their names are woven thorough the raised fist so that we never forget them. They implore us to keep fighting for true equity and justice. The candle in the center of the sculpture sits upon a mirror that asks us all to reflect on their struggle. Their spirits are ever present, circling around us. Their lives fuel the march forward as we all deserve to live in the light, without fear or prejudice. Rest in power."
Welcoming Three New Martin-McClure Ambassadors
The McClure Center is excited to welcome three Martin-McClure Ambassadors this summer. Martin-McClure Ambassadors, typically undergraduate International Studies majors, receive a research award to explore topics at the intersection of international affairs and public policy. The Martin-McClure ambassadorship program is a partnership between the McClure Center and the University of Idaho Martin Institute.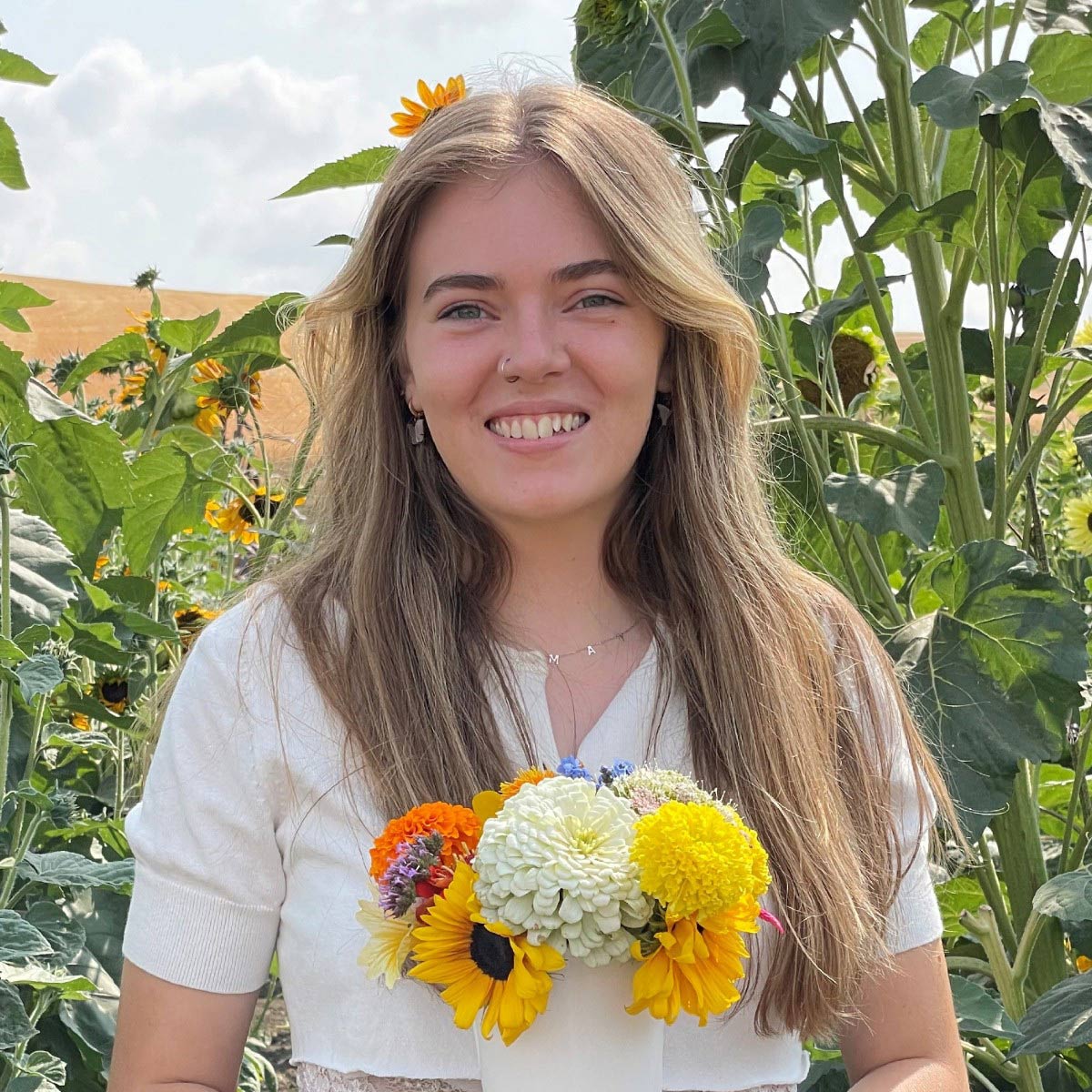 Maya Birdsong: Maya is from Boise and is studying international studies and Spanish, with minors in political science and history. She is currently studying abroad in Santiago, Chile, and will begin the ambassadorship when she returns to Boise.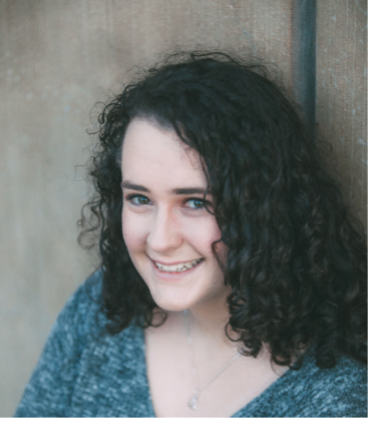 Yvette Bonney: Yvette is a junior pursuing a double major in environmental science and international studies. She grew up in Moscow and works as a laboratory technician for U of I's Animal Veterinary and Food Sciences Lab, and as a research assistant for the nonprofit TerraGraphics International Foundation. Her favorite pastimes are skiing, rafting and enjoying the outdoors in the Pacific Northwest.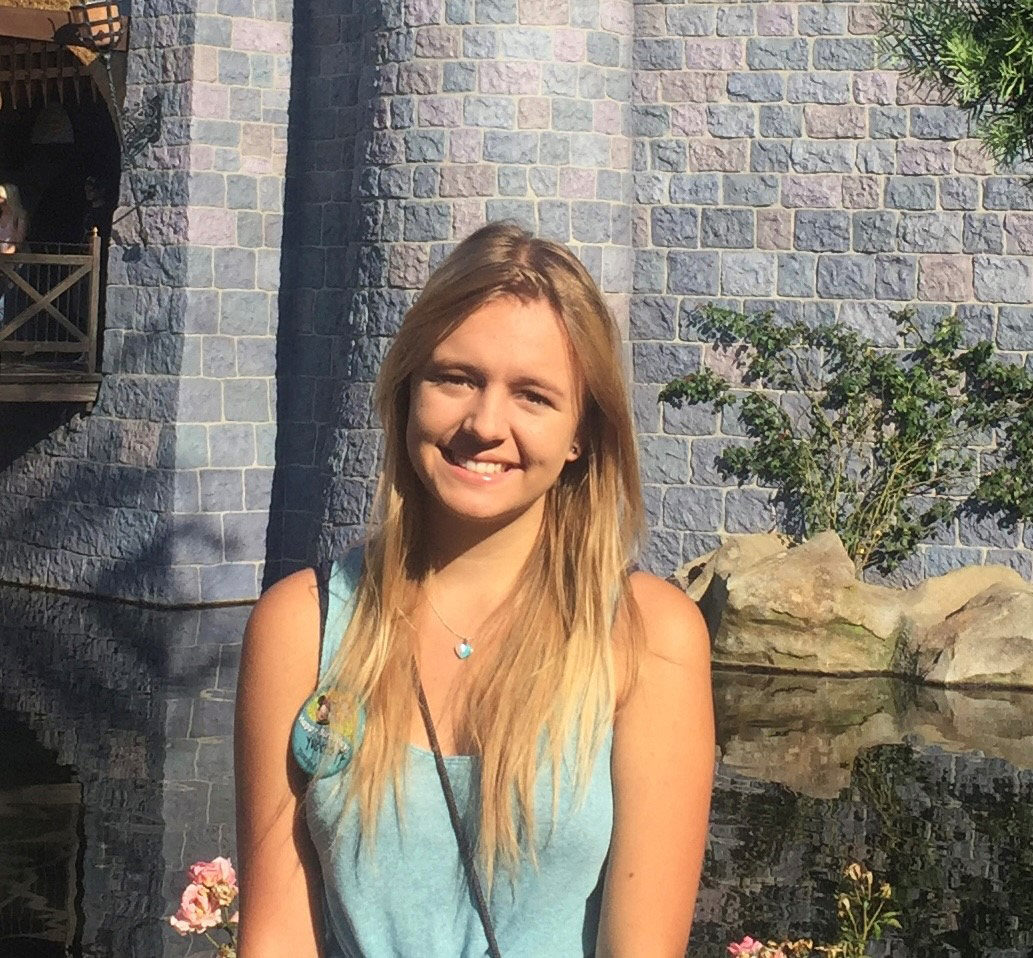 Molly Feely: Molly is a second-year student double majoring in international studies and sociology with minors in French and Africana studies. She grew up in Boise. Molly loves to travel and plans to study in Morocco next spring; during this time, she hopes to learn Arabic. Molly enjoys exploring the outdoors and reading.
Graduate and Professional Student Association Funds Available to U of I Boise Students
U of I Boise GPSA has given out over $1,000 in awards this year to graduate students seeking financial assistance for certain conferences and competitions related to their coursework. If you are interested in applying for funds, please contact Donna Stolaroff or Elana Salzman.
Research
McClure Center Hosts University Network on Collaborative Governance Conference
In June, the McClure Center will host the University Network for Collaborative Governance (UNCG) Annual Conference in Boise. UNCG is a professional society comprised of college and university centers, institutes and programs that engage in service, scholarship and teaching grounded in collaborative governance approaches and practices. The McClure Center has been a member of UNCG since 2018. The 2022 conference will bring together collaborative governance practitioners from across the U.S. and beyond.
Learn more about UNCG here.
4H Programs Impacting Our Communities
All county 4-H programs in Idaho can choose from one or all of the following program options that include fun, ready-to-go activity packages for youth:
4-H Outside the Box are creative learning labs in a box with six to eight sequential hands-on activities focused on building critical thinking and problem-solving skills. Boxes contain materials and supplies for Junior Master Gardeners, science, basic cooking and visual arts activities. Pick your favorite topic box or all boxes for a club, afterschool, day camp or families at home. For more information contact Nancy Shelstad.
Think Make Create labs explore creativity, design and engineering through making and tinkering activities. These hands-on materials will challenge and test your skills of problem solving, collaboration and critical thinking. Choose from a variety of activities that youth can make and take from any out-of-school program. For more information contact Claire Sponseller.
4-H Healthy Habits are hands-on activities that teach youth healthy snack preparation, basic kitchen skills and how to select foods that are healthy for them and their families. At completion of the eight lessons, youth will receive a family take-home bag with kitchen tools and ingredients to prepare two snacks. Option: 4-H leaders may offer Healthy Habits as a 4-H project. For more information contact Maureen Toomey.
4-H Building Program Capacity supports local community member who have ideas to expand local 4-H program to incorporate new content or audiences. For more information contact Robin Baumgartner.
Telling Our Story
Share Your Stories
U of I Boise offers different opportunities for you to tell your story. Not only can you send your stories to this newsletter, you can also send us content for our social media (email mortega@uidaho.edu) or send content to display on our TV monitors at the IWC (email mortega@udaho.edu) and the newly monitor at the VandalStore Boise (email scotts@uidaho.edu).
We also have an events calendar specific for U of I Boise events, don't forget to submit your events here.
Finally, our marketing and communications manager is always looking for great success stories to share with the media, so send your ideas to her (mortega@uidaho.edu).
---
Vandal Spring Game
The Idaho Vandal defense impressed with a 61-26 win over the offense in the annual spring game held at Eagle High School this year. The 2022 spring game had a unique scoring twist compared to traditional games. Due to a limited number of available players, the Vandals pitted the offense against the defense in front of over 2,000 Vandal fans.
Many thanks to U of I Boise professor John Cannon, who was instrumental in securing the chain gang for the sidelines!
Over 150 Vandals met at The Gathering Place in Eagle the evening prior to the Spring Game. Those in attendance included UI Athletics Hall of Famer and former Seattle Seahawk John Yarno (pictured) and former Idaho Vandal Football standout and Super Bowl Champion Shilo Keo.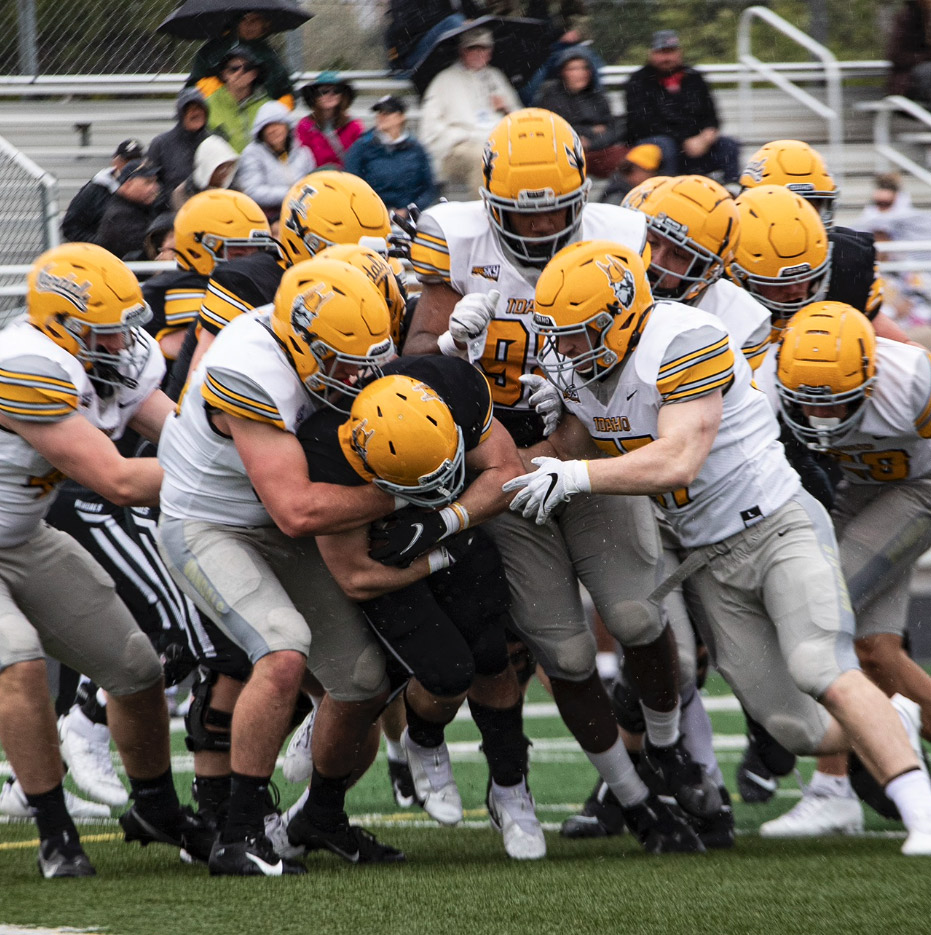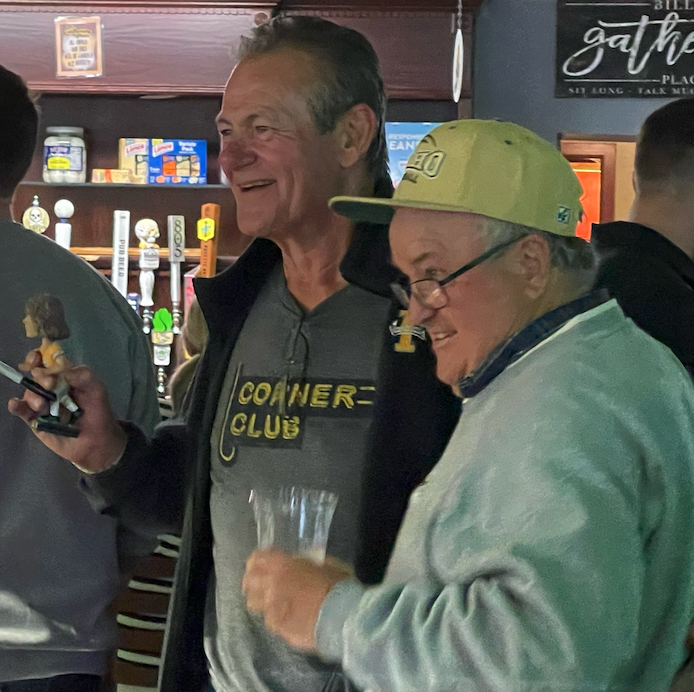 Join May-in-Motion
May-in-Motion (MIM) is a smart commuter campaign sponsored by Ada County Highway District (ACHD). ACHD provides a secured website by connecting each user with commuter options and incentives for choosing alternative methods of transportation to and from work, including using Valley Ride Transit System, riding a bicycle, walking, or carpooling. U of I Boise participates in rallying employees to choose alternative forms of transportation during the month of May in a countywide healthy competition.
You can participate by tracking your alternative commuting choices during your work week here.
---
The McClure Center is Moving
In June, the McClure Center will relocate to the Capitol Annex, formerly the home of the U of I College of Law. The McClure Center is excited to be located in another historic building where the legacy of Jim and Louise McClure's steadfast commitment to public policy research will continue. The new address is 514 W. Jefferson Street.
News
See our faculty, staff and programs mentioned and quoted in the Treasure Valley media this Spring and learn about their new projects and research:
March April 2022
University of Idaho program aims to help autistic children | KMTV
Sustainable Idaho | KISU