The built environment encompasses the buildings we live in, the distribution systems that provide us with resources such as water and electricity, and the infrastructure we use to get from place to place. The way we construct our buildings and infrastructure and the materials we use can have significant impacts on the environment. For this reason, the University of Idaho prioritizes applying sustainable solutions in the construction and the sourcing of construction materials for our campus' built environment.
LEED Silver Policy
The University of Idaho is committed to minimizing our impact on the environment when constructing new buildings and renovating older ones. In 2008, a U of I policy set sustainable building standards, requiring "all new construction and major remodels shall be certified as meeting or exceeding a Silver LEED rating." Read more about the LEED building policy.
What Is LEED?
The LEED (Leadership in Energy and Environmental Design) rating system was developed by the U.S. Green Building Council to provide a framework for healthy, efficient, carbon and cost-saving green buildings. Explore the LEED website for more information.
LEED Gold Buildings at University of Idaho
The College of Education
Originally built in 1969, the College of Education underwent a $19 million renovation. The building is now LEED Gold certified, the second highest LEED rating a building can achieve. The College of Education is emblematic of our deep commitment to sustainability, with natural lighting, low-flow toilets, water bottle refill stations and more features that enhance the energy, water and waste efficiency of the entire building.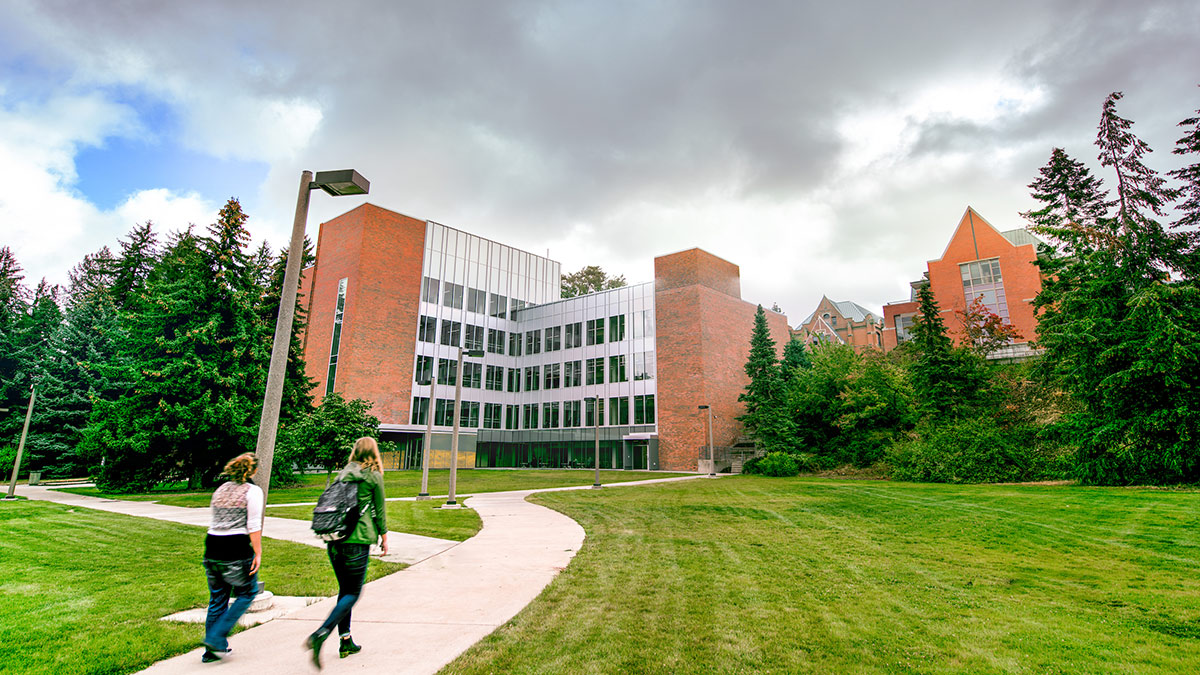 The IRIC
The Integrated Research and Innovation Center (IRIC) was finished in 2017 and is LEED Gold certified. The IRIC is the University of Idaho's world-class facility for interdisciplinary research and discovery. There are many features that contribute to the sustainable design of the building, including a solar array, a green roof featuring native dryland grass, a water catchment system and metal screens that increase natural lighting inside while reducing heat and glare.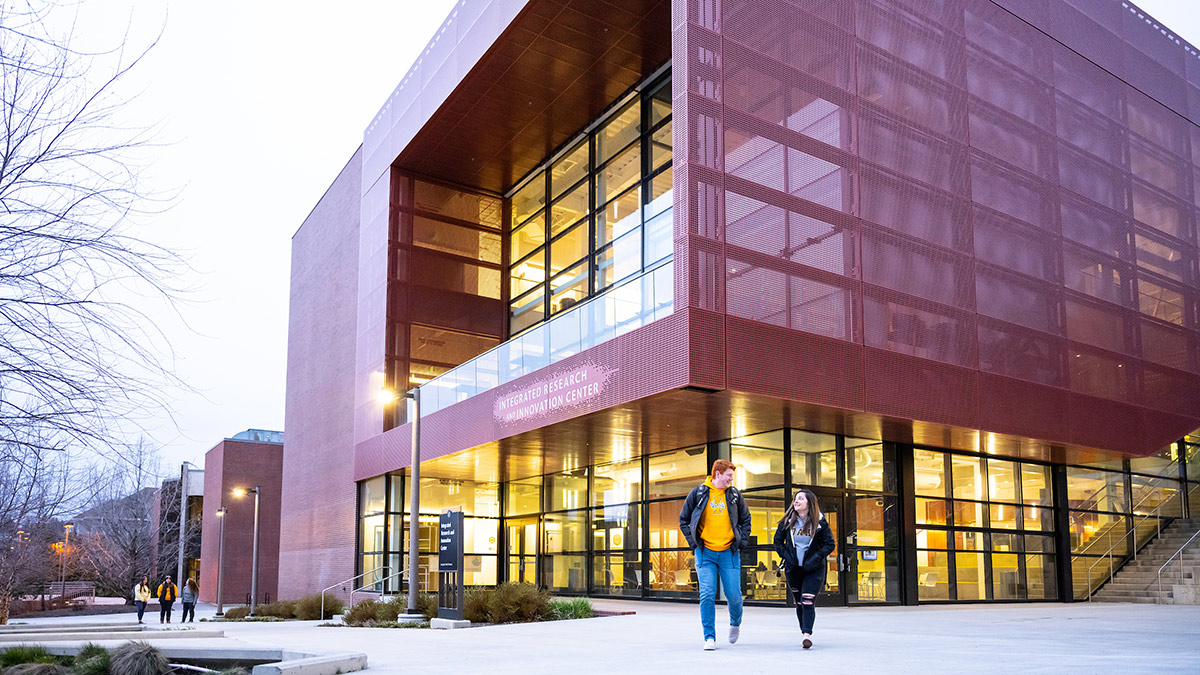 ICCU Arena
The Idaho Central Credit Union Arena was completed in 2021 and is the home of Vandal women's and men's basketball teams, as well as a gathering place for other events and concerts. The $51 million arena was made possible in part by the U.S. Department of Agriculture, Forest Service Wood Innovations Grants Program.
The arena showcases our deep commitment to sustainability and is a stunning addition to our campus. Through a collaboration with Idaho stakeholders, the structure was built with wood harvested from the U of I Experimental Forest that was then made into glue-laminated timber beams by Idaho mills and laminators. The use of mass timber decreases the carbon footprint of the building, since wood continues to sequester carbon absorbed by the trees while they were growing, and wood construction emits less carbon than a steel and concrete structure would. Wood products also require less energy to produce than other materials. Most of that energy came from renewable biomass instead of fossil fuels, reducing greenhouse gas emissions even in the fabrication phase.
Using Idaho-grown and harvested mass timber to build such an innovative facility is a great example of what the Idaho timber industry can do and what a sustainable future for Idaho can look like. Through projects like the ICCU Arena, the U of I is working to change the vision of sustainability in Idaho.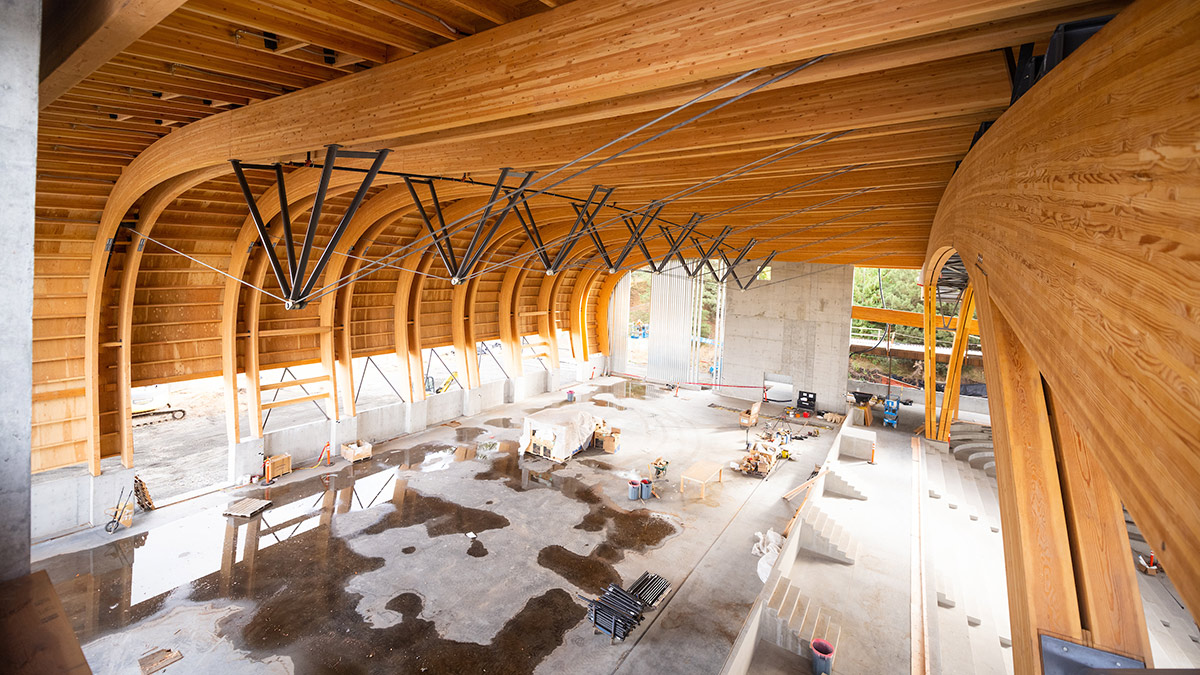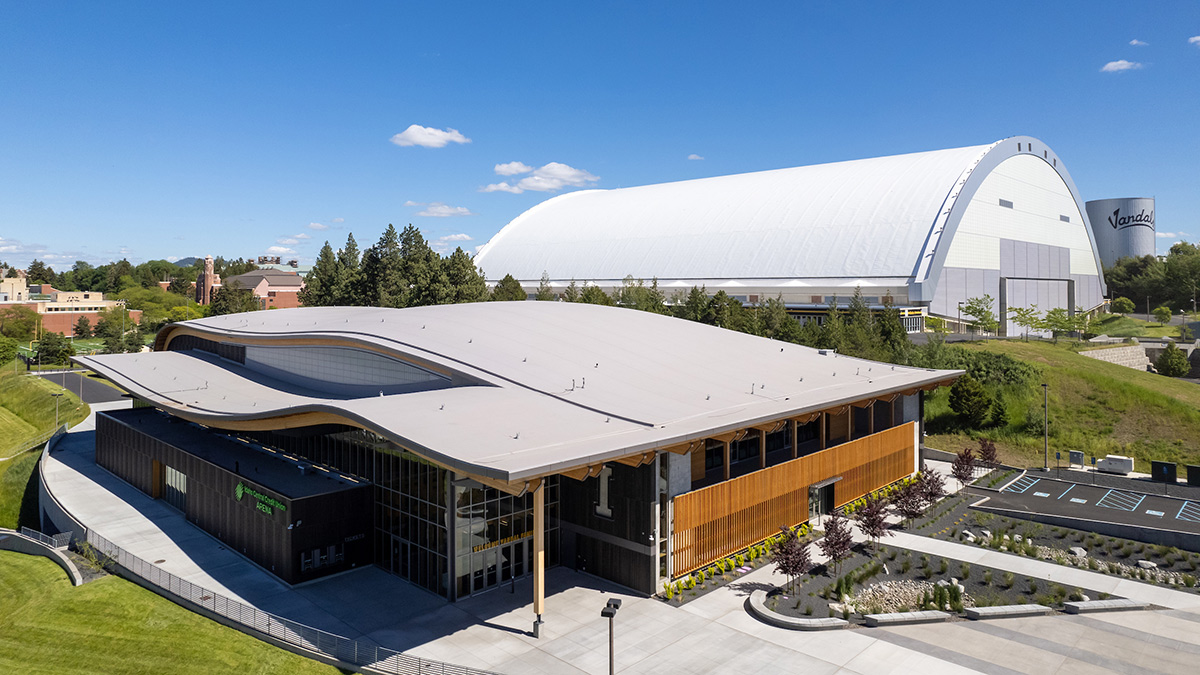 Why Is This Important?
The built environment provides us with spaces for life activities, but requires enormous quantities of materials and resources to create and maintain. Along with the materials needed to build, the built environment also generates greenhouse gases that contribute to climate change, whether it be through the extraction, transportation, use, or disposal of materials. According to Architecture 2030, the built environment generates nearly 40% of annual global carbon dioxide emissions; this includes building operations, building materials and construction, and other construction industry activities. During construction, the production of materials like steel and concrete releases emissions. Buildings continue to emit greenhouse gases after construction through the use of electricity generated by fossil fuels. The built environment can also pollute the surrounding land and water, can consume enormous amounts of water and energy, and can produce large amounts of waste. With such a negative impact on the environment, buildings should be maintained, retrofitted or built with efficiency and sustainability in mind. Organizations like LEED (Leadership in Energy and Environmental Design) create standards to build structures that are healthy, highly efficient, cost-saving and have a minimal impact on the environment. Buildings that are constructed or updated with cleaner, more efficient technologies can greatly reduce carbon emissions and natural resource demand.
Ways You Can Help
Vandals can help support a sustainable built environment by educating themselves on the negative environmental impacts that buildings can have and ways to minimize or eradicate those impacts. Faculty and students who are interested in researching the built environment and sustainability can use our campus to study and produce innovative green-design research. All Vandals should stay informed of any new construction on campus and of the new green features we employ to reduce our carbon emissions.
If you are a homeowner, there are ways you can make your spaces environmentally friendly. For example, the city of Moscow has two rebate programs that benefit homeowners who make environmentally conscious design decisions: the toilet conservation rebate program and the wisescape rebate program. The city of Moscow Water Department also offers free water-saving fixtures for any resident. Avista offers multiple energy rebates for Idaho residents, including rebates for installing a smart thermostat or using Energy Star Certified appliances and doors. Avista customers can enroll in the My Clean Energy program through Avista, where Avista matches your home's electricity use with no-emission renewable energy. Avista also offers resources to evaluate if a solar panel system would be a good match for your home, as well as licensed contractors and personalized help from Avista. Residents can reduce their emissions by recycling and composting; the city of Moscow offers both recycling and composting services to all residents. Homeowners can also choose to build with natural or low-emissions products, such as timber sourced from Idaho, and install water catchment systems to decrease their environmental footprint on the land and natural resources.
If you would like to learn more about the built environment, the following are great learning resources:
College of Education, Health and Human Services, LEED Gold
Center for Resilient Communities