Land
Land-based economies are an essential part of Idaho's economic landscape. Forests cover over 40% of Idaho's land and rangelands 54%. Forests and rangelands provide multiple uses and benefits, including timber harvesting, livestock grazing, recreation opportunities, carbon capture and wildlife habitat.
The benefits Idaho's forests and rangelands provide are impacted by Idaho's climate. Higher summer temperatures and less precipitation in summer are leading to longer and more severe droughts. Fire seasons are lengthening across Idaho, resulting in more frequent and larger fires. In addition to fires, insect and pathogen outbreaks and invasive species are expected to increase across Idaho's lands. In recent decades, wildfires and bark beetle outbreaks have killed millions of acres of trees across Idaho's forests. The impacts associated with climate change present risks to Idaho's land-based economies.
To learn more about climate impacts to Idaho's lands, please click on the icons to the right to open the forests and rangelands technical reports and snapshots.
For additional information on ecosystems and other species important to Idaho, please see the supplemental report in the box to the right.
For additional tools and resources on climate change and impacts to Idaho's lands, please click the icon to the right.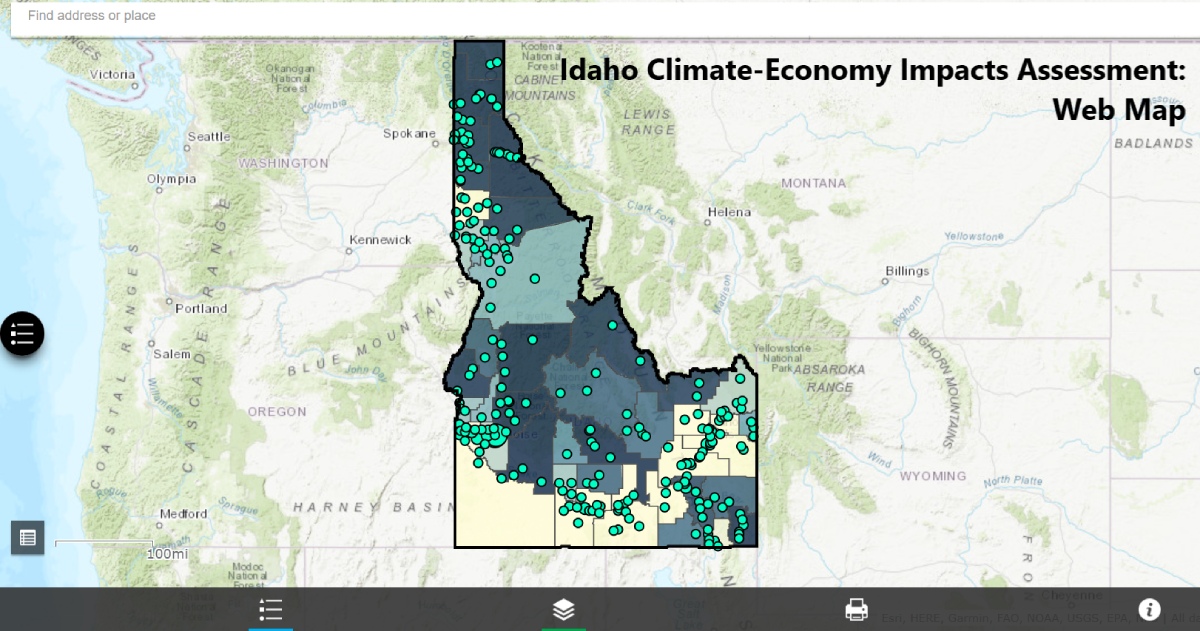 Click here to visualize Idaho land-based data.
Idaho Climate-Economy Impacts Assessment Web Map created by Emma Watts, undergraduate student and intern at Idaho State University, GIS Training and Research Center and Keith T. Webber, GIS director at Idaho State University.