Idaho Cyber Range Day to Showcase Impact of State's $1M Investment in Cybersecurity Infrastructure and Education
April 24, 2023
MOSCOW, Idaho — University of Idaho is partnering with eight Idaho higher education institutions to showcase statewide capabilities in cybersecurity training, education, research and outreach in virtual and in-person events on Friday, April 28 for Idaho Cyber Range Day.
Idaho Cyber Range Day events will engage college students in hands-on cybersecurity activities in an advanced learning environment called the Idaho Cyber Range. The effort received $1 million in state funds in Fiscal Year 2021 to support new degree programs, certificates and critical infrastructure. Gov. Brad Little selected U of I to lead efforts to integrate higher education systems statewide and meet industry needs for trained cybersecurity professionals.
"The Idaho Cyber Range connects the state's top institutions, state-of-the-art laboratories and comprehensive degree programs in cybersecurity. The program really puts a focus on how higher education is invested in building a skilled workforce in this critical area," said Michael Haney, associate professor at U of I's College of Engineering, who coordinates the Idaho Cyber Range.
Idaho Cyber Range Day events on U of I's Moscow campus will be held 9 a.m. to 2 p.m. on Friday, April 28 in the Idaho Central Credit Union Arena. View a full schedule of Idaho Cyber Range Day activities held statewide, online. Activities will cover how to:
Hack a light bulb
Develop inherently cyber secure systems
Secure web applications
Assess the security of systems, including testing for data vulnerabilities
Share data securely
Map IP addresses
Translate text to machine-readable characters, and more.
Since receiving funds, U of I launched Idaho's first cybersecurity bachelor's degree program, adding to existing comprehensive computer science degree programs emphasizing cyber defense. U of I was one of the first universities in the Northwest to start a cybersecurity master's program and is on track to launch its doctoral program.
Idaho four-year universities are also making headway on cybersecurity education:
Boise State University launched bachelor's and master's programs in cyber operations and resilience, as well as adding a cybersecurity emphasis to their undergraduate computer science degree. It also added a cybersecurity master's program.
Idaho State University launched a Master's of Business Administration in Cybersecurity Informatics and a Bachelor of Applied Science in Industrial Cybersecurity.
Lewis-Clark State College launched a bachelor's degree in cybersecurity management.
The Idaho Cyber Range grants undergraduate and graduate students statewide access to curriculum, equipment and resources across four Idaho universities and four Idaho community colleges. All resources are remotely connected through the Idaho Regional Optical Network (IRON), a nonprofit providing high-bandwidth internet access.
As one of the National Security Agency's first of seven National Centers of Academic Excellence in Cyber Defense, U of I has led advanced cybersecurity education and research for three decades. The designation assures students receive the education needed to produce the qualified workforce that the nation requires.
Idaho currently has over 7,000 unfilled cybersecurity positions, according to real-time data from the National Initiative for Cybersecurity Education's Cyberseek. Cybersecurity job openings in 2022 surpassed 700,000 nationwide, Cyberseek reports.
Using the state's $1 million allocation, Boise State University and the College of Eastern Idaho were accredited as National Centers of Academic Excellence in Cybersecurity. North Idaho College was also nationally recognized among the first two-year programs.
Institutions participating in Idaho Cyber Range Day include Boise State University, College of Eastern Idaho, College of Southern Idaho, College of Western Idaho, Idaho State University, North Idaho College, and all three U of I centers in Moscow, Coeur d'Alene and Idaho Falls.
"Our institutes of higher education in Idaho offer an expansive list of cybersecurity degree programs," Haney said. "Working together and connected through an advanced, secure network, we can offer students access to simulation equipment and training opportunities statewide. We can leverage skilled faculty across the state and offer training programs that are easily available for all Idaho students. From here, Idaho has the potential to really lead cyber-physical systems training, education and research."
—
Media Contacts
Alexiss Turner
Marketing & Communications Manager
208-885-7511
alexisst@uidaho.edu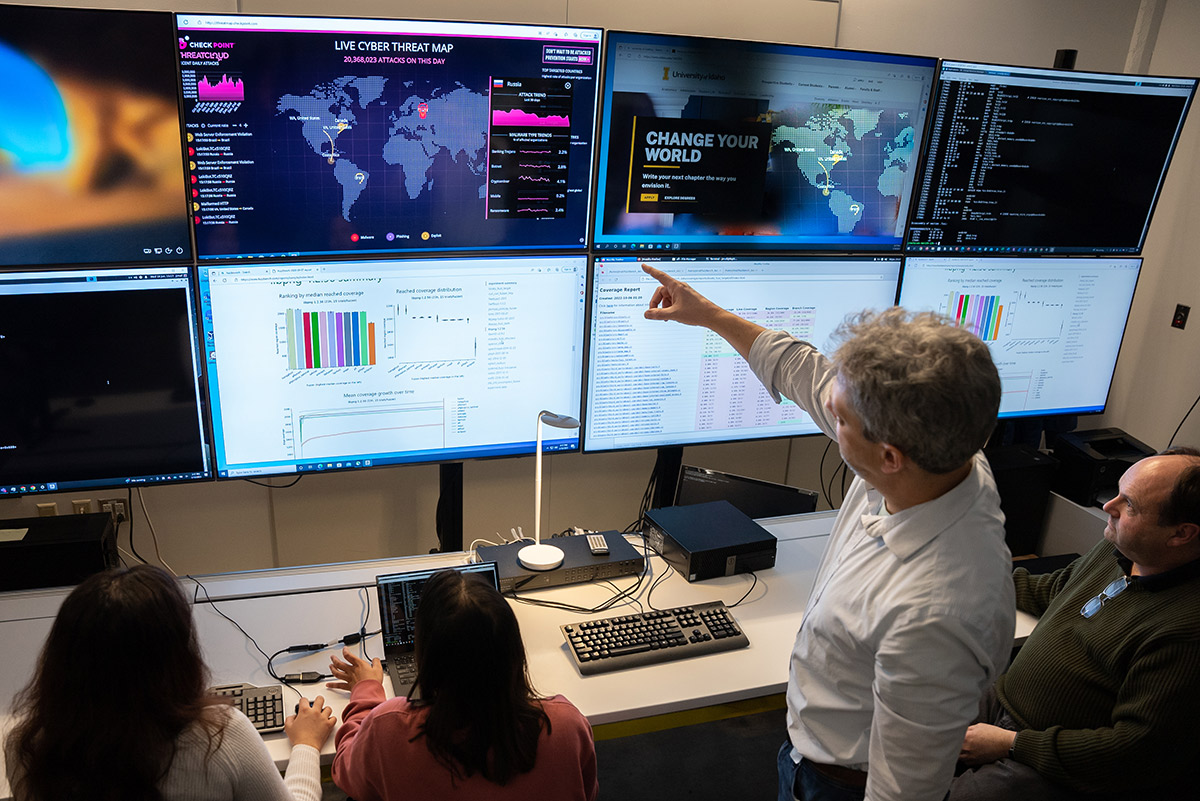 About the University of Idaho
The University of Idaho, home of the Vandals, is Idaho's land-grant, national research university. From its residential campus in Moscow, U of I serves the state of Idaho through educational centers in Boise, Coeur d'Alene and Idaho Falls, nine research and Extension centers, plus Extension offices in 42 counties. Home to nearly 11,000 students statewide, U of I is a leader in student-centered learning and excels at interdisciplinary research, service to businesses and communities, and in advancing diversity, citizenship and global outreach. U of I competes in the Big Sky and Western Athletic conferences. Learn more at uidaho.edu.