Experiences 'En Plein-Air'
Art Professor Offers Live Painting Demonstrations in Nature Amid COVID-19
Some professors spend time asking students to put down their phones in class. When the University of Idaho offered courses remotely amid the COVID-19 pandemic, Aaron Johnson, assistant professor in the College of Art and Architecture's Art + Design program, encouraged his students to pick them up.
"Instagram is an incredibly powerful tool for connecting, communicating, sharing and exploring visual elements and ideas, and it's a platform that I use regularly as a professional artist," said Johnson. "All of my students were already on the platform, so I took advantage of that and created a private account for the class."
According to Johnson, it took major changes to the three-hour in-studio course's original structure to make his vision a reality.
In the class, Intermediate/Advanced Painting, students work closely to continue honing their skills and techniques to help find their own individual style and voice as practicing artists. The students receive feedback from Johnson and their peers as they work.
The virus posed a unique problem that I was determined to solve to make the best of the remainder of the semester.Aaron Johnson
"It is hard to do that online," said Johnson. "You can't replace 15 to 20 students all in the same studio space working on the same project, struggling to solve the same problems, talking with your fellow artist about how they mixed a color or what brush they used. The virus posed a unique problem that I was determined to solve to make the best of the remainder of the semester."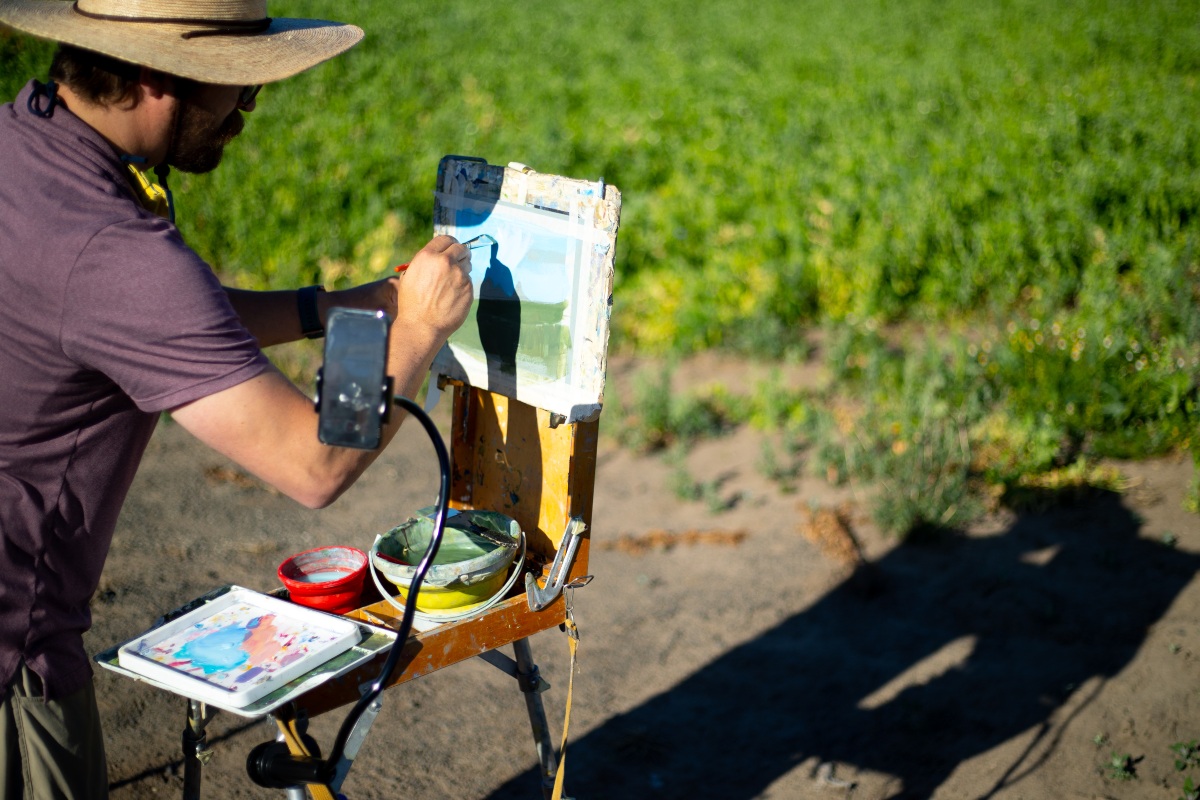 The beauty with using social media, he said, is that Instagram already hosts artists on its platform. This made it easy to share ideas, inspiration and examples with the class in a way that students could engage with virtually and conveniently. To keep the class interesting, Johnson incorporated live Instagram painting demonstrations, allowing students to ask questions or give commentary in real time.
As an artist, Johnson primarily paints "en Plein-air," French for painting outside on location.
"So, I virtually took my students to my favorite spots on the Palouse and hosted live videos of me painting a scene," Johnson said. "In the live streams, I would have my phone between me and my painting; that way my students could type questions and I would answer them in real time as I painted."
Throughout the semester, Johnson took his students virtually to local areas that inspire him creatively, including Sand Road, which takes you to the bottom side of the University of Idaho Arboretum. He also took the students to Darby Road, off of Mountain View Road, and Mill Road. Each of these places, he said, offers a variety of subjects including trees, creeks and rolling hills, offering plenty of options artistically.
"Students would show up, make comments, ask questions, or just watch me paint," he said. "We still had the regular Zoom meetings where we talked about assignments and answered regular classroom questions, but the addition of Instagram live demos was really something fun and made the new virtual class a bit more exciting."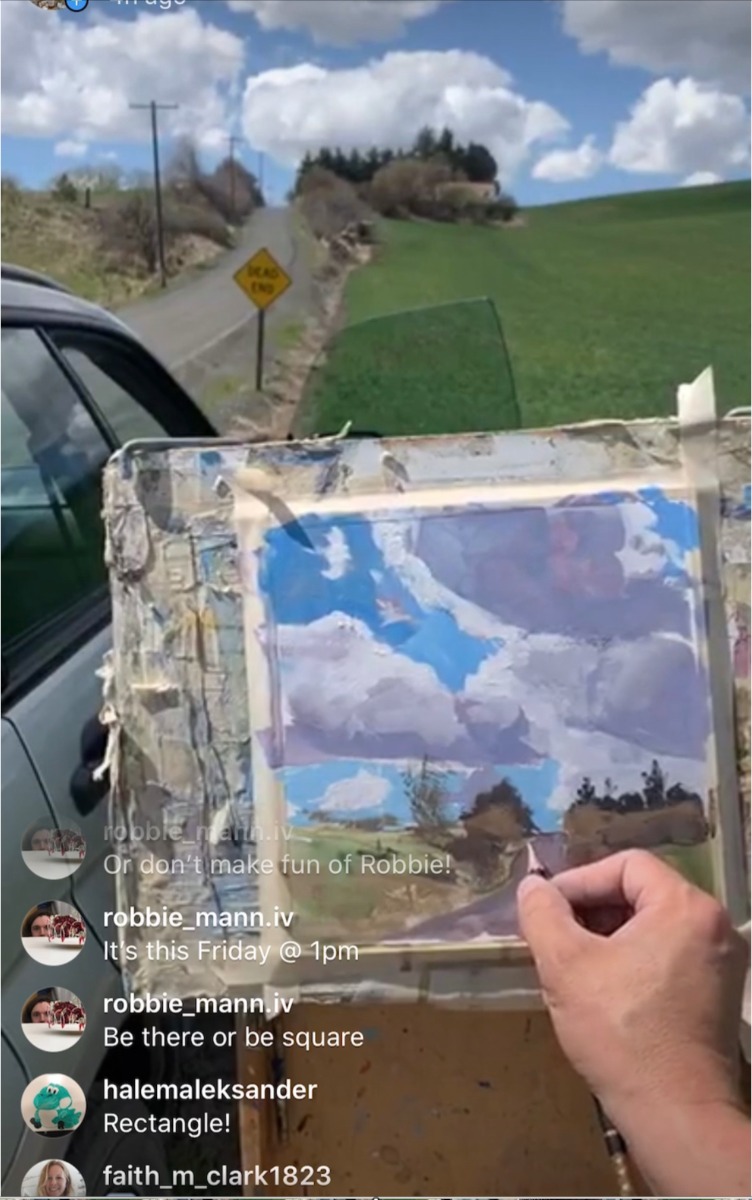 The Instagram live videos were helpful and convenient in an otherwise often difficult transition, said Grace Wood, a student in Johnson's class. They also allowed students to stay connected and engaged not only with their professor, but with each other, sometimes from thousands of miles apart.
"Professor Johnson really listened to our feedback on what would be helpful to us as students during the transition to online learning, and I found that really beneficial to our class and our success," Wood said. "It really meant a lot to me."
Johnson, who already incorporates live demonstrations in his in-person classes, said he believes keeping this component available through live video is an effective teaching method, and helped the class keep a sense of normalcy during a time that was not normal. He plans to add the live video demonstrations to in-person classes.
"I think it'll be fun to keep offering the Instagram live painting demonstrations of me painting on the Palouse as a way to engage students in a way and on a platform that appeals to them," he said. "You can't replace the significance of studio time to building relationships, competence and confidence as an artist, but it's also important to get the opportunity to experience, such as seeing the process working artists use to create their art; in real time. It's something really special."
Intermediate/Advanced Painting was just one of the more than 4,000 class sections taught at a distance during the pandemic.
"I was so impressed at how quickly faculty were able to change direction and adapt," said Torrey Lawrence, interim provost and executive vice president. "Flexibility was the key for our success in these difficult circumstances."
Aaron Johnson
Assistant Professor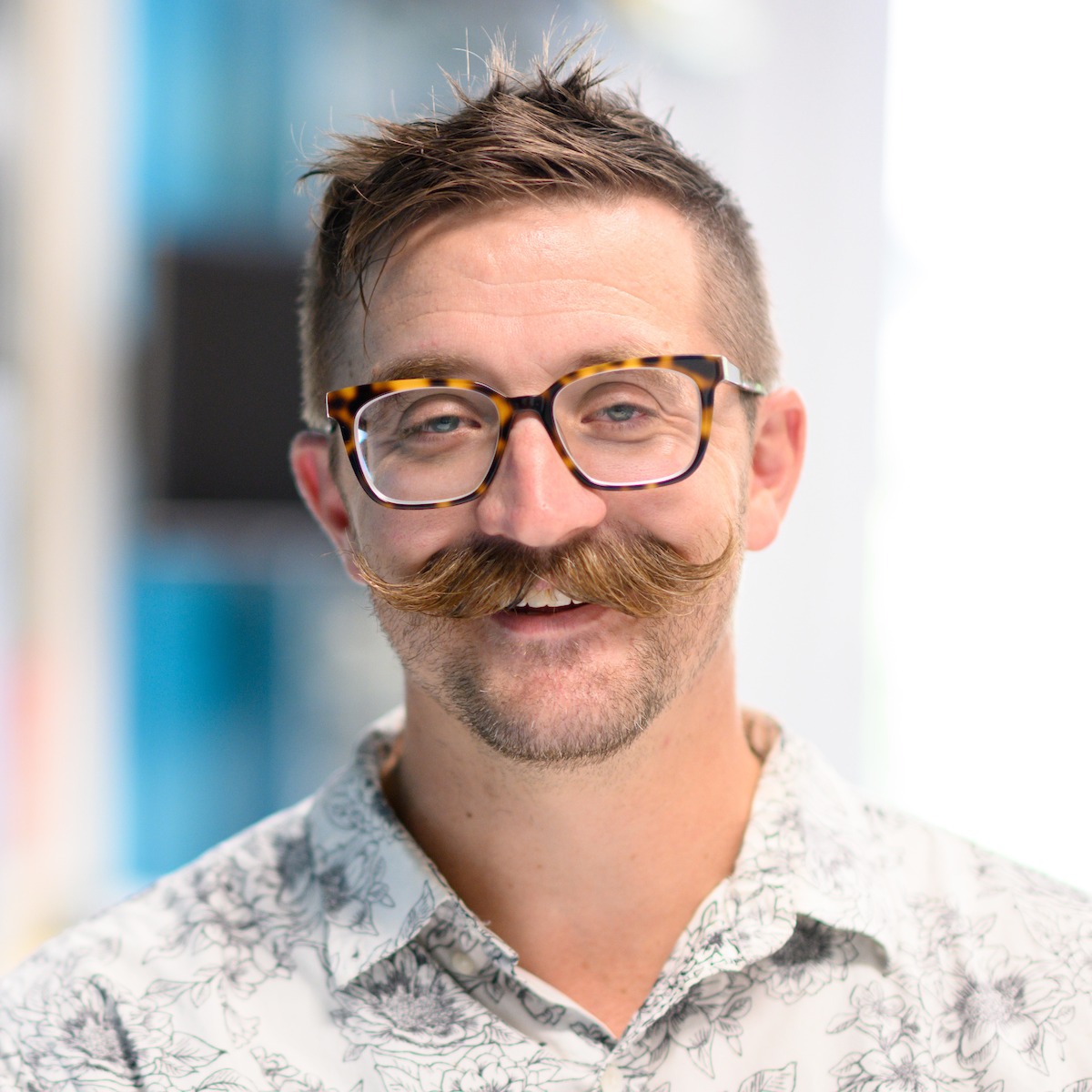 Article by Kassandra Tuten, University Communications and Marketing.
Photos by Joseph Pallen, University Communications and Marketing.
Additional photos courtesy of Aaron Johnson.
Video by Video Services, University Communications and Marketing.
Published June 2020.