Planetary Sighting
Physics student using telescope data to find the origins of exoplanets
Scientists believed they had a pretty good idea of how planets formed during the mid-20th century.
That changed in the 1990s. As University of Idaho senior Sam Myers explains, that's when physicists first discovered exoplanets and realized many didn't follow the expected pattern.
"The main theory of how planets are created couldn't explain the variation in the shape of the planet's orbit because it relied on planets having a moderate elliptical orbit instead of an extreme elliptical orbit. It also can't explain other parts of some planets' orbits, like being so close to their host star, or being otherwise misaligned," Myers said. "Scientists began to search for the mechanism that caused the variation. There are many theories out there so scientists are working on adding information to the overall picture so that they can narrow down the possibilities."
Many theories exist as to how the exoplanets formed, and the 21-year-old physics major is using data from NASA's Kepler telescope to help discern which are more common and pull them altogether into a unified theory that can predict planetary formations. He's been studying the formation and evolution of planets far from the solar system with Professor of Physics Jason Barnes for three years.
The famed Kepler telescope, used for recording stars' brightness over time, also records a dip in the brightness when an exoplanet passes in front of a star and blocks some of its light. By studying this variation in brightness, Myers and Barnes record this variation over time and apply a mathematical technique to collect new measurements.
He and his team started out by making two different measurement of one particular solar system and were trying to reconcile the two measurements. However, that work has since hit a dead end. Instead, they have been able to confirm some existing measurements for the exoplanet system that they have been working with, and learned more about their technique and how it could be improved for future use.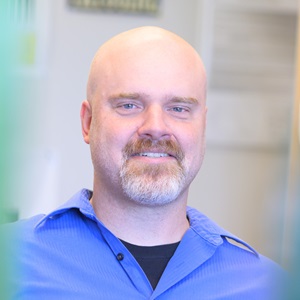 Engineering-Physics 331
208-885-7469
A planet orbiting a star in an aligned state. This means the planet orbits around the equator of its star. All of the planets in our solar system are aligned.
A planet orbiting a star in a misaligned state. The planet does not orbit around the equator of its star. Many exoplanets - planets outside our solar system - are misaligned like this.
The surface of a Delta Scuti variable star pulses and ripples in a wave-like pattern. These pulsations cause the brightness of the star to go up and down over time.
An image of Titan, Saturn's largest moon, taken by the Cassini spacecraft. This image is of the north pole of Titan, the region with methane lakes.
Sam would eventually like to start using the techniques developed by Barnes and his lab on images from the Transiting Exoplanet Survey Satellite, the successor of the retired Kepler telescope.
"We may be able to say, 'OK, well, theory A isn't happening, but theory B is happening all the time. And we are watching that play out in the universe,' which is really cool," Myers said.
A National Merit Scholar from Mukilteo, Washington, Myers has always wanted to study physics, particularly the study of planets. That U of I allowed him to participate in undergraduate research cinched his decision on where to attend college.
"When I saw that this university had plenty of opportunities for that and professors who were willing to start working with people right away, it really sealed the deal for me," he said.
Myers received the Goldwater Scholarship for his project in 2019, the only Vandal to receive such an award that year.
With graduation slated for spring 2020, Myers already has plans to continue his study of exoplanets in graduate school. He has accepted admission to the Lunar and Planetary Laboratory at the University of Arizona, one of the top planetary science programs in the country, for a Ph.D. program which he will be starting in the fall.
It's important, he said, to keep adding information to the field so scientists can narrow down the possible theories on how planets are formed.
"Understanding how planets form tells us a lot about where we might expect to find planets that are habitable and what goes into making a planet habitable for human life," Myers said.
By Christi Stone College of Science
September 2019