Thirsty for Water
Demand for Snake River Water Complicates Region's Water Resources
Greening crops still take up a sizeable chunk of the landscape along the Snake River Plain that stretches across southern Idaho from Yellowstone National Park to the Oregon border. Aside from dairies, potatoes, alfalfa and other plants are mixed in with the canyons, rivers and growing communities that make up the Magic Valley.
Divvying up the water from the Snake River among growers and other water users isn't simple, considering that water quality, water availability and other factors must be taken into account to both successfully cultivate the fields and meet the demands of the growing urban areas. It's an increasingly difficult task in an environment that researchers in the University of Idaho College of Agricultural and Life Sciences say is bringing an inconsistent cycle of wetter and drier seasons year to year.
Monitoring the Land
Richard Allen, a professor of water resources engineering, and his colleagues monitor evapotranspiration, the total amount of water lost to the atmosphere from soil and plants. His team at the Kimberly Research and Extension Center gathers data on the ground and from satellite imagery to estimate water consumption on every field in the southern half of the state.
"We can see the different temperatures of each field, and we can use that to make pretty good estimates of what water consumption might be," Allen said.
Their data is partially based on imagery from satellites orbiting the Earth — imagery that can sometimes prove problematic with overcast skies and just two orbiting Landsat satellites (see related story).
But the researchers can monitor snowpack, water consumption, crop yields and plant growth in their effort to get a complete picture of water quality and water availability.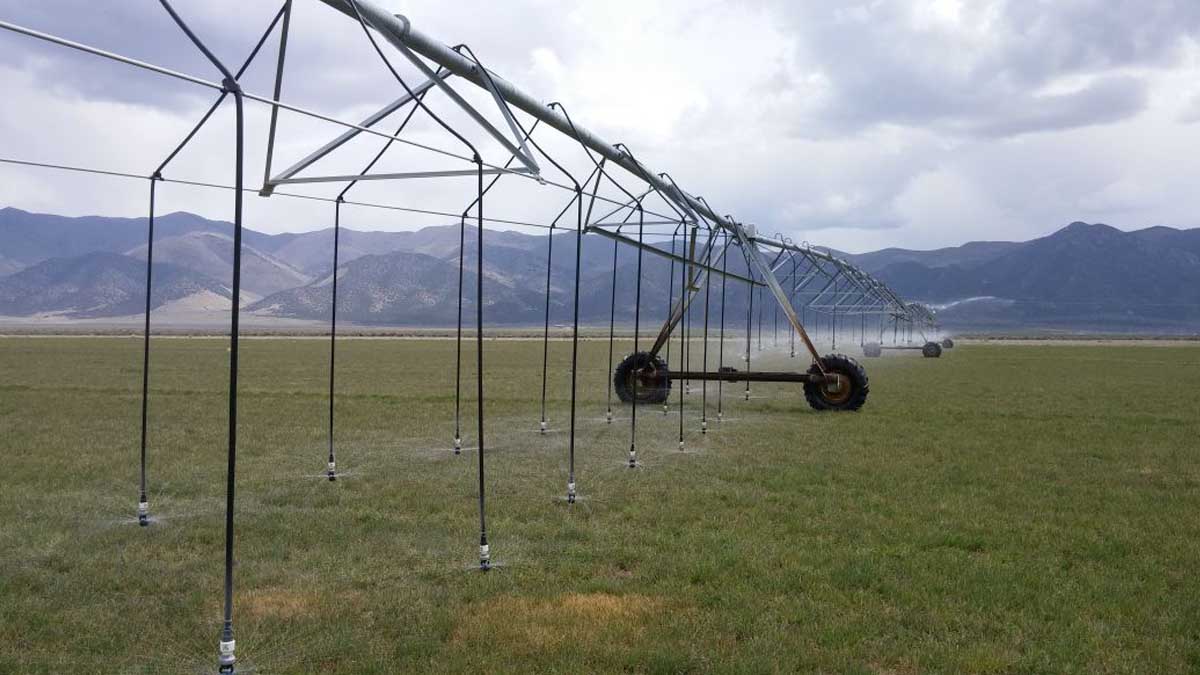 A Growing Concern
The Magic and Treasure valleys have evolved over the past hundred years, greening the landscape and bringing buildings and development along with increased agriculture. On top of land use changes, researchers say a changing climate year to year adds to the challenges of water use in the region.
Irrigation has actually caused many areas on the Snake Plain to cool since data collection began in the 1880s. As desert communities started to grow grass, trees and install irrigation, Allen and research support scientist Clarence Robison note temperatures initially dropped 4 to 7 degrees. Communities like Twin Falls became less of a desert with the influx of 3 million acres of irrigated agriculture spread along the Snake River.
"Evapotranspiration will cool the local environment. It cools the air temperatures," Allen said.
Problems with precipitation come in two forms: One is just how much of the precipitation is snow and how much is rain. We prefer the snow. Secondly, with climate change, that snow might melt off earlier in the year.Richard Allen
Allen, Robison and U of I Kimberly Research and Extension Center scientists are working with the Idaho Division of Water Resources to map water consumption so the two government entities can continually assess the sustainability of the Snake River Plain Aquifer.
Although the amount of water crops need to grow changes from year to year as a result of differences in precipitation, temperature and other factors, Allen said ascertaining a distinct effect of climate change can be difficult.
"We do see a long-term change in temperature and changes in precipitation," Allen said. "Those get masked out by individual events. One summer is hotter, one summer is cooler. There's a lot of variation in year-to-year weather."
In terms of climate change in Idaho, its effects can often be mixed up with urban growth in the Magic and Treasure valleys. The biggest change Allen has seen in water consumption is a spike in the number of dairies in southern Idaho and a choice by many growers to raise alfalfa instead of other less thirsty crops.
Unexpected Consequences of Reducing Erosion

Kimberly Research and Extension Center researchers also work with the Bureau of Reclamation and the Twin Falls Canal Company — and have since the 1980s — on maintaining water quality and reducing sediment, and in turn, increasing nutrients for algae and plant growth in the Snake River.

Snake River sediment levels have decreased dramatically since the mid-1970s, falling from 1,000 milligrams of sediment per liter in the mid-1970s to between 40-200 milligrams of sediment per liter. The federal target is 50 milligrams of sediment per liter.

Changes in farming practices are responsible for reduced erosion. Fields that used to be watered using flood irrigation methods, which washes high amounts of sediment into the river, are now watered with center-pivot irrigation, a light spray that reduces erosion.

But every change comes with side effects.

The reduction in sediment has led to increased sunlight deeper into the water. Invasive plant life that has made its way into the Snake River is now thriving.

"It's been kind of an ironic thing," said Richard Allen, a U of I professor of water resources engineering. "We want to reduce sediment and as water clarity has increased in the river, we may see more plant growth because of deeper penetration of sunlight into the river. However, all-in-all, reducing the sediment has been a good outcome for fisheries, recreation and for the soil itself."
The Right to Water
The system of water rights, where some longtime water users have precedent over their newer counterparts, can also play a role in determining how irrigation water is distributed — especially in drought years.
The amount of water available to Snake River growers is determined in part by snowpack a few hundred miles upstream in and near Yellowstone National Park. A bad snow year can really have an impact downstream, Robison said.
The melt rate can also put farmers in a precarious situation year to year. Even if the amount of precipitation were to be the same each year, a warm winter or early spring can shift the water supply earlier in the year and make for a difficult June, July and August. In addition, warmer temperatures might result in higher evapotranspiration requirements for crops, Allen said.
People are fairly convinced we're just going to see more extreme extremes. During dry years, we don't see precipitation in the mountains. We are probably going to wish we had more water storage in the mountains so we could suffer our way through a two- or three-year dry spell. Richard Allen
"That's worrisome," he said.
The earlier the snow melt, the less water flows out of canals later in the year.
Another concern is the year-to-year variation. The agricultural economy is starting to expect drier dry years and wetter wet years, making it difficult for growers to plan each season.
And other users, like towns and hydropower plants, want water, too. That's especially true in tributaries of the Snake River, where communities like Oakley in south central Idaho get most of their water. Allen noted there have been years where the Cassia County town has only seen 20 percent of its allotted water right.
Users and officials on the plain are trying to get better at using the Snake River plain as a more effective storage device and are looking at ways to recharge the aquifer in wet years so it can be better utilized in drier years.
It's all part of a complicated set of plans that Allen, Robison and others are continuing to monitor.
"These kind of things will be part of the strategy as we move forward with a growing population and climate change effects," Allen said.
Article by Brad Gary, University Communications and Marketing
Published in January 2019