Community Development
UI Extension is dedicated to community development in Valley County. Our office leads and assists local residents in carrying out community visions, including community coaching, idea generation, implementation planning, leadership training, research, education and asset development.
The Valley County office has helped many projects, including Horizons' (Cascade), Valley County Economic Development Council and the Valley Adams Planning Partnership (2004). UI Extension mentors citizen leaders and guides community initiatives.
Browse UI Community Development programs and publications and explore the projects below.
Know the Land, Save the Land
Learn, wear, share
Learn about invasive weeds from apparel designed by UI students in cooperation with UI Extension, Valley County.
The office currently serves on multiple community partnership projects including
America's Best Community Team Lead Committee
Cascade Mobility Team
Area Sector Development Program Steering Committee
Pride of the Pantry Plots Community Gardens Steering Committee
Meadows Valley Community Garden Steering Committee
UI Extension mentors citizen leaders and guides community initiatives. Through the infusion of providing education and resources to community partners and facilitated discussion, several community partnerships continue to thrive today.
America's Best Communities
Final Round
We made it to the final round! We are running to win one, two or three million dollars for the area.
Celebrate:
We have until April 2017 to implement our short term goals in the West Central Mountains Economic Development Plan. We need volunteer support.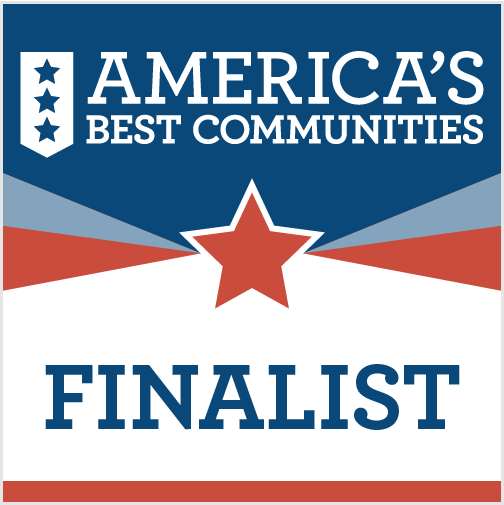 What It Is
America's small towns can be great places to work and live. The ABC prize is a grant competition started by Frontier Communications. Winners receive money to help apply their plans to their hometowns.
Do you produce local food?
Are you a local market gardener? Would you like to sell local produce and meat at market or at your business? We want you.
Wherever you are in the process, UI Extension believes in strengthening the local food system from field (or greenhouse) to fork: growers, harvesters, consumers, distributors, packagers, transporters, marketers and food waste managers. Contact UI Extension, Valley County today to learn more about the West Central Mountains Food Coalition.
Pride of the Pantry Plot Community Gardens
The Pride of the Pantry Plots supports the Cascade Food Pantry's efforts to provide healthful food to local residents.
Garden plots are open for rental to all county residents. Membership is not income-based. Food grown is for personal consumption.
How to Join
Apply (PDF) to the Cascade Food Pantry for the 2017 growing season. The Cascade Food Pantry can be reached any time on Facebook or in person on distribution days (first and third Thursdays of the month).
The Cascade Food Pantry is located at:
Cascade Food Pantry
1470 S. Main Street
PO Box 799
Cascade, ID 83611
Leadership
The program is led by volunteers. The Cascade Food Pantry Executive Director and Board of Directors back the program with guidance from the Pride of the Pantry Plots Steering Committee. The UI Extension Educator is part of the steering committee. The steering committee formed in fall 2014 and helped start the garden's first growing season. The garden reached the Phase 1 goals described in its bylaws (PDF).
Cascade Mobility Team
The city of Cascade won a multi-mobility transportation planning grant to focus on bikes and pedestrians downtown. This New Mobility West grant was given by the Sonoran Institute. In spring 2015 the Cascade Mobility Team brought the community together to create The City of Cascade, Idaho Bike and Pedestrian Plan (PDF). Read the press release (PDF) about the planning process to learn more.
Counting Bicyclists and Walkers
The Cascade Mobility Team counted bikes and pedestrians several times this year. This study collected information to help the Cascade Mobility Team:
Determine the bike and pedestrian use of city streets and sidewalks.
Secure funding to create Safe Routes to Schools or increase pedestrian/bike friendly infrastructure to connect community locations.
Increase public awareness of efforts to understand how motorized and non-motorized transportation interact in the city of Cascade.
Estimate return on investment for new infrastructure.
Gather baseline data to understand user behavior now and in the future.
The bike and pedestrian counting project has been completed.
Horizons' Community Action Teams
The city formed several community action teams including: Lifestyle and Education, Curb Appeal and Tourism, Armstrong Park and Whitewater Park. Many of these teams remain active today and other organizations have developed from this initiative.
The Horizons' Lifestyle and Education Team was one of the home team participants in the Cascade Community Review by Idaho Rural Partnership. Stay tuned to learn more about joining Cascade focused community development efforts.
The Cascade Cultural Arts Center (CCAC) formed from the Horizons' Lifestyle and Education Team. They address alternative educational needs, poverty issues, community projects that promote healthy lifestyles and affordable activities to enhance living experiences in Cascade. This committee runs several projects in Cascade:
Cascade Community Garden. The garden is cooperatively managed with a shared bounty. Participants in the garden are welcome to harvest produce from this garden to share at the Tuesday evening potlucks. These vegetarian potlucks are held every Tuesday throughout the summer at Fisher Pond and the first Tuesday of the month during the winter at The Ice House. Visit The Ice House's webpage for more information.