AERS News, May 2023
Message from the Department Head
May is an exciting time in Moscow. Graduation is this weekend, and we will bid farewell to an outstanding group of seniors. We celebrate their successes but will certainly miss having them around.
I am happy to say that spring has finally arrived in Moscow and area farmers seem to have finished the spring work at long last. In this edition of our newsletter, you will read about our CALS Speaker Series invited scholar Johan Swinnen. It was nice having Jo on campus and his lecture was well attended by folks from U of I and WSU including those not in the College of Agricultural and Life Sciences.
You will also read about two new clubs that have become quite active in AERS, Young Farmers and Ranchers and the Agricultural Risk Management club. There is always a lot going on in AERS. Please stop in if your summer travels find you in Moscow.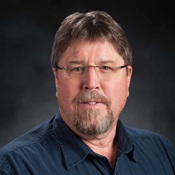 Chris McIntosh, Department Head
Department of Agricultural Economics and Rural Sociology
---
Our Stories
Maximizing Profit
Gavin Merritt's family has been farming outside Rosalia, Washington for seven generations. He's always planned on one day taking over the farm, however, he knew he needed some additional education and experience in order to help make the farm as profitable as possible.
Merritt will graduate from the University of Idaho in May 2023 with a degree in agricultural economics: agribusiness emphasis and join Scoular as a grain merchandiser in Twin Falls.
Growing up Merritt saw his family struggle with the marketing side of farming. When he learned that U of I offered a certificate in agricultural commodities risk management (ACRM) he saw an opportunity to help his family farm.
"Something that my family farm always struggled with was our risk management, using futures, understanding options so it seemed kind of perfect for me to come here," he said. "With the certificate, it's a unique opportunity and really where the money is made is where you know the markets. You need to know how to manage your risk, do all your bookkeeping and understand what you need to make a profit."
The ACRM certificate allows students to trade actual commodities with real money. Students learn how to develop hedging strategies, understand trading futures, options and spreads, and analyze supply and demand factors.
"The certificate is really unique at the University of Idaho," Merritt said. "If you want that experience, you need to come here."
Before students begin trading with real money they practice on a simulation.
"The first time I went through the simulation I had to ask to reset my account twice," he said. "It definitely changed how I look at certain things and how I approach risk now."
After the simulation phase Merritt better understood how to read the markets, when to get out quickly and when to slowly move up and make a profit. During his final semester he began trading with real money and his team only recorded one loss.
"There is more risk so you're more excited when you make money and when you lose money you're more upset with yourself," he said.
Another part of the program involves making connections with industry. Merritt traveled to Portland, Oregon as part of a class field trip to talk with grain traders, the Wheat Marketing Center and Columbia Grain ports. He also traveled to Boise as part of a course focused on the Idaho public policy making process where he was able to engage with state legislators.
"Already having those connections in the legislature and in Portland, which is big in the grain industry, is huge," he said. "The grain industry is very small, especially on this side where you're really getting your grain from Washington, a little bit of Oregon, Idaho and Montana and there are only about five traders. So, if you can get to know them and build a relationship it really helps out."
In his role as a grain merchandiser Merritt will gain more experience buying and selling grain. He did this to a smaller degree in summer 2022 as an intern at an EGT grain elevator in Montana. He was able to take what he learned through his coursework and what he learned at the elevator and apply it to his family farm.
"I created a cost of carry calculator, added a few more things based on our total interest rate and what our loan was, and was able to make an extra 10 cents just by doing basically the same thing that the elevator was," he said. "We didn't go all in on that, which you never really should, but it was a few thousand bushels. Which is nice, seeing your education paying off already."
Merritt hopes to gain as much experience as he can over the next couple of years but would ultimately like to return to Eastern Washington as a consultant to help farmers increase profitability while also taking over the family farm.
"Understanding how to read fluctuations, I can make a farmer say 20 cents just by reading that correctly," he said. "I have the passion for it because of my family's story and I was given the knowledge through the University of Idaho to understand and know how to explain those."
The New Normal: Volatility
On April 24, economist Johan Swinnen visited the University of Idaho to give a presentation on global food security in CCC (Conflict, Climate and COVID) times. Swinnen is managing director of Systems Transformation at CGIAR and director general of the International Food Policy Research Institute (IFPRI). His appearance at U of I was made possible by the Ole Swenson Endowment.
Swinnen discussed general economic trends, the effects of COVID-19, the war in Ukraine and their impact on global poverty. Swinnen spoke to the updated goals which have been put in place to combat poverty, grouped as the food system transformation ideals: health, efficiency, resilience, sustainability, and inclusiveness. This system of goals works to combat poverty by doing more than just adding calories to diets.
Globally, poverty has been on the rise since 2014 and has continued to creep upward. Data has shown that we globally struggle with a "triple burden of malnutrition." Three billion people cannot afford a healthy diet, two billion people suffer from multi-nutrient deficiencies, and two billion people are obese.
The effects of COVID-19 on global poverty were dramatic, increasing the number of poor across the world by 150 million, affecting those in the lower income brackets more than those in the middle and upper classes. At the international level, countries combatted hunger by relaxing food export restrictions. Even then, the number of calories provided by cereal grains across the globe spiked, alongside a significant decrease in the number of calories consumed from dairy products, fruits and vegetables, resulting in a decrease in overall nutrition, especially in poorer areas.
The war in Ukraine has caused additional issues with food supply chains. Before Russia invaded Ukraine, Russian and Ukrainian exports accounted for 5.8% and 6% of calories in the global trade market, respectively. While a bumper crop of wheat and barley grains in other areas helped to combat the rise in prices, it is unknown how these changes will continue to ripple through the food supply chain.
Overall, since 2014 global poverty has trended upwards, yet certain shocks to the system (unexpected drops or rises in crop stocks, hunger, food availability, and more) have presented a new normal, one of unpredictable volatility. Our systems for battling poverty must now value resilience, rather than stability. To enhance resilience in the midst of volatility, measures must be made to limit the frequencies and magnitude of shocks, remain informed and anticipate shocks, and enhance systems ability to absorb shocks when they do occur.
Agricultural Risk Management Club
The Agricultural Risk Management club (ARM) is new to the university this year, but already has a strong group of students. The club is aimed at students who are pursuing a certificate in agricultural commodity risk management.
According to Brittany Hurst Marchant, executive director of the Idaho Wheat Commission, "When a daughter or son earns an agricultural commodity risk management certificate and takes it back to the farm or ranch, she or he is helping to keep the family operation viable and sustainable into the future."
Students in this program have the opportunity to learn how to maximize profits and manage risk though commodity marketing and trading from a diverse curriculum utilizing the state-of-the-art Barker Trading Room. In addition, every week, the ARM club has a guest speaker who works in risk management. Past speakers have included Rick Naerebout chief executive officer of the Idaho Dairymen's Association; Bill Flory, Barker board member and Idaho Wheat Commissioner; and Andy Hohwieler, regional manager of Scoular's Twin Falls office.
During spring break 10 students, including six AERS students, Caleb Goekner, Devin Schafer, Gavin Merritt, Luke Edwards, Katy Doumit and Marcus King, traveled to Oregon to attend the Portland Grain Trade Tour. While on the trip, students toured both the Lewiston and Portland Columbia Grain Ports as well as the Bonneville Dam. They met with Columbia Grain executives, Wheat Marketing Center Executive Mike Moran, and senior manager of Marine Marketing and Business Development at the Port of Portland John Akre.
Collegiate Young Farmers and Ranchers Club
The Collegiate Young Farmers and Ranchers club (CYF&R) is a group on campus consisting of students from a variety of backgrounds and disciplines within the College of Agricultural and Life Sciences. The goal of the club is to prepare students for employment in the agriculture industry by offering opportunities to participate in career development, leadership development, legislative action and professional networking activities.
Seven CYF&R students, including three AERS students, Katy Doumit, Trista Gates and Klay Hanrahan, attended the American Farm Bureau Fusion Conference in Jacksonville, Florida in April. The conference brought over 1,000 volunteer leaders from three American Farm Bureau program areas: Promotion and Education, Women's Leadership, and Young Farmers and Ranchers. Students were able to attend several breakout sessions, as well as listen to keynote speaker American Farm Bureau President Zippy Duvall. They also had the opportunity to network with other collegiate and industry leaders from across the country.
To stay in touch with CYF&R at the University of Idaho, you can follow them on Instagram: @uidahocyfr and Facebook University of Idaho Collegiate YF&R.
---
Email calsnews@uidaho.edu with feedback or suggestions.
Sign up to receive communications from the College of Agricultural and Life Sciences and University of Idaho Extension.