Graduate Students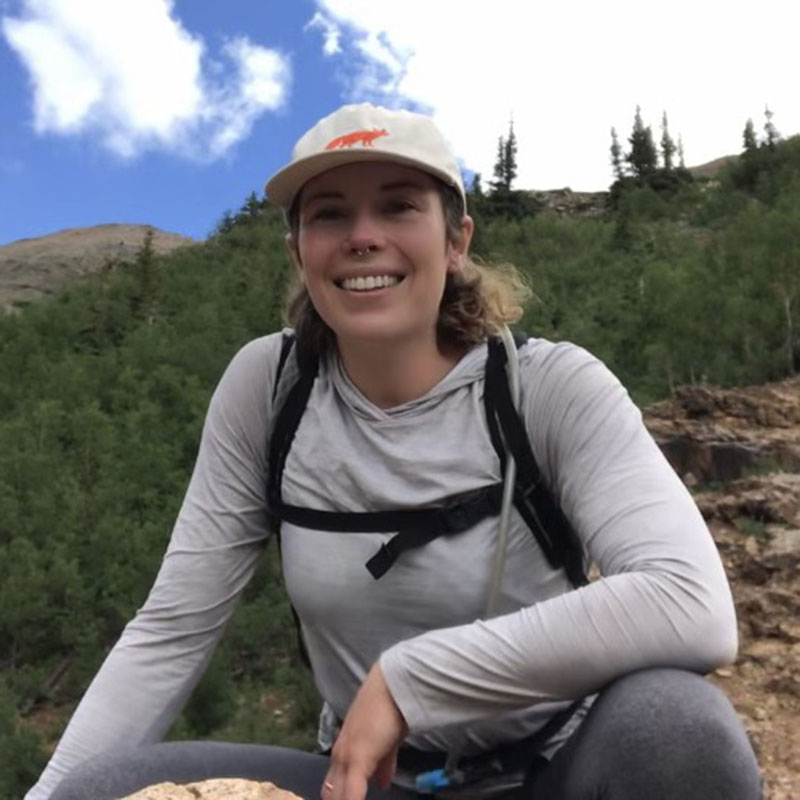 Kate Brings
M.S. Candidate
Advisor: Jeff Hicke

Kate Brings is an ecological geographer and her primary area of interest is in climate change ecology in sub-alpine ecosystems. Kate is particularly interested in stand risk assessments of Mountain Pine Beetle outbreaks, as means to understand and project how environmental factors associated with climate change have and will impact the magnitude and extent of insect outbreaks, and their impacts on the statuses of tree stands. Kate Brings received her B.S. in Environmental Science (Earth Sciences concentration) from the University of Portland, Portland, OR.
Karen Heeter
Ph.D. Candidate
Advisor: Grant Harley
I am a dendrochronologist with background in botany, forestry, and ecology. My work at the Idaho Tree Ring Lab primarily involves climate reconstruction, fire history, and dendroecology of southern Utah and the interior northwest. Outside of research, I am actively involved in the prescribed and wild land fire communities.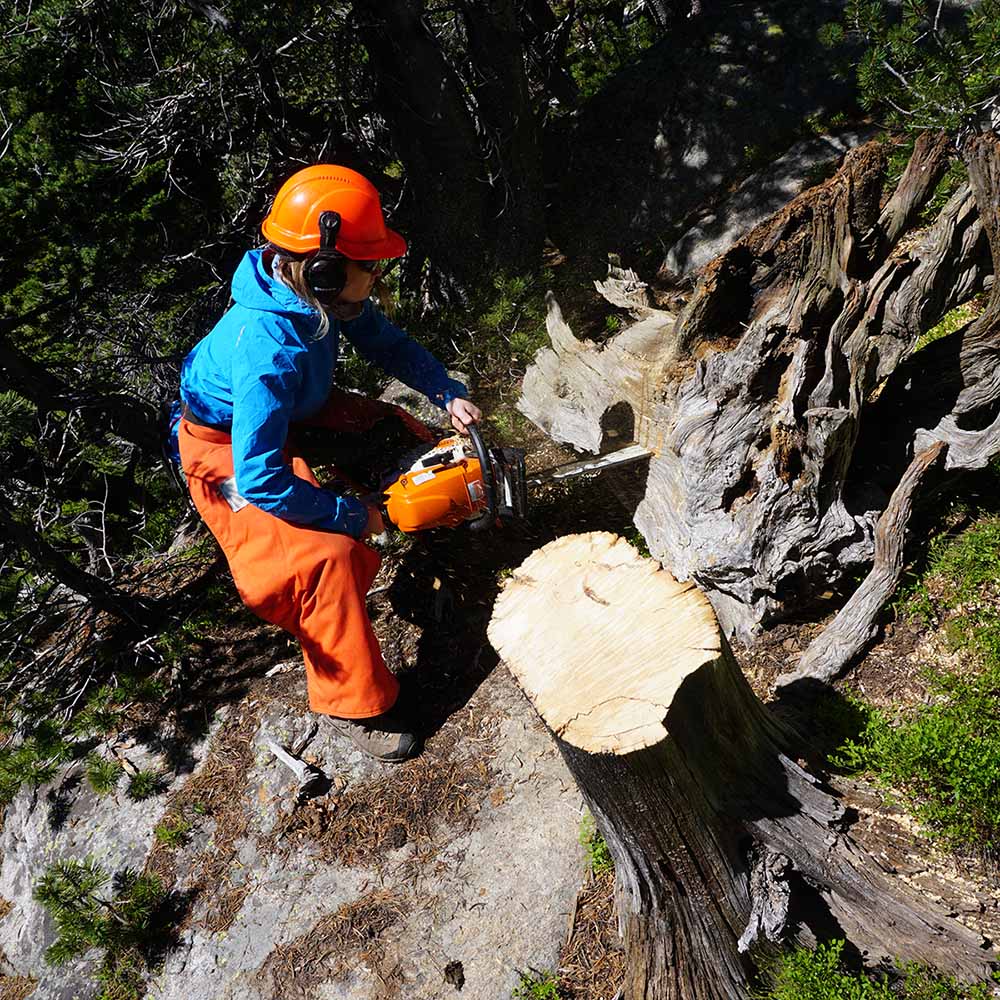 April Kaiser
Ph.D. Candidate
Advisor: Grant Harley
I study dendrochronology (tree-ring research) specifically using wood anatomy cell measurements to reconstruct climates and ecological disturbances. This research helps us identify current climate trends in high resolutions to aid in predicting future climate changes.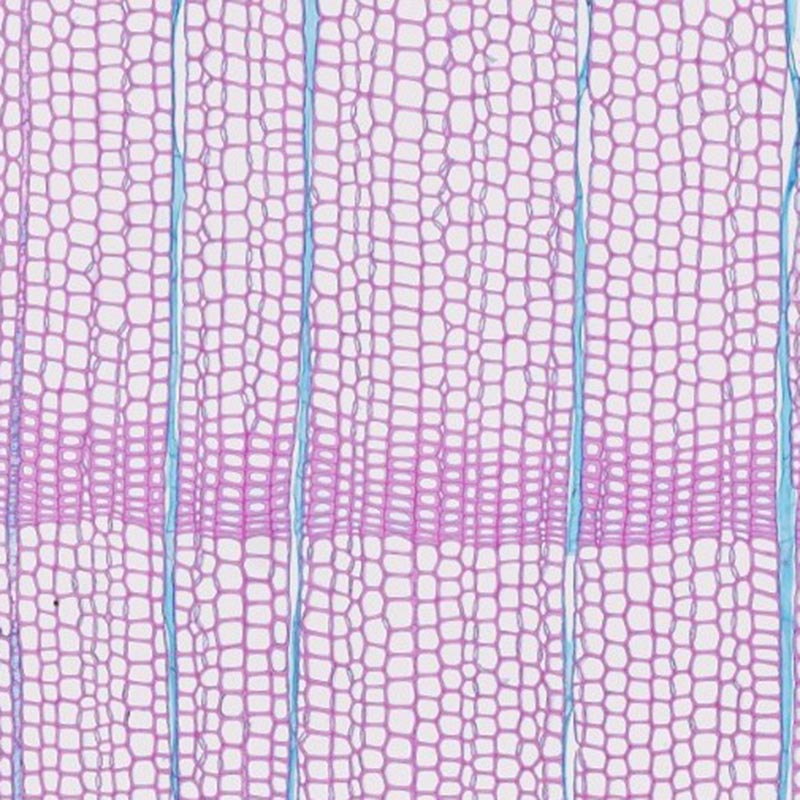 Daniel King
M.S. Candidate
Advisor: Dr. Eric Mittelstaedt
I study the physical processes that shape the seafloor at and around mid-ocean ridges. Through the use of numerical modelling, my research contributes to the better understanding of tectonic and magmatic events at extensional plate boundaries, as well as planetary surface evolution.
McKayla Meier
Ph.D. Candidate
Advisor: Dr. Erika Rader
I study lava flow and water interactions through their petrology, geochemistry, and spectral characteristics. My research is an analogue study between Earth and Mars to better understand the past Martian environment by analyzing lava flows captured on Mars through remote sensing. By comparing lava flow and water interactions on Earth, we can apply the same concept to lava flows on Mars to search for surface water and by comparison the potential for life.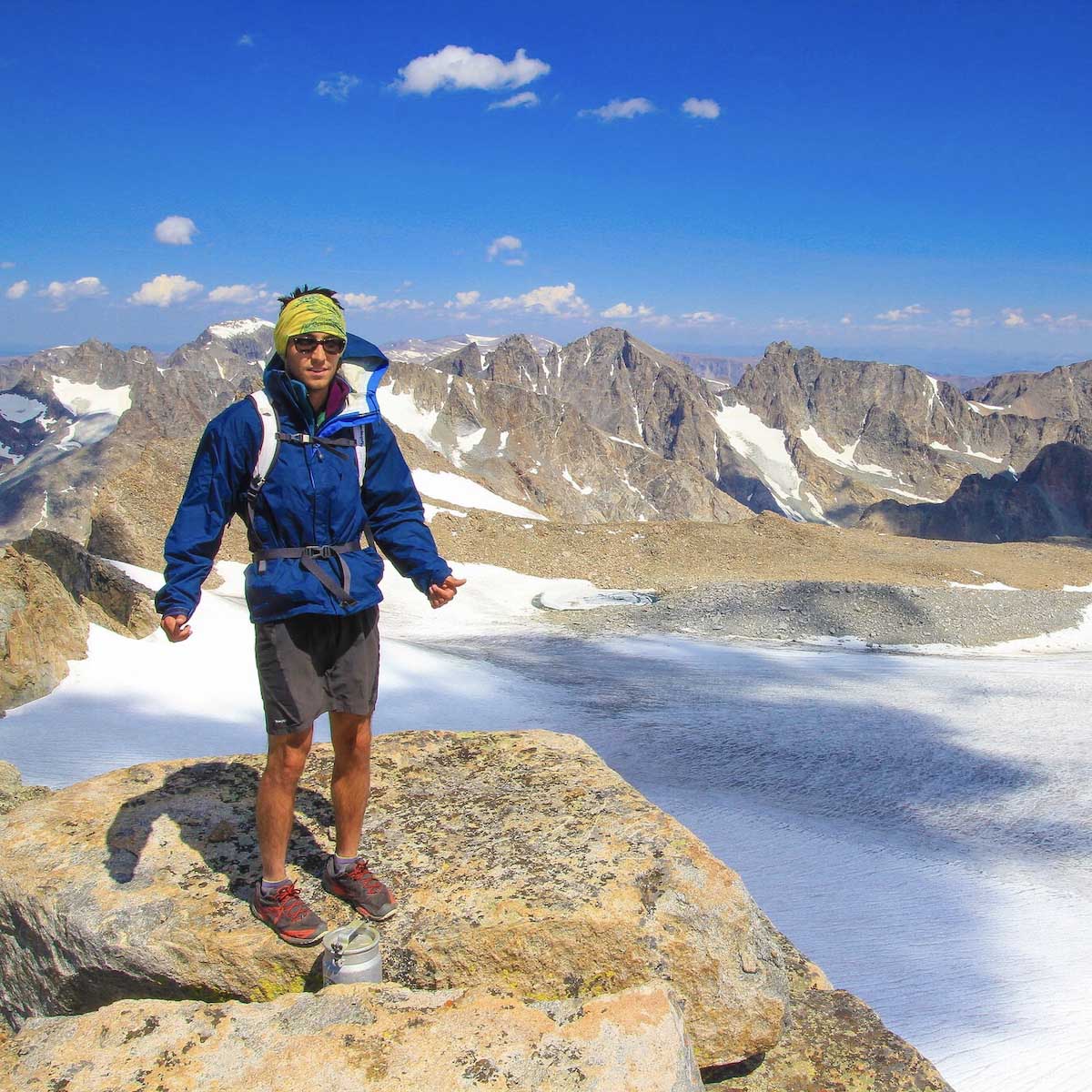 Ty Reinemann
M.S. Candidate
Advisor: Jeff Hicke
My research interest is the relationship between lodgepole pine and mountain pine beetle to better understand large scale insect outbreaks. I received a B.A. in Environmental Management and Protection at Cal Poly, San Luis Obispo.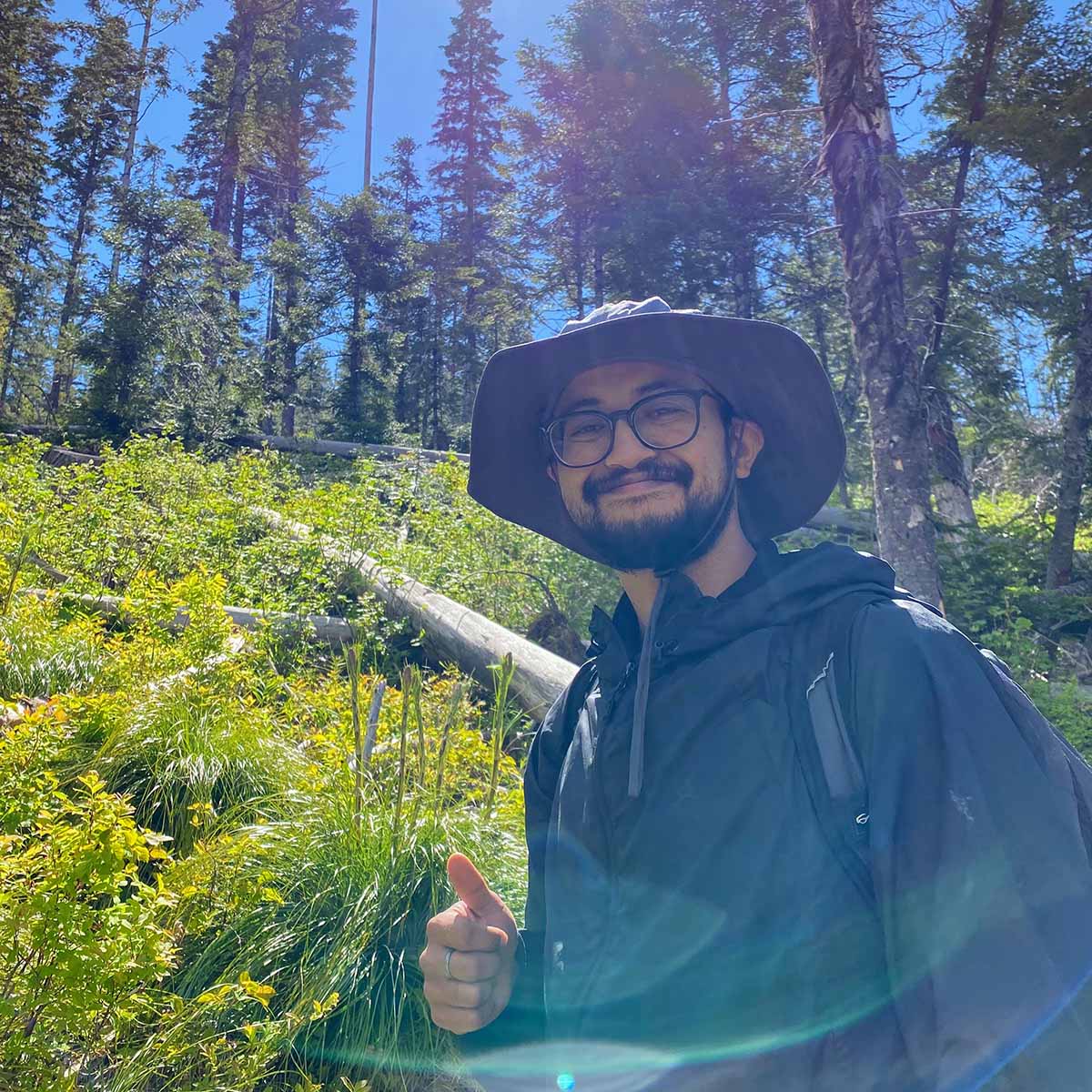 Abhinav Shrestha
M.S. Student
Advisor: Dr. Hicke
Abhinav is working in the Ecological Geography Lab and his research interests include forest disturbances, climate change, remote sensing, and GIS. Current research focuses on detection and characterization of bark beetle and defoliator outbreaks using high resolution satellite imagery, image classification workflow and scripting, and GIS. These forest insect outbreaks and disturbances are common in sub-alpine ecosystems in the western United States, and monitoring and characterizing them using satellite imagery can be very useful as a forest management tool and for studies on the effects of climate change on forest ecosystems.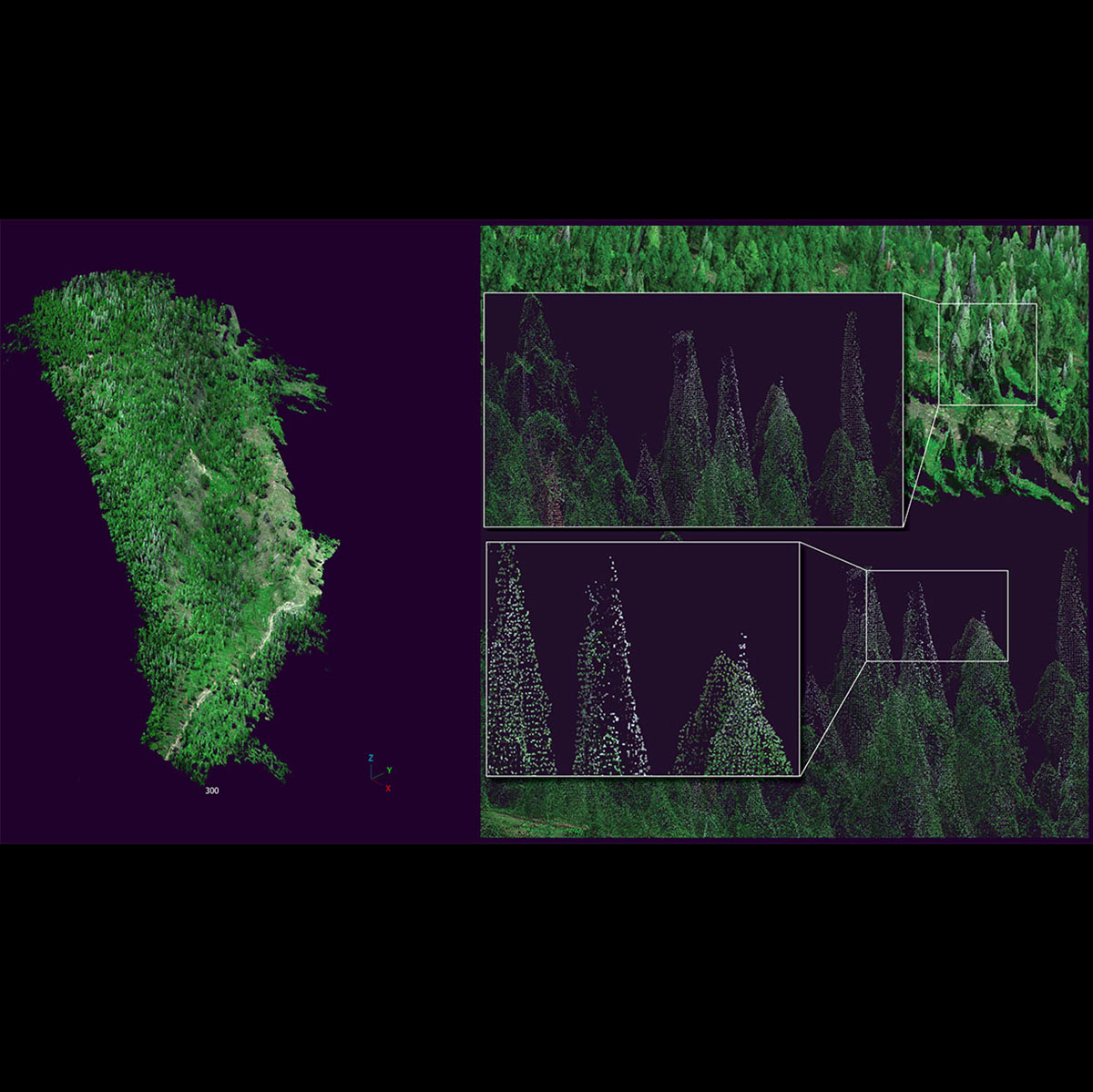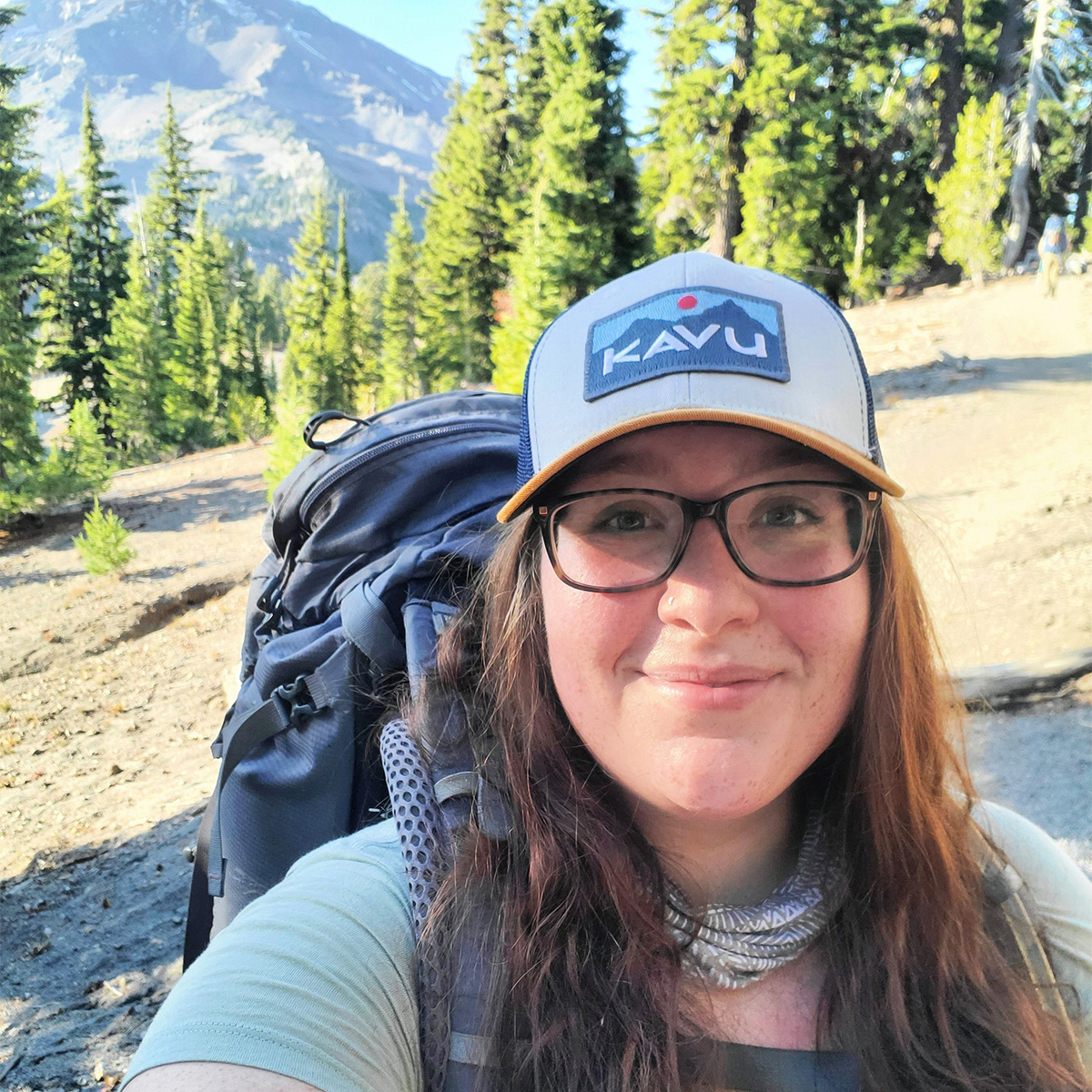 Emily Thompson
Ph.D. Candidate
Advisor: Karen Humes
Emily is a geospatial scientist interested in GIS, remote sensing, and modeling of hydrological and agricultural systems in present and future climates. Currently, her research centers around quantifying and modeling the water-energy-food nexus in the Pacific Northwest with special focus on the Snake River Plain. Emily holds an M.S. in Geography with a concentration in physical geography and a B.S. in Geographic Information Science (meteorology cognate), both from the University of Oklahoma.
Haley Thoresen
Ph.D. Candidate
Advisor: Dr. Elizabeth Cassel
I am researching the timing of the initiation of the collapse of the Western United States Cordillera using the basin record in southwest Montana and southeast Idaho. This is important because it not only gives us insights into how mountains are built and subsequently destroyed, but how changing topography affects climate and paleodrainage patterns.
Zhe Wang
Ph.D. Candidate
Advisor: Dr. Haifeng Liao
My research interests are GIS with a focus on spatial modeling and remote sensing with a focus on digital image processing. My substantive interests include urban climate, urban forestry and land cover land use change. Currently, my research centers around urban tree canopy extraction using deep learning and quantifying the urban tree arrangement.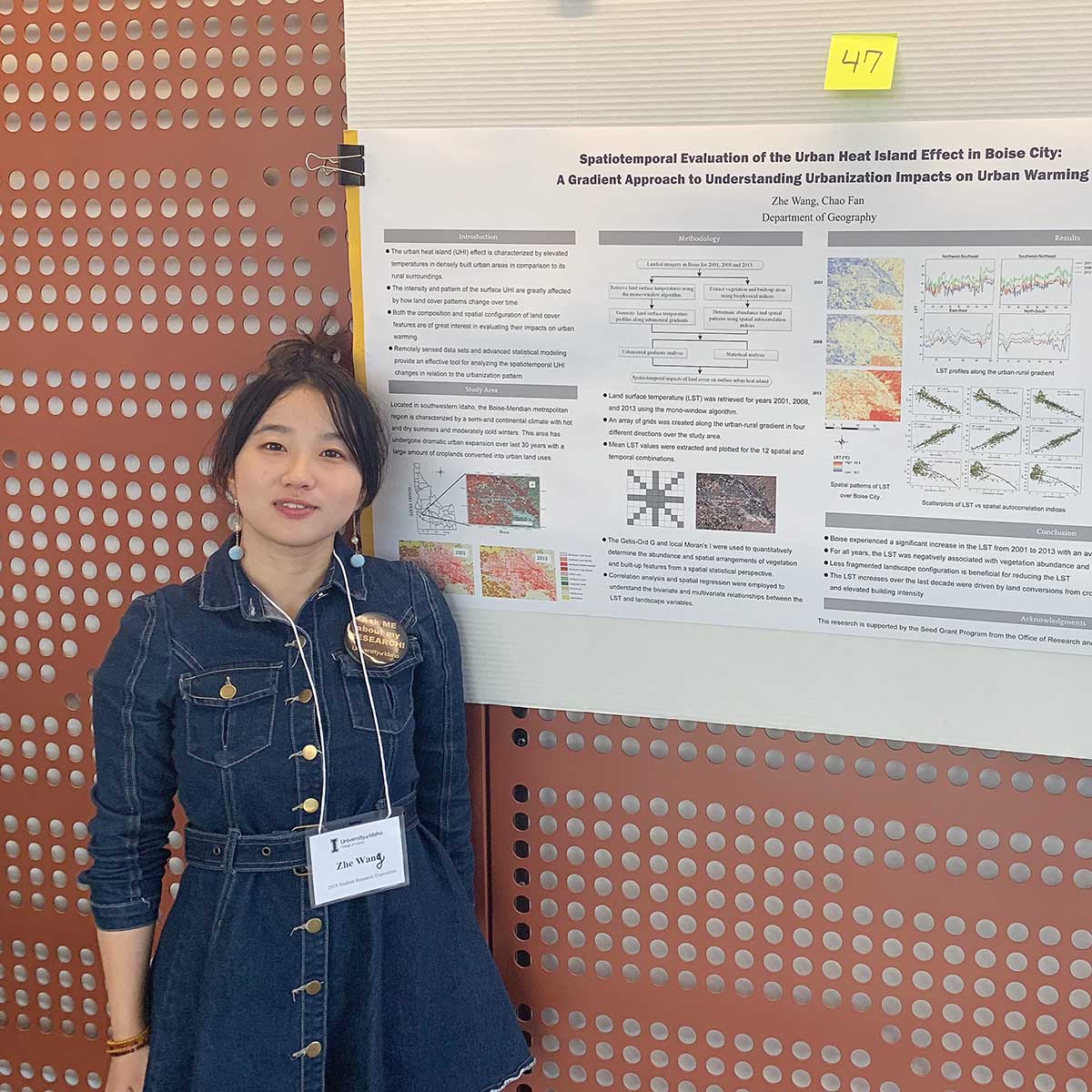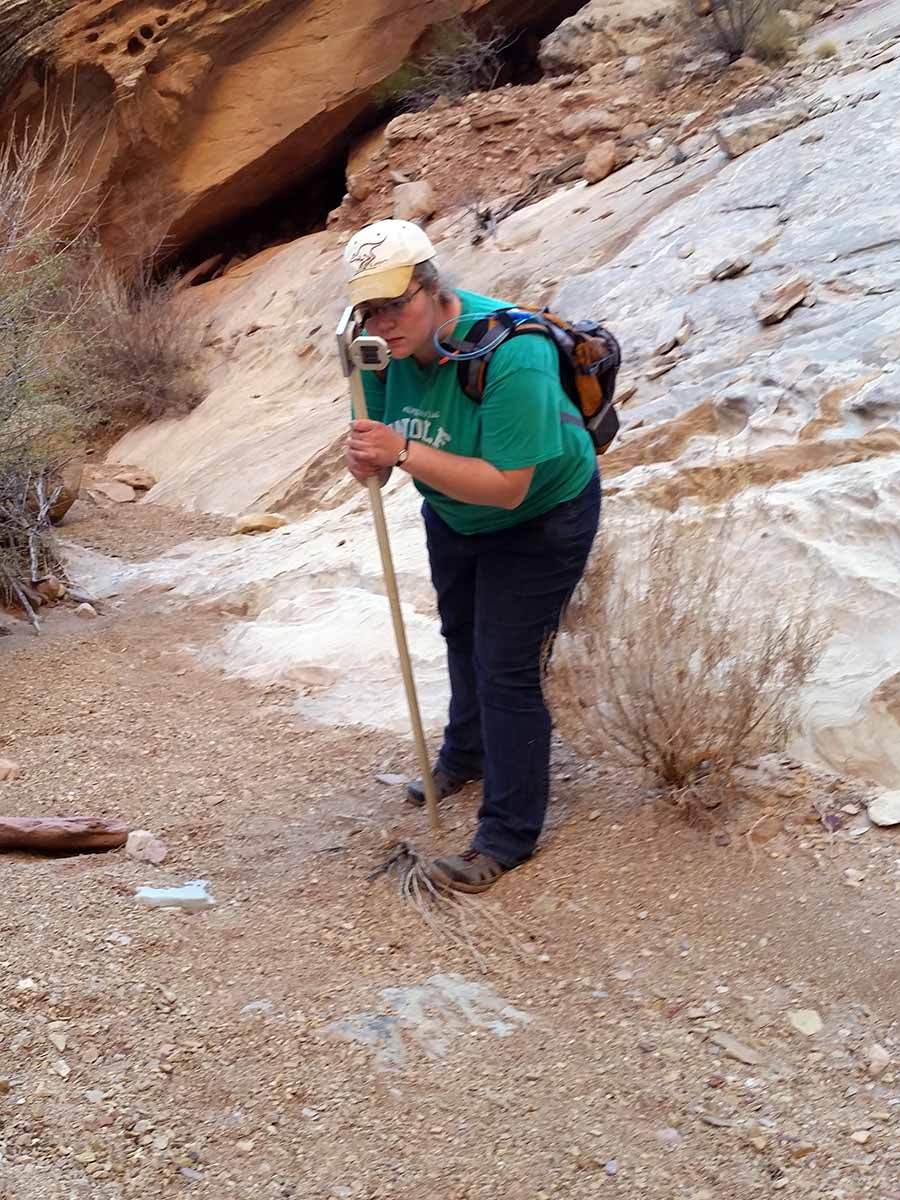 Hailey Wilding
M.S. Candidate
Advisor: Renee Love
My research focuses on correlating the surface to subsurface using geophysical logs, palynomorphs, and historic well cores deposits to identify reservoir amalgamation, sealing facies, and potential traps. Palynology will also be used to determine the thermal maturation of distinct intervals in the subsurface. By studying these Paleogene age fluvial deposits, we can better understand the petroleum potential below thick volcanic deposits around the globe.
Ian Woodruff
M.S. Student
Advisor: Dr. Hicke
I am interested in Forest Ecology and Climate Change. My research focus is on the relationships between forest characteristics, bark beetles, and drought. It is important to understand how climate change and disturbance will impact forests in the Western United States because they provide a plethora of benefits to local communities and the planet.
Frank Wróblewski
Ph.D. Candidate
Advisor: Dr. Erika Rader
I study the shapes and colors of planetary surfaces to analyze the differences between volcanic features in satellite imagery. My current research is an analogue study between Earth and Mars to map the spatial, structural, and spectral relationships of lava flows to determine how lava is represented differently depending on how it contacts water. By studying how water interacts with lava, I seek to understand how past climates of Mars and other terrestrial bodies have been preserved alongside their ability to sustain liquid water, habitability, and potential life.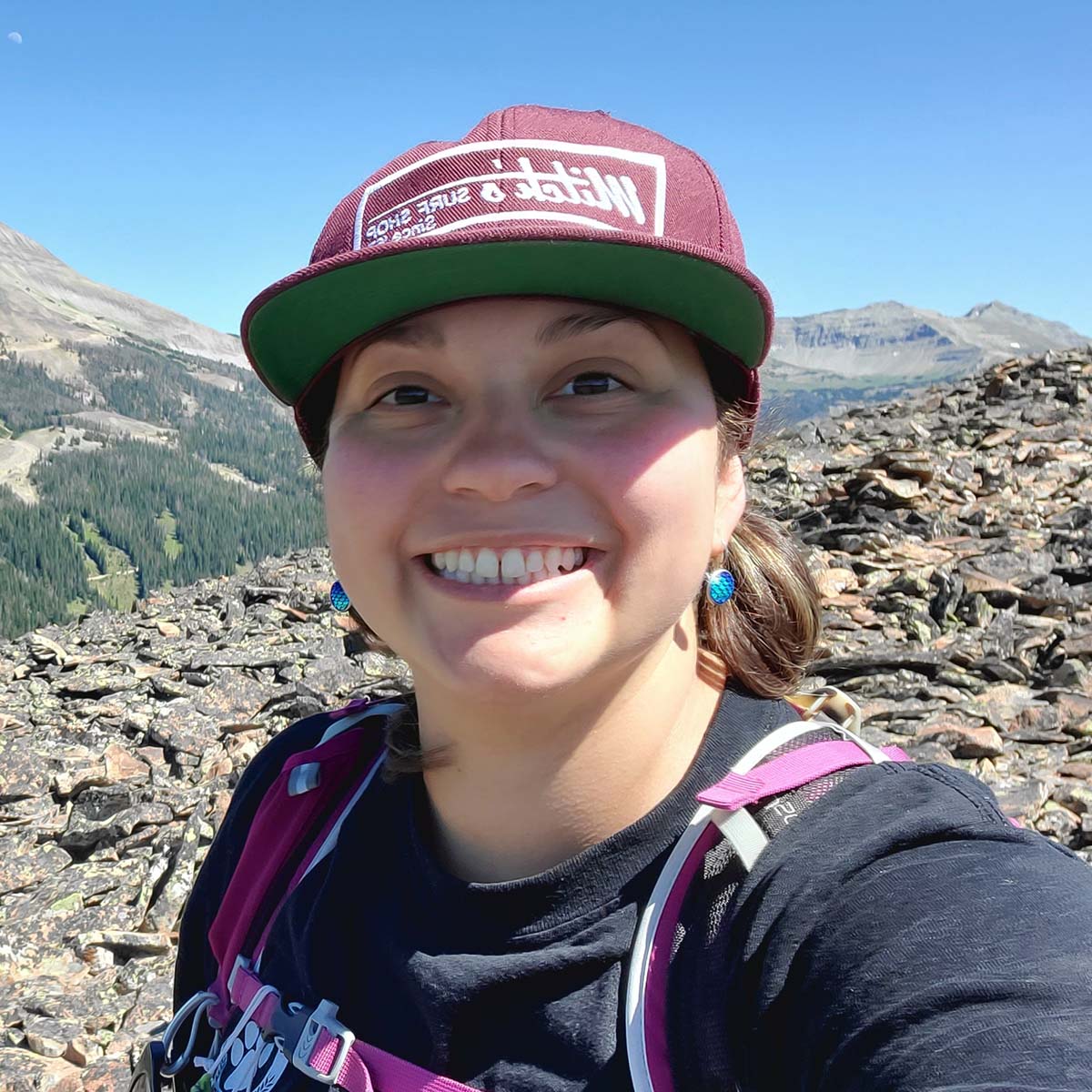 Chloë Weeks
M.S. Candidate
Advisor: Dr. Jessica Stanley
I want to know if the evolution and approach of the Yellowstone hotspot has caused uplift in the surrounding regionswithin SW Montana. To accomplish this, I am collecting samples along transects of increasing elevations and analyzing apatite grains using (U-Th-Sm)/He and 4He/3He thermochronology in order to establish age-elevation relationships and identify any signs of uplift. Studying the timing and patterns of cooling will add to our understanding of the hotspot's influence on landscape evolution in regions outside of its main path.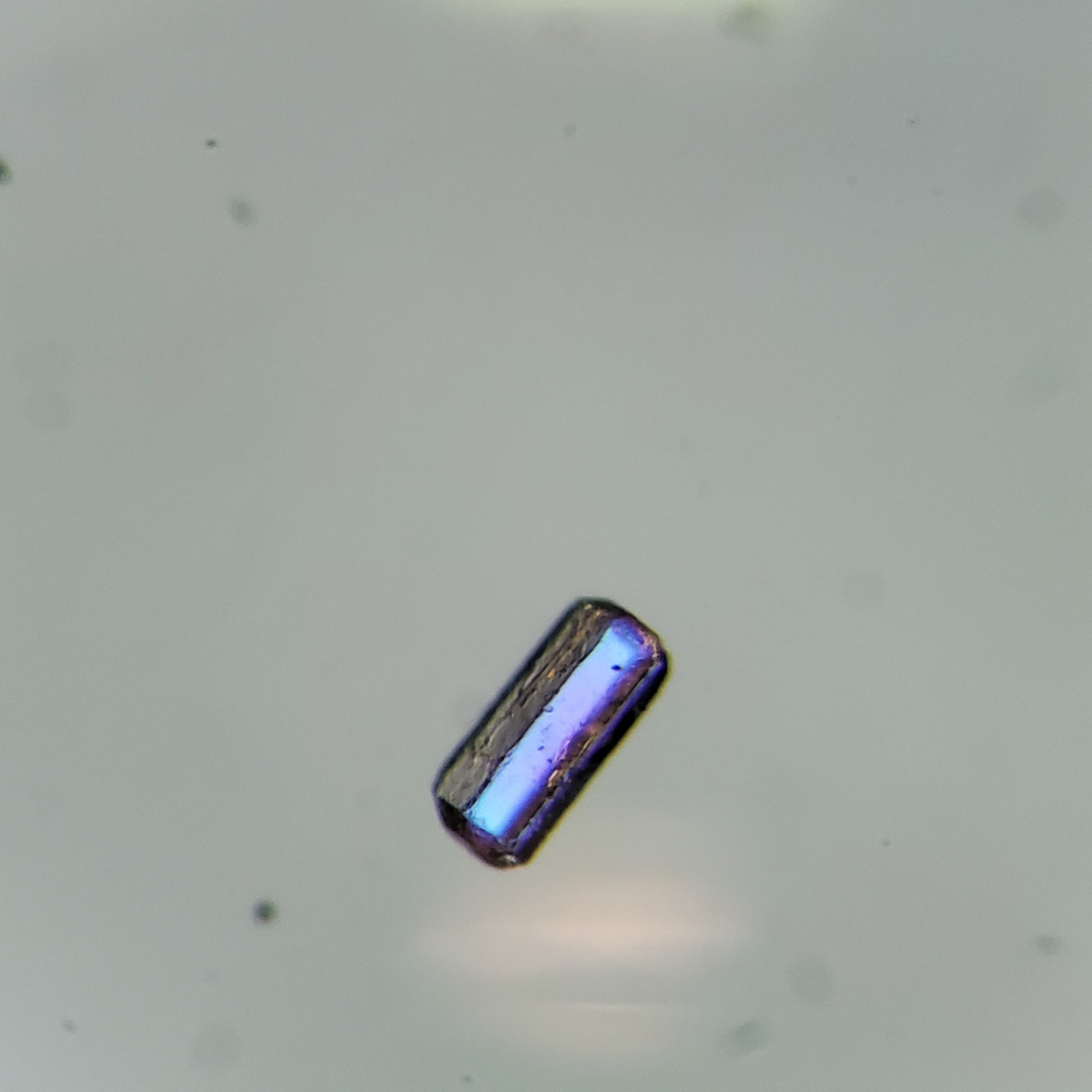 Luke Bassler (MS)

Advisor: Elizabeth Cassel

Yoram Terleth (PHD)

Advisor: Tim Bartholomaus

Jennifer Rangell (MS)
Yael Armando Deniz.Hernandez

Advisor: Eric Mittelstaedt

Carlos Montejo (PHD)
Ian SpendLove (MS)
Abhinav Shrestha (MS)