The Pollination Project and U of I Demonstration Garden
Our Mission
The Pollination Project and University of Idaho Demonstration Garden inspires and educates our region about pollinators and ecosystems present in healthy, innovative gardens and landscapes.
We accomplish this mission through education and demonstration about who our pollinators are, what habitats they need and how to provide them with necessary resources of food, shelter and protection while creating healthy landscapes and gardens that are beautiful and practical. Our garden shows you how to combine regionally native, nearly-native and non-native plants and shrubs to support these pollinators. Our plants are from local nurseries, many are native to the western U.S., and some are locally native to Northern Idaho, the nearby region or from a line of nearly-native plants named Native Roots (originally bred at U of I).
A Guide to Native and Nearly-Native Plants
Our garden elements and plants are labeled and guide you through environmentally supportive, biodiverse and resilient plant selections. Through color palette displays and plant labels, The Pollination Project shows you how to integrate plants you find in local nurseries with native and nearly-native plants in beautiful and useful designs. See "Plants in Our Garden" below for how to identify and explore our plants.
Reducing Pesticides Demonstration
Each year, a rotating display area in our garden shows you vegetable gardening techniques that reduce or eliminate the use of pesticides. We use many easy and affordable tools to fool pests. You can see them in action in our garden and use them to adapt your own practices to better support the larger ecosystem we call home. We also display our favorite vegetables bred here in Idaho. Our entire garden promotes best practices to continue environmental stewardship of our soils, waterways and the beautiful community we live in.
A Haven for Native Bees
In our garden, you will see different types of nesting materials and houses for native bees. In the spring, we raise Osmia lignaria, native blue orchard mason bees, and in the summer, you will see native leafcutter bees nesting. We also participate in the Native Bee Network where volunteers place special houses and nesting materials throughout the community in order to attract cavity nesting pollinators. This allows us to observe and collect information about which native bees and beneficial wasps are in our area.
More About Pollinators and Our Project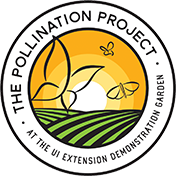 Open to the public during special events, select public classes and the North Idaho State Fair. Stop by at these times to explore The Pollination Project and UI Demonstration Garden located at:
Kootenai County Fairgrounds
4056 North Government Way
Coeur d'Alene, ID 83815
Welcome to The Pollination Project (PDF)
Please select a logo to visit our sponsors. Tell them you saw them here and appreciate their donation.