Horticulture
The UI Extension, Franklin County office provides programming and resources on a variety of horticulture issues.
Upcoming Events
Apple Grafting
May 6, 10 a.m. to Noon. Preston
For more information call the UI Extension office at 208-852-1097
Resource for Idaho Gardeners
University of Idaho Extension has recently published a Spring Vegetable Planting Guide, BUL965 for Franklin County gardeners should follow the guidance for Zones 3-4.
Tips for Franklin County
No medical advice here. I'm referring to the low-growing, sprawling growth form of some of the weeds plaguing our yards and gardens. Knowing what you're fighting will help you invest resources where they will do the most good. The following are some of the more challenging 'flat landers' to control.
Common Purslane (Portulaca oleracea)
This fleshy succulent thrives in flower beds and gardens that have sporadic weeding efforts (like most of ours). It has fat, rubbery leaves with reddish margins and reddish stems. Flowers are small and yellow but mostly inconspicuous. Purslane is a summer annual that reproduces from seed every year. Spraying herbicide right now will do nothing to control next year's new seedlings. A robust specimen will have already produced and partially dispersed over 100,000 seeds. Removing existing plants will remove many of the seeds but your only real hope is a pre-emergent applied next year before seedling germination. Next year remove new plants early and often. Get rid of the plants as stems can root if left on the soil.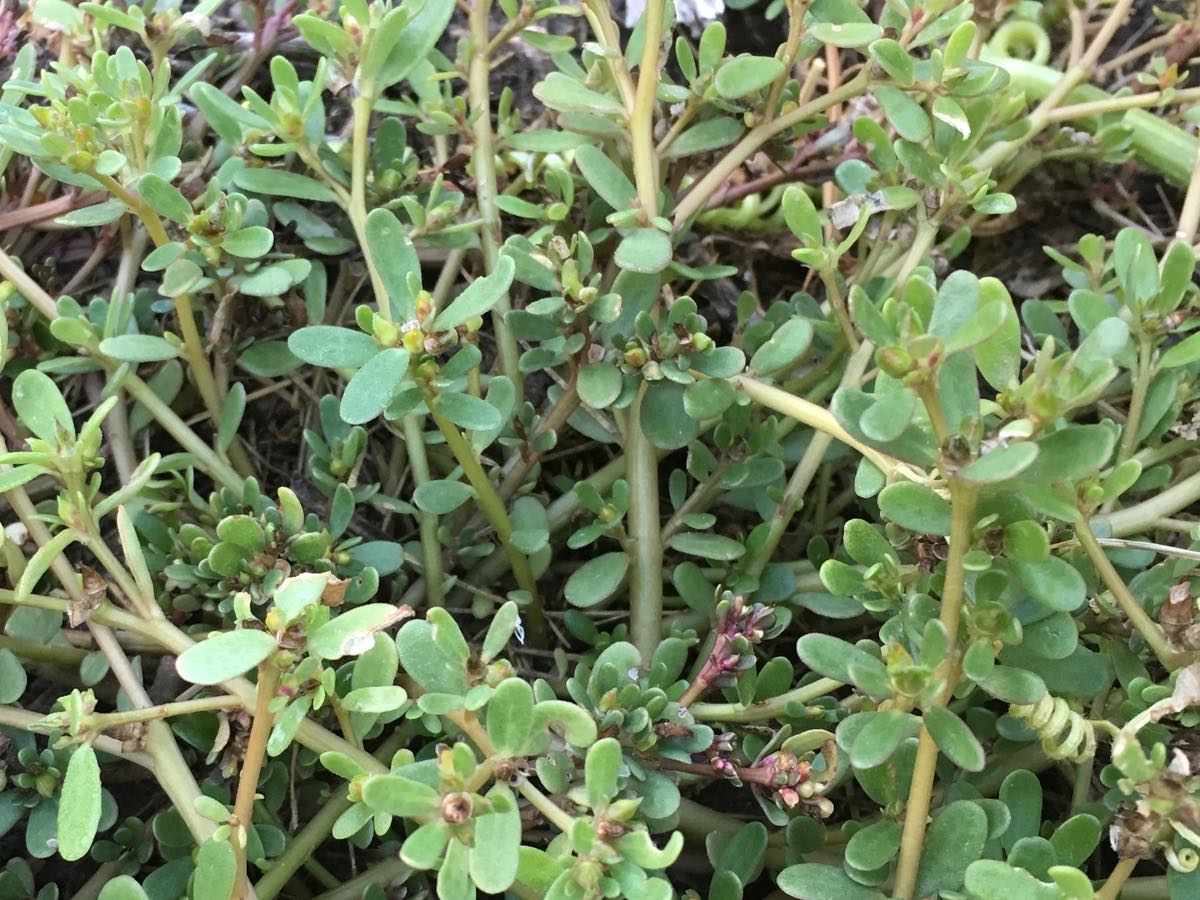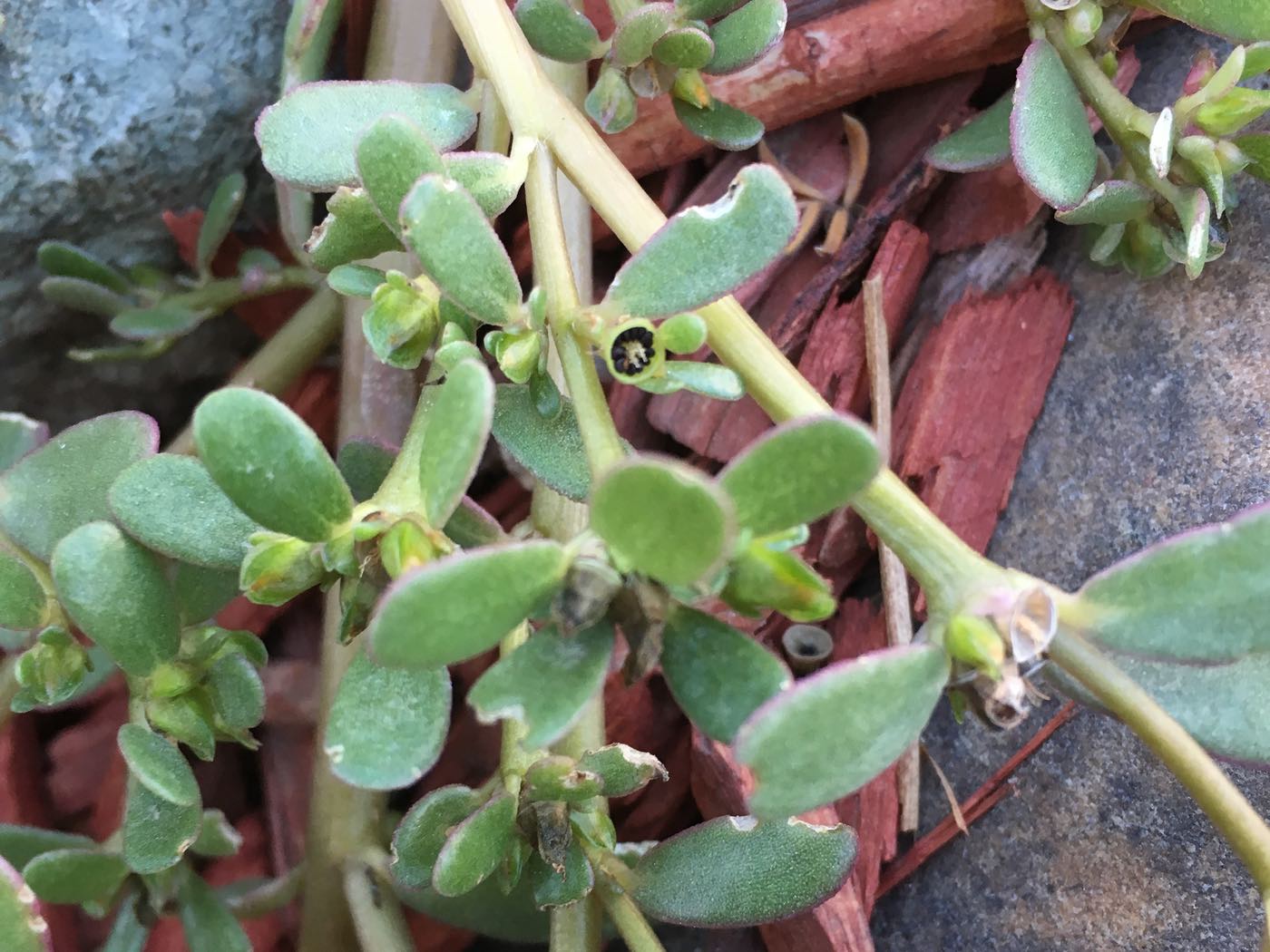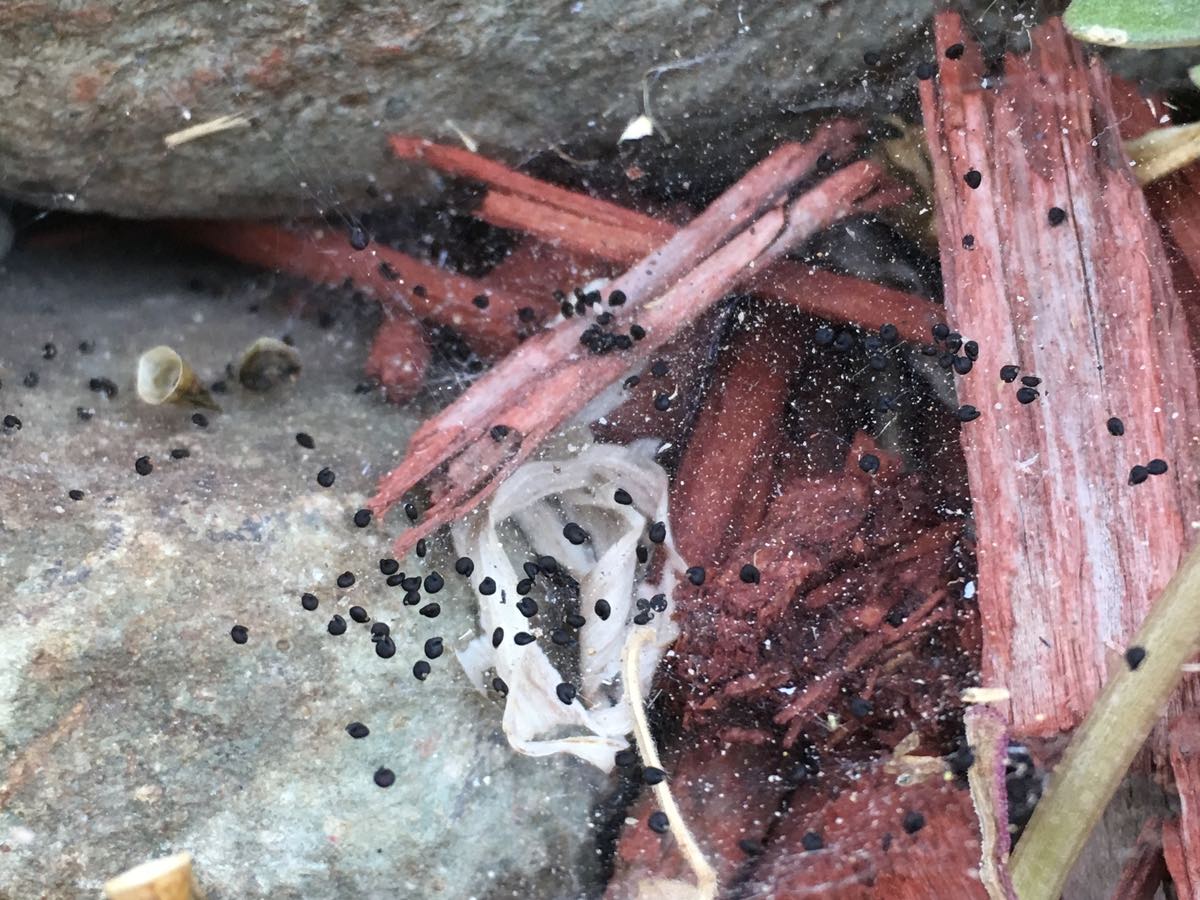 Spotted spurge (Euphorbia maculata)
This has a similar appearance to purslane but lacks the fleshy leaves. Its flowers are pink to white but similarly inconspicuous. Spotted spurge, sometimes called prostrate spurge, tends to appear later than purslane and is much easier to weed out. It is also a summer annual, so herbicide now is not helpful. In fact, many have been damaged by our first frosts. Remove current weeds and dispose of them (simply to eliminate as many seeds as possible). Pre-emergent herbicide next year is again your best bet.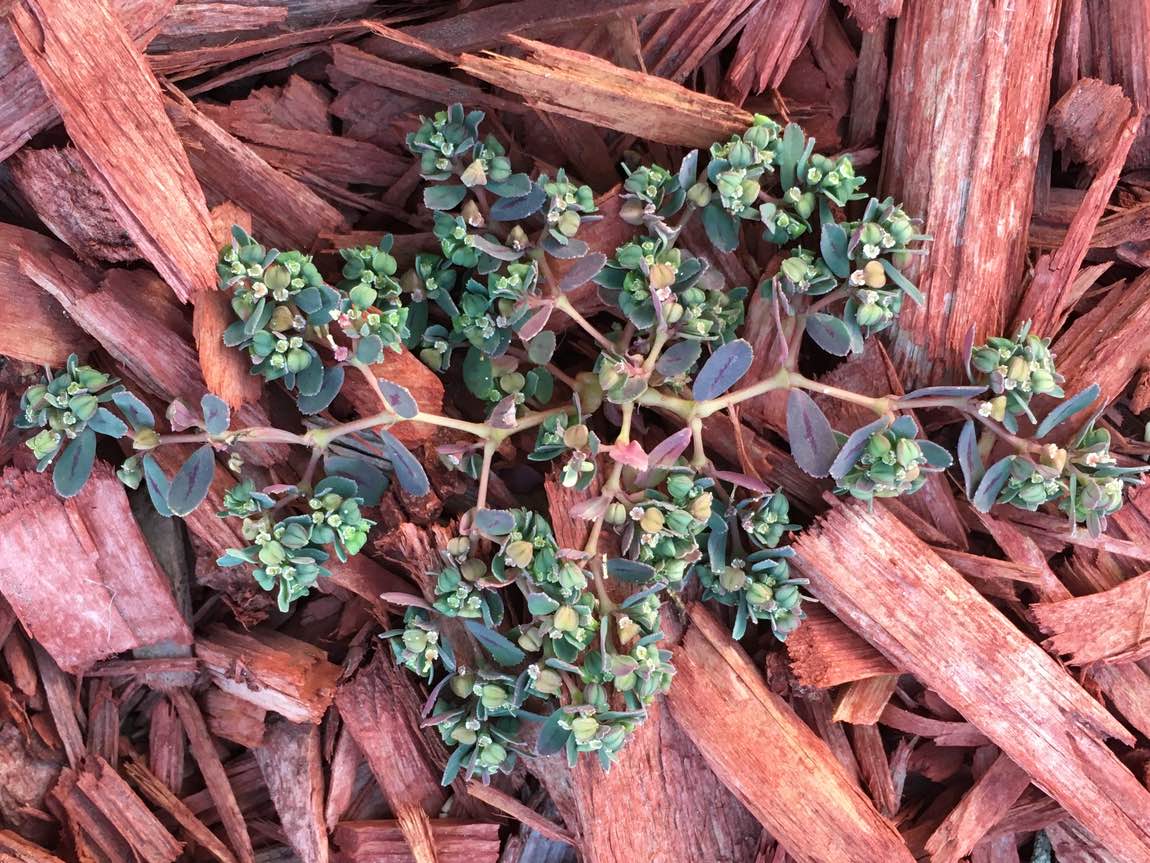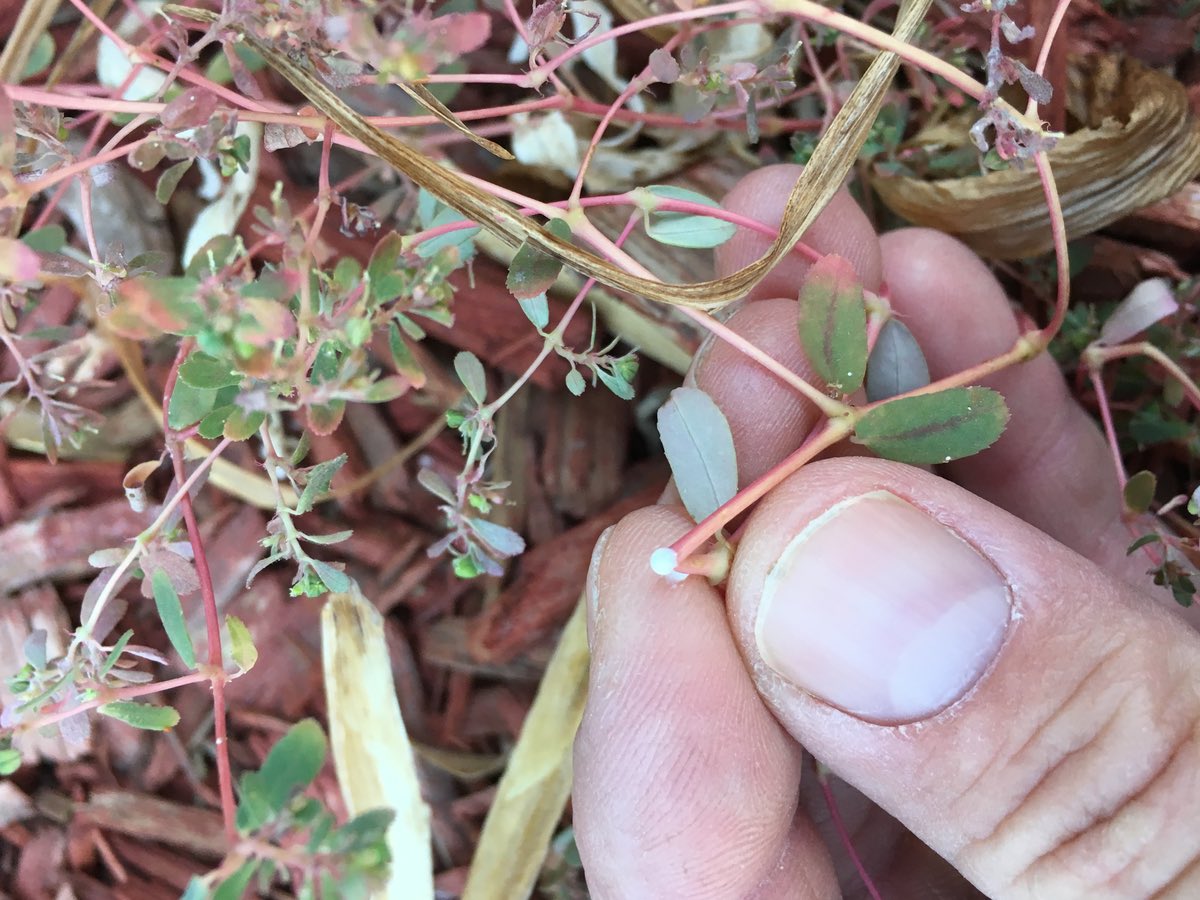 Prostrate knotweed (Polygonum aviculare)
More similar in appearance to spurge than to purslane, this weed tends to a more recumbent vining habit. Flowers are small and white. You tend to see this one more often in driveways, sidewalk cracks, and in weaker areas of lawn. Once again this is a summer annual. Herbicide application might be personally gratifying, but it won't do anything at this point to control prostrate knotweed. Seeds have been sown and next year's plants are on stand-by. Depending on the location, glyphosate or 2, 4-D + dicamba will control plants that are already growing. Pre-emergent herbicides of the 'weed and feed' type can help with control in lawn settings.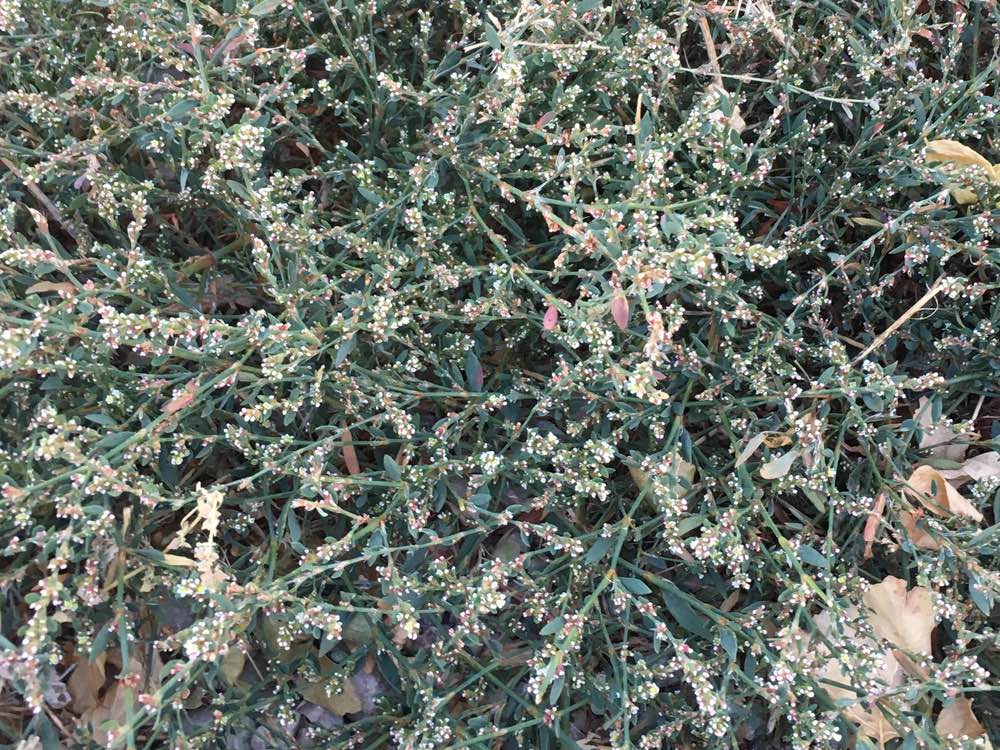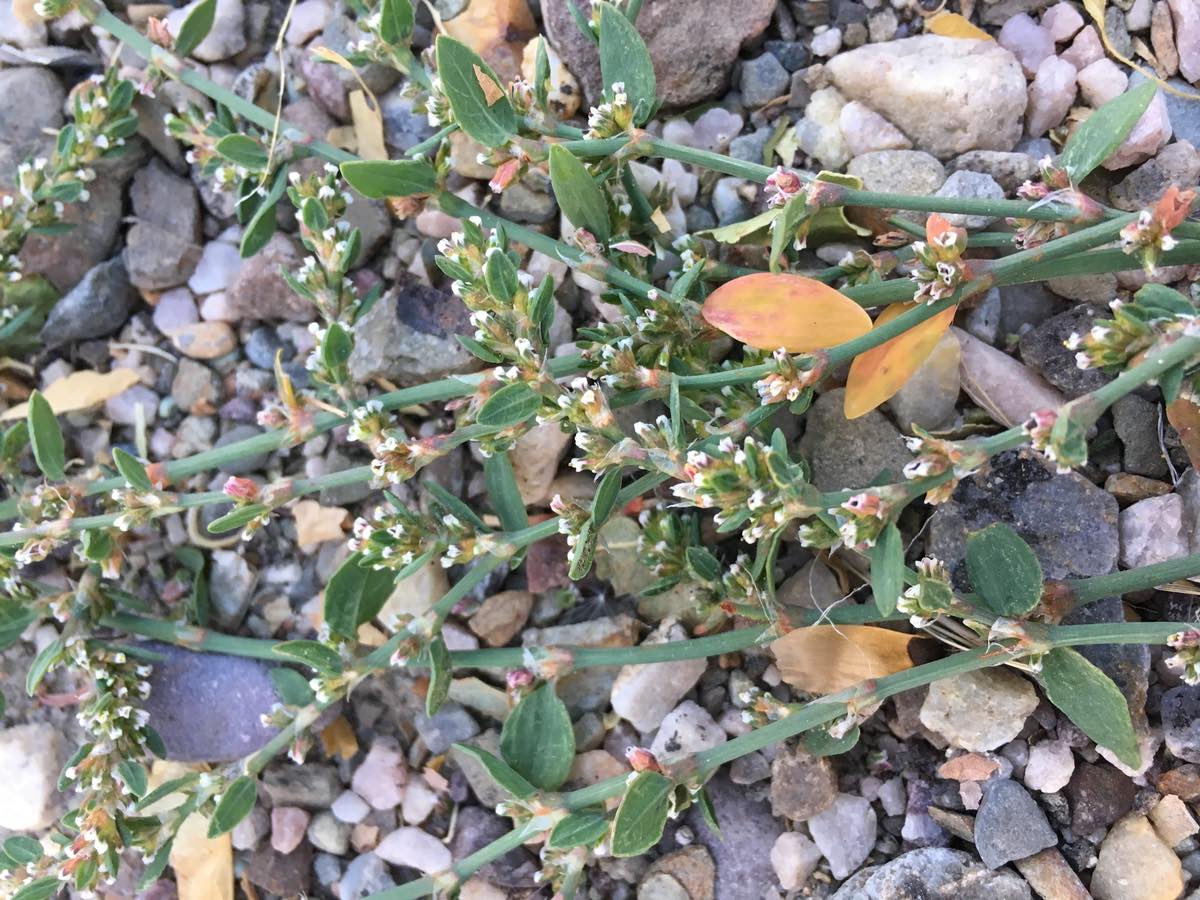 Field bindweed (Convolvulus arvensis)
You are probably all too familiar with this weed. Descriptive adjectives are best left unpublished. Bindweed, often called morning glory, is a perennial so fall herbicide application can be very beneficial. Glyphosate and dicamba can offer some of the best control but don't expect elimination. Roots capable of producing new shoots are found to depths of 14 feet. Fragments of roots and rhizomes as short as 2 inches can form new plants. Fall is a great time to hit its root reserves hard. Next year hit it early and often with herbicide where you can and pulling where you can't. Every time you remove shoot growth you deplete root reserves. Keep at it and in time you will see much less bindweed.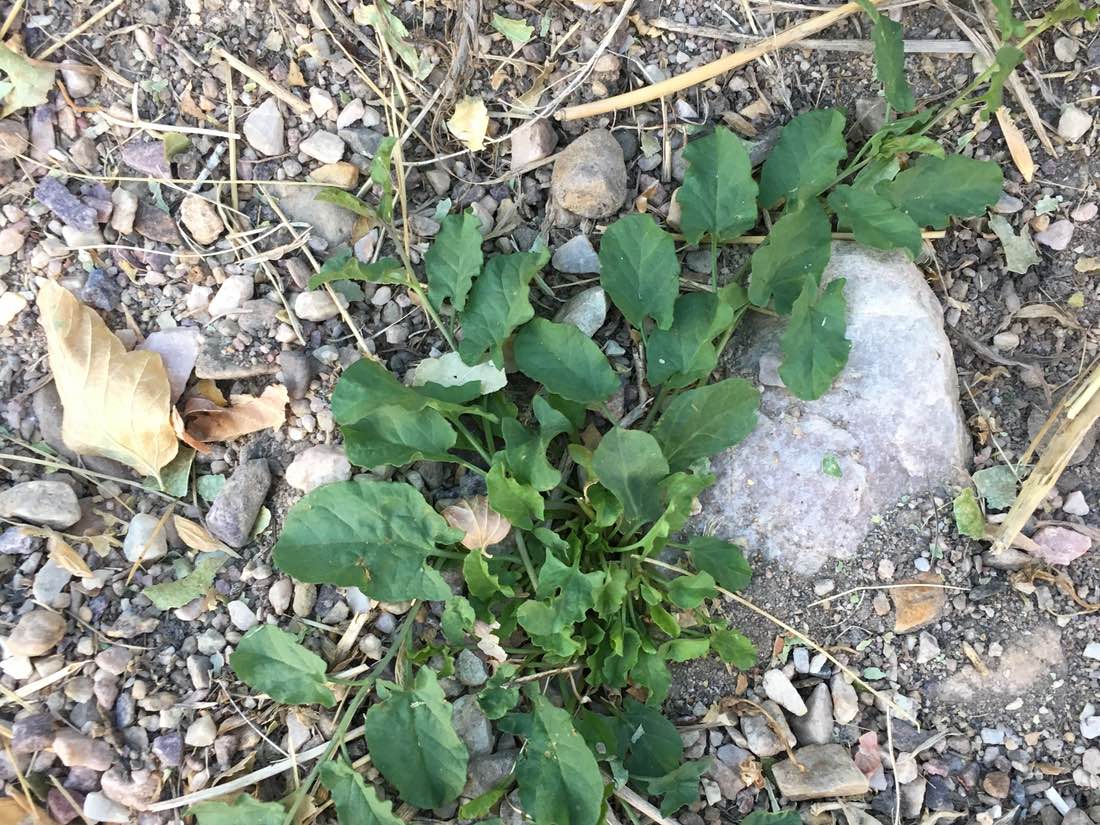 Common mallow (Malva neglecta)
This low-growing weed can be annual or perennial depending on conditions. You may know it as cheese weed, marshmallow weed, or bellybutton weed. Its leaves are circular with wavy margins. Flowers are pink to white and characteristic seed pods are round and flattened. Juvenile weeds can be chemically or mechanically controlled with relative ease. Mature plants have a deep taproot and, for the most part, seem able to live through any herbicides thrown at them. Herbicides containing dicamba offer your best control, but it has enough soil activity that it should not be used on flower beds or gardens that will be planted next year. Where you can you're better off using a knife or shovel to sever the taproot and work on controlling seedlings next year.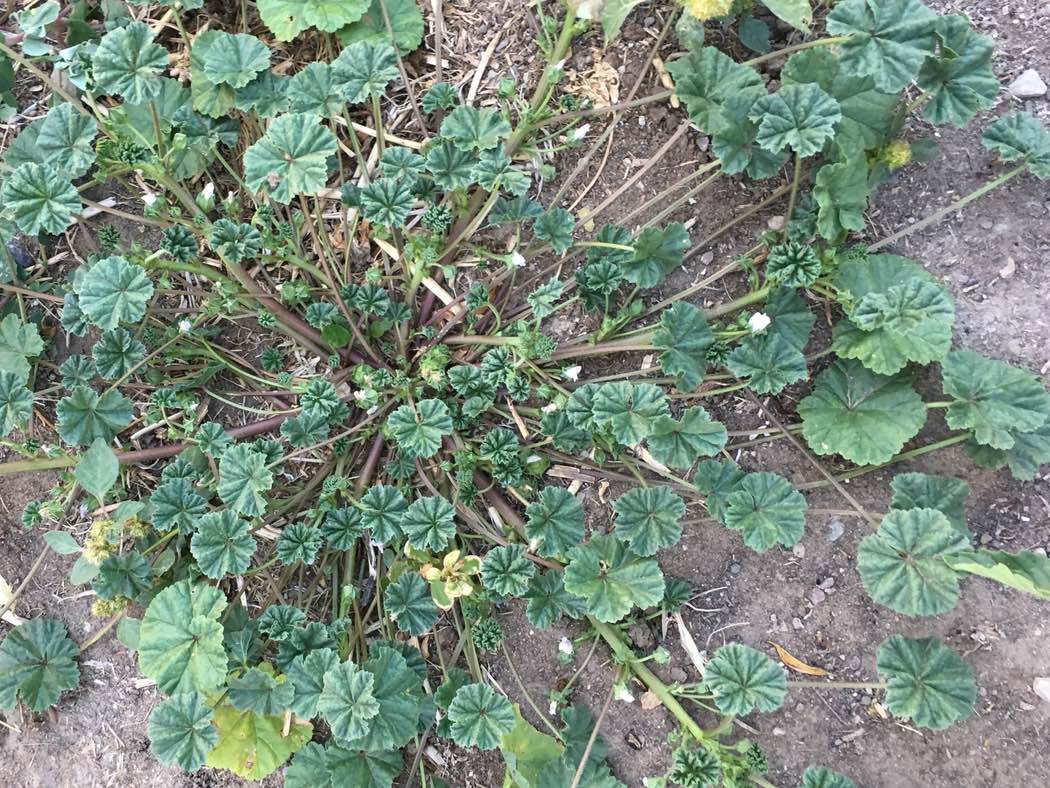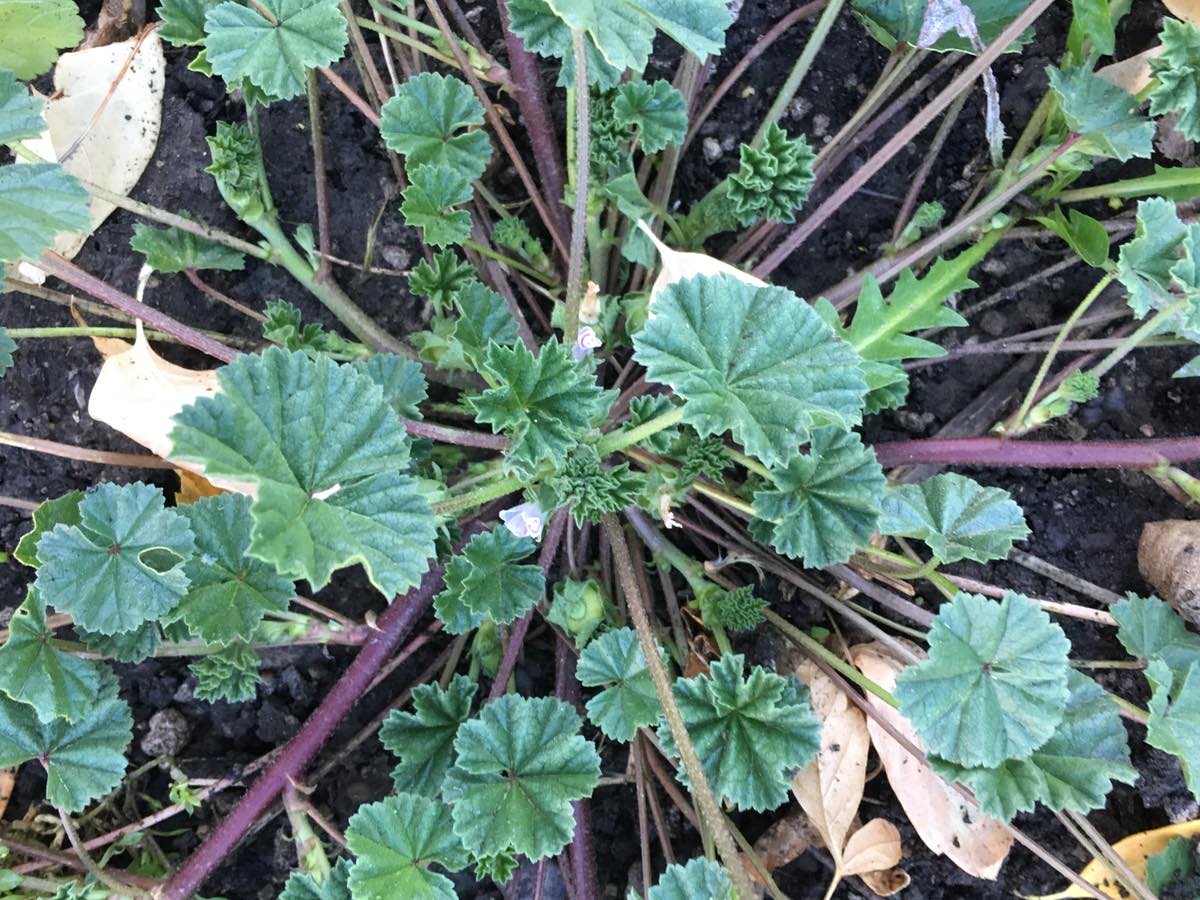 There are less-common creepers including black medic, puncture vine, and henbit. All are annual weeds. Black medic is related to clover and alfalfa and is mostly a lawn nuisance. Henbit germinates in the fall so any pre-emergent efforts should happen now. Puncture vine is the bane of bike tires with its sharp seedpod. Sandy soils are its preference. All efforts to eliminate seeds need to be taken. Herbicide containing Chlorsulfuron is best at preventing germination in roadways and other non-crop areas.
Iron deficiencies are a common problem in our area. This is because the iron is made unavailable to plants due to elevated pH and the presence of lime in our soils. The primary symptom is a yellow leaf with a network of dark green veins. Yellow leaves indicate a lack of chlorophyll.
pH is a measure of the acidity or alkalinity of a material. The pH scale ranges from 0 to 14, with 7 being neutral. A pH value below 7 indicates the soil is acidic, while values above 7 are alkaline. Most southern Idaho soils contain free lime, with related soil pH values ranging between 7.5 and 8.2. Our water is also often alkaline which compounds long-term management difficulty.
The following is a summary of how to manage iron chlorosis in our yards and gardens:
Prevention
It is much better to select plants that are tolerant of high soil pH and less likely to be affected by low iron availability. Maples, aspen, raspberries, peaches and grapes commonly exhibit symptoms of iron chlorosis. You can also encourage health plants through good cultural practices by not overwatering, not overusing nitrogen and phosphorus fertilizer, and by adding compost.
Use EDDHA Iron Chelate
Chelated iron work much better in our soils than the cheaper iron sulfate or iron citrate. Chelated iron is in a form that helps prevent the iron from becoming unavailable to plants in high pH soils. There are different types of chelates but for our soils we should use EDDHA iron chelate. It is typically the most expensive, but it is also the only chelated iron that doesn't quickly oxidize in our soils. Examples of EDDHA iron chelates are Miller's Ferriplus (Miller Chemical), Sequestrene 138 (Becker Underwood), Sprint 138 (BASF), and Sequestar Iron (Monterey). For others, look on the label for the EDDHA acronym.
Soil Treatments
We cannot reduce pH over an entire landscape. Instead, treat small areas by making holes 12 to 18 inches deep, spaced about every two feet around the drip line (outer edge of crown) of affected trees and shrubs. Place 1-2 cups of a 50/50 mixture of iron sulfate-elemental sulfur (or use chelated iron for better results) in each hole and cover with soil. Over time, the concentrated sulfur in the holes neutralizes lime and lowers soil pH in a small zone around the treated areas. EDDHA iron chelate can also be delivered through drip irrigation. The iron material is mixed in solution then injected into the drip lines via a fertilizer injection system.
Foliar Treatments
Iron can be delivered to plants by spraying an iron solution directly on the leaves. A 0.5 percent solution is formulated by dissolving 2 ounces of iron sulfate (20 to 22 percent iron) in 3 gallons of water. Add a few drops of a wetting agent or spreader/sticker surfactant to help the solution absorb into the leaf tissue. Simply spray onto the vegetation, seeking to completely cover the foliage. Chelated forms of iron can also be used for foliar treatment. This is not critical with foliar treatments because the high pH soil is circumvented. A few points to remember:
Don't use the same sprayer that you use for weed control as residual herbicide may cause injury.
Foliar treatments should be avoided when fruit are present.
Foliage should be sprayed in the evening or on a cool, cloudy day to prevent leaf burning.
Solutions should not be stored after mixing because the iron will oxidize and fall out of solution.
Repeated applications of foliar sprays may be needed throughout the growing season.
Trunk Treatments
Iron in dry or liquid form can be placed directly into holes drilled into the lower trunk. This is effective, but it injures the trunk and should be used only when other methods have failed. Commercial formulations should contain iron citrate or iron sulfate. Medicap, Baicor and Arborjet are three companies that produce implant/injection iron products. As with foliar treatments, chelated iron is not necessary. The recommended rate is typically 1/8 to 1/4 teaspoon per-inch trunk diameter. Most wounds heal but this method opens the tree to increased risk of future decay and disease.
Covering or capping holes can be done but this will not help or hinder the healing process.
Treat in early spring as the tree is starting to bud out.
Avoid treatment on hot, dry, windy days.
Make sure the tree is well-watered for several days before and several weeks after treatment.
Extension Notes from The Preston Citizen