Pre-Chiropractic
Chiropractic as a career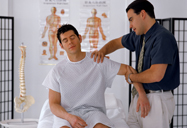 Chiropractic medicine focuses on the relationship between the body's main structures – the skeleton, the muscles and the nerves—and the patient's health. Chiropractors believe that health can be improved and preserved by making adjustments to these structures, particularly to the spinal column. They do not prescribe drugs or perform surgical procedures, although they do refer patients for these services if they are medically indicated. Most patients seek chiropractic care for back pain, neck pain and joint problems. However, many patients choose a chiropractor as their primary care doctor, because they prefer treatment plans that do not rely on medication or surgery.
(source: Explore Health Careers - Chiropractic Medicine Overview)
Next steps: Request to be added to the Pre-Chiropractic Email List and schedule a meeting with your Pre-Health Professions Advisor.
Helpful Links
Association of Chiropractic Colleges: Prospective Students
American Chiropractic Association (ACA): The ACA, based in Arlington, VA, is the largest professional association in the world representing doctors of chiropractic. The ACA provides lobbying, public relations, professional and educational opportunities for doctors of chiropractic, funds research regarding chiropractic and health issues, and offers leadership for the advancement of the profession. With approximately 18,000 members, the ACA promotes the highest standards of ethics and patient care, contributing to the health and well-being of millions of chiropractic patients. For college publications or information on admissions requirements, pre-professional curricula, grants and other financial aid, please correspond directly with the admissions office of the CCE-accredited program or institution in which you are interested.
Council on Chiropractic Education (CCE): The CCE is the agency recognized by the U.S. Secretary of Education for accreditation of programs and institutions offering the doctor of chiropractic degree. CCE seeks to insure the quality of chiropractic education in the United States by means of accreditation, educational improvement and public information. CCE develops accreditation criteria to assess how effectively programs or institutions plan, implement and evaluate their mission and goals, program objectives, inputs, resources and outcomes of their chiropractic programs.
U of I Pre-Health Professions Resources
---