Coexisting in Wet Meadows: Livestock Grazing and Sage-grouse Resources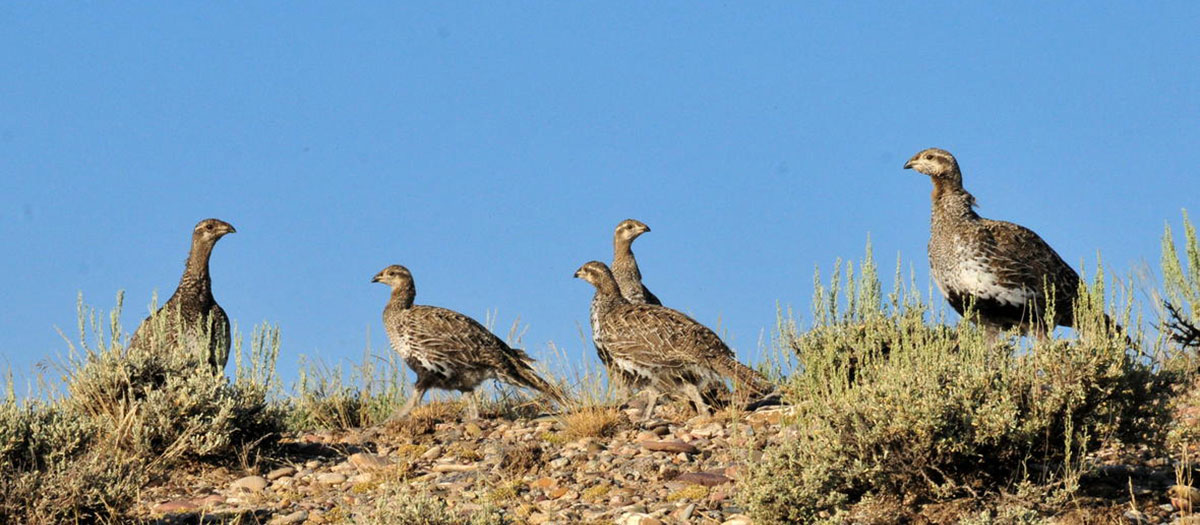 The Challenge:
Grazing is one of the most extensive uses of rangeland in Idaho and throughout the West. But utilization of livestock forage must be balanced with other ecological services that rangelands provide, including food and cover for wildlife. The greater sage-grouse (Centrocercus urophasianus) is a native species that depends entirely on sagebrush steppe throughout its life cycle. Sage-grouse populations have declined by roughly 30% since 1985, prompting the U.S. Fish and Wildlife Service to consider the sage-grouse as a candidate for listing under the Endangered Species Act. In 2015, USFWS found the species did not warrant such a listing, due in part to the comprehensive and unprecedented conservation measures that have been initiated to conserve the species and its habitat.

As part of this concerted conservation effort, new public lands management policies provide habitat objectives for perennial grass and forb cover and availability of preferred forb species in summer/late brood-rearing habitat. For example, Forest Service guidelines exist to retain a minimum 4-inch stubble height in riparian/mesic meadows at the end of each grazing period to provide food and cover for sage-grouse broods. But little information exists that demonstrates how stubble height may correlate with desired conditions for sage-grouse, such as the abundance of forbs that are essential to the diet of sage-grouse chicks during late brood-rearing.
Our Response:
To address this lack of information, members of the Rangeland Center are initiating a scientific experiment to assess how various levels of cattle grazing in wet meadows affect the availability and condition of forbs preferred by sage-grouse during late brood rearing.

Field data will be collected in the summers of 2017 and 2018 on 5 grazed plots and 1 ungrazed control plot of equal size at Rock Creek Ranch south of Hailey, Idaho. Each year, the pastures will be grazed by 5, 10, 15, 20, and 25 bred heifers from the Nancy M. Cummings Research Extension and Education Center to create a gradient of vegetation utilization by cattle. When the vegetation in the 25-heifer pasture reaches approximately 60-80% utilization, the cattle will be removed from all pastures and we will take vegetation measurements along 50-meter transects to assess the abundance and condition of the forbs in relation to stubble height. We'll take vegetation measurements before grazing to determine baseline conditions, immediately after grazing, and again one month post-grazing to assess re-growth of forbs.

Based on grouse fecal pellet counts we did in the fall of 2016, we know that sage-grouse are using these meadows. We will continue to note pellet density as we conduct vegetation measurements to ascertain whether grazing intensity affects the use of the study pastures by sage-grouse.
Output & Outcomes:
Increase the understanding of how grazing intensity affects the abundance and condition of forbs which are essential to sage-grouse in wet meadow habitats.
Provide reliable data to livestock producers and public lands managers to inform grazing management decisions in sage-grouse brood-rearing habitat.
Utilize the findings in outreach at Rock Creek Ranch to educate the public about the intersection of wildlife and livestock on rangelands.
Rangeland Center Members Involved:
Tracey Johnson – Fish and Wildlife Science
Melinda Ellison – Animal and Veterinary Science, Nancy M. Cummings Research Extension and Education Center
Partners & Sponsors:
The Nature Conservancy
Wood River Land Trust
Nancy M. Cummings Research, Extension and Education Center
UI Little Range Livestock Management Endowment