Nine Reasons to Fall in Love with Moscow
One of the biggest reasons people love the University of Idaho is the town in which we're located. Nestled into the rolling green hills of the Palouse, Moscow, Idaho, is a great college town just waiting for you to explore. Here are some of the reasons you're sure to fall in love with your new hometown.
1. Perfect college town.
Livability.com ranked Moscow as one of the best college towns in America, and it's easy to see why. You'll feel the Vandal love all over Moscow. There are plenty of great spots for you to study, eat or unwind that are open and welcoming to students. Plus, you'll find that many local business owners and residents are Vandal alumni. They love Moscow so much they don't want to leave!
2. People are friendly.
There's just something about the friendly waves and smiles you get here. No matter where you're coming from, Moscow residents invite you to become part of our community. Don't be surprised if a stranger strikes up a conversation!
3. Easy to get around on foot (or bike).
Rated as Idaho's most walkable city, Moscow puts practically everything you need on or next to campus, and there's no hill climbing involved! Wide sidewalks and plenty of crosswalks help you get around safely on foot. In addition to Paradise Path, a bike trail that runs through campus and winds through Moscow along Paradise Creek, most streets downtown have designated bike lanes, and there are bike racks to secure your wheels wherever you go. We even have community events like the Fondo on the Palouse to celebrate our two-wheeled vehicles.
4. An outdoor lover's paradise.
Moscow is surrounded by a beautiful natural landscape you won't find anywhere else in the country. We're minutes away from both mountains and prairie. There are too many opportunities to list, but within an hour's drive, you can hike, bike, run, ski, climb, paddle, fish and more. Don't know where to start? The Outdoor Program at the Rec Center runs workshops and trips to get you going.
5. Something for everyone.
Outdoors not your thing? That's okay! Watch an indie flick at the Kenworthy Theater. Browse the racks at the Storm Cellar consignment or the shelves at Book People of Moscow. Try a new game at Safari Pearl Comics or a new stitch at the Yarn Underground. You'll be amazed by the variety packed into your little town.
6. Live music everywhere.
When you're not jamming out at one of the Vandal Entertainment events, head to one of the many coffee houses or restaurants featuring live music on the weekends. Performances at Bucer's, One World Cafe and Humble Burger (to name just a few) include jazz, blues, folk, rock and everything in between. There's also the Modest Music Festival in October, U of I's Lionel Hampton Jazz Festival in February, and if you stay for the summer, Rendezvous in the Park in July.
7. Good eats.
Speaking of all those great coffee shops and restaurants, Moscow has something for every palate as well. Just steps from campus you can get wood-fired pizza, authentic Mexican, a hearty breakfast, healthy smoothies or a gourmet burger. If you prefer your own cooking, head to the Moscow Food Co-op for organic ingredients or the Farmers Market that takes over Main Street Saturdays from May through October.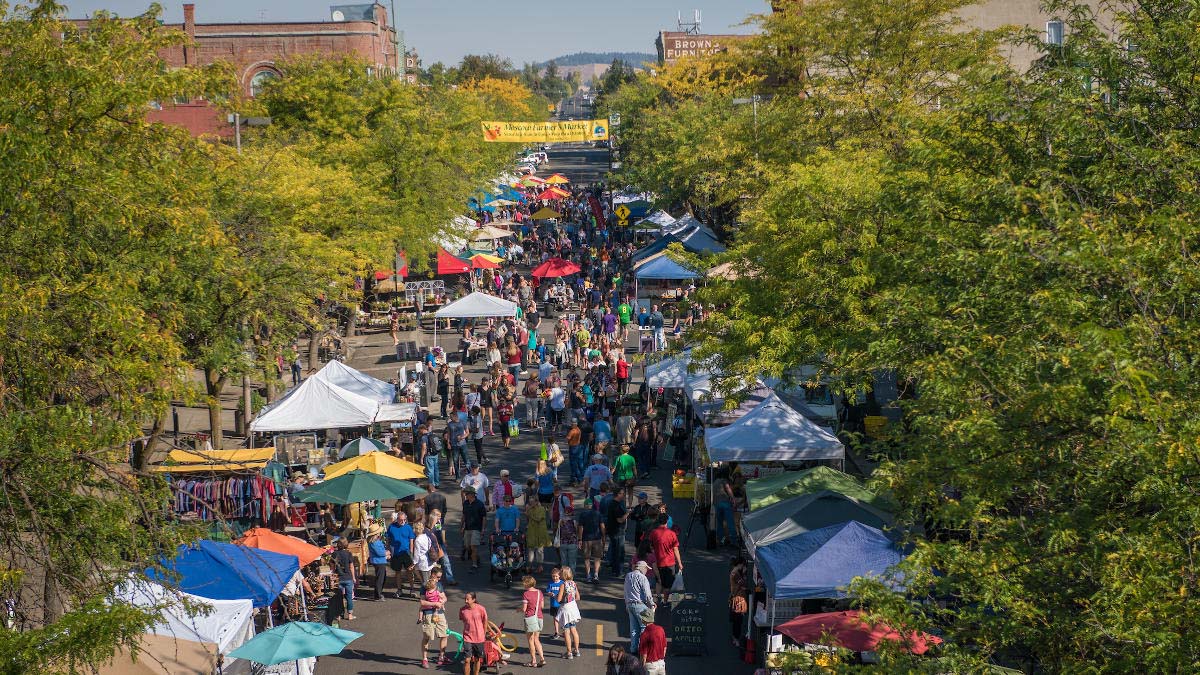 8. Far enough away, but close enough to home.
Moscow is far enough from other cities in Idaho and Washington that you can branch out on your own and not have to worry about mom and dad just dropping by. Yet, we are still within a day's drive of most of the Inland Northwest, so heading back for breaks (and home cooking) isn't a hassle.
9. You're safe here.
Moscow regularly ranks in the top 25 safest cities in Idaho. According to CityRating.com, the violent crime rate here is 82 percent lower than the national average. The Moscow Police Department has a substation right on campus, and you'll regularly see officers around town talking to citizens.
University Events
Check out upcoming events at U of I
Moscow Chamber of Commerce Events
Check out upcoming events happening around Moscow.