University of Idaho Breaks Ground on ICCU Arena at Ceremony June 6
June 03, 2019
MOSCOW, Idaho — June 3, 2019 — The University of Idaho will break ground on its long-awaited Idaho Central Credit Union (ICCU) Arena during a ceremony at 11 a.m. Pacific time Thursday, June 6. The ceremony will take place outside on the northeast corner of the ASUI-Kibbie Activity Center in Moscow.
The 4,200-capacity engineered wood mass-timber facility is slated to open in 2021 as home court for Vandal basketball programs and campus and community events. Thursday's groundbreaking signifies the next major step for the project that has been envisioned for the past 50 years.
"ICCU Arena is a showcase for who we are and what we do as a land-grant research university," U of I President Chuck Staben said. "This facility will be a game-changer for student-athletes, for our fans, and for our community. We are so grateful to ICCU, to our students, to our industry partners, and to all the donors and supporters who have stepped up to make this dream a reality."
ICCU CEO Kent Oram, U.S. Forest Service Chief Vicki Christiansen, members of Idaho's forest industries and others will be on hand to take part in the groundbreaking ceremony. Parking for the ceremony is available in the lots west of the Kibbie Dome.
The bidding and construction phase of the arena was previously approved by the Idaho State Board of Education. The $51 million facility represents an essential addition to U of I's residential campus, offering a gathering place for students, athletes, faculty, staff, alumni and friends for generations to come.
Planning for the structure has brought in wood industry partners from across the state to take part in the project. These critical partners support the building as an example of what can be done in the realm of modern wood construction.
ICCU is the naming sponsor of the arena with a $10 million donation and naming rights to the arena for 35 years. Other key donations of $2.5 million sponsor the practice gym and the performance floor.
More information on the project is available at uidaho.edu/arena.
Media note: U.S. Forest Service Chief Vicki Christiansen will be available for questions from 10-10:45 a.m., immediately preceding the ceremony, at the site of the groundbreaking.
—
Media Contact
Jodi Walker
Director of Communications
208-885-4295
jwalker@uidaho.edu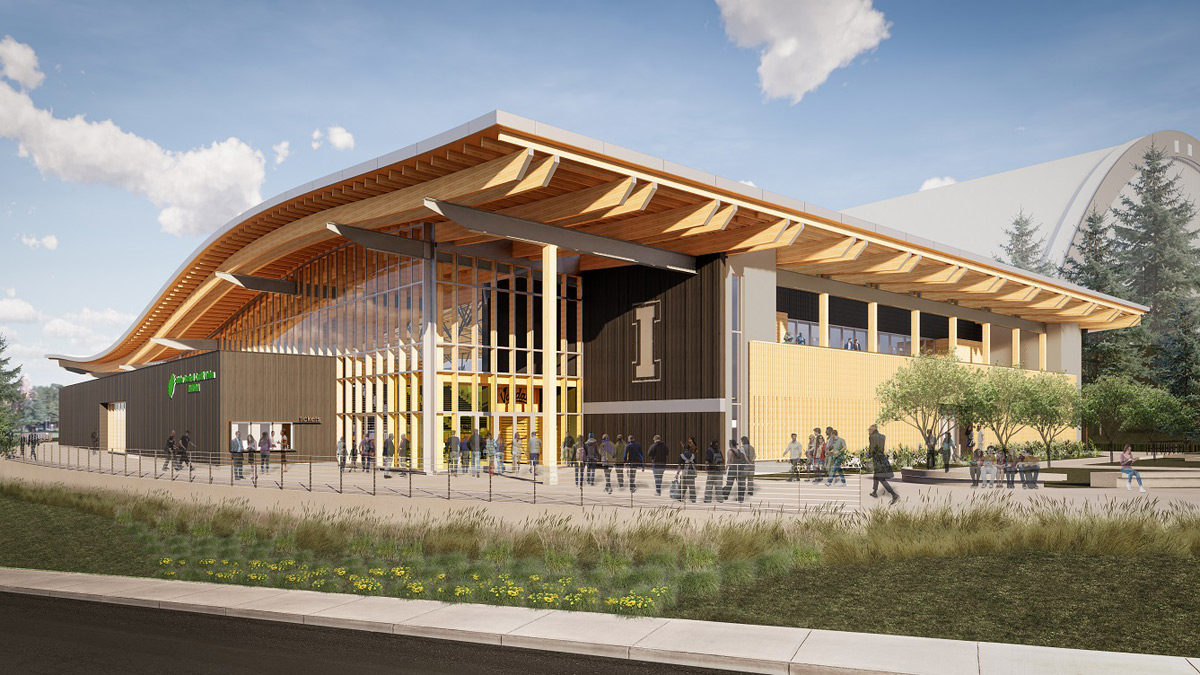 About the University of Idaho
The University of Idaho, home of the Vandals, is Idaho's land-grant, national research university. From its residential campus in Moscow, U of I serves the state of Idaho through educational centers in Boise, Coeur d'Alene and Idaho Falls, nine research and Extension centers, plus Extension offices in 42 counties. Home to nearly 11,000 students statewide, U of I is a leader in student-centered learning and excels at interdisciplinary research, service to businesses and communities, and in advancing diversity, citizenship and global outreach. U of I competes in the Big Sky and Western Athletic conferences. Learn more at uidaho.edu