Dementia Friends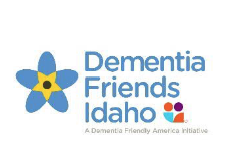 Dementia Friends is a global movement that is changing the way people think, act and talk about dementia. Developed by the Alzheimer's Society in the United Kingdom and adopted by the U.S., the Dementia Friends initiative is now in Idaho. By helping everyone in a community understand what dementia is and how it affects people, each of us can make a difference for people touched by dementia and reduce the stigma surrounding dementia.
Creating a dementia-friendly community involves:
Raising awareness about dementia, transforming attitudes and moving people to action.
Supporting family and friend caregivers by providing accessible information, resources and in-person support.
Promoting meaningful participation in community life for everyone.
Including communities that experience inequities because of race, culture, language, sexual orientation, gender identity, mental illness, hearing/sensory differences, intellectual or physical abilities or economic status.
You can learn more about Dementia Friends on their website dementiafriendsusa.org.
Who can be a Dementia Friend?
Anyone can be a Dementia Friend. We all have a part to play in creating dementia friendly communities.
In a Dementia Friends session, you will learn what dementia is, how it affects people and how you can make a difference for people affected by dementia.
In each session you will be provided with a workbook and a certificate after attending.
How Do I Get Started?
View our list of current sessions or contact the champion in your area to schedule a session.
How Does University of Idaho Extension Integrate With This Program?
UI Extension has partnered with Idaho Department of Health and Welfare – Alzheimer's Disease and Related Dementia (IDHW-ADRD) to bring Dementia Friends to Idaho.
IDHW-ADRD hold the state license for this program and has trained UI Extension educators to be Dementia Champions across the state. A Dementia Champion is able to provide Dementia Friends training to communities. You can learn more about this partnership and the program by visiting the Dementia Friends page of the Idaho Health and Welfare website.