Food and Farm Composting Program
Important Notice! Due to COVID-19, this program is on hold for the duration of the 2021-2022 academic year. Check back for updates fall semester 2022.
The University of Idaho Composts
The U of I is proud to compost the food waste generated at the two primary dining facilities on campus—the dining hall and the Idaho Student Union Building. Student technicians collect, transport, and convert a combination of food waste, cow manure and cow bedding into compost that nourishes the soil at the Soil Stewards Farm. This collaboration between the Sustainability Center, Idaho Eats, the Dairy Farm and the Soil Stewards Farm benefits the campus community by:
Contributing to U of I's climate change mitigation strategy through a reduction in greenhouse gas emissions associated with food waste transportation and disposal.
Enhancing the local food system by improving the soil at the Soil Stewards Farm, where vegetables are grown for the campus community.
Serving as a living laboratory for students to work, volunteer and learn about effective composting methods and organic agriculture.
Diverting over 2,000lbs of food waste from the landfill each week and opting to transform it into a valuable resource.
Curious to learn more about the value of composting at U of I?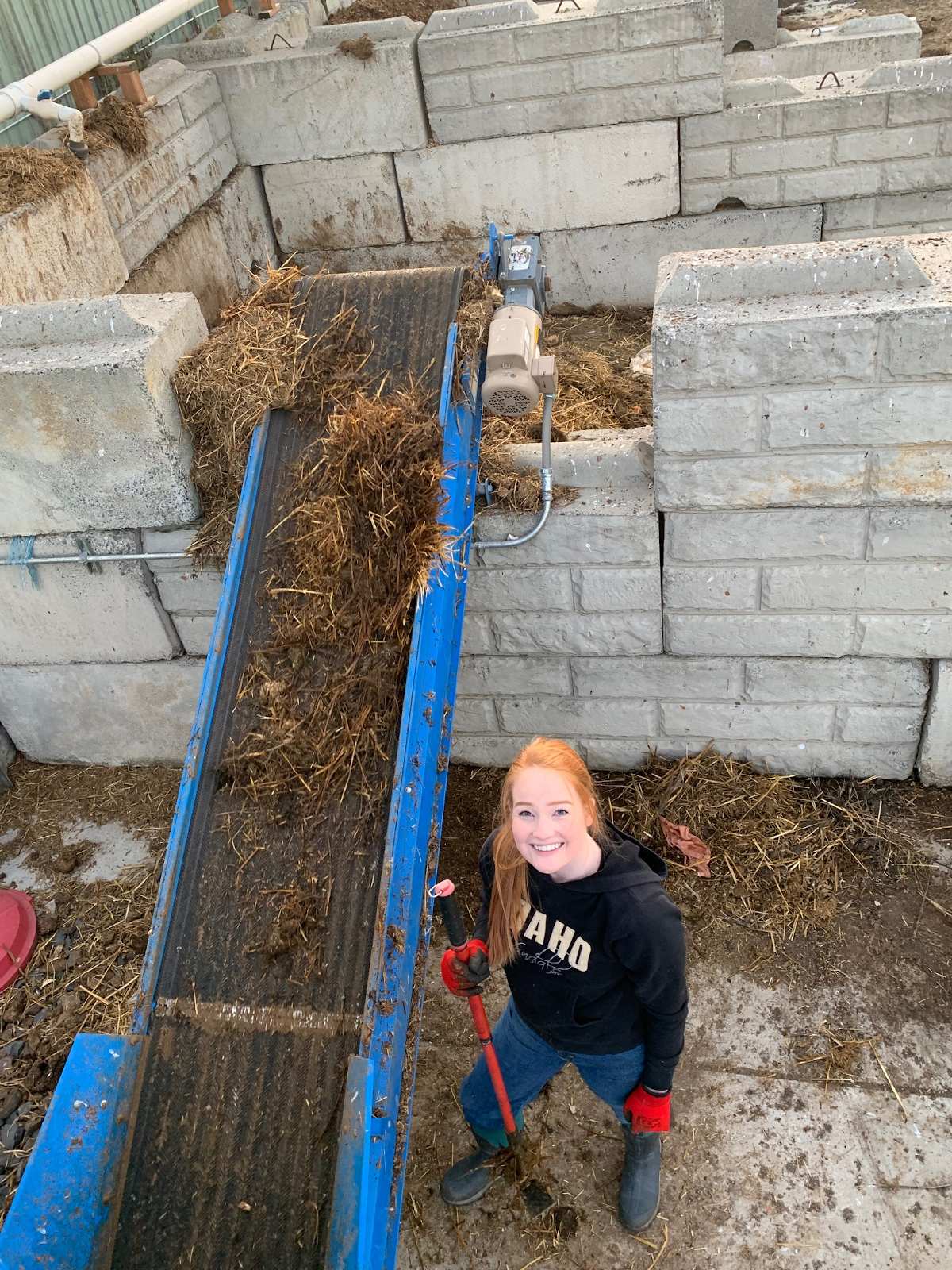 History of Food and Farm Composting
In 2009, the U of I Sustainability Center conducted a waste characterization study and found that 70% of materials being thrown away could be recycled or composted. In response, the Sustainability Center, the College of Agriculture and Life Sciences and Vandals Dining (now Idaho Eats) came together to launch the Food and Farm Composting program. At a small facility located on the U of I Dairy Farm, student technicians combined food waste from the two primary dining facilities with cow manure and used cow bedding (hay and bark chips) to produce compost. The final product was then spread on the fields where the dairy cows grazed to improve the soil quality. A renewed commitment to the program in 2019 has led to a standardization of operations and increased investment from project partners to help the program thrive. Starting in 2020, finished compost is now transported down the road to the Soil Stewards Farm to fertilize the soil where vegetables are grown for our community.
How You Can Help
Thank you for your interest in composting at U of I! There are a few ways to be involved:
Sort your waste in the ISUB food court: one of biggest challenges for composting at U of I is managing contamination. Plastic cutlery, ketchup packets, wax-lined cups, and other non-compostable items have to be manually removed from our compost piles by student technicians. You can support efficient and safe composting by only disposing food waste and paper products in the post-consumer compost bin located in the ISUB food court.
Volunteer to educate our community: if you're passionate about composting, volunteer to spend your lunch hour educating your peers about composting at the ISUB food court. You can even earn a free meal every time you volunteer. For more information, visit our Volunteer Page.
Join the Soil Stewards Farm Club: participate in our local food system by joining the students who plant, care for and harvest the vegetables grown using U of I's compost. For more information visit the Soil Stewards Farm website.
Share your ideas: the U of I Sustainability Center is student-led and thrives on student engagement. If you would like to support campus composting, contact us at uisc@uidaho.edu.