NRI: UI Students Contribute to Rangeland Knowledge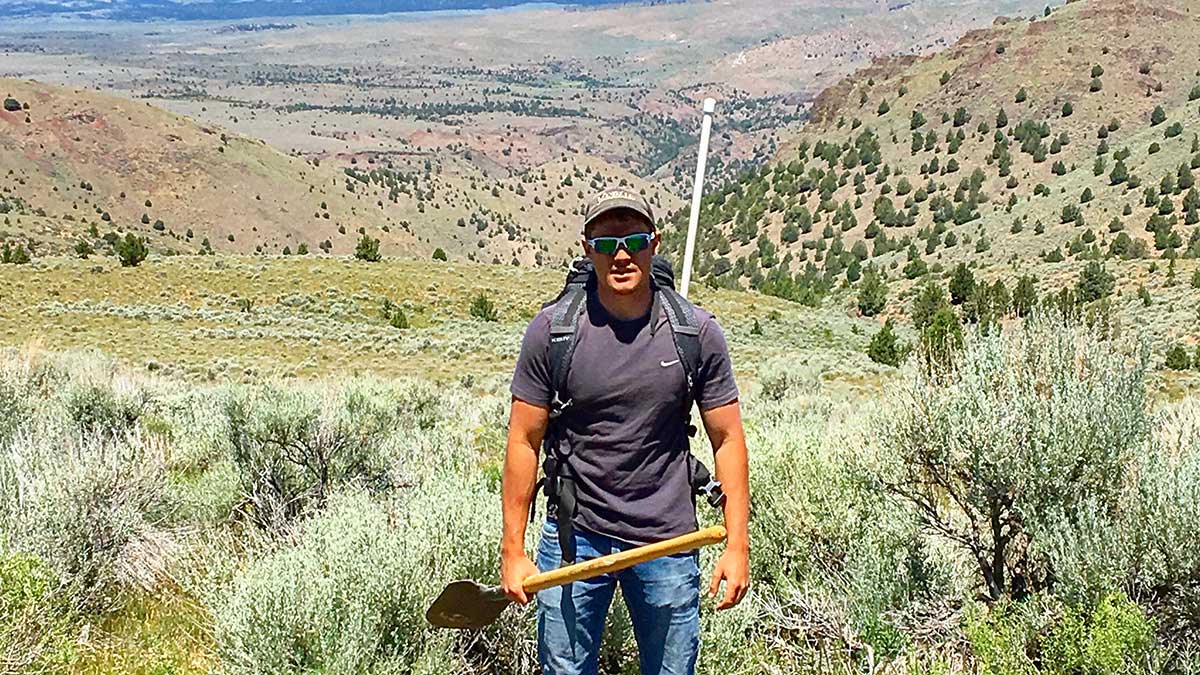 The Challenge:
Rangelands make up nearly half of the land base in Idaho and the western United States. The health of these rangelands is critical to ensuring that our state and our nation continue to have clean drinking water, stable soils, forage for livestock, and productive wildlife habitat. Having reliable data about the trends and current condition of rangeland vegetation and soils helps policy makers formulate agricultural programs and policies to address natural resource concerns on rangeland in Idaho and throughout the West.
Since 1982, the Natural Resources Conservation Service (NRCS) has surveyed the condition of resources on non-federal rangeland in the United States. For the last seven years, NRCS has collaborated with the Bureau of Land Management to inventory sites on BLM lands, as well. This annual National Resources Inventory (NRI) provides an overview of how ecological processes such as the water and nutrient cycles are functioning relative to ecological site potential. The purpose is to inform policymakers about natural resource conditions at a broad scale so that restoration needs can be addressed with appropriate agriculture and conservation programs.
Conducting statistically relevant surveys that use rigorous scientific protocols over vast expanses of rangeland is time and labor intensive. It requires sending trained field technicians to randomly assigned points across Idaho's rangelands to collect data each summer. How can NRCS reduce taxpayer expense for this wide-ranging project while still gathering reliable vegetation and soil data for the NRI database?
Our Response:
In 2012, NRCS implemented an agreement with the University of Idaho College of Natural Resources (CNR) to conduct the NRI field work in Idaho. Each summer, the agency employs six to eight college students to traverse the rangelands of the state, collecting data to help answer questions about the condition of rangeland vegetation and soils.
The NRI sample points are randomly generated by the Center for Survey Statistics and Methodology at Iowa State University, which also analyzes the data and produces summary reports for policymakers and the public. NRCS contacts landowners to explain the project and the confidentiality of sample sites and data, and requests permission for the students to access private property. NRCS State Rangeland Management Specialist Brendan Brazee trains the team in inventory protocols, GPS navigation, and safety before they pack their sleeping bags, lace up their hiking boots and make their summer home on the range.
At each sample site, the NRI field technicians measure rangeland attributes, including vegetation composition, gaps in vegetation canopy, presence of invasive species, and soil structure and stability. By the end of summer, the crew will have completed more than fifty survey sites on Idaho's private rangelands and more than one hundred sites on BLM lands.
Brazee said the partnership with UI is a benefit to NRCS and taxpayers. "We get the data collected for about half the cost of states that use professional contractors. The students do a good job, are pretty efficient, and they don't mind camping out and hiking for a week at a time."
The NRI collaboration is an example of how the Rangeland Center is contributing to the understanding of conditions on rangelands while developing future rangeland professionals right here in Idaho. The field experience exposes students to the human dimensions of working in range science. Interacting with ranchers, landowners, and agency staff gives students a better appreciation of the people who live and work on the range and how they cope with the challenges they face. That sociological component is vital to sustaining the health of Idaho's rangelands.
Output & Outcomes:
Combining data collected in Idaho with other local, regional, and national data provides a clearer picture of the extent and severity of resource problems requiring management intervention. It gives researchers important information for formulating science-based solutions to these problems and data for ecological site descriptions.
The NRI provides nationally consistent statistical data to support agricultural and environmental policy development and program implementation.
The NRI partnership provides real-world work experience to college students.
Rangeland Center Members Involved:
The 2017 NRI Team:

Landon Goolsby – Senior, UI Rangeland Ecology & Ag Business
Nola Nostrant – Junior, UI Rangeland Ecology
Caitlyn Miller – Junior, UI Rangeland Ecology
Dan Laurentzien – Sophomore, CSI Rangeland Ecology
Jack Cronin – Recent graduate, UC-Merced Environmental Engineering
Matt Delbar – Junior, UI Rangeland Ecology
Matt Wheeler – Sophomore, UI Rangeland Ecology & Wildlife Science
Partners & Sponsors:
USDA - Natural Resources Conservation Service (NRCS)
Bureau of Land Management (BLM))