General Education Updates
General Education Steering Committee Update (October 2019)
In considering our mission, vision, and values, our university learning outcomes, and the experience we want undergraduates to have at the University of Idaho, the General Education Steering Committee believes it is time to reimagine ways to better connect general education and the major. We envision a future where students clearly understand the inherent value in and relevance of all the courses they take, whether those courses are part of the general education curriculum or are specific to the major.
We believe that a good first step is to change the way we communicate about general education, and to that end, we are recommending a greater focus on integrative education:
The purpose of integrative education is to equip students with broad knowledge and foundational skills to succeed in a complex, diverse, and changing world. Integrative education works in conjunction with a student's area of study to demonstrate the connectivity of all knowledge, improve intellectual adaptability for success, provide a foundation for life-long learning and civic engagement, and cultivate respect for differing cultural perspectives.
As the General Education Steering Committee considers ways to realize our goals of integrative education, we will be inviting colleagues to take part in three subcommittees to focus on (1) curriculum and pedagogy, (2) communications, and (3) creating a sustainable budget model.

OUR JOURNEY
In March 2019, we formed the General Education Steering Committee, which includes 11 faculty members from across the undergraduate colleges, as well as Dean Panttaja (Director of General Education) and Cher Hendricks (Vice Provost for Academic Initiatives). Together we created a committee charge and timeline for our work.
Committee Charge: Recommend a framework for University of Idaho's General Education program that:
Aligns with UI's values, mission, vision, and learning outcomes
Helps students learn critical competencies and skills for success which are integrated and cumulative throughout the undergraduate experience and which will serve them throughout life
Embeds meaningful assessment
Recognizes constraints, including (1) the Idaho State Board of Education's policies for general education and (2) the need for the program to be financially sustainable
From March through May 2019, we met four times and were able to accomplish the following:
Collected information on the current general education program from graduating seniors via surveys and focus groups and reviewing results
Engaged the Engineering Alumni Advisory Board in conversations about their general education experience at the U of I and their ideas for strengthening the program
Reviewed best practices in areas such as reforming general education, integrative learning, and high impact practices
Discussed opportunities and challenges with support offices and programs including Honors, International Programs, and the Office of Multicultural Affairs
Connected with the Executive Director of University Studies at Portland State to learn about their general education programs
Over the summer of 2019, we worked independently, reading the general education materials we had curated in the spring as well as reviewing data collected from students and alumni.

In August 2019, we took part in a 2-day planning retreat where we focused on articulating the general education experience we want University of Idaho students to have. We developed a shared, common purpose for general education but moved away from the notion of a "general" education to an "integrative" education. We defined integrative education and then discussed the current supports we have in place that can help us realize our vision of integrative education. We also considered challenges and barriers that must be overcome.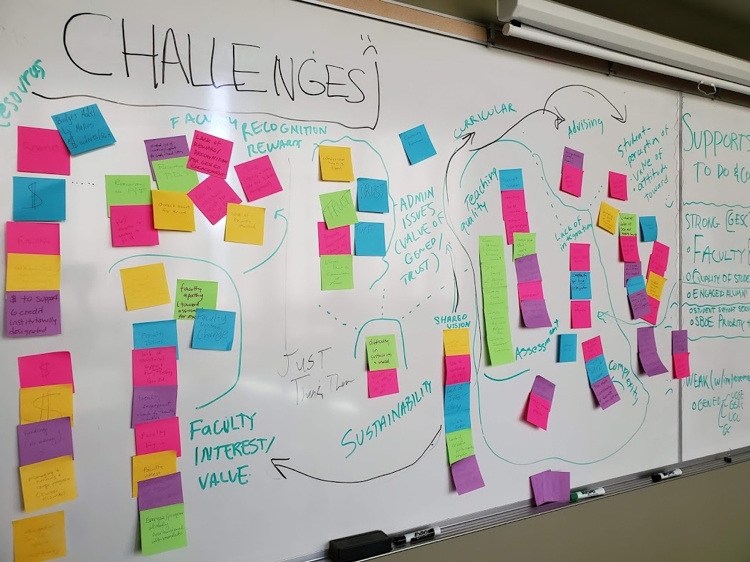 From there, we established the following goals in support of integrative education.
Goal 1: Implement an adaptive integrative education program that is sustainable and leverages the strengths and capabilities of our faculty.
Goal 2: Communicate the value of the vision to upper-level administrators and obtain their commitment to support the vision and purpose both academically and financially.
Goal 3: Redesign curricular offerings to ensure that curriculum eliminates current problems and challenges to create the integrative experience we have envisioned.
Goal 4: Recommend programs and processes to support faculty development, rewarding and recognizing faculty who teach integrative education courses.
Goal 5: Develop the financial support necessary to build a program that aligns with and supports the vision and purpose of integrative education.
Goal 6: Create a communication plan that leverages the stories of our students, alumni, faculty and staff to clearly explain the purpose and vision of integrative integration to students and citizens.


NEXT STEPS
The General Education Steering Committee will meet regularly during the 2019-2020 school year, and they will guide the work of our three subcommittees:
Integrative Education Curriculum & Pedagogy Committee
Integrative Education Sustainable Budget Committee
Integrative Education Communications Committee