Power Surge
NIL and Transfer Portal Offer Student-Athletes More Control Over Their Futures
Whether he is leading his teammates down the field or giving the green light for sales of a hoodie with his name and number, Gevani McCoy is all about control.
McCoy, a sophomore from Baldwin Hills, California and starting quarterback for the Vandals, prefers to control his destiny, both on and off the field.
"I want the ball in my hands," the Recreation, Sport, and Tourism Management major said. "My guys count on me and I count on them, but I feel comfortable and in control with the ball in my hands."
Student-athletes like McCoy have more control than ever before over their career because of two major shifts in college athletics. First, the NCAA's new Name, Image and Likeness (NIL) guidelines allow student-athletes to profit from personalized activities. Second, the transfer portal gives them the ability to transfer to a different university to play their sport without having to sit out for a year. U of I's athletic department is helping them navigate this new landscape through education.
"Student-athletes have more flexibility than ever because of NIL and the portal converging at the same time," said Matt Brewer, associate athletic director for NCAA compliance at U of I's Office of General Counsel. "Our focus is to educate them about the processes and about what potential decisions will mean for them so they can make the best choices."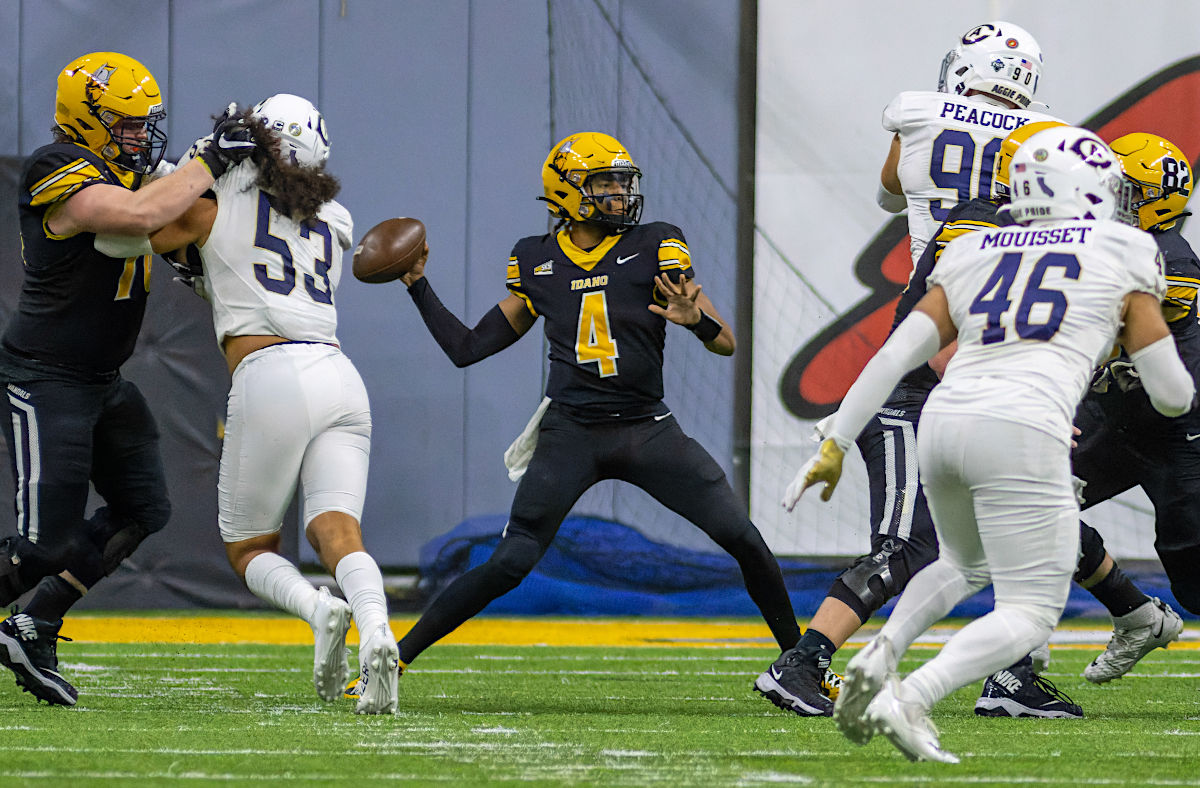 Creating a Brand
NIL rules allow student-athletes to profit from their name, image or likeness through activities like promoting a business through sponsorships, selling personalized apparel or other opportunities as dictated by contractual agreements between the player and the business.
Prior to NIL, student-athletes were not allowed to profit from any activities which featured them specifically.
Promotional activities student-athletes do for their university, such as having their name and picture in a game program or appearing on a university webpage, are addressed under the student-athlete's agreement with the university and do not fall under NIL.
As part of U of I's efforts to educate student-athletes about NIL, a program called Elevate Idaho rolled out earlier this year. Although he had heard about NIL prior to arriving in Moscow, it was during an Elevate Idaho class that McCoy began thinking about potential opportunities.
He is in the development stages on several projects with regional businesses and currently has personalized merchandise available on Influxer Merch, which sells apparel from Vandal student-athletes across all sports.
McCoy recently signed with an NIL representative, which is allowed by NCAA regulations. It is not necessary to have a representative to make NIL deals, but some student-athletes choose to take this route so it will allow them to concentrate solely on school and athletics.
McCoy and his representative keep the U of I athletic department apprised of his deals so they can keep records and make sure all deals comply with NCAA and university regulations.
Another critical part of the Elevate Idaho classes is educating student-athletes about money management.
"Not only do we have an opportunity to make some money but we're also learning about saving it, investing it and managing it," said McCoy. "I think I've picked up a few skills so I don't spend it as soon as I get it."
Entering the Portal
The 2023-24 Vandal men's basketball team will look almost nothing like last year's squad. New Head Coach Alex Pribble inherited only three players from last year's roster.
During the past off-season, the Vandals lost four players because last year was their final year of eligibility and another eight left through the portal, including frequent starters Isaac Jones, Nigel Burris and Dominique Ford. This gave Pribble the opportunity to rebuild the Vandals from scratch, which was greatly aided by the portal.
The transfer portal allows student-athletes to make a one-time transfer to a different university and begin playing during the next season. Student-athletes were able to transfer prior to the portal, but had to sit out an extra year before they were eligible to play.
To transfer, student-athletes enter the portal during their sport's window and declare themselves eligible to transfer, as long as they have eligibility remaining. NCAA rules then allow coaches from other programs to contact them.
Other factors, such as injuries or coaches leaving a program, allow student-athletes to transfer more than once.
"The transfer portal is a tool so there are positives and negatives," Pribble said. "It has allowed us the opportunity to find new student-athletes who want to be in the right program at the right university for them."
Five basketball players recently transferred to the Vandals through the portal, including Tyler Linhardt (University of Washington) and Trevon Blassingame (Fairleigh Dickenson).
Pribble said that while factors like playing time are a big reason players think about transferring to another program, his focus is to create an environment where student-athletes want to be – for both basketball and the college experience.
"In order for the team to be successful, there has to be a good fit for the individual," Pribble said. "If the student-athletes are excited about being here, and will represent our program and the university well, we think their experience will be positive and they'll want to stay."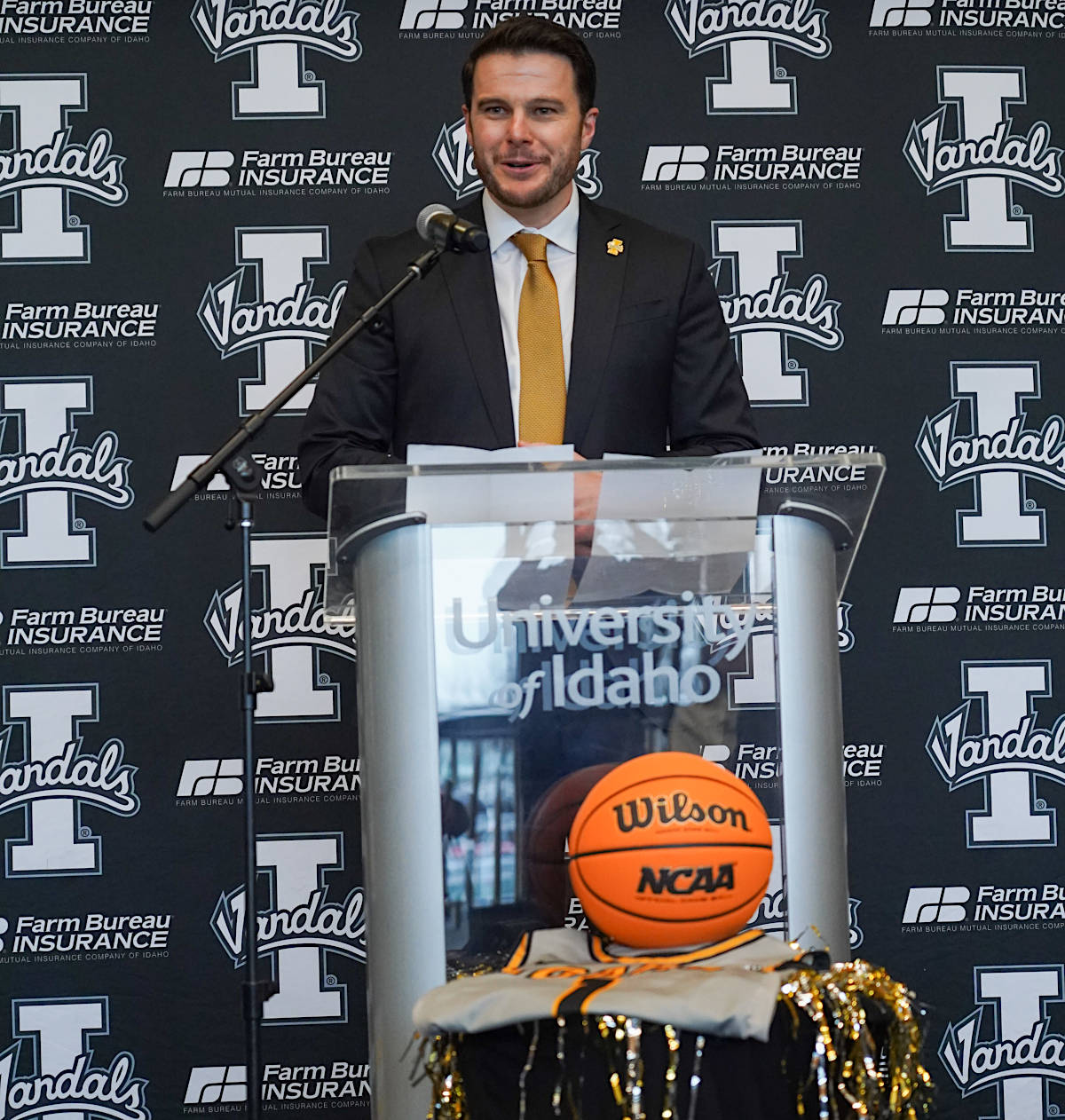 ---
Article by David Jackson, University Communications and Marketing.
Photos provided by University of Idaho Athletic Department and Melissa Hartley, University of Idaho Visual Productions.
Published in August 2023.