News
High Country News, a western environmental weekly out of Colorado, featured Adam Sowards' essay "Should nature have standing to sue?" in its Jan. 19, 2015, issue. Within a day, a Pulitzer prize-winning columnist at the LA Times picked it up and expanded on the ideas. Per Adam, "This sort of audience and attention is new for me, but I think it is something that we can all be working toward."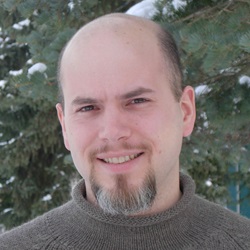 Congratulations to History Associate Professor Pingchao Zhu for being honored with the 2014 Outstanding Faculty Advisor Award by the National Academic Advising Association (NACADA). NACADA has a membership of over 10,000 individuals, from 2,400 institutions, and is an international educational association engaged in the work of promoting and supporting quality academic advising in institutions of higher education.
Professor Zhu is also the recipient of the 2014 Region 8 Excellence in Advising Faculty Academic Advisor Award for her continuing outstanding work in advising History students
Molly Swords and James MacNaughton were hired as supervisors on a historical archaeological dig during the summer break right here at the University of Idaho campus! This project was a joint venture with the Department of Sociology and Anthropology.
James served as the on-site field director and Molly was the assistant project director and laboratory supervisor for this excavation of the UI Navy building site. This dig was located north of Archie Phinney Hall.
The work experience proved to be valuable and important for two of History's doctoral students as they were able to teach students, volunteers, and visitors about historical archaeology. This included excavation techniques, map reading, historical research, field laboratory methods, and artifact identification. Currently, Molly and James are working on cataloging and analyzing the artifacts that were recovered. Both agree that this has been a wonderful opportunity to involve the public and learn more about the history of the University of Idaho's campus!
Read More News from CLASS