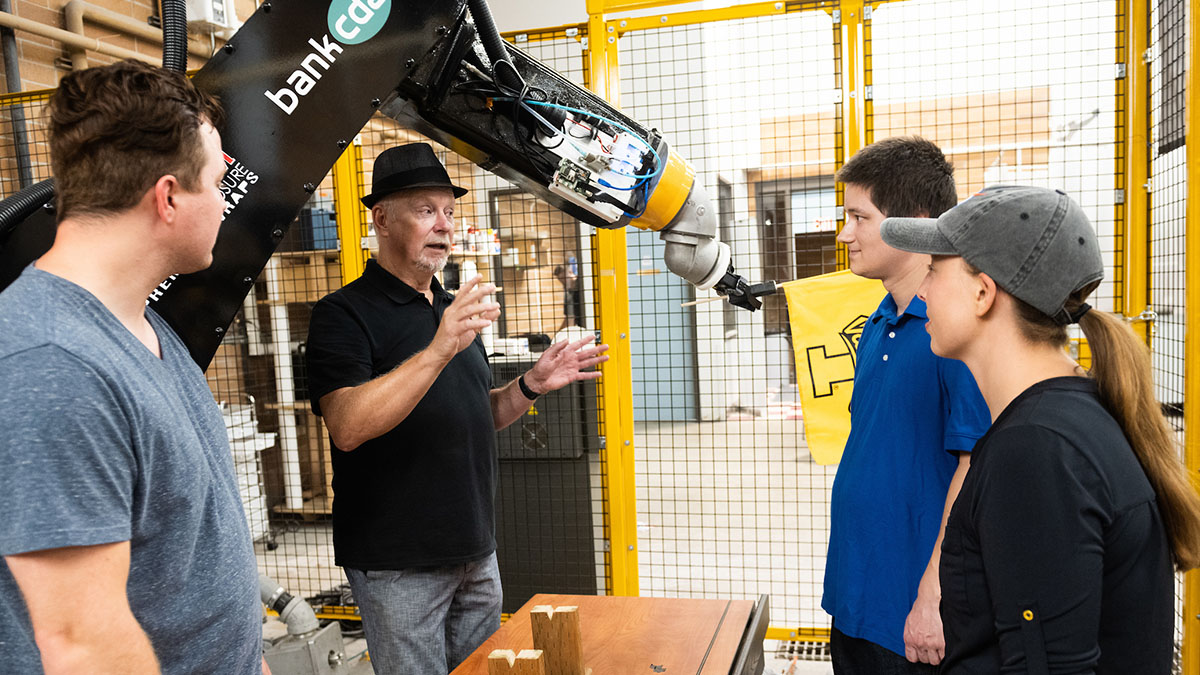 Robotics at U of I
University of Idaho College of Engineering students work directly with state-of-the-art mobile and full-size robots used in a variety of applications — from industrial to therapeutic!
Students train alongside faculty in multiple disciplines, including computer science, electrical engineering and mechanical engineering. Our programs are expanding undergraduate and graduate robotics education and research opportunities in cybersecurity, artificial intelligence, industrial automation, assistive robotics and more, with training facilities statewide.
Learn More & Apply
Our robotics faculty can help answer questions and help you find the best degree path for your interests.
Explore Degrees & Certificates
Robotics encompasses many engineering disciplines, as well as computer science.
Integrating Industrial Robotics Labs Statewide
Our Industrial Robotics Program is a very hands-on, project-oriented program. Contribute to our statewide network of robotics labs training students to address the critical manufacturing labor shortage.
The Center for Intelligent Industrial Robotics
In partnership with industry leaders in automation and manufacturing, the University of Idaho College of Engineering is launching its Center for Intelligent Industrial Robotics (CI2R), integrating new robotics research and training labs across the state to prepare students to fill the global manufacturing labor shortage.
Download the Center brief.
Contact: Dr. John C. Shovic, Director
Explore Our Labs
Idaho Forest Group Robotics and Automation Laboratory
Located on our Coeur d'Alene campus, this lab offers direct access to mobile robots, mechanical arms, a general-purpose collaborative robot, and microcontroller and computer systems.
Robotics, Automation and Mechatronics Laboratory
Thanks to support from Idaho Forest Group, one of America's largest and most robotically integrated lumber mills, this lab on the Moscow campus is linked by an advanced network and video system to facilitate peer-to-peer collaboration in Moscow and Coeur d'Alene.
Assistive Robotics Laboratory 
The Assistive Robotics Lab on our Moscow campus provides hands-on education in rehabilitation robotics. Students and faculty develop robotic devices that evaluate neurological impairment after stroke and gather data to refine therapeutic medicine and improve treatment.
Contacts: Dr. Eric Wolbrecht, Dr. Joel Perry