Vandal Science News - September 2020
Dear Friends of the College of Science,
Welcome to fall semester. U of I students are back, although campus looks and feels different this semester. Students are masked; faculty are teaching in masks or face shields; and fewer students are in our classes each time they meet. We've even co-opted the Pitman Center ballrooms for some larger enrollment classes to provide adequate social distancing.

College of Science department chairs and faculty worked overtime this summer to prepare for fall semester instruction. It was a difficult landscape to navigate since information on COVID-19 and best practices changed frequently. Faculty in the college banded together to share strategies for teaching online or in a HyFlex mode (meaning some students are in the classroom while others are interacting online). Getting ready for the semester was a heavy lift and I am immensely grateful to all our department chairs, faculty and staff for pulling everything together. We are ready to deliver another great semester in the college and provide our students the education they want and deserve!

For more details on the university's fall semester plans and communications from President Green, please visit the university's COVID-19 webpage.

Beyond face masks and social distancing, the college also has a different look. As you may have noticed, some of our departments had been working as teams over the past several years on academic and research initiatives, often sharing staff efforts, and sometimes sharing a department chair. As part of our annual program prioritization process, the State Board of Education approved several department mergers. We're excited to have Professor Hirotachi Abo serving as chair of the newly formed Department of Mathematics and Statistical Science. We're currently working on the selection process for the chair of the new Department of Geography and Geological Sciences. The new departments will continue to offer all degree and certificate options that the individual units offered, and our students will continue to have access to the courses they need. Through these consolidations, the units will maximize the benefits of interdisciplinary collaboration and innovation in both research and teaching. We will share additional information on these mergers in follow-up communications.

College of Science success in research continues to grow. Science faculty were incredibly successful this summer in bringing in new grants and publishing their research. College COVID-19 research efforts continue to expand as Ben Ridenhour (Mathematics and Statistical Science) spearheads efforts to model coronavirus infections for the state of Idaho. Faculty in Biological Sciences are working on coronavirus treatment strategies, and one of those groups is highlighted in this month's features. We also highlight Ashley Farre (Ph.D. student in Biological Sciences), who received a prestigious graduate fellowship from the National Institutes of Health.

While the university faces many challenges this year due to the pandemic, I remain optimistic that the college and university will emerge stronger than ever. Our faculty are creative and hardworking, and our students are here because they want the in-person college experience that includes regular interactions with faculty, staff and peers. It is our land grant mission to serve and educate the people of Idaho, and we will continue to do so by innovating and looking forward.
Go Vandals!
Ginger E. Carney, Ph.D.
Dean, College of Science
Farre Earns Predoctoral Fellowship for Photoreceptor Work
U of I Scientists Earn Federal Grant to Research Animals' Susceptibility to Coronavirus
College of Science Staff Appreciation
Name: Brian Petty
Position at U of I: Scientific Instrument Maker
How did you find the U of I?
My family and I drove through Moscow on our way home from a rafting trip, and we thought it looked like a nice place to live. When I checked the job listings for the university, I was thrilled to find an opening for a scientific instrument maker and applied immediately.
How long have you been with the U of I?
I have been here almost 3 years.
Why choose to work here?
I really like the community and work environment at U of I. I love that the university is in such a nice little town, and that I can walk to work year-round.
What is your favorite part about working here?
I love that I get to build interesting and unique things for a living and contribute to research that will benefit people. I also, really enjoy the variety of work that is involved with my position.
Tell us a little about yourself.
I like to go hiking and camping with my wife, two children and our two Boston terriers. I enjoy traveling, sailing and road trips. I also, like to cook, tinker in my home shop, and spend time with friends.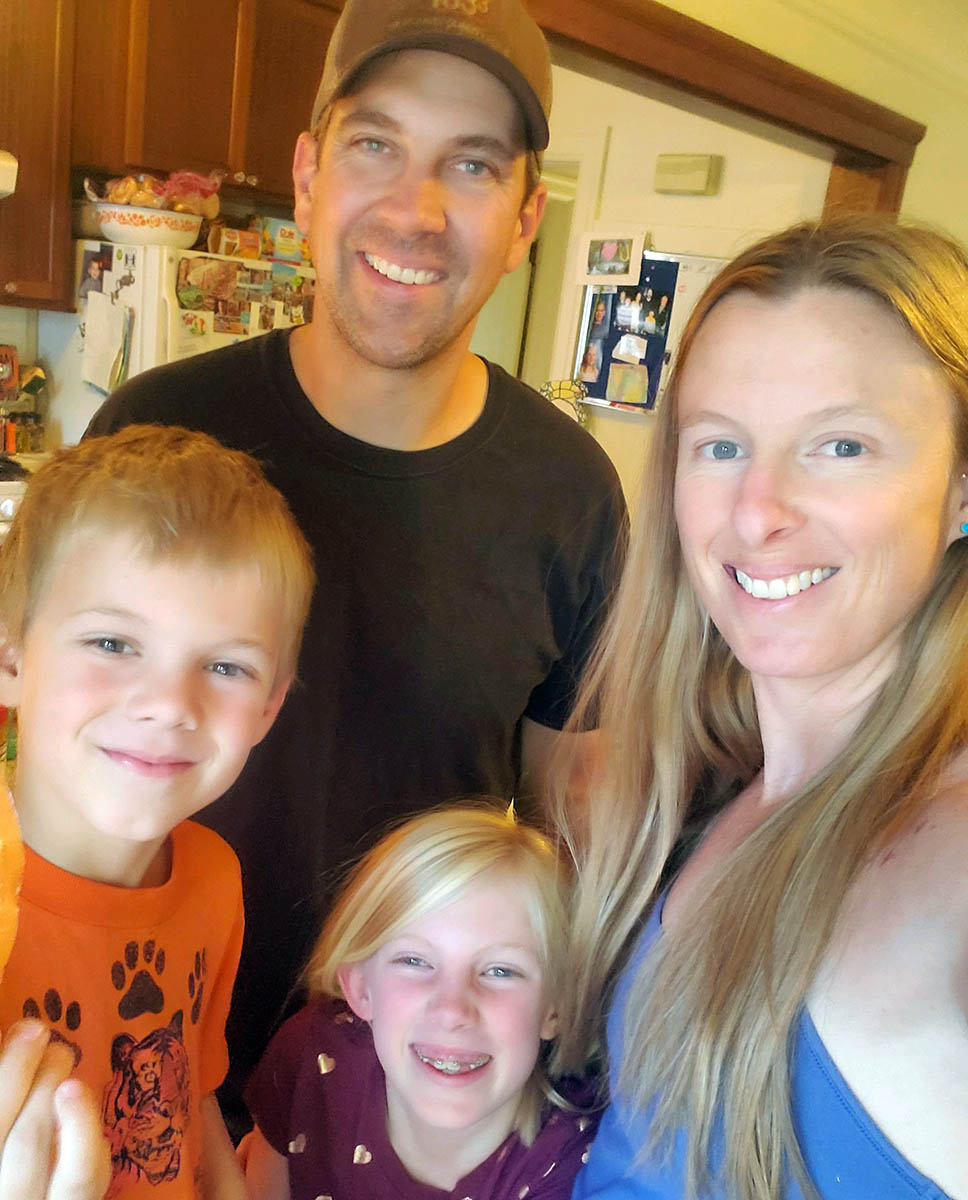 New Grants and Fellowships
Publications
Alumni News
Pavitra Roychoudhury (Ph.D. Bioinformatics and Computational Biology 2013) co-authored a paper in Science entitled "Genomic surveillance reveals multiple introductions of SARS-CoV-2 into Northern California."
Diego F. Morales Briones (Ph.D. Biology 2016), received the 2020 Grady L. and Barbara D. Webster Plant Systematics Publication Award from The American Society of Plant Taxonomists for his publication entitled "Phylogeny and Evolution of the Neotropical Radiation of Lachemilla (Rosaceae): Uncovering a History of Reticulate Evolution and Implications for Infrageneric Classification." This award recognizes the paper illustrating the most significant contribution in plant systematics from the previous two years. Diego worked with Dave Tank in the Department of Biological Sciences.
Alice Cassel (B.S. Biology 2019), who was an undergraduate researcher with Dave Tank (Professor, Department of Biological Sciences) co-authored a paper in the journal Science. Alice is currently a Ph.D. student at Rockefeller University.
Sarah Hendricks (Ph.D. Bioinformatics and Computational Biology 2019) has been named an inaugural fellow in the Idaho Science and Technology Policy Fellowship (ISTPF), a collaboration among University of Idaho, Boise State University and Idaho State University. The ISTPF connects doctoral-level scientists and social scientists and engineers with at least three years post-master's degree professional experience with state agencies to develop and implement solutions to some of Idaho's most pressing challenges, including water, energy, environment, fire and health.
Other Kudos
The Mathematics and Statistical Science Departments hosted the 2020 U of I Data Science Competition. The top three participants in the competition were Ronald Crump, Haotian Wang and Joel Oduro-Afriyie. For this competition, participants developed a machine learning model to automatically grade 20,000 hand-written calculus quizzes. The competition took place March 12 through April 30 and was sponsored by the College of Science.
Thibault Stalder (Research Support Scientist, Department of Biological Sciences), Eva Top (Professor, Department of Biological Sciences), and Ben Ridenhour (Assistant Professor, Department of Mathematics and Statistical Science) are collaborating with Institute for Modeling Collaboration and Innovation to test local wastewater for SARS-CoV-2.
Jack Creagh and Lindsey Morey (Ph.D. students, Department of Biological Sciences) were awarded Research Assistantships from the Idaho INBRE program for the upcoming year. The assistantships provide support for students performing biomedical research. Lindsey works with Diana Mitchell and Jack is a new Ph.D. student.
Suppose I start writing the numbers from 1 on up one after another, as follows:
12345678910111213141516171819202122232425262728293031323334...
If I had an infinite amount of time and patience (I in fact have neither!) I could keep this string of digits going forever.
There are two parts to this month's puzzle:
What is the two-millionth digit in this string of numbers?

What six-digit number am I writing when I write the two-millionth digit?
Solution to May 2020 puzzler:
This was a pretty tough one -- it's tempting to get into all kinds of messy calculations. The way to keep things simple is to choose the right variables. Let's let P, N, and D be the number of pennies, nickels, or dimes that Tom has over and above the numbers that Rachel has. (Then, since Tom has more of each of these kinds of coins, we know that P, N, and D must all be positive integers.) Since Rachel has 4 more quarters, but Tom has 32 more coins total, we must have
P + N + D = 36 .
But also, since they each have the same amount of money, the value of Tom's extra coins must be the same as Rachel's extra 4 quarters. In other words:
P + 5N + 10D = 100 .
A little experimentation shows that the only two solutions to these two equations are
P = 20, N = 16, D = 0
and
P = 25, N = 7, D = 4
The first one, however, is not allowable, since D must be positive. (Tom has more dimes!) So, the second solution must be the right one, so Tom has 7 more nickels. Since Rachel has 23 nickels, Tom must have 30 nickels.
Correct Solvers:
1st correct solution: Alex Blumenfeld, NMR Lab Manager, U of I Chemistry
2nd correct solution: Alice Buerkle, B.S. Botany 1987
Others:
Greg Stenback, B.S. Geological Engineering 1985, M.S. Statistics 1987
Marianne Milander, Student (Animal and Veterinary Science, Microbiology)