Vandal Science News - September 2021
Dear Friends of the College of Science,
We are grateful to be on campus for a fully in-person fall semester. Student excitement was palpable at our early-semester events. It was great to watch them make the traditional walk behind Joe Vandal and the Vandal Marching Band from the ASUI-Kibbie Activity Center-to the Administration Building lawn for the welcome barbecue dinner. There were many smiling faces and many new friendships being formed. Yes, we are still wearing masks in our buildings, but that is a small price to pay for the opportunity to work, learn and grow together as members of the university community.


After more than a year of online or partially online instruction, we recognize that the transition will be difficult for many new and returning U of I students. Helping our students succeed in their degree programs and stay on track to graduation is at the forefront of everything we do in the college. Factors that cause students to leave the university are not feeling they belong, not understanding how college "works" and financial difficulties.
To address the first of these factors, Associate Dean Mark Nielsen is leading a new program focused on freshman and sophomore students called "Success in COS." The goals of the program are to introduce students to resources and faculty at the U of I while also building camaraderie and a sense of belonging among their peers in the college. In the first meeting participants learned practical tips from COS Ambassadors on how to be successful in their coursework. In the second meeting faculty from across the college met with students to provide their perspectives. Since Mark is spearheading the program, fun and wacky games and great snacks are part of each get-together!
We also have several programs in the college to help students with financial need, including our standard scholarship programs, a college emergency fund and a college food pantry. Many of our alumni made recent contributions to the emergency fund, and we are grateful for their support.
The college continues to provide valuable training in the sciences that give our students the skillsets they need to be successful post-graduation. You can read two examples below from the laboratories of Paul Rowley (Biological Sciences) and Grant Harley (Geography and Geological Sciences). Two former Rowley lab students, Courtney Kennedy (B.S. Molecular Biology & Biotechnology '19) and Nova Tebbe (B.S. Microbiology and Philosophy '19), were recipients of prestigious Hill Undergraduate Research Fellowships, a program that is generously supported by Dr. Brian and Mrs. Gayle Hill. If you would like to support undergraduate research opportunities for students in the College of Science, you can donate to the Brian and Gayle Hill Undergraduate Research Fellowship program or our College of Science Undergraduate Research fund.
We are pleased to highlight more of the great work being done in the college during our annual Student Research Expo. Undergraduate and graduate students will display posters on their projects on Thursday, October 7, from 2:00 to 4:00 p.m. in the Integrated Research and Innovation Center (IRIC). If you are on campus that day, please plan to attend to visit with our students and learn more about research in the college. You can also visit our virtual Expo Hall at https://www.uidaho.edu/sci/student-opportunities/research-expo.
Here's to a great start to the semester and Go Vandals!

Ginger E. Carney, Ph.D.
Dean, College of Science
Aging A Historical Cabin
Student Dates Cabin Using Tree-Ring Science
From Student Researchers to Published Scientists
Undergraduate Research in U of I Biology Lab Earns Publication Peer-Reviewed Papers
College of Science Staff Appreciation
Name: Gina Tingley
Position at U of I:
Department Coordinator, Biological Sciences
How long have you been with the U of I?
I've been at the U of I for a little over 19 years.
How did you find the U of I?
My dad retired to the Sandpoint area in the early '90s. I had been working at a university, so when I decided to relocate, I looked at universities in the west. I flew up to visit my dad and drove down to California, checking out universities and their associated towns on the way. The Palouse caught my attention, so I looked at the U of I job boards and there was a job opening. Larry Forney hired me for a management assistant position in the Initiative for Bioinformatics and Evolutionary Studies (IBEST).
Why choose to work here?
Paychecks and insurance are nice, but mostly the location and the friendly people.
What is your favorite part about working here?
My favorite part about working in the College of Science has to be the people. It sounds a little corny, but there are some very helpful and personable staff, faculty, and students who make work a little more enjoyable. Especially those within the Department of Biological Sciences, but I may be biased. I have also been fortunate to have good supervisors over the years.
Tell us a little about yourself.
My pandemic hobby is quilting and I bought my first sewing machine about a year ago. I hadn't sewn anything since seventh grade home-economics class, but YouTube sucked me in with the quilting tutorials. I am not a fussy quilter so it's very relaxing. I will say that quilting is different from sewing and I can't sew to save my life. My husband and I like to road trip, mainly in his 1972 turbo-charged, fuel injected Plymouth Duster. Route 66 was a very fun – and adventurous – trip. Some highlights from my travels are holding a dolphin, kissing a moose, feeding a reindeer, cuddling an Iditarod sled puppy, and sailing on a tall ship.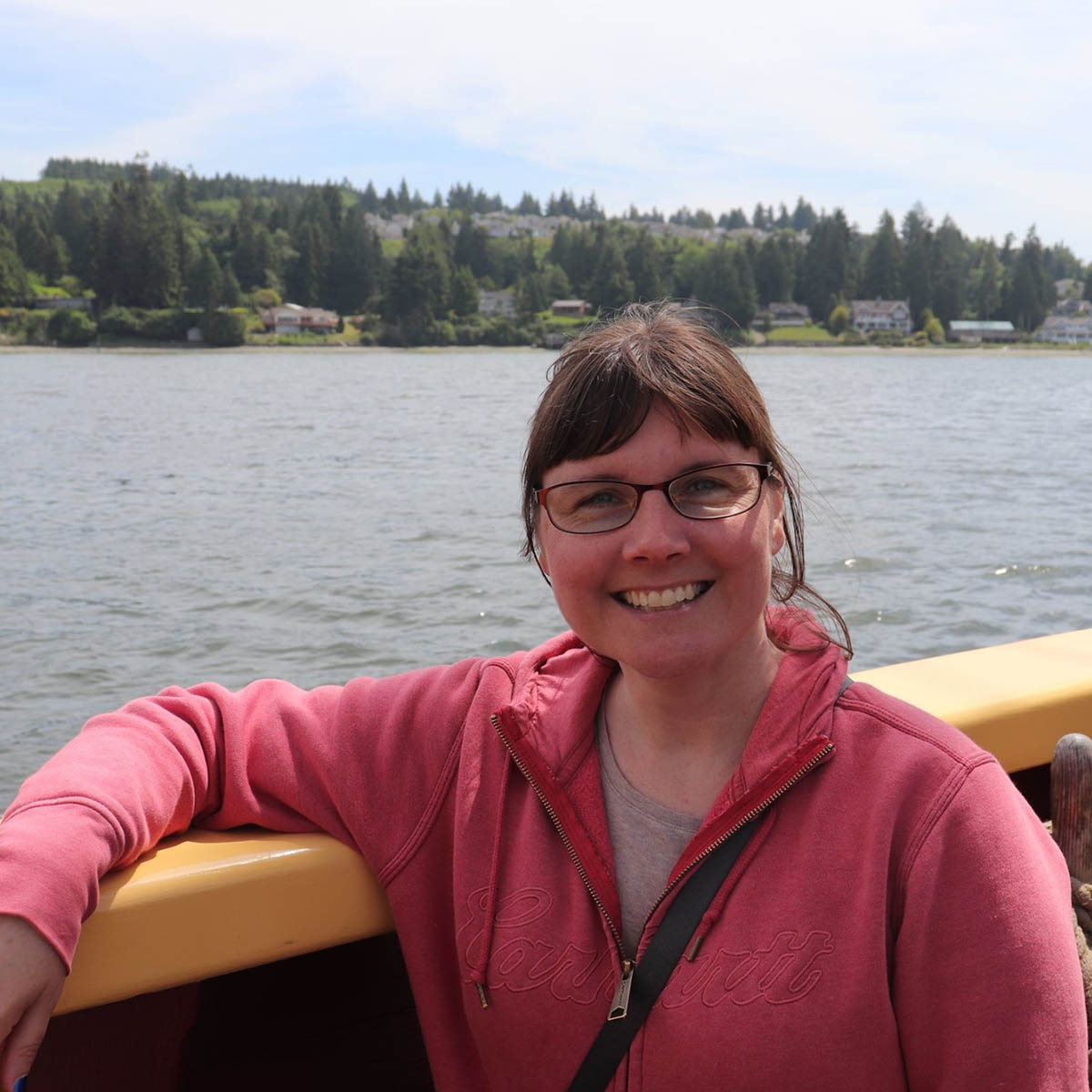 New Grants and Fellowships
Andreas Vasdekis (associate professor, Department of Physics) was awarded a $1.7M grant from the Department of Energy for his research grant titled "Integrative Imaging of Plant Roots during Symbiosis with Mycorrhizal Fungi."
Chris Marx (professor, Department of Biological Sciences) and Andreas Vasdekis (associate professor, Department of Physics) along with collaborators from Virginia Tech and UC Berkeley, were awarded a $1.4 million grant by the Department of Energy titled "Converting methoxy groups on lignin-derived aromatics from a toxic hurdle to a useful resource: a systems-driven approach." The team received additional funding under the U of I P3R1 grant matching program to support a postdoctoral researcher.
Director of Idaho INBRE and University Distinguished Professor Carolyn Bohach, College of Science, received $737,016 from the National Institutes of Health for a grant titled "Idaho INBRE SARS-CoV-2 variant surveillance using viral genome sequencing and analyses." Barrie Robison (professor, Department of Biological Sciences) is the project leader. Barrie was recently quoted in several news outlets about the prevalence of the delta coronavirus strain. Learn more about the funded project here.
Christine Parent (associate professor, Department of Biological Sciences) and Eric Mittelstaedt (associate professor, Department of Geography and Geological Sciences) received a $500,000 grant from the National Science Foundation to organize working groups and meetings to link our understanding of geological, climatological, and biological dynamics on island systems, focusing particularly on the Galapagos islands.
Jessica Stanley (assistant professor, Department of Geography and Geological Sciences) received a $500,000 ($344,599 to U of I) grant from the National Science Foundation titled "Collaborative Research: Exploring the tempo of exhumation and relief development to investigate mantle-to-surface connections around the Yellowstone hotspot."
Selected Publications
U of I molecular modeler Jagdish Patel (research assistant professor, Department of Biological Sciences) worked with Canadian scientists to identify a natural product from actinomycete extracts that might be useful in combating cancer. They identified one compound that selectively targets and inhibits cancer stem cells over normal stem cells as well as the chemical pathway the natural product influences, and published their work in Cell Chemical Biology.
Professor Patel also worked with Canadian scientists to screen several common food additives or contaminants to identify compounds that may contribute to the global obesity epidemic. They discovered that the commonly sprayed organophosphate insecticide chlorpyrifos puts the break on the burning of calories in the brown adipose tissue of mice and published their work in Nature Communications. Slowing down this burning of calories, a process known as diet-induced thermogenesis, causes the body to store these extra calories in the form of white fat, promoting obesity.
Paul Hohenlohe (associate professor, Department of Biological Sciences) partnered with other scientists from the United States and Australia to study the evolution of Tasmanian devils in response to a unique transmissible cancer. The team found that historic and ongoing evolution are widespread across the devils' genome, but there is little overlap of genes between those two timescales. These findings, published in Proceedings of the Royal Society B, suggest that if transmissible cancers occurred historically in devils, they imposed natural selection on different sets of genes.
Paul Rowley, Jagdish Patel and JT Van Leuven (assistant professors, Department of Biological Sciences) published a paper in G3: Genes, Genomes, Genetics titled "Nuku, a family of primate retrocopies derived from KU70."
Kris Waynant's (assistant professor, Department of Chemistry) lab published an article in the "Recent Hot articles" collection in Biomaterials Science titled "Synthesis of a zwitterionic N-Ser–Ser-C dimethacrylate cross-linker and evaluation in polyampholyte hydrogel."
Alumni News
Miles Beaux (B.S. '05, M.S. '08, Ph.D. '10 Physics) won a Department of Energy Early Career Award for his work at Los Alamos National Lab.
Megan Ruffley (Ph.D. Bioinformatics and Computational Biology, '20) was awarded a prestigious Plant Genome Postdoctoral Research Fellowship in Biology from the National Science Foundation to study the genetics underpinning a plant's ability to adapt to a changing climate.
Tim Griswold (B.S. Chemistry and Chemical Engineering, '15) was named lead scientist at CellCore and Microbe Formulas, which are based in Meridian, ID.
In case you missed it
President Green awarded the 2021 President's Medallion to the pandemic response teams at the U of I and Gritman Medical Center. IBEST Director Barrie Robison, professor Department of Biological Sciences, accepted the medallion on behalf of the U of I response faculty at spring commencement in May.
Speaking of IBEST, in July 2021 IBEST became part of the new Institute for Interdisciplinary Data Sciences (IIDS).
The College of Science INBRE program recently celebrated 20 years of fostering biomedical research in Idaho. The program leveraged $65M in funding from the National Institutes of Health to attain an additional $170M for research efforts in the state. The program provides funding for faculty research projects and has supported the careers of over 4000 undergraduate students, graduate students and postdoctoral associates.
The research group led by Tim Bartholomaus (assistant professor, Department of Geography and Geological Sciences) made national news again for his work on the Turner Glacier in southeast Alaska.
Medical Sciences is the most popular undergraduate major in the College of Science and prepares students for a variety of careers in health fields. Learn more about the degree program and recent graduates Delaney Wagers '20 and Tristen Bowens '21.
Vandal Athletics debuted a new outdoor turf practice field that will be a game changer for recruiting and for current athletes in a variety of sports, including Vandal soccer goalie and College of Science Student Ambassador Avrie Fox.
Jason Barnes, professor Department of Physics was recently in the news again with an update on the $800 million Dragonfly mission, which will explore Saturn's moon Titan to look for evidence of life beyond earth.
A video game design team led by Barrie Robison (director IIDS and professor, Department of Biological Sciences) created a video game that would let students experience and analyze the spread of tickborne diseases, without the risk — and time — it would take in the real world.
It feels like we could all use more geometry in our lives, so here's a good puzzler to help with that.
A cylindrical barrel with radius one foot is buried halfway in the ground, lying on its side (so that the axis of the cylinder runs along ground level). A ramp is made by laying a board against the side of this buried barrel, with the base of the board touching the ground eight inches from the base of the barrel (see the figure). Find the slope of the ramp.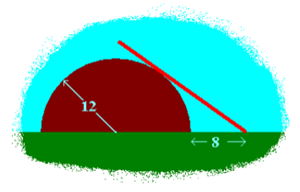 Solution to May puzzler:
There are
392 zeros
at the end of N. Prime factorizations are the key to getting that answer. First, 39375 factors as 5
4
3
2
7 and 180224 factors as 2
14
11. So,
N = (39375100)(18022428)
= (54327)100 (21411)28
= 54003200710023921128
Now the only way you get a zero at the end of a number is to have 10 as a factor. We can easily rearrange the prime factorization of N to see how many factors of 10 it has:
N = (23925392)(58320071001128) = 10392(58320071001128)
So 10 is a factor of N 392 times, meaning there are 392 zeros.
Correct Solvers
First correct solution: Alex Blumenfeld, NMR Lab Manager, U of I Chemistry
Second correct solution: Jay Hunter, B.S. Chemistry 1973, M.D. WWAMI 1977
Others:
Marianne Milander, Student (Animal and Veterinary Science, Microbiology)
James Schreiner, B.S. Chemistry, 1977