Vandal Science News - October 2020
Dear Friends of the College of Science,
Welcome to the October edition of Vandal Science News. We are nearly halfway through the fall semester and have lots of good news to report. Enrollment at the university is stronger than we projected. First-time freshman enrollments in the College of Science are up 13 percent for fall semester, which is great news for the college and university.
College of Science faculty continue to excel in their research and contribute to the U of I goal of achieving Carnegie R1 status for research activity. Two measures of this excellence are new research grant awards and research expenditures, which were $14,363,943 and $15,499,180, respectively, for fiscal year 2020. And, the new grants keep coming in during the current fiscal year! Read about the research funded by two of those recent awards.
External faculty awards provide another measure of College of Science excellence. Kris Waynant (Assistant Professor, Department of Chemistry) received a prestigious Fulbright Fellowship for 2021 and will spend nine months working at the University of Exeter in the UK. What an honor for Kris! Learn more about Kris' plans.
Students in the college continue to grow and learn from their opportunities to engage in hands-on research activities through field work in locations such as Yellowstone National Park and the mountains of northern Idaho. Students also benefit from the innovative curriculum developed by COS faculty, including a virtual geology field camp.
The value of a College of Science education is exemplified by the successes of our graduates. One recent example is Raymond Emehiser (Ph.D. Chemistry 2020) who completed his degree with Patrick Hrdlicka (Professor, Department of Chemistry). Raymond was supported by the Pierce and Solomon and Reis Fellowships, which were established to attract outstanding students to College of Science graduate programs. We are very grateful to Skip (B.S. Chemistry 1953) and Bee Pierce and Wayne Solomon (B.S. Chemistry 1955) and Janet Reis and all our alumni and other supporters who help provide the funding that allows us to attract such talented students to our programs.
Last month I noted the departmental mergers that occurred over the summer. I'm pleased to report that Jerry Fairley will take the reins of the Department of Geography and Geological Sciences on October 19. We are all looking forward to working with Jerry.
Finally, the college will host its 16th annual Student Research Exposition October 20-23, albeit in a virtual expo hall format this year. Each participating student will post information on their research project as well as a short video describing their work. I hope you'll drop in online to visit the event.
Stay safe and Go Vandals!
Ginger E. Carney
Dean, College of Science
Chemistry Professor Earns Fulbright to England's University of Exeter
Kristopher Waynant, whose work includes building calcium sensors for NASA, will research and teach overseas.
Biology Professor Earns Grant to Study Sexual Roles in Seahorses and Pipefish
Adam Jones' U of I lab will explore the genetic evolution of sexual selection and sexual conflict in a unique fish family.
Advanced Chemistry Degree Lands Big Job for Vandal
Emehiser is part of a team developing treatments using synthetic RNA.
College of Science Staff Appreciation
Name: Jessica DeWitt
Position at U of I: Administrative Financial Specialist for Physics and Mathematics and Statistical Science
How did you find the U of I?
I came to U of I as a student in 1996.
How long have you been with the U of I?
I have been working in a full-time staff position for about 4½ years now.
Why choose to work here?
I love U of I and am a Vandal through and through. I really enjoy being able to assist students in achieving their academic goals while sharing my love for U of I with them.
What is your favorite part about working here?
I really enjoy the team I work with, which includes Jana Joyce, Melissa Gottschalk, and Jaclyn Gotch. We have been a team for three years now and I love how we are able to work so well together and support each other. I believe that the strength of our team contributes greatly to the success of our students and that, in turn, is what gives meaning to our work!
Tell us a little about yourself.
I graduated from U of I with a B.S. in Sociology w/ Criminology Emphasis and a minor in Anthropology in Dec 2015. I am a single mom of five, whose ages range from 7 to 16. So, I stay pretty busy even outside of work. I am very involved with the Women of the Moose organization and do a lot of volunteering through that. When I find time for my hobbies, I enjoy crocheting, knitting, video games, and exploring the outdoors with my kids. I also try to attend all of the U of I home football games with my kids. My cousin's son is on the team, so we generally have about 20 family members there cheering him and the team on. It's a pretty big deal for us. I can't wait to get back to those. GO VANDALS!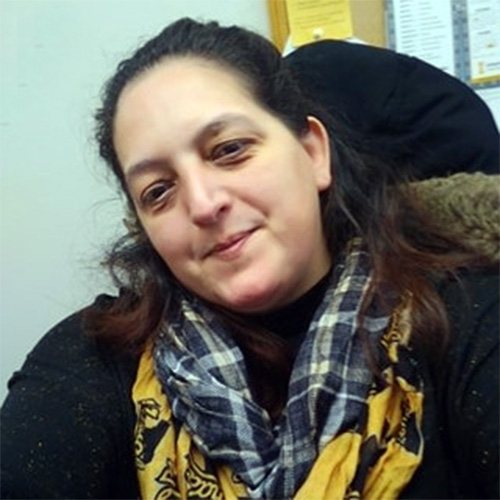 New grants and fellowships
Adam Jones (Professor, Department of Biological Sciences) and collaborators at the University of Oregon were awarded a $1,656,707 grant by the National Science Foundation ($586,223 to U of I) entitled "Collaborative Research: RoL: The evo-devo of male pregnancy and its effects on the brood pouch microbiome."
Alumni News
Sarah Jacobs (Ph.D. Biology 2018) has been named the assistant curator for botany and the Howell Chair of Western North American Botany at the California Academy of Sciences Sarah complete her Ph.D. work with David Tank (Professor, Department of Biological Sciences).
Sam Myers (B.S. Physics and Mathematics 2020) received the 2020 Carson Fellowship. Sam was an undergraduate researcher with Jason Barnes (Professor, Department of Physics) and is now a Ph.D. student at the University of Arizona in the Department of Planetary Sciences and Lunar and Planetary Laboratory.
Other Kudos
Jim Bull and Scott Nuismer (Professors, Department of Biological Sciences) have generated buzz in several news outlets for their work on transmissible (self-spreading) vaccines. Learn more about the pros and cons of this approach.
Paul Rowley, J.T. Van Leuven and Jagdish Patel (Assistant Professors, Department of Biological Sciences) are studying animals' susceptibility to coronavirus to determine if farm animals and bats contribute to its spread.
Paul Rowley and Jagdish Patel (Assistant Professors, Department of Biological Sciences) were featured on Boise State Public Radio for their work to find a coronavirus cure.
Diana Mitchell (Assistant Professor, Biological Sciences) was selected to present her abstract entitled "Retinal Development and Regeneration from a Microglial Perspective" at the NIH virtual IDeA PI meeting on Tuesday, Sept. 22. She was one of the few selected from 175 submissions to present.
Research by Michael Heslar, a Ph.D. student working with Professor Matthew Hedman in the Department of Physics, was featured in an article in Sky and Telescope, the most prestigious magazine read by amateur astronomers.
Undergraduate Alice McConnell, who is majoring in Biology, received a scholarship from Sarepta Therapeautics.
For this puzzler we'll do some mathematical boxing – see if you can land a knockout punch on this one. A rectangular box has total surface area (all six sides together) of 20 square feet. The total length of all 12 sides is 24 feet. Now you can't tell the box's dimensions from just that information, but remarkably enough, you can determine the length of its diagonal. What is that diagonal length?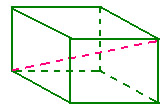 Solution to the September Puzzler:
Solution: The two-millionth digit in the string of numbers is 5, namely the fifth digit of the six-digit number 351,851. It's just a matter of good bookkeeping to get to that answer.
We'll just start counting digits:
There are 9 digits used on one-digit numbers.
There are 90 two-digit numbers (10 to 99), so a total of 180 digits used there. This gives a running total of 189.
There are 900 three-digit numbers (100 to 999), giving a total of 2700 digits used there. The running total is now 2,889.
There are 9,000 four-digit numbers (1,000 to 9,999) accounting for 36,000 digits. Running total: 38,889.
There are 90,000 five-digit numbers (10,000 to 99,999) adding 450,000 more digits and bringing the running total to 488,889. (Cool pattern, huh? 189 - 2889 - 38889 - 488889 - . . . )
We don't want to look at all six-digit numbers right off the bat, so let's just look at the first 100,000 of them, namely the numbers from 100,000 to 199,999. These add 600,000 digits and bring the total to 1,088,889.
The next 100,000 numbers (200,000 to 299,999) add 600,000 more digits and bring the running total to 1,688,889.
Now we're closing in on two-million digits! In fact, we obviously don't have room to add another 100,000 six-digit numbers since we have only 2,000,000 - 1,688,889 = 311,111 digits left. Dividing 311,111 by six, we see that there is room for only 51,851 more six-digit numbers. These would be the numbers from 300,000 to 351,850, which add 311,106 digits and bring the running total to 1,999,995 digits. So, the fifth digit of the next number (351,851) will be the two-millionth digit in the string.
Correct Solvers
First correct solution: Marianne Milander, Student (Animal and Veterinary Science, Microbiology)
Second correct solution: James Zimowsky, B.S. Chemistry 1993
Others:
Alex Blumenfeld, NMR Lab Manager, U of I Chemistry
Duke Hughes, B.S. Chemistry 1961
Brent Morris, B.S. Applied Mathematics 1985
Ben Ridenhour, Department of Mathematics and Statistical Science
Kim Salisbury, B.S. Zoology 1999; Executive Director of Academic Budget and Planning, U of I Provost's Office
Greg Stenback, B.S. Geological Engineering 1985, M.S. Statistics 1987