Vandal Science News - November 2020
Dear Friends of the College of Science,
Welcome to the October edition of Vandal Science News. We are nearly halfway through the fall semester and have lots of good news to report. Enrollment at the university is stronger than we projected. First-time freshman enrollments in the College of Science are up 13 percent for fall semester, which is great news for the college and university.
College of Science faculty continue to excel in their research and contribute to the U of I goal of achieving Carnegie R1 status for research activity. Two measures of this excellence are new research grant awards and research expenditures, which were $14,363,943 and $15,499,180, respectively, for fiscal year 2020. And, the new grants keep coming in during the current fiscal year! Read about the research funded by two of those recent awards.
External faculty awards provide another measure of College of Science excellence. Kris Waynant (Assistant Professor, Department of Chemistry) received a prestigious Fulbright Fellowship for 2021 and will spend nine months working at the University of Exeter in the UK. What an honor for Kris! Learn more about Kris' plans.
Students in the college continue to grow and learn from their opportunities to engage in hands-on research activities through field work in locations such as Yellowstone National Park and the mountains of northern Idaho. Students also benefit from the innovative curriculum developed by COS faculty, including a virtual geology field camp.
The value of a College of Science education is exemplified by the successes of our graduates. One recent example is Raymond Emehiser (Ph.D. Chemistry 2020) who completed his degree with Patrick Hrdlicka (Professor, Department of Chemistry). Raymond was supported by the Pierce and Solomon and Reis Fellowships, which were established to attract outstanding students to College of Science graduate programs. We are very grateful to Skip (B.S. Chemistry 1953) and Bee Pierce and Wayne Solomon (B.S. Chemistry 1955) and Janet Reis and all our alumni and other supporters who help provide the funding that allows us to attract such talented students to our programs.
Last month I noted the departmental mergers that occurred over the summer. I'm pleased to report that Jerry Fairley will take the reins of the Department of Geography and Geological Sciences on October 19. We are all looking forward to working with Jerry.
Stay safe and Go Vandals!
Ginger E. Carney
Dean, College of Science
Pursuing Singing Dogs
Alumnus Finds Extinct Species in New Guinea Highlands
Sarah Jacobs
University of Idaho Alum named Curator at the California Academy of Sciences
Ensheng Dong
University of Idaho Alum Tapped His Background in Statistics and Epidemiology to Build a Nationally Recognized COVID-19 Tracking Website
College of Science Staff Appreciation
Name: Yuwei Kan
Position at UI: Laboratory Coordinator
How long have you been with the U of I?
I've been working here for four years.
How did you find the U of I?
My family moved to the Palouse area four years ago. I was so happy to find a job opening that matches my skill set at U of I after I moved here. I applied for the job and started working here then.
Why choose to work here?
I love the campus life, the friendly and diverse community at the U of I.
What is your favorite part about working here?
At the U of I, my department is like my family. I love going to work just to experience the camaraderie of my colleagues. I also enjoy working with my work study employees who are full of enthusiasm for their future.
Tell us a little about yourself (family, kids, pets, hobbies, etc.).
I graduated from the University of South Carolina with a Ph.D. in chemistry. My husband is also a chemist, working as an assistant professor at WSU. We have two kids, Jason (9 years old) and Kaylee (7 years old). I am a pet lover! We have a small aquarium in the house, and three fur babies: two cats and one dog. I like going hiking and fishing during weekends with my family. I also enjoy doing woodworking projects with my husband together.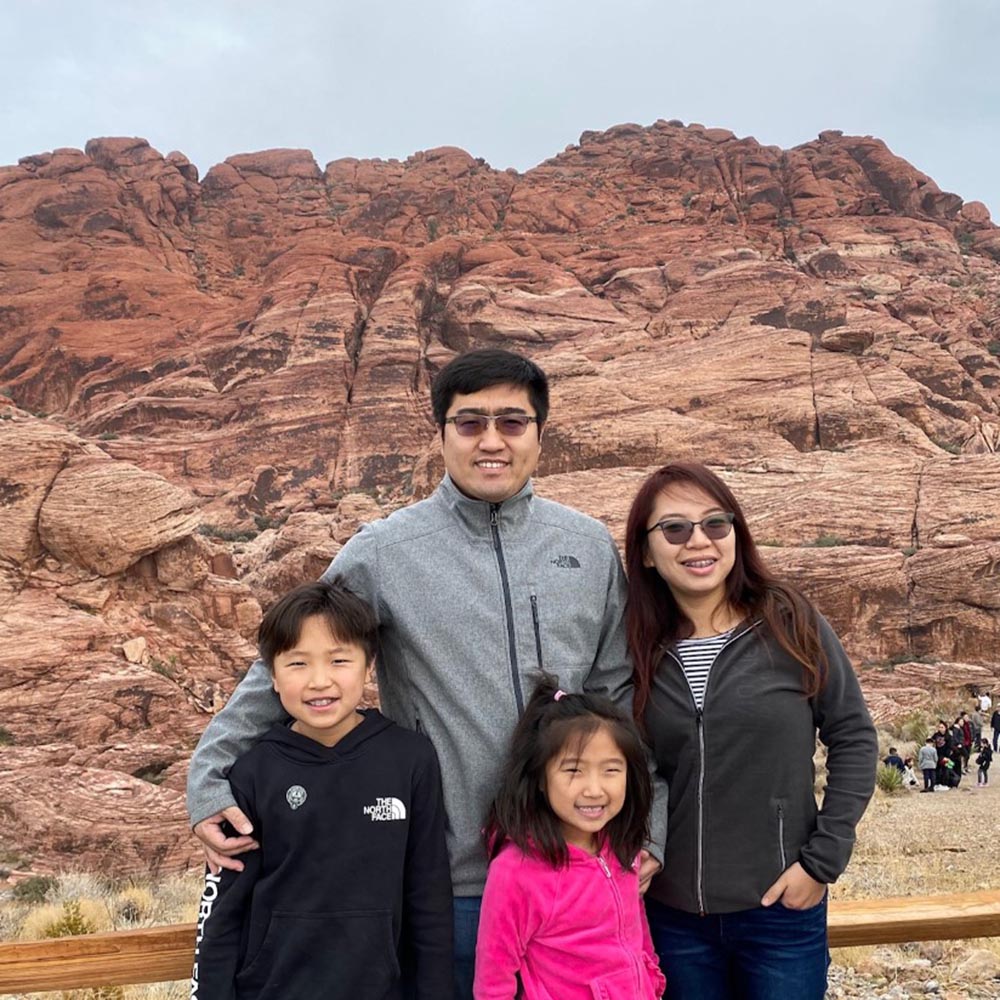 New Grants and Fellowships

Sebastian Stoian (Assistant Professor, Department of Chemistry) was awarded a $110,000 grant by the American Chemical Society entitled "Emulating the Zeolites' Entatic State in Molecular Iron (IV)-oxo Catalysts."

Onesmo Balemba (Associate Professor, Department of Biological Sciences) is the PI on a collaborative National Institutes of Health (NIH) grant for $99,000 through the Diabetes Complications Consortium of the National Institute of Diabetes and Digestive and Kidney Diseases. The research will explore novel causes of diabetes neuropathy (nerve dysfunction) and dysmotility (digestive system muscle dysfunction). The study will help improve understanding of the interaction between diet, the gut's microbiome and the host.

Publications

Jason Barnes (Professor, Department of Physics) co-authored a paper in The Astronomical Journal entitled "KELT-9 b's Asymmetric TESS Transit Caused by Rapid Stellar Rotation and Spin–Orbit Misalignment." The research was picked up by ABC News.

Alumni News

Fatima Al-Hamlan, '12 was named chair of the global health working group of the Civil Society 20 (C20). She is a scientist in the Infection and Immunity Department at King Faisel Specialist Hospital and Research Center as well as an assistant professor at the College of Medicine at Alfaisal University in Riyadh, Saudi Arabia.

Other Kudos

The Science Channel recently featured Tom Williams' (Associate Professor, Department of Geography and Geological Sciences) copper expertise on its show "Billion-Dollar Elements: Copper." Way to go Tom!

Jennifer Johnson-Leung (Associate Professor, Department of Mathematics and Statistical Science) and Diana Mitchell (Assistant Professor, Department of Biological Sciences) presented at the NIH virtual IDeA PI conference in late September. You can view Jennifer's presentation on the U of I COVID modeling team's efforts to track and predict coronavirus spread in Idaho.
How about a simple plane geometry puzzle for this month? The red square ABCD below has side length 2. The point M is the midpoint of side AB, and the green circle passes through C, D, and M. What is the radius of that circle?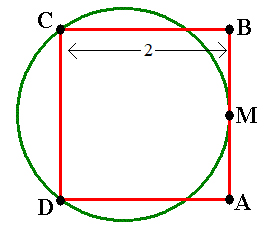 Solution to the October Puzzler:
The length of the diagonal is 4 feet. Here's a slick way to figure that out.
Let's let the dimensions of the box be X, Y, and Z, and let the length of the diagonal be D. Then:
2XY + 2YZ + 2XZ = 20 (the surface area)
4X + 4Y + 4Z = 20 (the edge lengths), thus X + Y + Z = 6
D2 = X2 + Y2 + Z2
So,
(X + Y + Z)2 = 62
X2 + Y2 + Z2 + 2XY + 2YZ + 2XZ = 36
D2 + 20 = 36
D2 = 16
so D = 4.
Correct Solvers
1st correct solution: Alex Blumenfeld, NMR Manager, U of I Chemistry
2nd correct solution: Greg Stenback, B.S. Geological Engineering 1985, M.S. Statistics 1987
Others:
Michelle Boese-Empey, Web coordinator, U of I College of Letters, Arts, and Social Sciences
Greg Burton, B.S. Mathematics 1968
Momoyo Dahle, B.S. Applied Mathematics, 2000
Marianne Milander, Student (Animal and Veterinary Science, Microbiology)
Ross Miller, graduate student, U of I Physics
John Stutz, M.S. Physics 1973