Vandal Science News - May 2022
Dear Friends of the College of Science,
I'm excited to connect with you one last time this academic year with a graduation edition of Vandal Science News. The spring 2022 commencement was a joyful experience as we celebrated our latest graduates. The college awarded 81 bachelor's degrees, eight master's degrees, eight Ph.D. degrees and 14 academic certificates. These students have been through a lot the last two years and have shown great resilience in earning their degrees.
We are particularly pleased to highlight the top graduating students in the college. Undergraduate students were recognized at the college's commencement reception on May 14 in the Pitman Center International Ballroom. Please see below for a slideshow of the festivities. Graduate students, staff and faculty were recognized at a college awards ceremony in April.
2022 Student Award Winners
Dean's Graduate Award
Jonathan E. Barnes (Ph.D. Physics)
Moubani Chakraborty (Ph.D. Chemistry)
Erinn Donnelly (Ph.D. Microbiology, Molecular Biology, and Biochemistry)
Karen Heeter (Ph.D. Geography)
Tristan Moxley (M.S. Statistical Science)
Diane Haynes Memorial Award (Outstanding COS Graduate Student)
Karen Heeter (Ph.D. Geography)
Dean's Award (undergraduate)
Margot Dillon (Physics)
Honorine Knott (Medical Sciences)
Sarah McNeil (Chemistry)
Jordan Pentzer (Geological Sciences)
Ben Rooks (Medical Sciences)
Mete Yuksel (Mathematics, Statistics)
John B. George Award (Outstanding COS Graduating Senior)
Yete Yuksel Outstanding Undergraduate Research Award
Mallory Ford (Geological Sciences)
College of Science students have a diverse array of experiences and backgrounds, and we are proud that a science degree puts them on a path to achieving their career goals. Enjoy learning about two of our students, including the college's latest Goldwater Scholar, Victor Zhong, who is our second Goldwater recipient in two years from Sandpoint, Idaho. We also feature recent graduate Andrew Sayre who was commissioned as a second lieutenant in the U.S. Marine Corps and has ambitions for a career in healthcare.
We are so proud of our 2022 graduates and wish them the best in their future pursuits. Many thanks to the college faculty and staff who've advised and mentored these students during their time at the U of I.
Have a safe and relaxing summer and Go Vandals!

Ginger E. Carney, Ph.D.
Dean, College of Science
Goldwater Scholar and Researcher
First Generation College Student Earns Prestigious Scholarship
Medical Marine
Midshipman Eyes Medical Career After the Marines
College of Science Staff Appreciation
Name: Lisa Belles
Position at U of I: Academic Advisor
How long have you been with the U of I?
Almost eight years.
How did you find the U of I?
During my senior year of high school I came to Moscow to visit my cousin, who was attending U of I. I loved the town and my first impressions of the university, so I ended up coming to U of I for college and have stayed in Moscow ever since.
Why choose to work here?
I love the sense of family that you experience from the university community, and that makes this a great place to work.
What is your favorite part about working here?
My favorite part about my job is working with the students. We have amazing students in the College of Science, and there's nowhere else I'd rather be.
Tell us a little about yourself.
I started at U of I as a student in Fall 2003, and received a Bachelor of Arts in Sociology in 2007 and a Bachelor of Arts in International Studies in 2012. I started working at U of I in the Registrar's Office in 2014, then I became an Academic Advisor in 2019. In my down time outside of work, I enjoy doing puzzles, reading, and cuddling with my cat, Dahlia.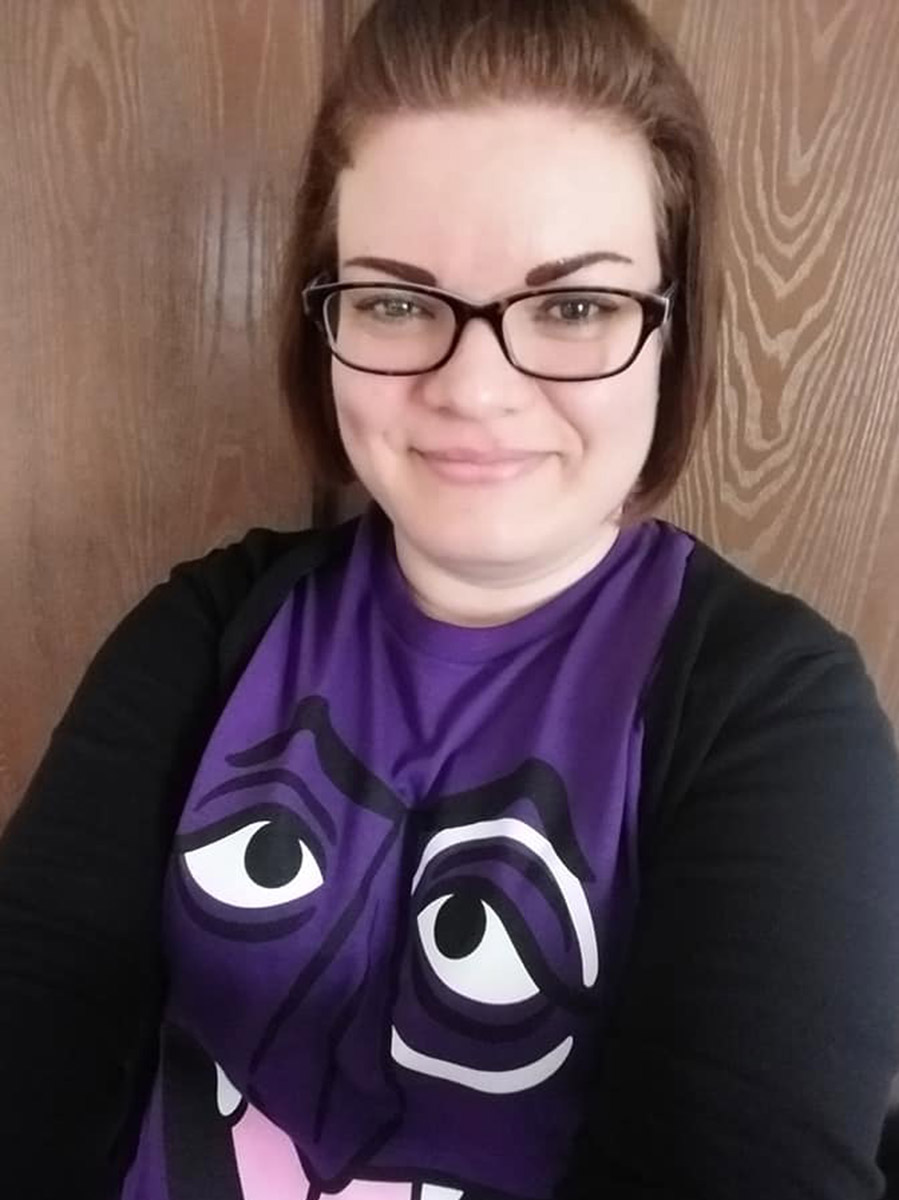 University of Idaho Alumni Hall of Fame Inductees
Brian Hill (B.S. Chemistry '65)
Ramesh Kumar (Ph.D. Chemistry '81)
C. Thomas Ratcliffe (B.S., M.S., Ph.D. Chemistry '61, '64, '67)
Dennis Sauer (Ph.D. Chemistry '72)
Richard Swindell (Ph.D. Chemistry '72)
Virginia (Ginger) Brodin Wright (B.S. Education, M.Ed. '67, '69)
Learn more about these alumni.
Selected Publications
Craig Miller and James Van Leuven (Biological Sciences) sequenced the first bacteriophage community of honeybees from the U.S. with collaborators at UC Davis and UT Austin and compared it to samples from Europe. Their work titled "Global Composition of the Bacteriophage Community in Honey Bees" was published in mSystems.
Megan Ruffley (Ph.D. Bioinformatics and Computational Biology '20), Megan L. Smith, Anahí Espíndola (former post-doctoral fellow), Daniel Turck (Ph.D. student, Biology), Niels Mitchell (senior, Biology), Bryan Carstens (Ph.D. Zoology '04), Jack Sullivan (Biological Sciences) and David Tank published a paper titled "Genomic evidence of an ancient inland temperate rainforest in the Pacific Northwest of North America" in Molecular Ecology.
Andreas Vasdekis (Physics) led a team that explored how single bacteria grow in size and mass. They observed that while mass and size accumulation rates are exponential, dry-density (i.e., the number of molecules per unit volume) fluctuates during the cell cycle. They analyzed these fluctuations to unmask a homeostasis mechanism through which cells correct for 'mistakes' during division. The work titled "Density fluctuations, homeostasis, and reproduction effects in bacteria" was published in Communications Biology.
Alumni News
Michael S. Elder Waters (B.S. Biology '18) is in his final year of medical school at the University of Washington and plans to pursue a career in orthopedic surgery. As an undergraduate, he was an INBRE fellow in Onesmo Balemba's laboratory. His research on "The effects of Garcinia buchananii stem bark extract on inhibitory junction potentials in porcine descending colon" earned first place – Faculty Choice Award at the INBRE Research Conference (2017) and the Outstanding Undergraduate Research Award at the College of Science Research Exposition (2018). He says, "My INBRE research was one of the most meaningful experiences during my undergraduate years. It led to a fundamental understanding of the scientific process and a lasting mentorship with Professor Balemba."
Mikel Buffaloe (B.S. Chemistry '13) is a chemistry laboratory technician at North Idaho College (NIC). As an undergraduate at NIC, he was an INBRE Industry Intern at Blue Water Technologies. After transferring to the U of I, he did a second INBRE internship at Coeur d'Alene Wastewater Treatment. Following graduation, Mikel worked at SVL Analytical, Inc. in Kellogg, Idaho, before returning to NIC. Mikel says, "My story is what you call a full circle. [I'm back] at NIC, and I love working with our best students who almost always end up in INBRE and become top students wherever they go."
Congratulations to Hayley Rambur (B.S. Geology and Secondary Education '16) on winning the U of I Alumni Association Brave and Bold Award. Hayley received her award at the Spring 2022 awards banquet for the Department of Geography and Geological Sciences.
In case you missed it
Chava Castaneda is the recipient of the Paul Joyce Memorial BCB Fellowship for 2022. Chava is a fourth-year graduate student in the BCB program who works under the direction of Eva Top. His research focuses on understanding the dynamics of plasmid spread from farm settings to agricultural soil.
Avery Pierce-Garnett, a senior studying mathematics, music, and music education, won the Washington-Idaho Symphony's 2022 Young Artist Competition. This is one of many honors Avery has won in recent years.
The annual report of the Institute for Interdisciplinary Data Sciences is available online. This report describes the activities and accomplishments of IIDS researchers for fiscal year 2021, which includes faculty, students, and postdocs from 9 colleges, 30 departments, and 10 centers and Institutes across the U of I. Barrie Robison (Biological Sciences) is the director of the institute.
Abby and Bart walk up an escalator (moving stairway). The escalator moves at a constant speed, but Abby is a much faster uphill walker than is Bart. In fact, she takes three upward steps for every two of Bart's upward steps. Abby gets to the top of the escalator after having taken 25 steps, while Bart (because his slower pace lets the escalator do a little more of the work) takes only 20 steps to reach the top. How many steps are there to this escalator? (That is, if the escalator were turned off, how many steps would it take to go from bottom to top?)
Solution to February puzzler:
The total time for this odd trip was 8/5 hours, or in other words, 1 hour and 36 minutes.
To discover that answer we'll use three variables and three equations. The variables will be the three time periods:
x hours before Bill gets off the bike and Amy turns back to get Cindy.
y hours while Amy is going backwards towards Cindy.
z hours while Amy and Cindy ride to catch up with Bill.
The three equations will come from the three participants. Each ends up traveling the 20 net miles in x+y+z hours:
Amy: rides (at 25 mph) the entire time, moving forwards for x+z hours and backwards for y hours. So:

25x - 25y + 25z = 20

Bill: moves forwards the entire time; x hours at 25 mph and y+z hours at 5 mph. So:

25x + 5y + 5z = 20

Cindy: moves forwards the entire time; x+y hours at 5 mph and z hours at 25 mph. So:
5x + 5y + 25z = 20
Dividing everything by 5, we get
5x - 5y + 5z = 4
5x + y + z = 4
x + y + 5z = 4
Solving this by your favorite method gives x=3/5, y=2/5, and z=3/5. So the total time is 3/5 + 2/5 + 3/5 = 8/5 hours.
Correct Solvers
First correct solution: Duke Hughes, B.S. Chemistry 1961
Second correct solution: Alex Blumenfeld, NMR Lab Manager, U of I Chemistry
Others:
Brian Dennis, Professor Emeritus
Marianne Milander, Student (Animal and Veterinary Science, Microbiology)
Brent Morris, B.S. Mathematics 1985
James Schreiner, B.S. Chemistry, 1977
Sharon Schwenk, B.A Mathematics, 1974
Greg Stenback, B.S. Geological Engineering 1984, M.S. Statistics 1987